Here's how you can score on feet fashion
With companies like White Socks and Moza Socks bringing in the coolest designs, wearing statement-making socks have become the latest fashion fad in Kathmandu.

Sanjog Manandhar/TKP
bookmark
Published at : August 21, 2019
Kathmandu
Rachana Rawal and Bishal Basnet have always had a fetish for collecting socks. The couple, who were avid travellers, always brought back home a bunch of colourful, funky socks from the places they travelled to. But this obsession soon started costing the two a great deal. To cut down their costs and turn their expensive hobby into a business opportunity, they came up with an idea: they started White Socks, their own socks brand in 2017 under their umbrella company Bishrom.
"Colourful socks just add a little more charm to your personality," says Rachana Rawal, co-founder of White Socks by Bishrom. Perhaps that is why many flock to White Socks' stall (next to the elevator on the ground floor of Labim Mall) every day. "We see around 30 people coming in daily," says Rawal.
"People are getting conscious of what they wear. Many have become very brand conscious as well, and it is essential that you get it right from top to bottom," says Rawal. This fashion "consciousness" among the people of Kathmandu has opened up new avenues for business people like Rawal and Basnet, and in the process introduced this trend of wearing funky socks to create a style statement.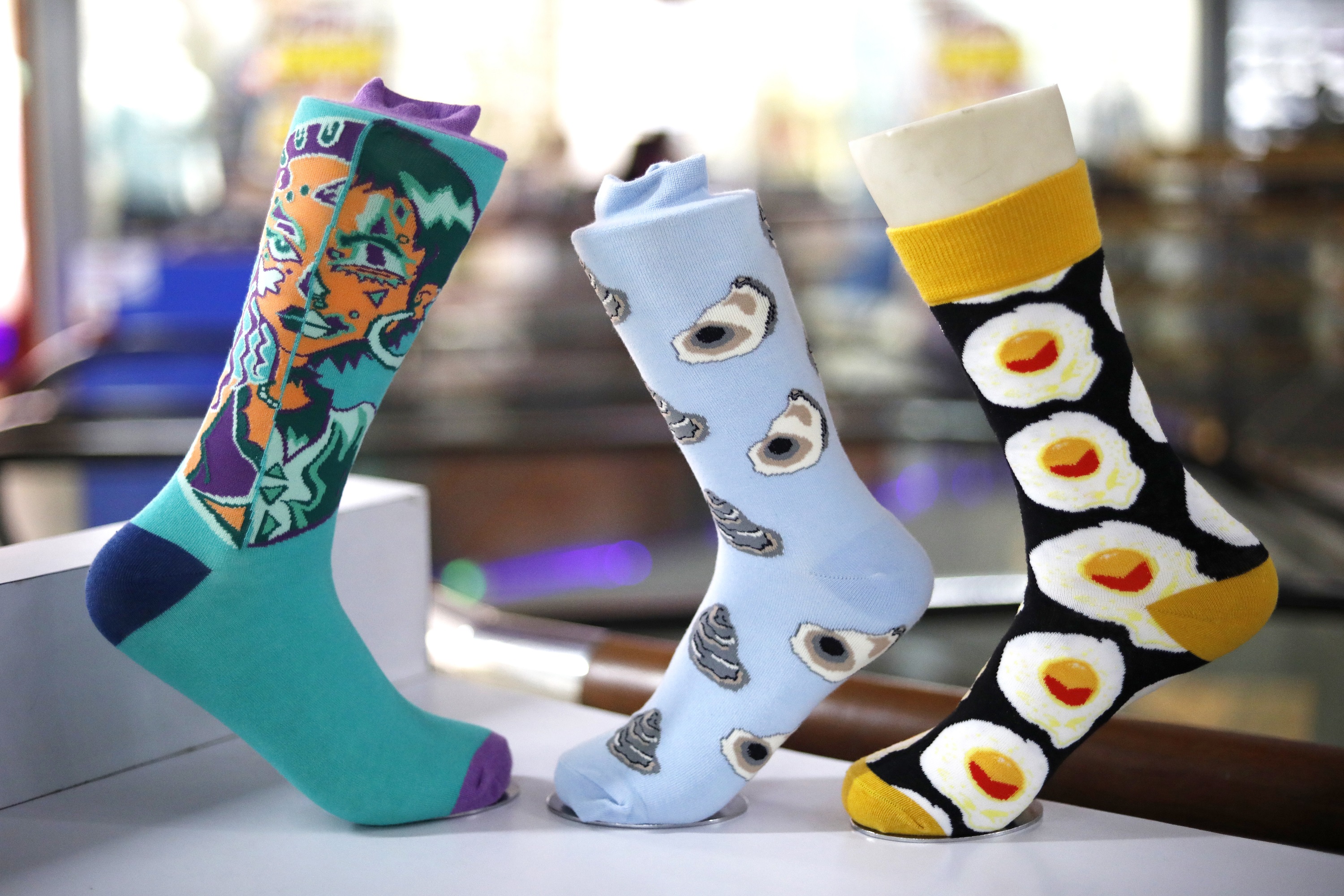 Sanjog Manandhar/TKP
"No matter how serious your appearance, socks can always change that perception. They add a funny and playful character to your personality," says Abhisekh Maskey, an educator, who loves playing with different prints when it comes to his socks. His recent favourite is the geometry prints that he recently purchased from White Socks.
"Interesting socks are also good conversation starters. You can always be like: Hey, that's a cool pair of socks, where did you get them from?" says Maskey. But finding colourful socks in Kathmandu was not easy. Before purchasing socks from White Socks, he could purchase such socks only occasionally when they were available on online stores. Or he would have to depend on friends living abroad. But with brands like White Socks available, things have become easy for people who like wearing funky socks.
Another Nepali brand that is catering to the Nepali market is Moza Socks. The brand, owned by Sonam Sherpa, was launched in June, and has since been swamped with queries on the brand's Instagram page. Blue socks with yellow popsicles, pineapples, tacos, hamburgers, etc have been selling like hotcake since the company started. "As soon as we have new arrivals coming in, most of it gets sold out immediately," says Sherpa.
In just about two months of its launch, Moza Socks is doing so well that it is set to collaborate with a start-up Belgian company—Fruit Socks.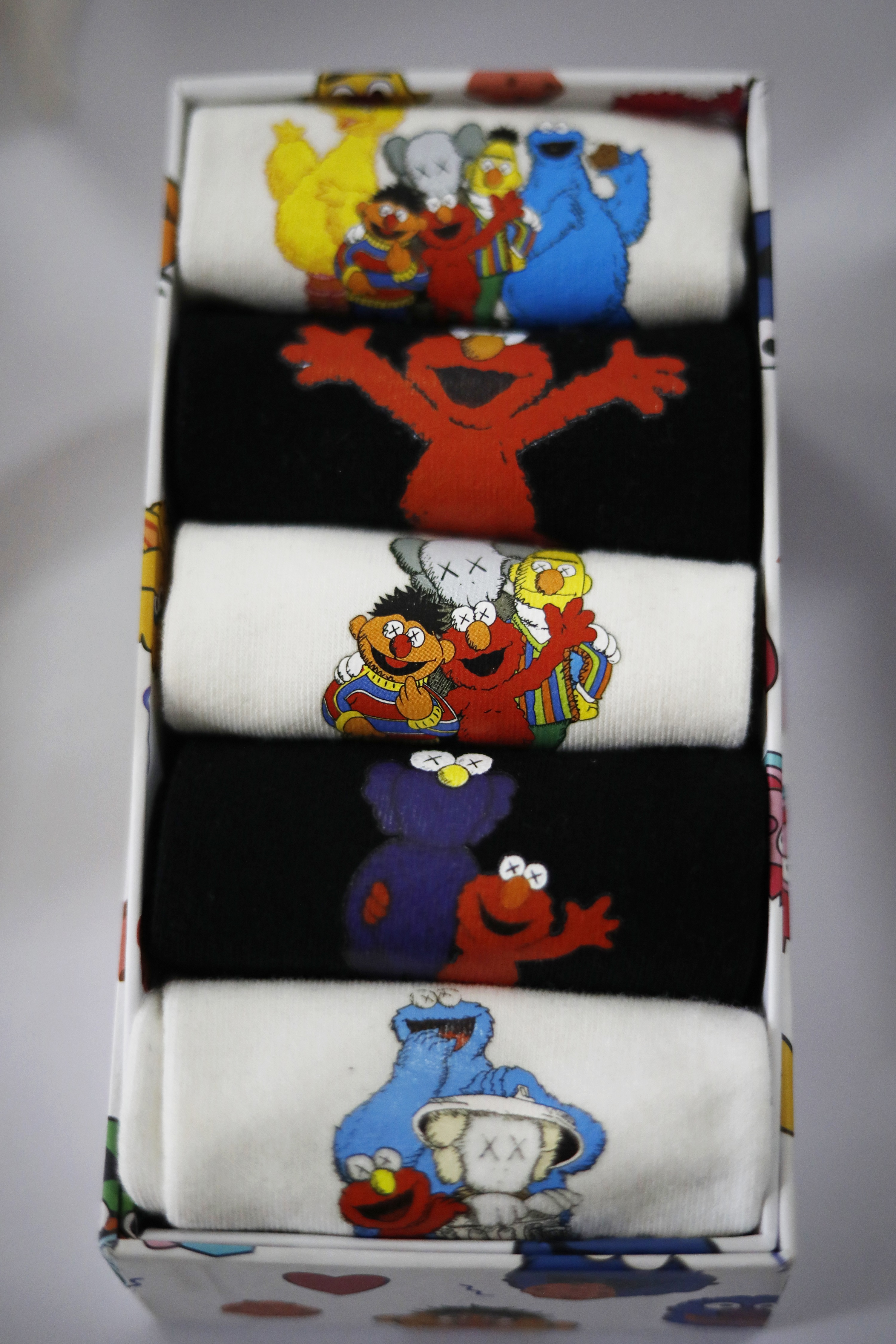 Sanjog Manandhar/TKP
While White Socks and Moza are only just gaining momentum in Nepal through their funky designs, international brands such as Swedish-based Happy Socks and London Sock Company have already established the trend worldwide.
"People don't give much thought to socks because they have always been overlooked as a fashionable item because they are hidden, but that's not really the case," says Sherpa.
Nepali fashion stylist based in Mumbai, Parakram Rana says, "Socks most certainly are gaining momentum in the fashion world—printed and coloured socks make your formal wear and any other wear stand out by making a fun statement. You see many corporate people donning such fun printed socks with their more serious approach of an outfit."
Rana credits the Canadian PM Justin Trudeau (who has often been spotted wearing fashionable socks with Star Wars-theme sock with Chewbacca print, in many important events), Swedish socks brands like Happy Socks and other influencers for making colourful socks a fashion statement.
According to Rana, who's often seen wearing fashionable sneakers on his Instagram page and blog says, "Socks are like a fun accessory to your entire look. It compliments your footwear so well along with the bottoms you wear—be it with trousers, shorts or skirts."
The prices for the socks range from Rs 150-Rs 600, not a big price to pay to add a splash of 'fun' to your outfit, says Maskey. "Also, it is fun—being different," he adds.
---
---