Walk and earn
With the New Year, resolutions are made every year to exercise more, stay healthy and walk and run more. But as with most resolutions, a few weeks into the new year, they tend to get forgotten. But if you could get paid for staying fit, would that encourage you to walk or run more?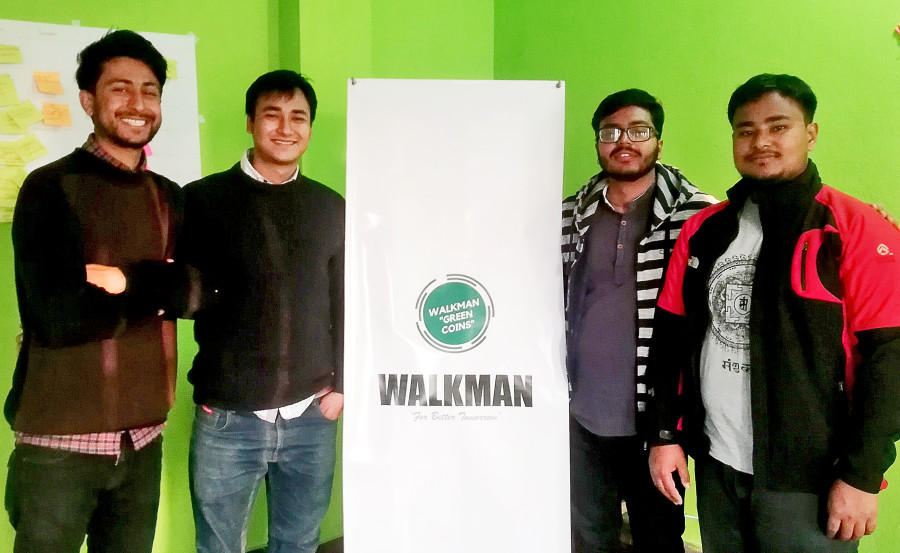 bookmark
Published at : January 14, 2019
Updated at : January 14, 2019 08:53
With the New Year, resolutions are made every year to exercise more, stay healthy and walk and run more. But as with most resolutions, a few weeks into the new year, they tend to get forgotten. But if you could get paid for staying fit, would that encourage you to walk or run more?
This is exactly what a new mobile app, called Walkman Green Coins, aims to do. Developed by a company of the same name, Walkman keeps tracks of the total steps you walk with the app turned on and converts those steps into coins, which can then be used to redeem discounts at a number of stores across the Valley. The app also calculates the total number of calories you've burned and the amount of carbon dioxide you would've produced if you had taken a bike instead.
"We want to help reduce people's dependency on bikes when they are travelling short distances," says Suyam Baidya, one of developers of the app.
In July 2018, Baidya from Pixel Networks and Ashik Subedi, Sandeep Maharjan and Sushant Chalise from Bigfoot met for the first time through some common friends. While Pixel worked solely on game development, Bigfoot had already started making its mark in the Nepali market as a promising web development and outsourcing venture.
"We just clicked," says Baidya. He, along with the three members from Bigfoot, planned a collective venture, called Walkman Green Coins, which they believed would be unique in the Nepali context, though applications similar to it are already in use in large numbers in other countries, including the United States.
The inspiration for the Walkman app came from a popular American app, Sweatcoin, where you earn one coin for every 1,000 steps you walk. When you accumulate a number of coins, you can redeem them for airline miles, Amazon credits or gift certificates from various retailers.
Likewise, with Walkman, every 10,000 steps you walk rewards you with 100 virtual coins that can be redeemed for 20 percent discount while purchasing goods or food from retailers and restaurants that Walkman has partnered with. The 10,000 steps comes from research the developers conducted before working on the algorithm which showed that walking 10,000 steps on average can help a person remain healthy not just physically, but also mentally.
The application, however, was not planned this way from the very beginning. "We had just thought of an app that keeps track of the number of steps walked and the number of calories burnt," says Maharjan. This idea was rejected during the demo day for a startup acceleration programme, for "not being a sustainable project."
This rejection led the team to brainstorm and think up a different angle to their app. Integrating the discount mechanism made the app relatively unique, and also brought in eco-friendly and health aspects to it. Though the developers realise that it's not possible to walk everywhere and people mostly use motorbikes and other means of transportation to commute, the developers say that their app is a social impact venture that aims to reduce air pollution and traffic jams.
With the new angle to their application, the developers have been winning accolades at every startup event they attend. Walkman secured a place in the top seven in UNDP's Youth Colab, top five in the Udhyami Seed Camp and top six at Connect-in. Their presentations at Biz-fest Kathmandu and the KUSOM Annual Fest were also received very well.
Now, they're ready to launch the app on the Google Play Store on February 14, Valentine's Day, perhaps to encourage couples to take walks together.
"Our aim is to make people adapt to a healthy lifestyle and giving it a go on Valentine's day seemed to be a nice idea," says Baidya.
They've chosen to launch first for the Android ecosystem since it has more users in Nepal than the iOS platform.
"We have already started with the pre-registration phase for beta testing," says Subedi. This phase is going to be crucial as they will be testing the usage and feasibility of the app, disseminating it among only a 1,000 users at first. If they receive a favourable response from users then they're going to develop for Apple products. New features are also going to be integrated, including one that allows you to compete with your friends.
"But the sync to the server requires an internet connection," Maharjan clarifies.
Furthermore, the discount scheme also only works through the application, says Subedi.
The developers are aware that users could potentially misuse the application, like turning it on while travelling on a motorbike or a car, just to count the steps. "This is why we have set the threshold speed at 20kmph," says Chalise. "So, the app works even when you're riding a bicycle."
While the developers have done their best to provide users with discounts from different outlets, they admit that things would've been much easier if they could've worked with digital cryptocurrencies like bitcoin.
In August 2017, Nepal Rastra Bank issued a notice announcing that the transaction and mining of cryptocurrencies were illegal within the country. After the announcement, a few companies that had been working with the blockchain currency had to shut down, while upcoming ones willing to incorporate their usage were greatly demotivated.
The developers plan to use the application in more novel ways in the near future. Among their ideas is one where they use it to promote internal tourism. "We have started working on including some hiking routes to a number of hiking destinations in the country," they say. They also plan to turn the coins into charity miles, where the more steps you walk, the more you donate.
Walkman aims to make social and environmental impacts while also providing businesses with new customers. The integration of entrepreneurship with social concerns is what is allowing the app to win supporters at every event they showcase at.
"You don't need to be a fitness buff to use this application on a daily basis," Baidya says. "You just need to be willing to change your habits a bit."
---
---