Nepal Airlines is flying blind
Mismanagement and corruption have brought down the national flag carrier.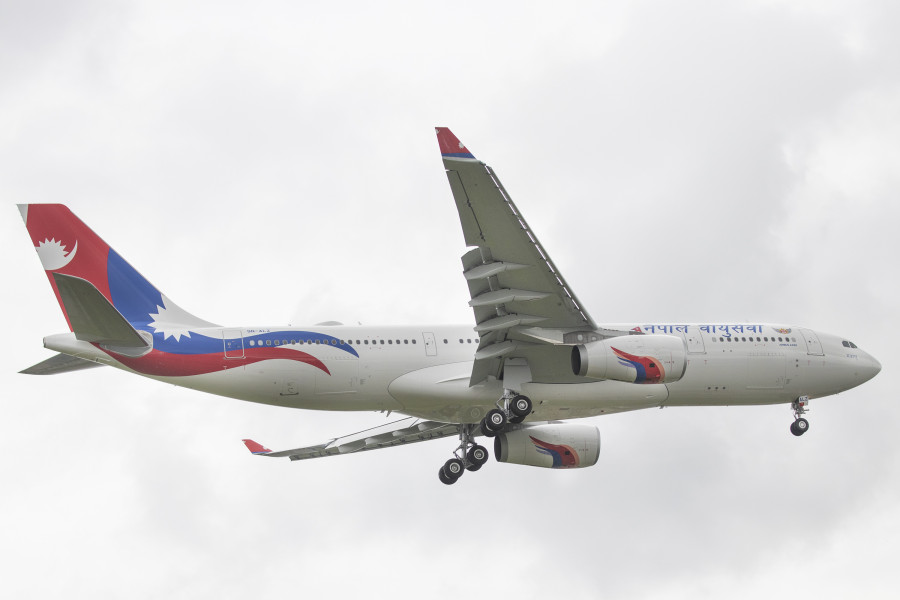 Post File Photo
bookmark
Published at : February 26, 2020
Updated at : February 26, 2020 07:53
Nepal Airlines Corporation is in the news again. The ever-failing airline, debt-ridden and reeling due to a long history of poor management, has just approved the Tourism Ministry's plan to divest a 25 percent stake to other state-owned enterprises. In a long list of decisions that the national flag carrier, or the government on its behalf, has taken, this new one truly beggars belief. The only thing this decision will do, if there are any takers, is to move around the losses Nepal Airlines has accumulated to other state-owned institutions; no matter who the owner is, the country itself still owns all of the carrier's failings.

But what is equally surprising is the valuation at which the stake is being sold. At a valuation of Rs340 million, the Rs85 million to be gained from the equity transfer will not even be enough to cover one year's worth of interest that the airline owes various lenders. That the national flag carrier has not been able to capture the international travel market to Nepal, from which international airlines take a combined $2 billion annually, shows that it is not a paltry injection of cash that Nepal Airlines needs. The need of the hour is for a complete spring cleaning of the corporation: an extensive audit to capture its true worth versus debt, and an injection of much-needed management expertise.
In the past decade, in order to stay competitive after suffering from years of mismanagement, the airline had to procure modern aircraft to replace an ageing and insufficient fleet. But the actual need was for a structured entry of the new aircraft, with pre-planned, pre-approved and pre-advertised routes that would allow for the expensive aeroplanes to start making money from the outset. Grounded aircraft are likely to run up massive parking fees. Without regular flights to earn revenue, the parking and maintenance fees add up. Moreover, aircraft continuously depreciate, so it is essential to keep them flying to maximise earnings and minimise costs.
Yet, for the past decade, the executives at the corporation have failed to address issues regarding operations and destination expansion. With Airbus now admitting that it bribed Nepali officials, it is clearer now why the management put aircraft purchases before anything else. Instead of steadily adding new routes to put the new aircraft to use, Nepal Airlines has been struggling to shake off its bad reputation for delays to get steady business on the routes it already flies. The government too is at fault. It has failed to appease the European Commission, which had restricted all Nepali carriers from its airspace, which affected Nepal Airlines' wishes to expand in Europe. Further, in cases like getting route permits to Guangzhou, it was slow to intervene on the airline's behalf to receive permits on time.
The government and Nepal Airlines can learn a lot from Ethiopian Airlines, which the Ethiopian authorities helped grow into a leading global airline after setting a 15-year plan in 2010. Since then, the carrier has doubled its fleet to over a hundred jets, and it brought in a profit of $245 million in 2018. The government of Ethiopia was highly supportive of Ethiopian Airlines' massive financing needs for the bold vision, but it needed to be coupled with a strong in-house management team to reach the success it has.
At such a time, the small cash injection that an equity sale will bring will not solve Nepal Airlines' woes. Moreover, an audit is immediately needed to see whether the carrier is valued right, to begin with. It seems implausible that an airline that has so many assets—not least four jet aircraft worth hundreds of millions of dollars—is only worth Rs340 million. Eventually, what is needed is strong governmental support, and an even stronger management team.
***
What do you think?
Dear reader, we'd like to hear from you. We regularly publish letters to the editor on contemporary issues or direct responses to something the Post has recently published. Please send your letters to tkpoped@kmg.com.np with "Letter to the Editor" in the subject line. Please include your name, location, and a contact address so one of our editors can reach out to you.
---