Misguided attempts at cutting the trade deficit
The aim should be to promote productive sectors, not impose restrictions on ordinary Nepalis.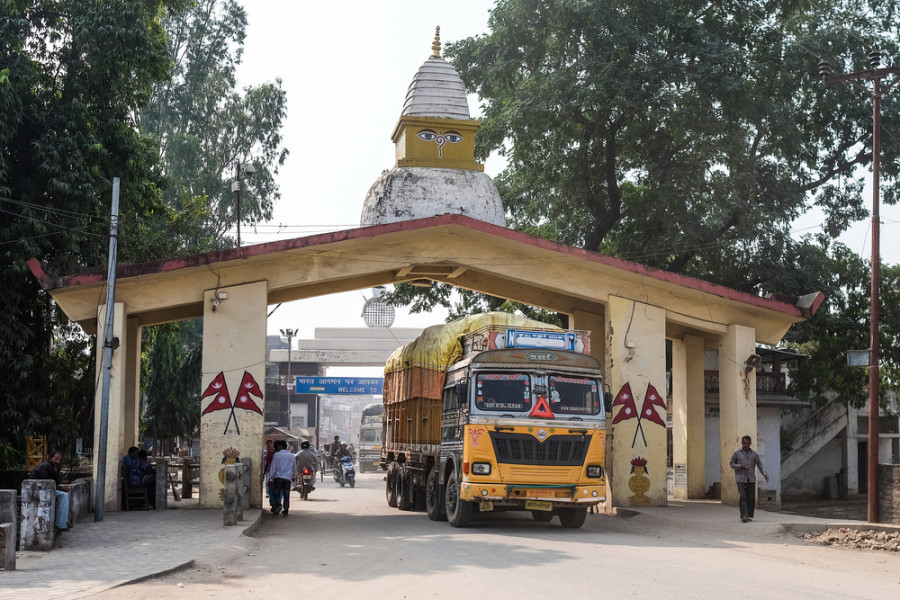 Nepal imports petroleum products, vehicles and spare parts, and agricultural products in large amounts. Chokchai Suksatavonraphan/Shutterstock.com
bookmark
Published at : September 10, 2019
Updated at : September 10, 2019 07:33
Nepal's surging trade deficit has made many nervous. Because the country has been buying more than it has been selling, Nepal's foreign currency reserves have been decreasing. Due to such pressures, Nepal Rastra Bank and the other authorities concerned have planned for and implemented restrictions on the purchase of certain types of goods from abroad. They have even limited the amount of foreign currency hardworking Nepalis can take with them overseas—$200 for out-migrant labourers and $1,500 for tourists. Nepalis also face restrictions on how much of their own money they can spend in India with which Nepal shares an open border.

The fear of not being able to pay for essential imports is a real problem that may necessitate short-term restrictions to shore up the reserves. However, such a problem did not come out of nowhere. The government has been aware of dwindling reserves and the rising trade deficit, and yet has not done anything to promote sectors that could actually bring money into Nepal. Instead of implementing ad hoc measures to restrict ordinary Nepalis' purchases, the government should implement policies that incentivise domestic production, where the costs make it feasible, and promote service-based sectors where it can develop a comparative advantage.
The ballooning deficit is not a new circumstance. In fact, in the past four years, the trade deficit has almost doubled, from Rs689.36 billion in 2014-15 to Rs1.32 trillion in 2018-19. In the same time frame, export growth has been a paltry 2.5 percent a year. The government has had enough time to notice the increasing reliance on imports. But the rise in imports also shows the rising purchasing power that Nepalis now have. Indeed, with the increase in remittance as a significant contributor to gross national income, and no productive sector to channel these funds into, consumer spending has increased tremendously. While consumer spending was Rs349 billion in 2000, it reached Rs689 million in 2018. So, while Nepal's trade deficit is worrying, the government has an opportunity to implement effective policies to boost investments in productive sectors.
Analysts and economists have opined the need to promote the manufacturing of certain consumer goods domestically to reduce imports and increase exports where possible. To enhance exports, the country first must identify and diversify its exportable items and find markets for them. One area where Nepalis, with policy support, can scale up and use their comparative advantage is in the handicraft industry. Not only are the margins on such products high, Nepali handicrafts are already popular. For example, the year-on-year export growth in felt-based crafts has been 19 percent. Moreover, until 2021, Nepal can take advantage of being a least developed country to reduce the barriers of selling such unique products in international markets.
The easiest way for the government to reduce reliance on imports, while simultaneously benefitting climate change mitigation, is to increase its dependence on domestic alternative energy. By promoting private sector investments in run-of-the-river type hydropower projects and solar power, Nepal would not only achieve energy security but also reduce the fuel import bill (which was Rs103 billion for just the first half of the last fiscal year). But more importantly, Nepal has to move beyond the idea that cutting the trade deficit is the only way forward. The government can move to promote service-based sectors such as internet- and IT-based businesses and tourism.
***
What do you think?
Dear reader, we'd like to hear from you. We regularly publish letters to the editor on contemporary issues or direct responses to something the Post has recently published. Please send your letters to tkpoped@kmg.com.np with "Letter to the Editor" in the subject line. Please include your name, location, and a contact address so one of our editors can reach out to you.
---