Asia Cup entry marks red-letter day for Nepali cricket
Should the tournament take place as planned, Nepal will play against heavyweights India and Pakistan in September.

Team Nepal celebrate with the trophy after winning ACC Men's Premier Cup 2023 at TU cricket ground in Kathmandu on Tuesday. Keshav Thapa/TKP
bookmark
Published at : May 3, 2023
Updated at : May 3, 2023 07:41
Kathmandu
The light rain following Nepal's seven-wicket victory over the United Arab Emirates in the final match of the ACC Premier Cup on Tuesday seemed to be no less than a silent acknowledgement of a great team by the cricketing gods. The victory secured for Nepal a rare berth in the Asia Cup later this year.

It has also opened a new horizon for Nepali cricket, say players and experts.
In the final match that stretched over two days due to on-and-off rain, Nepal bowled out the visitors for 117 runs in 33.3 overs, as Lalit Rajbanshi dismissed Junaid Siddiqu on 10 runs after the UAE resumed their innings on Tuesday at 106-9. Chasing the target, Nepal made 118-3 in 30.3 overs on the back of an unbeaten half century by Gulsan Jha (67 runs) who shared an unbroken 96-run partnership for the fourth wicket with Bhim Sharki (36 runs).
The victory ensured Nepal, the only unbeaten side in the 10-team tournament, a place alongside global cricket giants India and Pakistan in the group stage of the Asia Cup, should the tournament scheduled for September go ahead as planned. The other group consists of Sri Lanka, Bangladesh and Afghanistan.
It is the second time Nepal has qualified for the Asia Cup after 2002, when they finished runners up in the ACC Trophy. But the tournament did not take place due to the India-Pakistan conflict. Some media reports suggest India is reluctant to take part in the tournament, putting the future of the event in doubt.
In 2014, Nepal played World T20 where they faced Hong Kong, Afghanistan and hosts Bangladesh, before bowing out from the Qualification round. The scheduled Asia Cup group stage games will be the biggest event for Nepali cricket, says National Sports Council member and former national cricket captain Lekh Bahadur Chhetri.
"Our senior team will rub shoulders with senior teams of India and Pakistan—it is hard to think of a bigger occasion for Nepali cricket," said Chhetri, adding the Asia Cup could open multiple avenues for Nepali cricket.
"It will be a big platform for our players to get exposure and display their skills and potential against globally recognised teams. It will also play a vital role in marketing Nepali cricket abroad and making it more professional," he said. "Unity and hunger for victory are the keys to the team's continuous growth."
He also suggests that during Prime Minister Pushpa Kamal Dahal's planned India visit, the Government of Nepal should promote Nepal as a neutral venue for games between India and Pakistan and seek support in infrastructure development.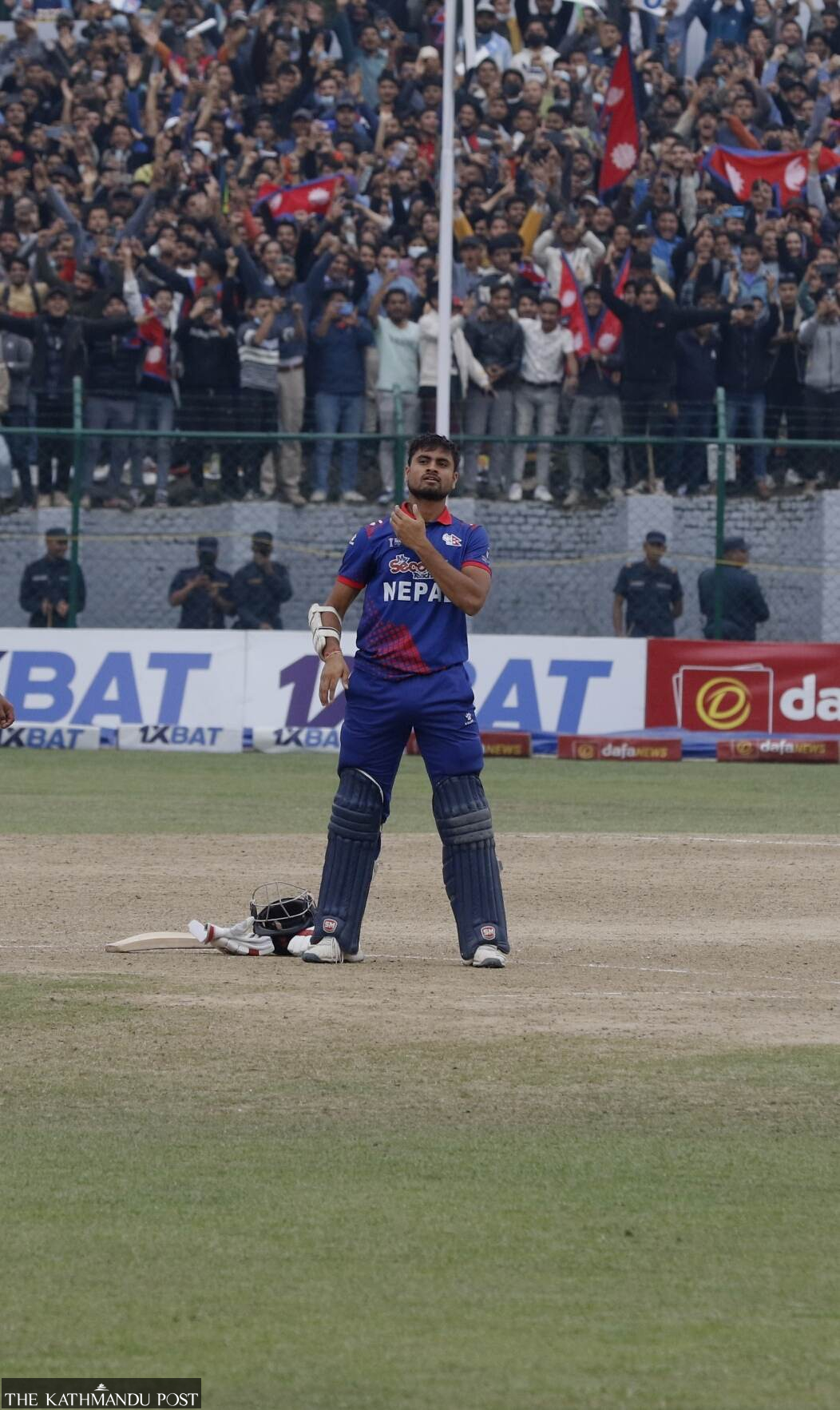 Gulsan Jha top-scored with an unbeaten 67 runs. Keshav Thapa/TKP
Captain Rohit Paudel said that it would be a proud moment for the team to compete against the heavyweights of global cricket. "We have been watching India and Pakistan play since our childhood. It is a matter of pride to play against them," said Paudel.
"The most important thing is everyone will know that Nepal plays cricket when we compete against them. It is just a start and I hope it will be even better in the years to come," said Paudel whose side has won 13 of the 14 One-Day International matches since February 14. They won 11 of the last 12 ICC World Cup League 2 matches and retained their ODI status for the next four years. Nepal had first got ODI recognition for four years in 2018.
They also secured an automatic berth for the 2023 World Cup Qualifiers.
"If we perform well in the Asia Cup, the whole world will recognise us and it will open the door for every member of the team to get chance in franchise leagues throughout the world," added Paudel.
Former national player Shakti Gauchan, who also played 2014 World T20 in Bangladesh, said the matches against India and Pakistan would be the biggest in Nepal's cricket history. "It is an addition to our previous achievements like getting into the World T20 and earning ODI status," said Gauchan.
He said that the games against India and Pakistan will give Nepali players great confidence. "In the case of Nepali bowlers, they will understand that if they bowl well, even the Test batters can't score against them and that will give them confidence," said the former spinner referring to his own experience of bowling in nets for IPL franchise Rajasthan Royals in 2012.
Coach Monty Desai, who oversaw the team's transformation after his appointment to the hot seat in early February, said Nepali cricketers were determined to write a story for themself together. "I think they want to leave a very strong message to everyone involved in cricket including CAN and the country," Desai said. "They are working very hard to rewrite and develop their identity. I am very proud of what they have done."
Talking about Asia Cup fixtures, he said, "It's like walking into the unknown. [It's about] the excitement and how our boys stay present. The most important thing is how much you are switched on in this battle." He added that Nepali players have learned to play well under pressure in the past three months.
"New faces have stepped up and as they get more exposure, I am sure we can hope and dream we will be one of the full [International Cricket Council] members in the near future," he said. "One day it will be great to see a Test match at TU. That is something which even I dream about despite only three months into the job."
---
---