Can't import food forever
We should work hard towards improving food security domestically.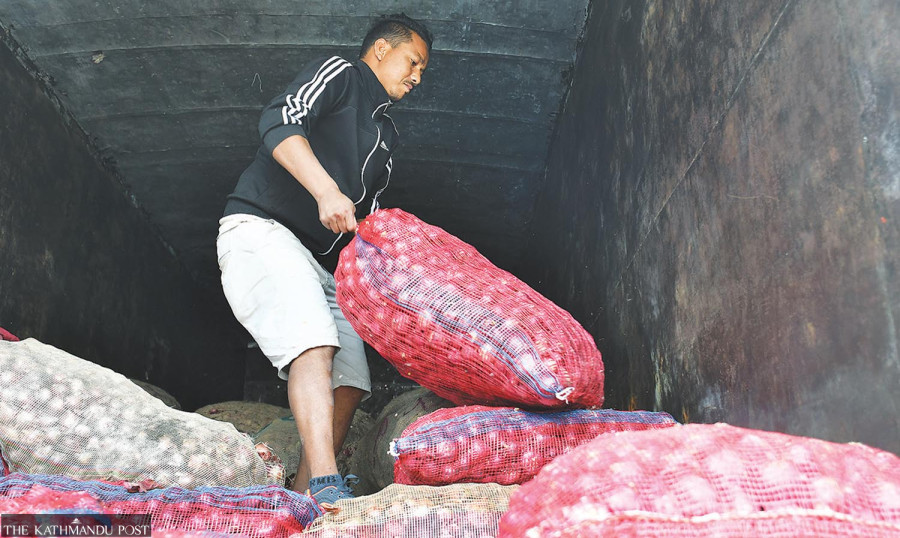 The agricultural goods import bill in 2009-10 amounted to Rs44.43 billion. It has grown nine times in 11 years. Post File Photo
bookmark
Published at : July 26, 2022
Updated at : July 27, 2022 07:35
As agricultural imports hit the Rs400 billion mark in the last fiscal year, there is no denying the fact that we have moved far away from the krishi-pradhan desh that we have got so used to calling ourselves. The Department of Customs has said Nepal's farm imports account for one-fifth of the country's total annual imports worth Rs1.92 trillion. Experts have started calling the scenario a full-blown emergency, although we are yet to see a suitable response from the government. It is alarming that agriculture remains the mainstay of our production, and yet we are unable to fulfil our food needs locally. From $11.84 million in 2001, our food and farm product imports from India have reached $3.2 billion. Moreover, Nepal's agricultural imports jumped by 23 percent, with an increase in the purchase of edible oil, cereals, cattle fodder and oil seeds.
Food imports have remained the apparent alternatives to insufficient food supply within the country, with the import of edible oil reaching Rs120.46 billion and the import of cereals hitting Rs74.28 billion. This points out to an enormous problem of food security in Nepal. It is a shame that we are nowhere close to maintaining stability in staple food items like rice, maize and wheat, and have to spend precious resources on purchasing those items. We cannot remain an undernourished country forever, nor can we spend a large chunk of our national wealth on food imports. As the adverse effects of climate change begin to unravel, with a substantial impact on food production, we need a holistic and forward-looking approach towards food security. It is high time we weaned ourselves off the flawed idea of globalisation that promises to provide us with what we lack. Instead, we should work hard towards improving food security domestically.
Despite decades of harping on its agricultural prowess, Nepal continues to suffer from dismal agrarian productivity. Despite a tremendous technological shift in the global agricultural sector, Nepal continues to stick with subsistence farming, negligible technology usage, lack of financial support and a perennial paucity of fertilisers. The commercialisation of the agriculture sector to maximise production remains a pipe dream even today as we witness a severe lack of accountability on the part of the government.
As Nepal's economy continues to struggle and food prices continue to soar globally, we should prepare ourselves for dire situations. Add to this the tremendous demographic shifts owing to an increasingly competitive employment market and climatic conditions. We are staring at a much bigger crisis in the days to come. According to the Asian Development Bank, almost 67 percent of the estimated 5.1 billion people in Asia will be living in cities, leading to a 163 percent hike in demand for food between 2009 and 2050. This means that Asian cities will be a significant driver of food insecurity unless immediate steps are taken to turn the cities into producers of food rather than just consumers.
The scenario in Nepal is no different as the country continues to experience rural-to-urban migration, with Kathmandu Valley growing at the rate of 6.5 percent per year. Therefore, urban farming should be made not just a symbolic exercise but a serious enterprise if we are to maintain the much needed balance in food production and consumption. We need institutions and leaders with the willpower and the means to make this happen, for we are already getting too late to hit the road to sustainability.
---