The essence of biodiversity
Everyone needs to work together to build a shared future for all species on this planet.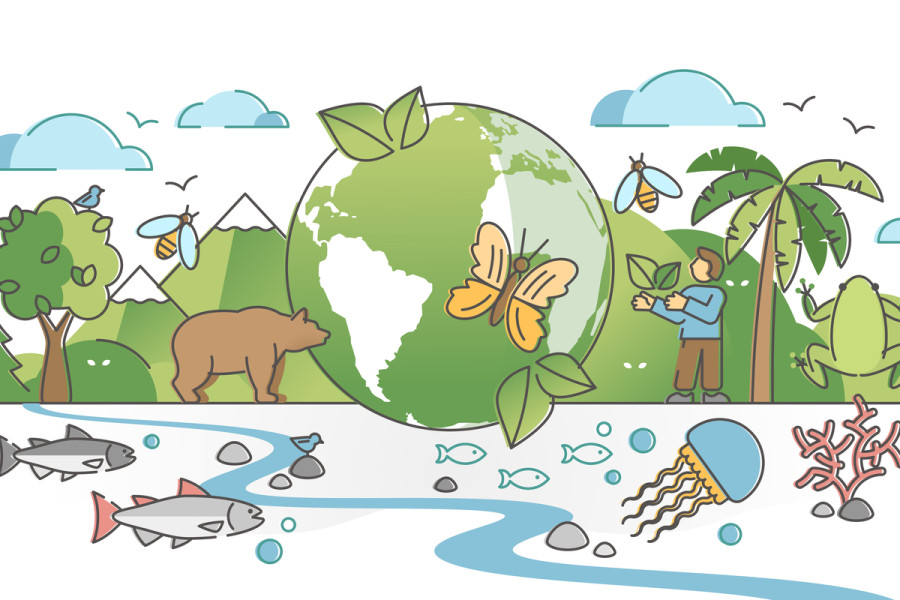 Shutterstock
bookmark
Published at : May 25, 2022
Updated at : May 26, 2022 07:12
In 2020, The Living Planet Report revealed that the average rate of decline in population size was 68 percent between 1970 and 2016. The findings were made based on the population of consistently monitored species over time. The message is clear: Everyone needs to work together to build a shared future for all species living on this planet.
Nepal is rich in natural resources comprising 118 different ecosystems and 35 forest types across various altitudes and climates. Most of the ecosystem has been restored and protected in the protected area network, which claims 23.25 percent of the country's landmass. The protected areas are critical spatial units to conserve biological diversity at the species and ecosystem levels. Through a paradigm shift from a species protection approach to a landscape approach, these geographical units have been connected through biological corridors. They have been managed as landscape units to safeguard and restore the land and its natural features and improve the ecosystem's health and livelihood.
Biodiversity Convention
The Convention on Biological Diversity (CBD) is a globally accepted instrument for conserving biological diversity, including wise use and fair and equitable sharing of benefits which aims to encourage affirmative actions from societies and nations. The proposed post-2020 global biodiversity framework under the CBD has set forth 21 action-oriented targets to ensure at least 30 percent of essential biodiversity areas are conserved sustainably. One of the actions to achieve the target is to maintain connectivity among protected areas and integrate them into the broader landscapes.
Nepal reported in its sixth national report to the CBD that more than 88 percent of the country's area was under landscape-level conservation, where community-managed forests have been managed, focusing on biodiversity conservation and the natural environment. Each landscape (five landscapes designed and under the implementation of interventions) has unique features and interrelations with the ecosystems and critical biodiversity areas. The Tarai Arc Landscape was designed to conserve tigers through east-west connectivity in the lowlands. The Chitwan-Annapurna Landscape was designed in a river basin approach for north-south linkage from the Annapurna mountains to Chitwan National Park. The Sacred Himalayan Landscape in the north-eastern part of the country ranges from Langtang National Park to Sagarmatha National Park. The Kailash Sacred Landscape in the north-western part of the country covers Himalayan biodiversity, and the Kanchenjunga Landscape extends from Jhapa district to the alpine meadows in Kanchenjunga Himal. The scale, focus, priority, level of engagement and resource input vary from one landscape to another. The Tarai Arc Landscape has resulted in significant achievements in species population, including near doubling of the tiger population and recovering the historical population of rhinos.
In the last decade, Nepal's strong political will has been substantial in cementing the biodiversity conservation agenda. The prime minister chaired the National Tiger Conservation Committee with multiple stakeholders and representatives from civil society organisations. It helps generate financial support to government agencies and provides technical expertise from collaborating organisations. With the introduction of new technologies in wildlife poaching control, government stakeholders' capacity development, and diversification of small-holder's livelihood options, conservation organisations have made their contribution visible on the ground and created an enabling environment in policy processes.
Nepal has also been able to generate and enrich scientific information on priority species that were taken into consideration during policy decisions. This information is crucial to making timely and suitable decisions for policymakers and ensuring effective ground actions for implementing stakeholders. For example, the annual progress report of the Department of National Park and Wildlife Conservation mentions that 16 species action plans have been approved and are currently under implementation.
Nepal's success in mega-vertebrate population increase is an achievement. The increased tiger population in Bardia National Park and its surroundings was a piece of welcoming news in 2018. In 2019, Bardia National Park was recognised as the best sustainable destination in Asia and the Pacific Region at the International Tourism Mart in Germany. In 2021, Bardia won the TX2 Award for doubling the tiger population among tiger range countries globally.
Wildlife casualty issues
Recently, the government endorsed wildlife-friendly infrastructure guidelines to address wildlife casualty issues in linear infrastructures like roads and irrigation canals which are to be planned and built in key biodiversity areas. The policy engagement helps to boost multi-stakeholder collaboration and cooperation in the continuation of the success of wildlife conservation. But a fundamental question arose very recently after more than a dozen human casualties happened due to tigers in Bardia and surrounding areas. Safeguarding the settlements and people becomes the priority for which a new investment model seems inevitable. Nepal's constitution and systematic plan envisioned the engagement of three sectors for sustainable development—the public sector, private sector and cooperative sector. Capacity building is urgently necessary to bring the private and cooperative sectors in biodiversity conservation into a community-focused investment, particularly sustainable operation of community-based enterprises. The Tarai Arc Landscape has experienced immense success in establishing community-based homestays (more than 30 sites with 300 plus households) to grab the opportunities arising from an increased wildlife population and restored forests.
Biodiversity is the key to survival. Diversity at the ecosystem level in our forests, agricultural lands, water bodies and communities is the base for the production of ecosystem services. Since there is no planet B, humankind has no option but to adopt a nature-positive deal and work collectively to build a shared future for all kinds of life on earth. The global community celebrated International Day for Biological Diversity 2022 on May 22 with the theme of "Building a shared future for all life". Nepal plans to reveal a new tiger number in 2022, and this is the year of celebrating success and making the next level of commitment to continue the success and foresee new opportunities. As a signatory to the CBD since 1993, Nepal has showcased outstanding successes in species and ecosystem conservation in the landscape approach, which should be continued to keep hopes for nature and the people sustainable.
---
---