The man who brought Sherlock Holmes to Kathmandu
A short tribute to Nepal scholar Ted Riccardi, who passed away on Tuesday. Few had engaged with Nepal's history as Riccardi had, and for that, we must be thankful.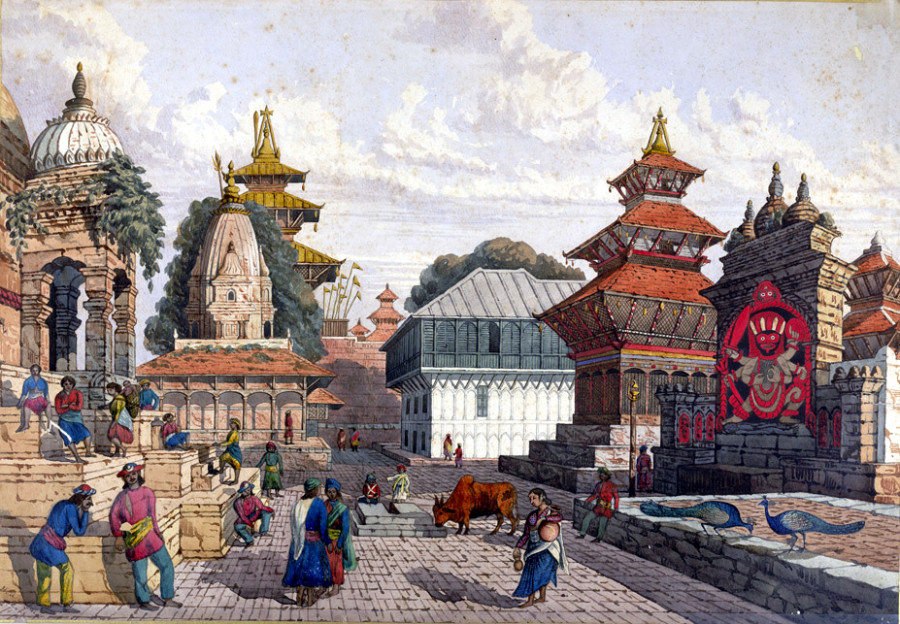 Henry Ambrose Oldfield 1852 / Wikimedia Commons
bookmark
Published at : September 17, 2020
Updated at : September 18, 2020 07:59
Shortly after 1891, when Bir Shumsher ruled Nepal, a tall and lanky Englishman entered Kathmandu via Banepa, on the same route Newar traders had used to travel to Tibet for hundreds of years. The visitor, whose grey eyes constantly observed everything around him and whose nose would stand out in a crowd, had been travelling across Tibet under the guise of Norwegian explorer Sigerson, and now had accompanied a Newar trader back to Kathmandu. 'There are few places, Watson, that affect one as much as Nepal. One of our countrymen has written that it would take the pen of a Ruskin or the brush of a Monet to do it justice, and in those judgements I must concur. The climate is salubrious, the people friendly and as handsome as the landscape', the Englishman would later recall.

In Kathmandu, the man would first clear the mystery about former British resident Brian Hodgson's ghost by using the ancient Licchavi water spout systems, unearth a conspiracy to overthrow Bir Shumsher's government, and solve a 1,500-year-old murder of the Licchavi king Dharmadeva.
The Englishman, if you haven't guessed by now, was Sherlock Holmes, the noted detective created by Arthur Conan Doyle, who had 'killed' him off in a duel with his arch-nemesis Moriarty at the Reichenbach Falls. But reader pressure forced him to bring back the fictional detective a few years later, and his absence was attributed to his travels in the Orient, including Tibet.
Professor Theodore Riccardi Jr, otherwise known as Ted Riccardi, who passed away on Tuesday, picked up on this gap and wrote a set of stories about Holmes' travels in our part of the world. In Riccardi's non-canon adventures, Holmes arrives in Kathmandu along with Gorashar, a Newar trader (coincidentally, Ghorashyar was the name of one of the Newar trading houses in Lhasa, owned by Karuna Ratna Tuladhar), and when he begins to describe the Valley, we can hear Riccardi's own thoughts: 'For the first time in my adult life, Watson, I had let down my guard. My will relaxed and for a few moments I was at peace in a gentle world, one apparently without crime and its evils. Perhaps I might remain here, I thought, and devote myself to meditation and the contemplation of first principles'.
About a decade ago, I had stumbled my way into the launch event for Riccardi's Holmes collection, The Oriental Casebook of Sherlock Holmes. Riccardi had been diagnosed with Parkinson's, and I could see his hands shaking while he read out a few passages from the book. At that time, I did not know who Riccardi was; it was much later, as I slowly began reading my way back into Nepal's history, that I learnt about the American scholar's immense contribution to Nepali historical studies. As Don Messerschmidt recalls, Riccardi began studying the Nepali language as part of his Oriental Studies programme at the University of Pennsylvania. He met Dor Bahadur Bista in 1961, 'and during three months together pursuing Nepali studies—Bista as language expert, Riccardi as student—they forged a life-long friendship'. Riccardi shifted to London, where he became close friends with Khem Bahadur, Dor Bahadur's brother, and other Nepali scholars such as Harka Gurung, David Snellgrove, among others. He arrived in Nepal in 1965, and 'soon established himself as an important South Asian scholar', becoming part of the wave of tremendous scholarship that arose out of Nepal between the 1960s and the 1980s.
Riccardi was a polymath in all senses of the word. He was as adept with historical inscriptions as he was with fiction, and sometimes brought the two worlds together, as in 'The Case of the French Savant', where Holmes solves the Licchavi king Dharmadeva's murder. The French savant here is Sylvain Lévi, that great French Indologist of the early 20th century. Riccardi would translate the first volume of Lévi's 'History of Nepal' in 1975, writing that 'Levi was convinced of the importance of Nepal in Asian history and regarded it as one of the crossroads where South, Central, and East Asian influences met and combined'. Today, we can perhaps say the same of Riccardi.
In the same story, Holmes translates the 5th century CE Mānadeva inscription at Changu Narayan, just as Riccardi would publish a new translation in 1989. Riccardi was equally concerned about the loss of Nepali history through the theft of antiques, a subject Holmes addresses in 'The Case of Anton Furer'. In 2018, Riccardi wrote a scathing fictional critique of the collusion between Western collectors, museums, and donors in encouraging the illegal trade:
'Let us take an object—a statue, a piece of stone—standing alone somewhere in a field. The only people who know of its existence are the farmers who till the soil around it. For them, it may have some importance, or it may not. It may function as the equivalent of a rabbit's foot or a horseshoe or any other good-luck charm. Or, it may be the object of the deepest veneration. No matter… It is there; that is all. One morning, it is no longer there. It has been taken in the night. Let us look at this object again in its new location. It now graces the galleries of a great museum… The object is insured, travelled, displayed in Britain, France, Germany and Switzerland by proud curators and directors who are doing precisely what they are hired to do'.
Riccardi ended the essay by juxtaposing his dual lives between Nepal and the US: 'America and Nepal, the two poles of absurdity. To live in these two, of all possible places, is to have one's soul torn, one's mind permanently disoriented… Nepal: leader of the bottom, a bathtub without a drain, a forgotten cesspool amid the green hills. Why do I choose the cesspool?' We could attribute a love for Nepal in Riccardi's decision to live here, but what we certainly know is that few had engaged with Nepali history as he had, and for that, we have to be thankful to him.
---
---