An exploration of how the digital world can evolve
Approaching it with the Quantum paradigm would make it much more pragmatic and holistic.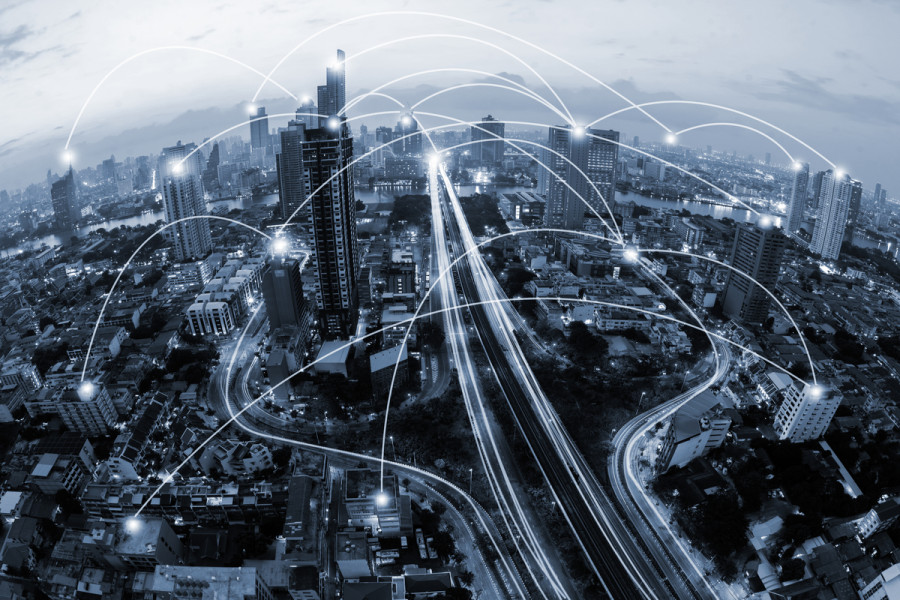 Shutterstock
bookmark
Published at : February 24, 2020
The Boudhanath Stupa is believed to depict the Buddha's chitta, the eternal conscience. Buddhist monks sit for hours there and meditate to cultivate stillness of mind, amidst the hustle and bustle of city life. A heritage walk around Patan reveals multi-faith harmony and co-existence of Buddhism and Hinduism, as beautifully illustrated through the splendid architectures of the old city. The community spirit and the shared responsibility to preserve the rich traditions and culture are equally astonishing to any heritage preservation enthusiast.

Spiritual intelligence is at the core of the Quantum paradigm. This paradigm is based on the eternal and universal laws of life. According to yogic philosophy, broadly, there are three mental realms—sattva (pure), rajas (passionate) and tamas (dull). It is the amalgamation of these three realms in various proportions that forms the creative force behind any manifested reality. Hence, the quality of intent at the metaphysical level is of critical importance.
The digital world means different things to different people. The key difference between the digital and physical worlds is access to the internet. Hence, by nature, the digital world is borderless and global. The pervasiveness of connectivity is enabled by mobile services and then by social media. Some of the constituents are digital economy, digital identity, digital social life, online learning, and telemedicine—almost replicating the physical world in every sphere. It is important to explore the evolving digital world from three dimensions—conscience, consciousness and connectivity.
Conscience
We need to be cognizant that the digital world may create increased social inequalities. The genuine intent to create a more equal and inclusive digital society in a phased manner is crucial. This should be our shared vision for the future and our collective responsibility. Accordingly, the policies and plans need to be formulated that include the elderly, women, the differently-abled, indigenous and non-tech savvy people. Nurturing qualities such as authenticity and personal accountability in the digital world would help create a psychologically safe and secure space and this, in turn, would enable us to cultivate a trustworthy ecosystem.
Proactive measures need to be taken against damages resulting from cybersecurity crimes. Privacy protection, data security and fair distribution of economic gains are some of the areas which need to be carefully examined to protect the integrity and dignity of the digital citizens. These are some of the ways, how our conscience could guide us to answer the question 'why' we would design the digital world the way we would do.
Consciousness
We expand our consciousness by cultivating self-knowledge, by nurturing interests in multidisciplinary subjects and by being aware of diverse perspectives. The digital world opens up space that is timeless, limitless and endless—unlike a physical world cocooned within confinements of time and space. To walk through this labyrinth and find hidden treasures—just like in the heritage walk in and around Patan—would be the skill that every digital citizen needs to learn.
We need digital literacy for all. At the same time, we need to conduct awareness-building sessions to develop stillness of mind to process the huge amount of information. To design make it so that both the physical and digital worlds coexist—just like two religions as depicted on the temple architectures of Patan—we need to continuously have exploratory sessions and ongoing dialogues to elicit and incorporate unmet needs. This process is iterative and should result in collaborative efforts of co-creation among multiple stakeholders. This metaphysical process of continuous evolution—being, knowing and becoming—therefore, can be applied to an individual as well as to the evolving design of the digital world. This is how our consciousness can guide us to answer 'what' and 'how' we want to manifest in digital space.
Connectivity
The third dimension is connectivity. Connectivity has many layers of meaning. It can be the connection to our chitta; it can also mean to connect with all sentient beings. Digital connection matters as well. The more we are connected within—through various practices like spiritual intelligence and emotional intelligence, among others—the easier it would be for us to connect in the intangible world. Sincere efforts to practice meditation and mindfulness would help in developing a sense of oneness.
With increased automation, there are higher chances of many professional and manual jobs becoming redundant. Creativity and continuous innovation would solve this challenge. The community spirit—as evident in regards to preserving the heritage and culture—can be leveraged to build the required connectivity, both metaphysical and digital, for the greater good of the digital community.
The famous Pashupatinath temple, along with the shakti peetha Guhyeshwari, are the symbolic representations of esoteric concepts of involution and evolution. Nepal with her thousands of years of history, heritage, culture, and with the recent rebuilding after the 2015 earthquake, is an example of resilience. In contrast to the deterministic, structured Newtonian paradigm, the Quantum paradigm is reality-driven and embraces uncertainty. Therefore, applying a Quantum-based approach to building the digital world makes it much more pragmatic and holistic.
Nepal's internal logic lies in her embedded cultural essence of cultivation of eternal conscience, a harmony of faiths and community spirit. These hidden forces need to be awakened to self-organise her digital existence and at the same time to embrace the pluralism of both analogue and digital universe.
***
What do you think?
Dear reader, we'd like to hear from you. We regularly publish letters to the editor on contemporary issues or direct responses to something the Post has recently published. Please send your letters to tkpoped@kmg.com.np with "Letter to the Editor" in the subject line. Please include your name, location, and a contact address so one of our editors can reach out to you.
---
---