Kashmir and the human preference for homogeneity
Problems stem from the toxic belief that humans can and must live only among their own kind.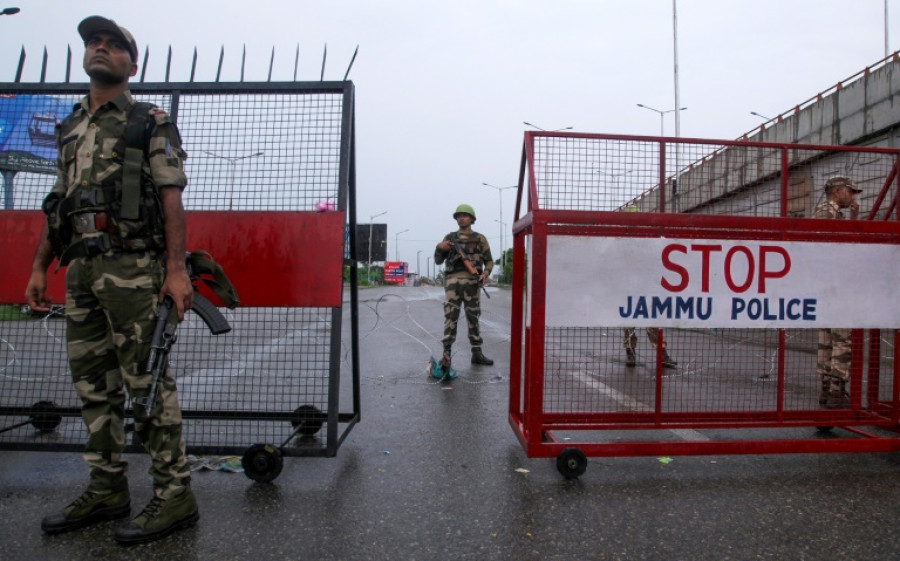 Tens of thousands of troops have enforced a strict curfew, which includes no internet or phone services, in Indian Kashmir. AFP /RSS
bookmark
Published at : August 15, 2019
Updated at : August 16, 2019 11:34
India's BJP government's abrogation of Jammu and Kashmir's special status has exhilarated, shocked, and angered people in South Asia, depending on their positions and perspectives. A majority of patriotic Indians, not just BJP supporters, have celebrated the move, endorsing both the means and the ends of the move. Many liberals, well-meaning Indian intellectuals, such as Ramchandra Guha, Pratap Bhanu Mehta and others, have objected to the manner in which India's Prime Minister Narendra Modi and his Home Minister Amit Shah have unilaterally and militarily pushed through the act both on the ground in Jammu and Kashmir and through the Indian Parliament. Pakistan is obviously shocked and angered because, since 1947, its raison d'etre has been to keep the Kashmir issue alive and continue a proxy war with India by exporting militant Islamic ideology and its violent carriers into the northern state. Bodhi-speaking Ladakhi Buddhists, the majority of exiled Hindu Kashmiri Pandits and the Jammu Hindu majority are delighted that Article 370, guaranteeing special status to Kashmir, has been removed and Jammu and Kashmir has been divided into two parts—Ladakh union territory without a legislature, and the union territory of Jammu and Kashmir with a legislature.

But even the Buddhists and Hindus of the state are not so sure about the removal of Article 35A that restricted outsiders from buying land in Jammu and Kashmir, and gave preference to the locals in government jobs. The Kashmiri Muslims are obviously angered because Delhi's unilateral act has forever thwarted their aspiration for autonomy (and possibly independence for some among them). They are agitated, but the Indian government's rhetoric is that the removal of the special status will eventually bring development and prosperity to the people of Kashmir and integrate Kashmiris into the Indian Union, eradicating terrorism and secessionism. People outside of India and Pakistan have also responded according to their ideology and interests. Many Nepalis have seen it as a heavy-handed approach in India's part, using its sheer size and might, in line with how it acts in the neighbourhood.
In all these responses to the event, what is missing, however, is a discussion of the fundamental principles and theories underlying the conflict in Jammu and Kashmir. To be sure, believers in autonomy and freedom condemn Modi and Shah's unilateral and draconian move. It is also true that patriotic Indians, especially the majority Hindus among them, blindly and emotionally support the move because they believe as much in one India and one set of rights for all Indians as in their aversion toward Pakistan and Muslim radicalism, including their anti-Muslim sentiments—whether implicit or explicit.
The Kashmir situation is so complicated that we can't help but ask the following questions in order to understand its full complexity. Otherwise, our response will not rise above vested interests, partisan bias and incomplete understanding of an extremely complex conflict. Majority Kashmiri Muslims have a full right to their cultural and political autonomy, as mentioned in Article 370 but the Kashmiri Hindu Pandits also have a right to live in their ancestral land without fear. Then, why were they driven out of Kashmir? Don't Jammu's Hindus and Ladakhis have the same rights as the Kashmiri Muslims because, in their region, they are in the majority?
Kashmiris in the past adhered mainly to Sufism, the most tolerant, syncretic and humanist version of Islam, in whose shrines Hindus and others routinely visited in the past, and many still do, to offer prayers and respect. But Kashmiri Sufism has been replaced by militant Islamism through India's decades of Machiavellian and draconian policies in Kashmir in response to Pakistan's export of Islamic militancy and militant religious ideology. Sufism is under violent attack even within Pakistan by Sunni militants. Can the situation be reversed? Can the deep wounds and scars of the past seven decades that involved four wars between India and Pakistan be erased and healed? If yes, then how? If not, then will each group be happy by having their political units, as the Indian government has envisioned? The Ladakhi MP Jamyang Tsering Namgyal's viral speech in the Indian Parliament raised some crucial points despite his partisan BJP passions and loyalties.
Both Hindutva-led India and one-party China blindly believe and follow outdated ideas of European nationalism and its relation to states. The geopolitics in China- and India-dominated Asia is such that smaller cultural communities and nation-states will have to struggle for survival and will remain under threat. What's worse, it is not only people in India and China but also countries like Nepal, Myanmar and Sri Lanka—all adhere to this murderous belief that humans can and must live only among their own kind and that their kind can live only in a homogenous ethnically and culturally dominant state. Why can't cultural and linguistic groups exercise their rights wherever they live among other people? Why can't human values co-exist with cultural and religious values among different peoples within a state? Why can't differences be structurally respected and embraced?
Seen from this perspective, the BJP government has little credibility to abrogate the special status of Kashmir. Their belief in Hindutva and their silent endorsement of incidents of lynching of Muslims for cow smuggling and alleged beef possession under PM Modi proves that if they can't protect the life and liberty of Muslims within mainstream India, how can they protect the rights of Muslims in Kashmir even if Kashmir becomes like any other mainstream Indian state?
Therefore, I agree that given the continuous bleeding of Kashmir and India through Kashmir, there should have been a wider conversation within India, including in Kashmir, among the common people, politicians and intellectuals, about the failure of successive experiments in Kashmir and the way forward. Dialogue and wider conversations should have preceded any last resort action of the kind that occurred in order for it to be persuasive. As it is, it will remain for an independent observer, an example of India's might against Kashmiri Muslims' right.
Does Nepal, a sovereign country with a complicated relationship with India, have a lesson to learn from all this? I see at least three immediate lessons. One, keep your house in order and put into reality the best practices of governance for people's general prosperity. Two, stay away from the dangerous game of playing India against China and China against India. Three, give cultural and linguistic rights to groups within Nepal to eradicate structural inequality in the governance of the state. Dysfunctional, geopolitically partisan and unjust states invite both internal and external troubles.
***
What do you think?
Dear reader, we'd like to hear from you. We regularly publish letters to the editor on contemporary issues or direct responses to something the Post has recently published. Please send your letters to tkpoped@kmg.com.np with "Letter to the Editor" in the subject line. Please include your name, location, and a contact address so one of our editors can reach out to you.
---
---