Nepal bracing for a drier, hotter and more unpredictable monsoon
Hydropower and agriculture outputs could fall. People's mental health may also take a hit.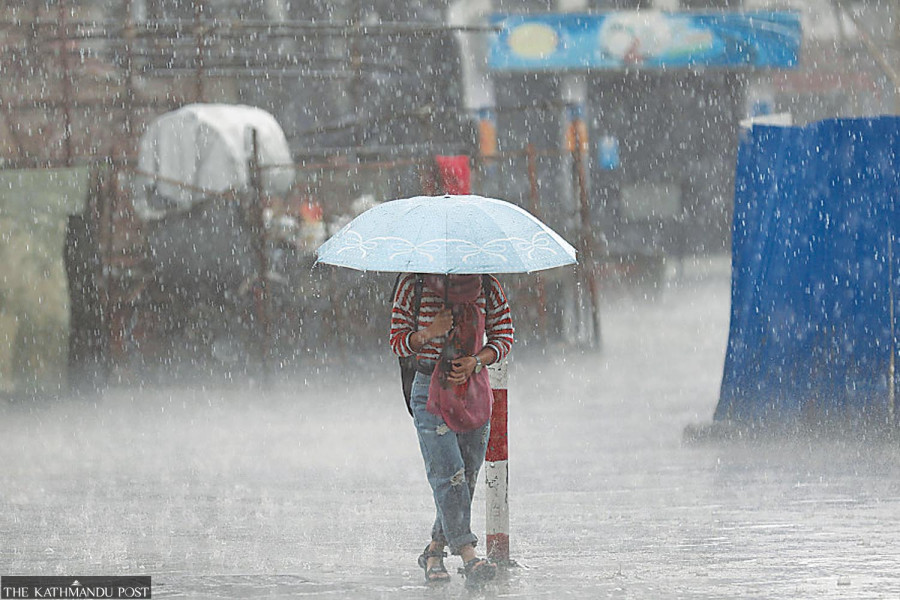 Some districts of Koshi, Gandaki and Bagmati provinces witnessed rain on Monday. Post File Photo
bookmark
Published at : June 13, 2023
Updated at : June 13, 2023 07:25
On Sunday, Diktel bazar recorded 162 mm rainfall in the three hours between 10:30am and 1:30 pm. Diktel is the headquarter of Khotang, a hill district in the country's east.
Rainfall of such intensity in such a short period is considered extreme, according to the Meteorological Forecasting Division of the Department of Hydrology and Meteorology.
"Reports of losses caused by rainfall are yet to come, but the situation was scary in our area," Mohan Kumar Bhattarai, information officer at Diktel Rupakot Majhuwagadhi Municipality, told the Post over the phone from Diktel. "People were worried and came out of their houses, fearing the possibility of rain-related disasters."
Weather experts say more than 60 mm precipitation in one hour, 80 mm in two hours and 100 mm in three hours is heavier than usual and 162 mm rainfall in three hours is extreme and could trigger landslides and floods.
Bhattarai said the district had not witnessed heavy rainfall for a long time and Sunday's downpour was both heavy and scary. In the 24-hour period, the district headquarters recorded 205. 4 mm rain.
Weather experts and Met officials said that it is a cause for concern that extreme weather events have started to be reported at a time when the onset of monsoon is around the corner. The monsoon season in Nepal generally begins on June 13. Last year, the monsoon clouds entered the country on June 5, eight days before the normal date.
"We are yet to declare the actual date of the monsoon's onset," said Sajina Shakya, a meteorologist at the division. "But it will start around its average normal date."
On Monday afternoon, some districts of Koshi, Gandaki and Bagmati provinces witnessed rain, which lowered the maximum temperature. Local weather systems, the effect of westerly trough and a low pressure area formed over north Bay of Bengal were responsible for the precipitation.
Meanwhile, in districts of western Tarai, the heat wave continued on Monday.
Meteorologists have forecast below-average rainfall in the upcoming rainy season. The department's Climate Section, which forecast weather conditions for four months (June 1 to September 30), said most parts of the country are likely to experience an above-average maximum temperature due to the El Nino conditions—unusual warming of surface waters in the eastern tropical Pacific Ocean—that generally brings dry weather.
"There is a 35 to 55 percent chance of both conditions—a below-average rainfall and an above-average maximum temperature," the department said.
Nepal is one of the world's most vulnerable countries to the climate crisis and has witnessed multiple extreme weather events over the past decade and a half.
Evidence suggests the maximum temperature in Nepal is rising faster, at 0.056 degrees Celsius a year, compared to the global average of a rise of 0.03 degrees Celsius a year.
Experts say extreme weather events—excessive rainfall in a short time, continuous rain for several days post-monsoon, dry spells and droughts, below average precipitation and above normal temperature in winter—have become more frequent in Nepal in recent years.
Since June 1, the country has recorded 21.9 mm rainfall, which is 1.5 percent (below average) of the total normal rainfall that takes place between June 1 and September 30. The country sees about 1,472mm rainfall during this period.
But prediction of below average rainfall doesn't mean that extreme weather events will not happen, said Dr Indira Kandel, a senior divisional meteorologist at the Climate Analysis Section under the Department of Hydrology and Meteorology. "We should not forget that erratic weather events are becoming more common," she said.
Experts say rain-induced disasters could go down in the monsoon season but some places could witness drought-like situations, which may affect agricultural production and which, in turn, could affect the lives of thousands of people. Hydropower output could drop and health facilities could see more patients. Stresses caused by impacts of climate change could also exacerbate people's mental health conditions.
Kandel said a 'plan B' should be readied to deal with any untoward situation caused by climate change. "That means we should know what should be done to adapt to the changing weather pattern," she said. "Farmers should be provided with drought-resistant crops, for instance. And there should be other such plans and preparations in place."
---
---