After Covid-19 and locust invasion, country braces for monsoon mayhem
Water-induced disasters this year are expected to collide with the peak of Covid-19 cases, compounding the impacts of the disasters for the country.

A house damaged by a landslide at Hastichaur of Ishma Rural Municipality on Gulmi district on Thursday night. Ghanashyam Gautam/TKP
bookmark
Published at : July 6, 2020
Updated at : July 6, 2020 07:22
Kathmandu
Two weeks ago, a landslide triggered by heavy rain swept away four vehicles at Sammobari along the Tansen-Ridi road section in Palpa. At least three people died in the disaster. On Thursday night, another landslide killed at least two people in Gulmi district. On Saturday, yet another landslide in Bajhang claimed at least seven lives.

These landslides and fatalities come in the early weeks of the monsoon season.
In the first 23 days of the monsoon onset in the country, 35 people have already lost their lives due to landslide incidents, indicating a deadly rainy season for the country already hit hard by the Covid-19 pandemic. To make matters worse, the country is also in the middle of a crop-damaging locusts assault.
According to the National Disaster Risk Reduction and Management Authority, the country has witnessed a total of 256 water-induced disasters, leaving at least 59 dead, two missing and 106 injured since June 12—the day monsoon entered the country.
Besides, 64 livestock also perished in the natural disaster.
As per the Authority's statistics, landslides alone have killed 34 people, followed by lightning (17), snakebite (6) and flood (1) in the country, making it the deadliest monsoon season in more than a decade.
"If we look at the beginning of the monsoon or the first 20 days of the monsoon season, no other year saw such devastation in the last 11 years," Anil Pokhrel, chief executive officer of the Authority, told the Post. "Considering the incidents so far and the reported damage, we can say we are headed for an abnormal situation."
Nepal is prone to water-induced disasters like landslides and floods.
The country's southern belt is battered by monsoon floods whereas the hill districts are affected by landslides every year, leaving behind a trail of lives lost and property damaged.
Floods are known to kill nearly 150 people every year.
"As per the initial forecast, rainfall will be normal, meaning there will be landslides and floods too. Lives have already been lost due to monsoon-related disasters," said Madhusudan Gautam, a disaster and resilience expert. "If we combine the impact of Covid-19 and climate-induced disasters, the country is at a higher risk of losses this year."
With the country's early warning system and disaster preparedness always in question, the monsoon mayhem could be worse.
The Authority has estimated that the country will see a 3 million caseload of water-induced disasters, which broadly include floods, landslides and waterborne diseases this monsoon season.
As per the estimates, the country might see 1.25 million caseloads of floods, inundation, banks erosion and sand deposition. There may be another 250,000 caseloads of landslides and 1.5 million caseloads of other risks such as waterborne diseases and snakebites.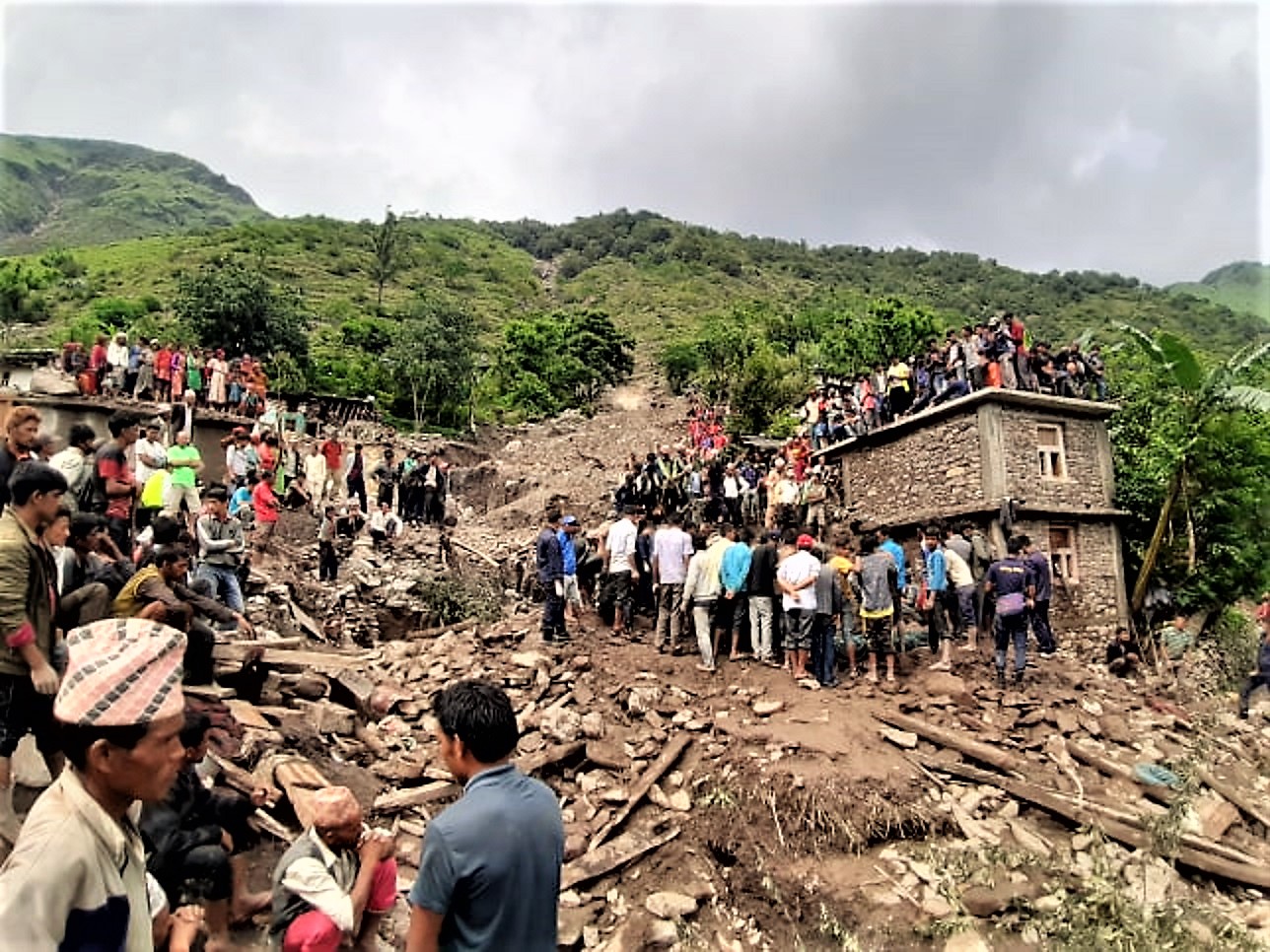 The Saturday morning landslide swept away 18 houses and damaged two others. Basanta Pratap Singh/TKP
However, this toll from water-induced disasters does not equate with the intensity of extreme weather events, according to Pokhrel.
"The caseload is equal to the workload that the authorities may have to handle this season if disasters strike. It can be the number of houses and families affected during a disaster," said Pokhrel. "For instance, in the case of Bajhang landslide, there were seven deaths, but nearly 20 houses were affected, so the caseload is 20. Going by this calculation, around 250,000 houses are likely to be affected due to landslides and a total of 3 million houses or families due to water-triggered disasters in the whole season."
According to Pokhrel, caseloads due to one disaster incident can multiply several times. "For example, a flood incident can leave hundreds of houses inundated, meaning an impact on hundreds of families," said Pokhrel. The caseload means families and houses that the authorities might have to cater to and help with rescue and recovery during a disaster.
Water-induced disasters occur in the June-September season, which receives 80 percent of the country's total annual rainfall.
Both natural and manmade activities are equally responsible for frequent floods and landslides in the country. Changes in the regular rainfall pattern, which has become severe and erratic in the past few years, also give rise to extreme weather events like floods and landslides.
"We need to come up with plans considering this could be the worst year," said Pokhrel.
This year's monsoon is predicted to be normal for the country. However, an alteration in rainfall patterns and intensity—heavy rain in a short duration of time—is an abnormal phenomenon that is slowly becoming a new normal in recent years. This creates the unpredictability of monsoon mayhem.
Despite a normal monsoon last year, a total of 73 people died in floods which also destroyed property worth Rs1 billion. As many as 83 people were killed in 434 incidents–big and small–of landslide the same year.
"A normal monsoon means an average rainfall for the country in that season. But an abnormal pattern can occur too in a year when a normal monsoon is predicted, unleashing more rainfall in one incident," said Pokhrel. "In one year, more than 200 people were killed in an unprecedented flood incident in the Karnali region. So we have to prepare accordingly."
Considering looming disasters, the government's preparation doesn't appear adequate, according to Gautam, who, however, welcomed the formation of the Authority for disaster management in the country.
"The Authority seems to be trying to correct things but it is still operating an old mechanism and its capacities are yet to be improved," said Gautam, who is also a disaster risk management specialist at the National Reconstruction Authority. "If the government wants to minimise the damage, its response mechanisms should be on standby. Even in the existing set-up, local and district level mechanisms still need capacity enhancement."
According to Pokhrel, the monsoon mayhem may only mean floods and inundation in other south Asian countries. However, in Nepal's context, there are other challenges like landslide, which is a major killer, and waterborne diseases and snakebites too.
The lingering crisis of Covid-19 pandemic is only expected to multiply the havoc caused by the monsoon this time.
The government's monsoon action plan, for this year, warns that the country might be battered with extreme water-induced events in the last week of June and the first week of August, which is also expected to be the time of peak Covid-19 cases.
The government's monsoon action plan stipulates roles and responsibilities for all agencies at the three tiers of government and also non-governmental stakeholders.
"We need to be extra precautious this year because the country is already dealing with the Covid-19 pandemic," said Pokhrel. "If all the agencies work together, then we can minimise the damage."
However, Gautam questioned the significance of having a response plan on the paper, which is often criticised as a mere ritual every monsoon season.
"We need sufficient funds to implement the plans. Funds available at the local and provincial levels are not enough for response, rescue and recovery in the event of a large-scale disaster," said Gautam.
"The central-level disaster management fund looks somehow big, but its mobilisation is not hassle-free because of a sluggish assessment of the damage on the ground."
---
---