How many trees needed to make way for Nijgadh? Ministry orders fresh count to settle issue
The Environment and Social Impact Assessment report only provided an estimate, new survey will provide exact number, officials say.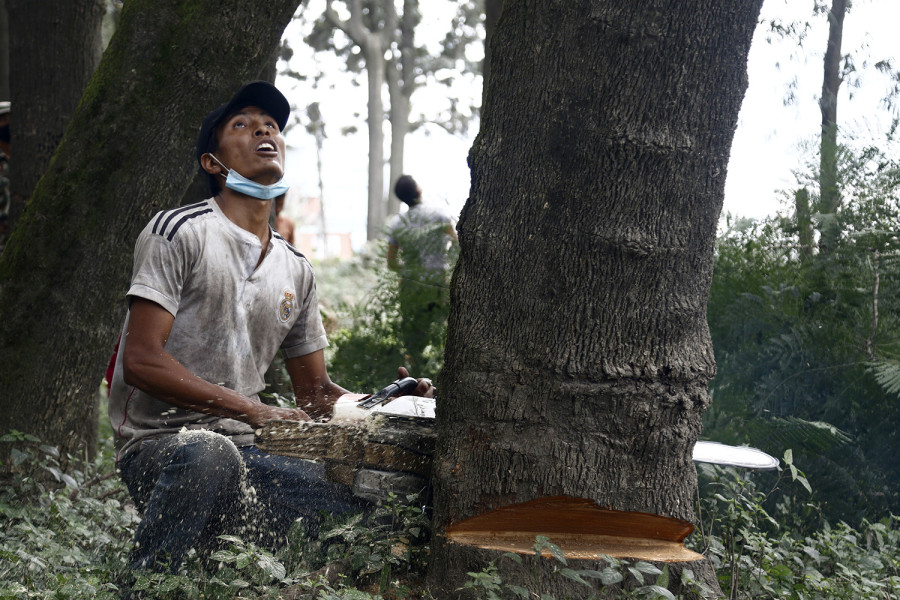 Felling of trees to make way for the airport in Nijgadh has been controversial as the government itself does not have exact figures. Keshav Thapa/TKP
bookmark
Published at : February 7, 2020
Updated at : February 7, 2020 08:05
Kathmandu
The Ministry of Forest and Environment has finally ordered a survey to determine the exact number of trees required to be felled for the construction of the Nijgadh International Airport.

The government-commissioned Environment and Social Impact Assessment (ESIA) report, submitted in February 2017, said 2.4 million trees spread over 8045.79 hectares need to be cleared to make way for the new airport. But after the report's credibility was questioned by environmentalists 'for failing to meet minimum standards' and 'copy-pasting' from an ESIA of a hydropower project, uncertainty loomed over the number of trees required to be removed.

"The ministry has ordered the Divisional Forest Office in Bara to conduct a fresh count of the trees spread in an area of 2,500 hectares (required for the first phase of construction) and the recording of their details (species name and characteristics)," said Sindhu Prasad Dhungana, spokesperson for the ministry.

The government's decision to choose Nijgadh, an area adjacent to the Parsa National Park, home to endangered wildlife and a significant biodiversity corridor on the foothills of the fragile Chure range, has drawn concerns from conservationists, who say construction of the airport will spell disaster. In December, responding to a writ petition filed by nine conservationists, the Supreme Court ordered the government to put a hold on the construction of the proposed airport, which is expected to serve as an alternative to congestion and winter fog-ridden Tribhuvan International Airport.

After the survey is done, the government, which is devising plans based on estimates, will know exactly how many trees need to be felled. "The environmental impact assessment study only gave an estimate of the number of trees that need to be cleared for the project, but the count will give an exact number and settle the issue," said Lok Nath Ghimire, a forest officer at the Forest and Watershed Division under the forest ministry.

But the counting of trees is likely to take time as such surveying of trees is a complicated process. To further complicate things, the Civil Aviation Authority of Nepal hasn't indicated the exact area where the count needs to be conducted. How much bearing the Supreme Court's recent decision to put a hold on the construction work will have on the count also remains unclear. "This is not as simple as it looks as it involves counting a lot of trees," said Ghimire.
---
---