Journalist Bishwakarma's 'Bhurajnitiko Bhar' hits shelves
The book explores how Nepal has become a playground for great power politics.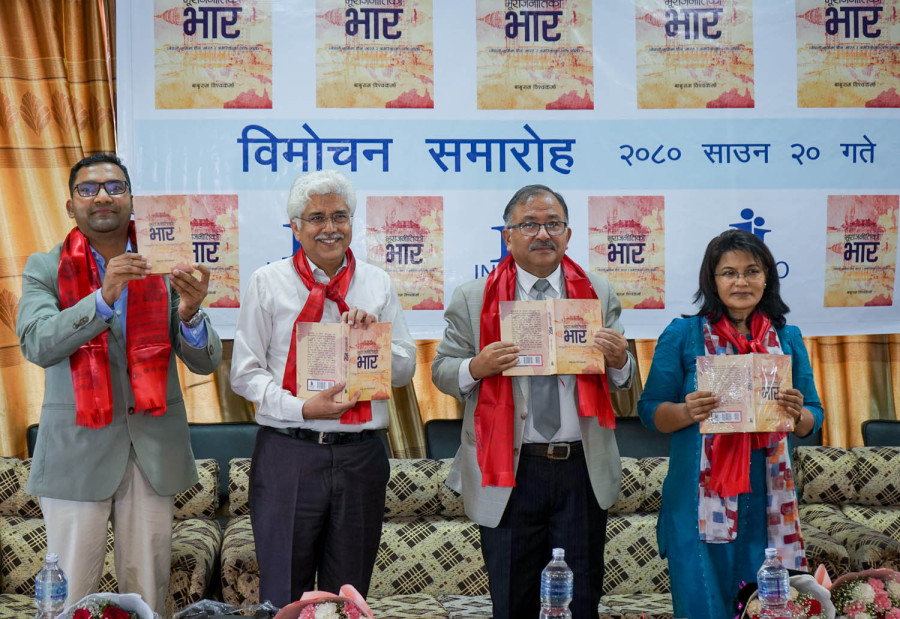 (From left) Author Baburam Bishwakarma, journalist Kundan Aryal, former chief justice Kalyan Shrestha and security and foreign policy expert Indra Adhikari unveil the book at a function in Nepal Academy, on Saturday. PHOTO: COURTESY OF DINESH CHAUDHARY
bookmark
Published at : August 6, 2023
Updated at : August 6, 2023 08:09
Kathmandu
Nepal's geo-political situation and diplomacy have been widely debated and scrutinised over the past few years. As the two global superpowers, the United States and China, jostle for influence across the world, leading many commentators to call the competition a 'new cold war', Nepal has proved to be a fertile ground to host their manoeuvrings, an apparent geopolitical one-upmanship. Several recent incidents serve as evidence.

No other foreign aid programme, for instance, has been as debated, dissected and controversial as the Millennium Challenge Corporation (MCC)'s Nepal compact, which polarised the entire country and led to an open display of animosity between China and the US. A flurry of high-profile visits from both countries to Kathmandu continues. Nepal, the proverbial yam between the two boulders—India and China—thus finds itself in a sensitive geopolitical situation, having to deal now with the US too.
Journalist and writer Baburam Bishwakarma's new book, Bhurajnitiko Bhar (literally, geopolitical burden), which was released amid a function at Nepal Academy on Saturday, deals with these issues. According to publishers Indigo Ink, the book—subtitled 'Power struggle between China, India and the US in Nepali land'—is a history of Nepal's diplomacy and foreign influences over the past half-decade or so. The book is a collection of 13 reportage-cum-essays, a journalist's account of the major geopolitical events that transpired in the period. The book deals with such highly-debated foreign aid programmes as the MCC, SPP (State Partnership Program of the US), GSI (China's Global Security Initiative) and BRI (the Beijing-led Belt and Road Initiative), among others.
The book was unveiled jointly by former chief justice Kalyan Shrestha, who presided over the event as chief guest, security and diplomatic expert Indra Adhikari, associate professor of journalism Kundan Aryal, and Nepali Congress leader and former defence minister Minendra Rijal. The unveiling ceremony was emceed by Shraddha Aryal, a media person with Kantipur Television.
Speaking at the ceremony, Adhikari said the book is written in simple prose and is thus accessible to all. She noted the 'diplomatic tilt' that Nepal has had towards China, especially after Chinese President Xi Jinping's state visit.
"We should conduct a realistic diplomacy," she said. "We should not be swayed by emotions. Even if China is an ascendant global power, we should be able to comfortably say 'no' to any of China's projects."
Journalist Aryal also applauded the book's 'accessible presentation'. "It chronicles many incidents, collects information and anecdotes and presents them in a cohesive, readable whole," he said. "The author has made a subject traditionally reserved for academic studies appealing to common readers. Since Nepal's diplomatic conduct of late is an evolving field of study, the book gives clues and direction for further studies and research."
Meanwhile, Rijal delivered a discursive, meandering speech, touching upon everything from BP Koirala's choice of word—whether 'rastriyata', nationality, or 'rastrabaad', nationalism, is a better word to address one's love for the country—to how, while major leaders of other parties land in trouble for speaking, his party president faces problem for not speaking at all. Rijal praised the author for accurately noting Koirala's preference for 'rastriyata'. About the book up for discussion, he said as much, "It has intrigued me to further study and verify how authentic the information presented in the book are."
Chief guest Shrestha said that while geopolitics is rarely discussed among the masses, the author has tried to break the mould by writing a book that is interesting. "It's a book worth archiving," he said. "It has raised such questions that are bound to intrigue and incite all."
Admitting that diplomacy is not his cup of tea, Shrestha said that Nepal's diplomacy is "definitely titled, toward whichever direction. It's not balanced as it should be and hasn't moved forward in a productive way."
Shrestha also said the foreign policy of a country should be consistent, not change with the change in governments.
Shrestha went on, "We need consistency, continuity, credibility and conversation in our diplomacy…We need to improve our internal affairs and policy, which will give us improved diplomacy. If the country remains poor, then it would give rise to more foreign interference."
Writer Bishwakarma said that with the book, he has tried to write about the affairs that have not been sufficiently written about and debated on. Bishwakarma has been a journalist for around two decades, having worked as a correspondent for the now-closed Nepal magazine, assistant editor of the Centre for Investigative Journalism, Nepal and the Shikshak magazine.
"I have tried to honestly bring out facts and information in a way that they are not limited to an elite group but are also available to the general public," he said.
Bhurajnitiko Bhar
Publisher: Indigo Ink
Price: Rs599 (paperback); Rs799 (hardcover)
---