A visual retrospective of the 2015 earthquake
The photobook 'Nepal Earthquake' by American photographer Kevin Bubriski captures the aftereffects of the disaster on the people of the Valley.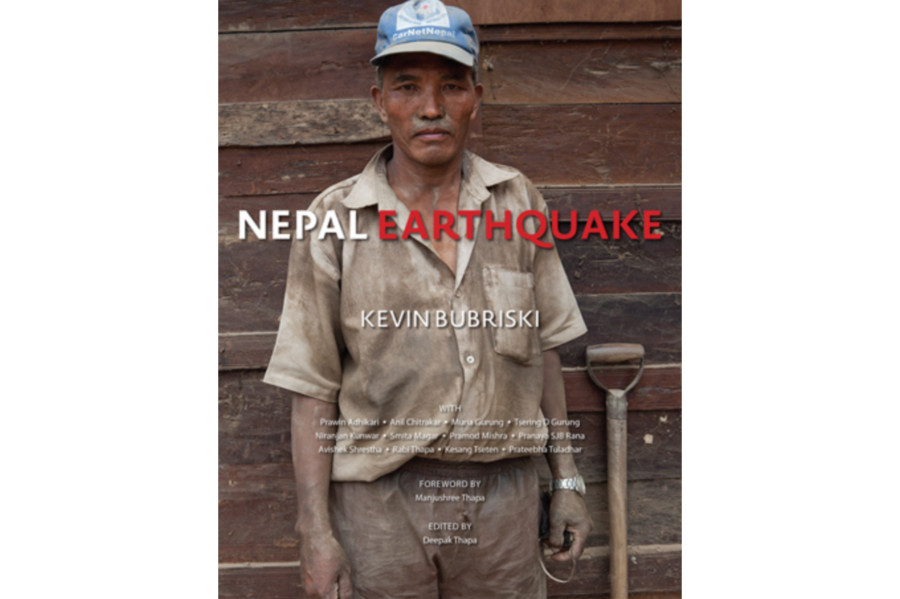 bookmark
Published at : July 29, 2023
Updated at : July 29, 2023 07:15
The year was 2015. It was an unassuming Saturday at noon in April. I'd just finished having lunch—rice, veggies and chicken curry I made for my parents, possibly for the first time. Just as I began toying with my phone, the ground roared and shook.

Nothing could've prepared me for what began to ensue. I always assumed that the ground was the most stable, permanent part of reality. The sky changes—turns blue to black to blue again, and cityscapes change facades, but the ground is always there. Still and present.
But that day, everything changed. I was more afraid of this temporary fluidity than of nearby buildings collapsing. My sense of reality was distorted as if someone came up to me and said the sky was just a wallpaper that I could touch.
As I skimmed through the pictures in American photographer Kevin Bubriski's book 'Nepal Earthquake 2015,' I was flooded with memories. Along with them came the looming sense of anxiety that I'd felt for months back in 2015. This anxiety still haunts me, as some days I find myself running out of my house because I feel a tremor.
Published in 2022, the book is a collection of photographs Bubriski took after returning to Nepal in June 2015, roughly a month after the earthquake. The wounds—both physical and mental—were yet to be healed. People were grieving the loss of loved ones, many were still being rescued from the debris, and thousands were rendered homeless. With this book, Bubriski captures many of these invisible wounds, like the loss of historical monuments around the Valley, family members posing beside a photograph of those lost and naked steel rods exposed to the atmosphere.
The photos serve as a stark reminder of the long-lasting effects the disaster had on Nepali lives. Bubriski takes his lens to several locations around the Valley, like Sankhu, Bungamati, Khokana, Patan, Bhaktapur, and Bauddha. He captures the broken appearances of iconic architectures (shown surrounded by a pile of their own debris) as well as the ordinary homes of people to show how the earthquake corroded people's sense of self on both personal and societal levels.
An interesting thing I noticed in his photographs was the economic prospects brought about by the destruction. The book is filled with lingering portraits of young men, all working on cleaning the debris or reconstructing broken buildings. The captions reveal that they earned around Rs700-800 per day for cleaning up and reconstructing. Many of these young men are seen smiling for the picture, perhaps because they're happy that they found a source of income.
Lending to the Valley's eclectic cityscape—brightly coloured walls and oddly shaped houses—the pictures have an aesthetic quality to them; even in the destruction, they maintain that jovial essence—bright green, blue, and yellow walls shine through the now invisible roofs or half broken pillars.
The same goes for the animals. Goats, cats, monkeys and dogs pose nonchalantly for Bubriski's camera, calmly sitting atop rubbles or broken windows, blissfully unaware that the humans around them have had their lives uprooted.
This apathy also extends to nature itself—because earthquakes aren't a sinister force projecting its anger on humanity, it's simply a natural phenomenon, a moving of tectonic plates. This particular retrospective—which also includes text by 13 writers and is edited by Deepak Thapa—alludes to this phenomenon as we witness Nepalis accepting and rebuilding even when the aftershocks continued for weeks.
The write-ups feature experiences and thoughts on how the April 2015 earthquake has shaped our lives. Many revolve around the tales of the process of relief and rescue. Writers recount their experiences in rural villages where mud houses collapsed like dust, and the subsequent fallout led to food scarcity, among many other problems.
The write-up by Prawin Adhikari reflects on the myriad of conflicts faced by relief parties as well as the victims. The anecdote follows the distribution of rice and oil in a village in Rasuwa, where food insecurity created a rift between different ethnicities, particularly between the Tamangs, Gurungs and Bahuns. Their brotherhood is fractured—as they fight over the alleged unfair distribution of relief.
Stories like these ground the photobook, as it shows multiple stakeholders—some kind, generous and giving, while others shrewd enough to make profits out of such a situation.
Because of the book's size and quality, it does lie on a higher price spectrum. This made me wonder just who the book is for. I concluded that unless put in public libraries, schools and other accessible spaces, it risks becoming a coffee table book for those probably least affected by the earthquake. It would render the book's purpose ironical—like observing destruction, poverty and pain through the comfort of privilege.
Nepal Earthquake
Author: Kevin Bubriski
Year: 2022
Publisher: Himal Media
Price: Rs5,000
---
---