When women write about women, it is based on reality, not assumption
Uma Subedi, author of 'Toda' and 'Iti', talks about the need for diverse and creative stories to ensure Nepali literature's growth.

Photo courtesy: Uma Subedi
bookmark
Published at : April 20, 2023
Updated at : April 20, 2023 08:39
Uma Subedi is an emerging name in Nepali literature. She's a poet, lyricist, storyteller, editor, vocalist, and fiction writer. In 2010, she published her first book—a Ghazal collection called 'Tapkiyara Anjulima'. In 2011, she published a second book, a well-received poetry collection titled 'Tirsanakachhalharu'. However, it was 'Toda', her fiction debut, that established her as a household name. She released her second work of fiction, 'Iti', in 2016 and a collection of short stories titled 'Sayau Putali' in 2018. Subedi is currently working on her third novel.

Subedi tells the Post about her recent reads, her views on the abundance of socio-realism in Nepali literature and how bringing in fresher and more creative genres can attract young readers into reading Nepali books.
What are you reading nowadays? Tell us about some of your favourite authors.
I'm currently reading 'Aaithan' by Bibek Ojha. The book talks about the traumas of the civil war. I find its prose and style rather interesting. My book 'Toda' was also about the trauma faced by Israelis because of war, so I've been drawing some parallels from both books.
I have a very long list of favourite writers, but if I had to name a few, they'd be: Parijat, Indra Bahadur Rai, Shankar Lamichhane, Bishweshwar Prasad Koirala, Madan Mani Dixit, Prema Shah and Banira Giri. All of these writers' works are realistic and creative, with unique writing styles. I find their writings to be relevant across all eras.
Any country or genre-specific literature you're drawn to?
People find literature from all over the world interesting. But I am instinctively drawn to literature that is close to us—socially and geographically—because they are a reflection of our surroundings as well as ourselves. Works by Nepali writers best portray our stories, our problems, as well as our happiness and sadness. We are the products of our past and present. So literature, be it stories, poems, novels or essays written in a local context, is what connects us. Reading literature from Nepal is what I enjoy the most.
World literature helps us learn about styles and other information, but Nepali literature is the final bridge that connects us to our society. Similarly, I really enjoy fiction. But to write good fiction, one needs to read a lot of non-fiction. So, recently, my library has seen an increase in non-fiction books.
Are you drawn to the style or the story in a piece of literature?
I think the content/plot is the most important. But if you can't put your ideas into a style, then even the best idea will go to waste. That, I believe, is one of the greatest weaknesses of writers. We raise big questions and write about pertinent matters. However, we lag behind when it comes to finding the right creative style to express these ideas. A well-written and stylish piece of work will stick in a reader's mind, which inherently ensures that the content passes through.
Should books make you think or feel? Where do you draw the line?
A book isn't there for you to just read and forget. It should nudge our emotional boundaries and compel us to think. If issues raised by books are expressed in the right way, then they have the power to challenge society and the status quo. A book shouldn't be read just for pleasure, it should also encourage discourse.
Nepali literature scene is dominated by socio-realism. Why do you think so? Should there be a rise in, say, surrealism, crime, horror or more philosophical literature?
Socio-realism holds an important role all over the world. This is why we find a lot of socio-real stories around. This genre has been around for ages and will continue to be popular. Not all of us can step out of society and time to create literature. However, it is high time that socio-realism gets an update. It needs new styles and a newer way of portrayal. Otherwise, socio-realism works tend to get a bit monotonous. We must learn to become creative and try new things while making realism the foundation—not the entirety.
If we want Nepali literature to move forward, we need to work on other genres. We are weak regarding science fiction, thriller and magical realism. There aren't many books published under young fiction either. Even children's stories are too didactic. We need diversity in Nepali literature.
Your book 'Toda' talked about the grim tales of female migrant workers. Do you notice a lack of representation in Nepali literature when telling contemporary female stories?
There are a lot of stories written about women in Nepali literature—mostly written by male writers. When a woman writes a story about another woman, it is not based on assumption but on reality. Only a female writer can truly understand and write about the pain and troubles that women go through. I was able to write 'Toda' because the hardship of female migrant workers is something I have seen and experienced. Male writers can sympathise and write about it, but it won't come close to somebody who has actually experienced it. I believe that is why 'Toda' was loved by so many—because of its authenticity.
If you look at Nepali literature published to date, female writers are the ones whose stories about women feel more believable. But there is a lot more we can and have to do. There are not enough stories that have female characters that are Madhesi, Muslim, Tharu, Newa, or Dalit. Women from indigenous or minor communities need to be better represented.
Do you read translated literature? Your thoughts on the transition of world literature in Nepali (and vice versa).
I'm always interested in anything that's translated into Nepali. Translated literature is a gateway to international stories and contexts. It would be easy for us to understand our place in the world if we could send out Nepali literature by translating Nepali books into various languages. But the translation has to be good. We can take Nepali literature to new heights by collaborating with good publishers and distributors. If we plan to distribute translated literature only for the Nepali market, then I believe it won't be beneficial.
How can we get younger generations to start reading? Especially books written by Nepali authors?
It is not easy to attract young people towards literature. The reading culture has to be established in the school. It is imperative to introduce them to Nepali writers according to their age and reading capability. Young people are usually interested in something more creative and fantastical, but we keep forcing realism into their books and syllabus. That is why they lose interest. We need to pay attention to what they actually like.
You recently came back from the Tikapur Literature Festival. What are your thoughts on the importance of such literary festivals?
Nowadays, a lot of literature festivals have started springing up. And that's a good thing. It helps bring writers and readers together. It also encourages conversations and discussions. Literature festivals are a good way to attract readers and literature enthusiasts. However, we must consider ways to bring in new topics and encourage more local participation.
Uma Subedi's book recommendations:
Madhabi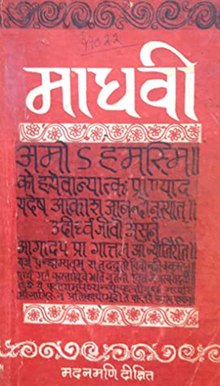 Author: Madan Mani Dixit
Year: 1983
Publisher: Sajha Prakashan
Ular
Author: Nayan Raj Pandey
Year: 1998
Publisher: Tanneri Prakashan
Sumnima
Author: Bishweshwar Prasad Koirala
Year: 1969
Publisher: Sajha Prakashan
Shirishko Phool
Author: Parijat
Year: 1964
Publisher: Sajha Prakashan
Sharanarthi
Author: Krishna Dharabasi
Year: 2013
Publisher: Pairavi Books
Ghamka Pailaharu
Author: Dhanush Chandra Gautam
Year: 1979
Publisher: Sajha Prakashan
---