A hodgepodge of everything wrong with the world
Amitav Ghosh's 'Gun Island' creates a world of an all-engulfing dystopia with layers of revelations, mysteries, and inexplicable occurrences.

Pixabay
bookmark
Published at : November 16, 2019
Kathmandu
"It is as though the Little Ice Age is rising from its grave and reaching out to us."
Earlier this week, the Italian city of Venice was hit by the highest tide in 50 years, the second-highest in nearly a hundred years.
Where do you start if you want to save a world that has turned so ghastly?
If you are a writer, you write.
That is what Amitav Ghosh sets out to do, in Gun Island—his ninth novel that begins from a charming evening in Kolkata and soon escalates to an all-engulfing dystopia that threatens to wreck the world. The novel aims to become, like the 'Blue Boat' in its pages, 'a symbol of everything that's going wrong with the world—inequality, climate change, capitalism, corruption, the arms trade, the oil industry.'
But the best intentions do not always translate well into a novel. At times it is a science lesson masquerading as a thrilling tale, and just as quickly it switches into a chapter of history, incongruously forced into a conversation. Moral and ethical dilemmas occupy spaces of their own. Sagging under its own immense weight, the novel skirts the dangerous terrain of a hodgepodge creation.
We have as the protagonist a dealer of rare books and Asian antiquities, originally from Kolkata but at home in Brooklyn. Deen is in his fifties, but familiar with the millennial term 'ghosting.' He values his placid life, but can't resist visiting an island in Sundarbans that hosts the romantic figure of the Bonduki Sadagar, the Gun Merchant. This trip sets in motion the 'butterfly effect' that will take him to the other end of the world, and affect countless lives in the process.
Two boys Deen has recently met, Rafi and Tipu, set off illegally for Europe via Bangladesh, but are separated in Turkey—the latter begins having visions after being bitten by a hooded cobra, and also sends strange messages to Deen. A scientist Deen is attracted to, Piya, begins to receive tip-offs about whale beaching. Gisa, a documentary maker, invites Deen to Venice to be part of a documentary. Seemingly overseeing all this is the dramatic Cinta, a historian, who keeps feeling the presence of her long dead daughter.
Meanwhile, Deen himself is busy deciphering the Bonduki Sadagar's travels five centuries ago, and concludes that the Bengali actually went to al-Bunduqeyya, Venice's Arabic nomenclature—and the name stuck. And wonder of wonders, he is then invited to Venice for an assignment. The very day he lands there, he immediately chances upon Rafi, and then stumbles into a host of characters and incidents that are just dying to give away clues to the Sadagar.
In fact, every conference Deen attends, any flight he takes, each person he meets, provides him piece after piece of the puzzle that has already been fitted together. After the tenth round of chance encounters and coincidences, the reader will begin to wearily wonder, "how much is too much?" Even Deen philosophizes to reassure himself and the readers that chance and coincidence are necessary, "To lose sight of that (coincidence) was to risk being untethered from reality; chance was the very foundation of reality, of normalcy."
Be that as it may, what exactly happens in the novel is difficult to explain, fathom and believe. There are layers upon thick layers of revelations, mysteries, and inexplicable occurrences. Magic realism would not begin to describe the work. Readers are plunged from one jaw-dropping, goosebumps-inducing anecdote to another, with nary a moment for reflection or thought.
This is not to say that this constant gallop is not exciting. Ghosh is a master storyteller, and his juxtaposition of the past and present—of Kolkata and Venice, of invaders and migrants—is brilliant. It is an extremely well-researched, thoughtfully knit, and rousingly cautionary tale of the ill-impact of humanity's actions upon nature. Beginning from the 'Little Ice Age' that laid siege to the world in the 17th century, the novel warns us about moving rivers, a change in the behaviour of animals, dead zones, fish kills, wildfires spreading like a gigantic tsunami, real tsunamis, storms and cyclones, unpredictable weather patterns, migration of snakes and spiders, and ultimately, the multitude of climate refugees that are forced to flee their lands for risky pastures abroad.
A praiseworthy element in Ghosh's writing has always been the atmosphere he creates, a microcosm that binds the characters and entices readers to step in. In Gun Island, the atmosphere is a heady mix of spooky and unpredictable, that can careen quickly to crazy. The setting, that limits itself largely to Venice halfway on, is a character in itself. The large piazzas and fragrances of olive oil and garlic, the charmingly crooked doorframes of its buildings, the fondi di carciofi—artichoke bottoms—on display in the marketplace will draw readers to the city. Sentences in Bengali and Italian resonate charmingly and familiarly across the pages.
The attention to intricacies and each detail of the Sadagar's journey is astounding, the search for clues and context, the explanation and reasoning, is a reminder of Ghosh's Ibis trilogy. There are recurrent motifs like water and snake; gun and dolphin that will whet up curiosity and induce a feeling of joy at the way all of it seems to click together. Of course, there are loose threads like Deen's encounter with the smuggler, and the unnecessary flashbacks of some characters, that add no perceptible value to the storyline.
Gun Island is like a racy movie, a ghost story, a too-familiar myth that derives evidence from the past and inserts shocking examples from the present to warn of an inevitable apocalypse. In its own words, it is the carrier of "a voice crying out from the past to remind the world that the limits of human reason and ability become apparent not in the long, slow duration of everyday time, but in the swift and terrible onslaught of fleeting instants of catastrophe." Strangely, the novel turns too flamboyant and jaunty and rakish in its tone at inopportune moments, while the undercurrents are scary and chilling.
"No one knows where they belong anymore, neither humans nor animals," Piya says, and this sobering truth follows us throughout the novel and lodges itself into our minds, long after the last word in the novel has been read.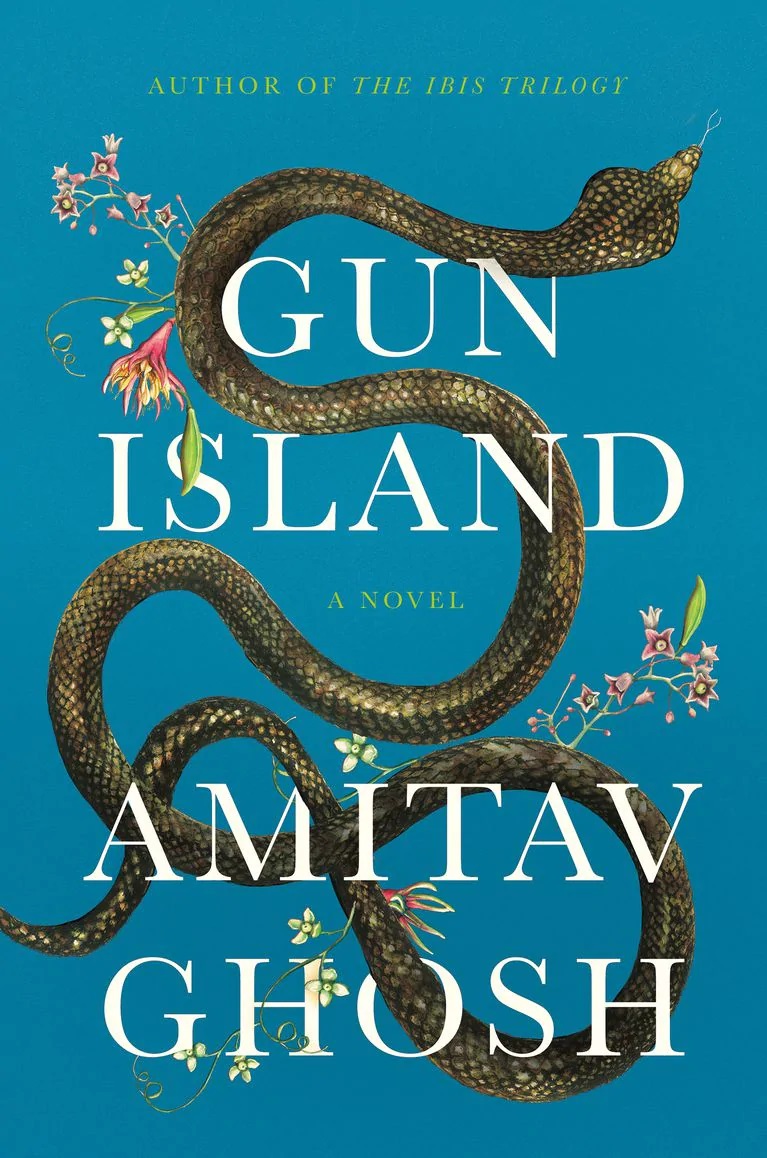 Gun Island
Author: Amitav Ghosh
Publisher: Penguin Random House India
Price: Rs1,016
---
---