Connecting cultures and inspiring conversations
Takpa Gallery's exhibitions range from sculptures and traditional thangka paintings to contemporary collections that echo diverse voices and cultures.

The main hall of Takpa Gallery. The gallery is dedicated to amplifying the creative voices of Nepal and the vast Himalayan region. Photo: Courtesy of Takpa Gallery
bookmark
Published at : November 3, 2023
Updated at : November 3, 2023 07:18
Art and sculptures are cherished for the humane messages they convey, apart from the visual appeal. Artists often use their work to express their perspectives on the world. In essence, art serves as a universal human language, connecting and resonating with people from all walks of life. It is this universal appeal that draws us to art galleries—to gain insights into humanity, explore diverse viewpoints and bask in the aesthetic beauty of art.

Recently, I visited the newly opened Takpa Gallery in Lazimpat, where Bijaya Maharjan is hosting his first solo exhibition titled, 'The Sculpted Visions'. The gallery's main hall has pristine white walls and large windows that allow natural sunlight to filter in, illuminating the artist's meticulously crafted sculptures. While observing the exhibition, I met Pooja Duwal, the representative and content writer, who oversees the gallery statements, artists' statements during exhibitions, and all writing-related tasks for Takpa. She is one of the many artists contributing to the gallery's creative endeavours.
According to Duwal, Takpa Gallery, a contemporary haven for art, is dedicated to amplifying the creative voices of Nepal and the vast Himalayan region, encompassing India and Tibet. The gallery often collaborates with artists from India who specialise in both contemporary and traditional thangka styles, broadening its scope beyond Nepal. "Takpa Gallery aims to showcase stories not only from Nepal but also from diverse artists across the wider Himalayan region," she says.
Central to its mission is the spotlighting of narratives deeply rooted in these regions. Acting as an open stage, the gallery provides a platform for a diverse range of visual expressions that echo throughout the Himalayas. This gives rise to fresh dialogues and encourages collaborative efforts, fostering an atmosphere of inspiration and creativity.
The name 'takpa' is rooted in the Tibetan language. Derived from 'mitakpa', traditionally signifying impermanence, the term is reinterpreted by the gallery. Instead of emphasising life's fleeting nature, Takpa challenges the Buddhist concept of transience. In this context, it represents the enduring and continuous artistic vision of the gallery, defying impermanence to signify the persistence of creative expression.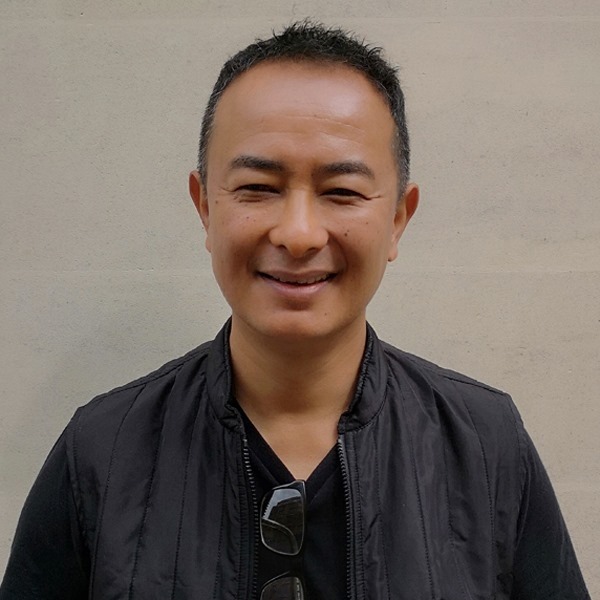 Tsherin Sherpa, the founder of the gallery.
At the heart of this gallery's inception is Tsherin Sherpa, who brought the space to life in April 2023. A contemporary artist who calls both Kathmandu and the United States home, Sherpa's work occupies a unique artistic space at the intersection of traditional thangka style and motifs, seamlessly intertwined with elements of contemporary pop culture. "Through his art, he paints a vivid portrait of the present-day psyche of the Himalayan diaspora," explains Duwal. His vision gained international recognition when he represented Nepal in its first-ever pavilion at the prestigious Venice Art Biennale in 2022.
The Venice Art Biennale is one of the world's most prestigious international art exhibitions. It takes place once every two years in Venice, Italy. This event showcases contemporary art from around the globe and features a wide range of artists and artistic expressions. The biennale includes various pavilions representing different countries, and it serves as a platform for artists to display their work.
"The opportunity to represent Nepal at such a global event filled me with immense joy and gratitude. This platform allowed me to showcase the rich tradition of Nepali art through a contemporary lens, reflecting our artistic history," says Sherpa.
Carrying Sherpa's vision, director Tashi Sangpo oversees all the projects and events at Takpa.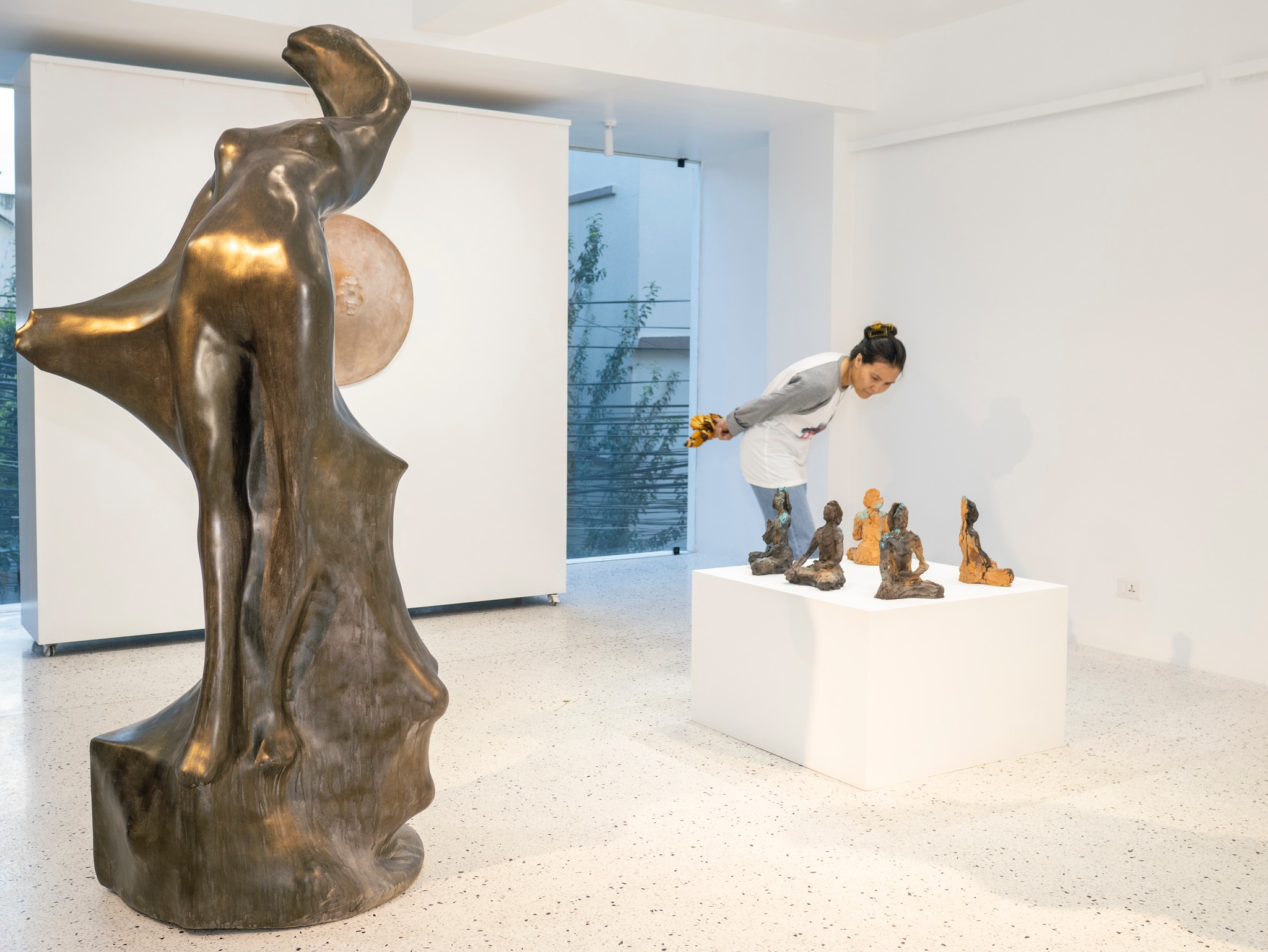 Sculptures on display in the ongoing exhibition 'The Sculpted Visions'. Photo: Courtesy of Takpa Gallery
Takpa Gallery launched in April with the exhibition, 'Personal Realities', which featured the works by Sherpa alongside the thangka paintings of his father, Urgen Dorje. This was only the beginning of a series of captivating exhibitions hosted by the gallery. In June, 'Diverse Expressions' offered visitors a glimpse into an extensive personal collection of Himalayan art curated by Sherpa and his wife, Dolma Chonzom, who is a gallerist.

The next exhibit, 'Windows to the Sky' in July, featured the works of 17 contemporary Nepali artists spanning various mediums—from painting to printmaking, drawing, sculpture and mixed media.

In August, the gallery put-out its first solo exhibition by Duwal, titled 'The Stranger Is A Friend'. The charcoal and oil paintings poignantly depicted the artists reflections on everyday life within her Bhaktapur community.
Reflecting on it, Duwal shared, "The solo show was a very rewarding experience, allowing me to shape my ideas and engage with diverse viewers. It provided insights into growth as an artist." She acknowledged the gallery's significant role in her artistic development.
The current exhibition by Maharjan will be on display until November 11.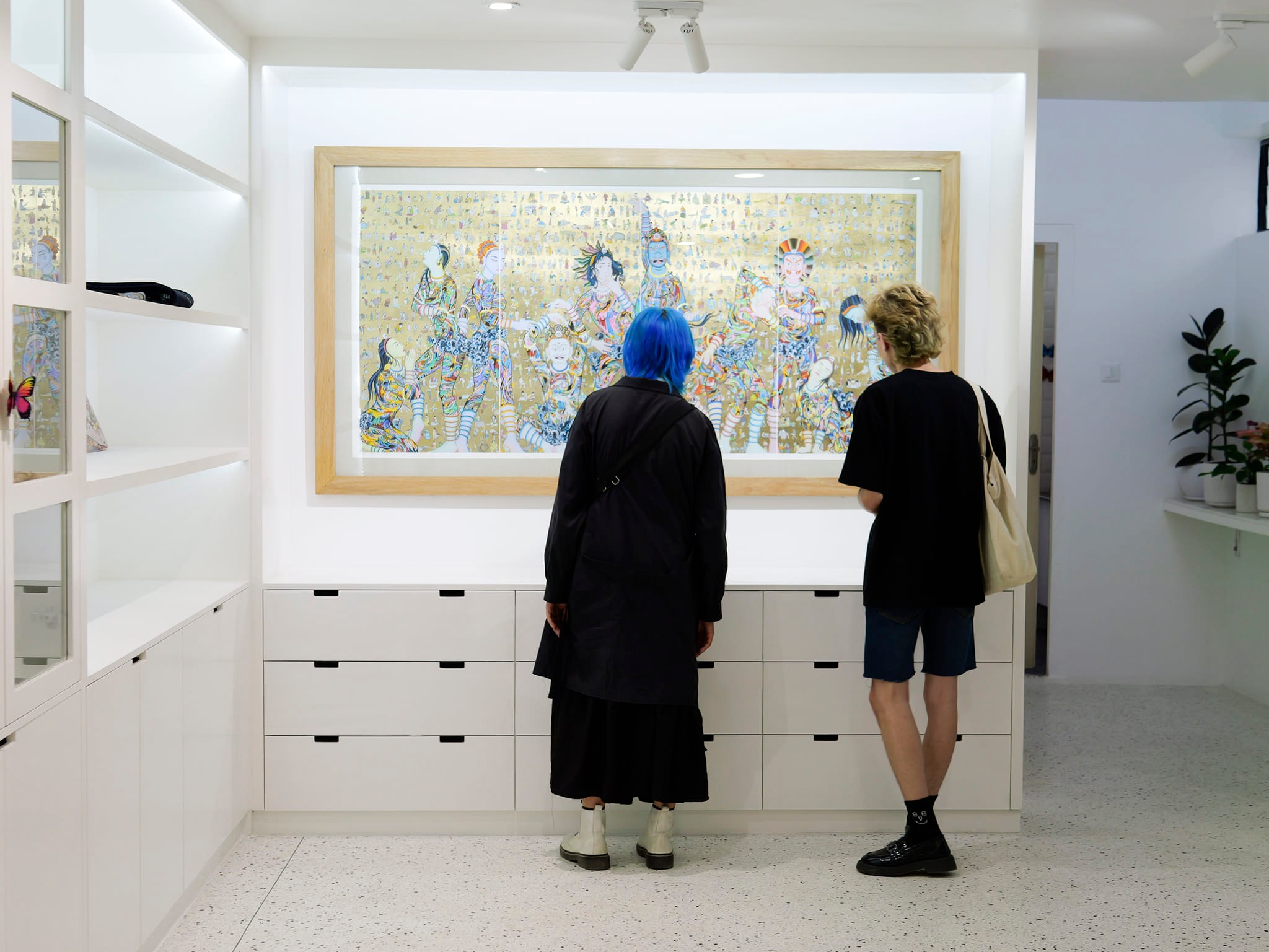 Visitors take in the artwork on display. Photo: Courtesy of Takpa Gallery
Looking ahead, Takpa Gallery has an exciting lineup of projects—with plans for both solo and group exhibitions. Additionally, the gallery aims to collaborate with artists and institutions focused on various social issues. In late November, they will host an exhibition in collaboration with the World Bank Nepal and the Himalayan Art Initiative, centred around themes of gender-based violence, equality and inclusion.

More than just an art space, Takpa Gallery serves as a sanctuary for diverse Himalayan voices. It champions emerging artists, providing a nurturing environment for their unique stories and perspectives. According to Duwal, a spokesperson for the gallery, "By embracing diversity and inclusion in art, the gallery lays a solid foundation for the next generation of Nepali artists."
Its unwavering commitment is to support distinctive Nepali voices and offer a platform for artists exploring a wide array of ideas, mediums, and social contexts. Duwal stated that the team will support artistic diversity, encouraging meaningful conversations, inspiring collaborations and nurturing the creative potential of the Himalayan region in the future too.
---
---
Most Read from Arts
E-PAPER | December 08, 2023