The master craftsman
Artist Lok Chitrakar believes there is a great need for a rethink of society's understanding of art.

A 'bridge' of 108 Avalokiteshvara forms displayed at Chitrakar's solo exhibition in MoNA. Photo: Courtesy of Museum of Nepali Art
bookmark
Published at : April 24, 2023
Updated at : April 24, 2023 07:17
Lok Chitrakar is the name that stands out in preserving Nepal's cultural identity through Paubha art. I had the pleasure of meeting him one afternoon at the Museum of Nepali Art in Thamel, where his masterpieces showcasing his exquisite craftsmanship are currently exhibited in his Solo Exhibition. During our conversation, Chitrakar shared his almost 50-year-long journey in art and his mission to uphold the ancient tradition of Paubha art.

Paubha is a traditional art form that originated in the Kathmandu Valley. It is a religious painting style that features portrayals of Buddhist and Hindu deities, spiritual beings, and Mandalas. Paubha art is frequently used in religious events and festivals and has been a part of Nepali culture for millennia. Paubha art is still practised by skilled artists today and is distinguished by its exquisite detailing and vibrant hues, which are frequently bordered decoratively and may include Sanskrit inscriptions and other significant insignias.
Born into a family of traditional artists, Chitrakar's artistic journey began at the young age of 12 when he completed his first painting. Reflecting on his early years, Chitrakar recalls that he was not aware of the complexities of art and its significance at the time. His natural passion for art blossomed as he participated in family rituals, functions, and festivals. Chitrakar never imagined that his passion for art would lead him to the level of recognition and legacy that is now associated with Paubha art and his name.
The symbolism of Paubha art is deeply rooted in Buddhist mythology and philosophy. In the paintings, the colours, symbols and shapes and symbols convey deep spiritual meanings. For example, the use of lotus flowers, the wheel of dharma and the Ashtamangala (eight auspicious symbols) carry their own significant meanings in the art form. The lotus flower, in particular, is frequently used to signify purity and enlightenment, while the wheel of dharma represents Buddha's teachings.
Chitrakar emphasises that painting deities is not merely an artistic pursuit, as they carry profound symbolic significance. Thus, the process of creating Paubha paintings demands extensive research, meticulous attention to detail, and a great deal of skill and patience. Each painting is curated with utmost care and devotion to the spiritual themes and traditions of Nepal.
Through his work, Chitrakar has deepened his understanding of Buddhist philosophy and spirituality. He believes that creating these paintings is a continuous learning experience that offers endless opportunities to discover new dimensions of philosophy, which keeps him intrigued and motivated.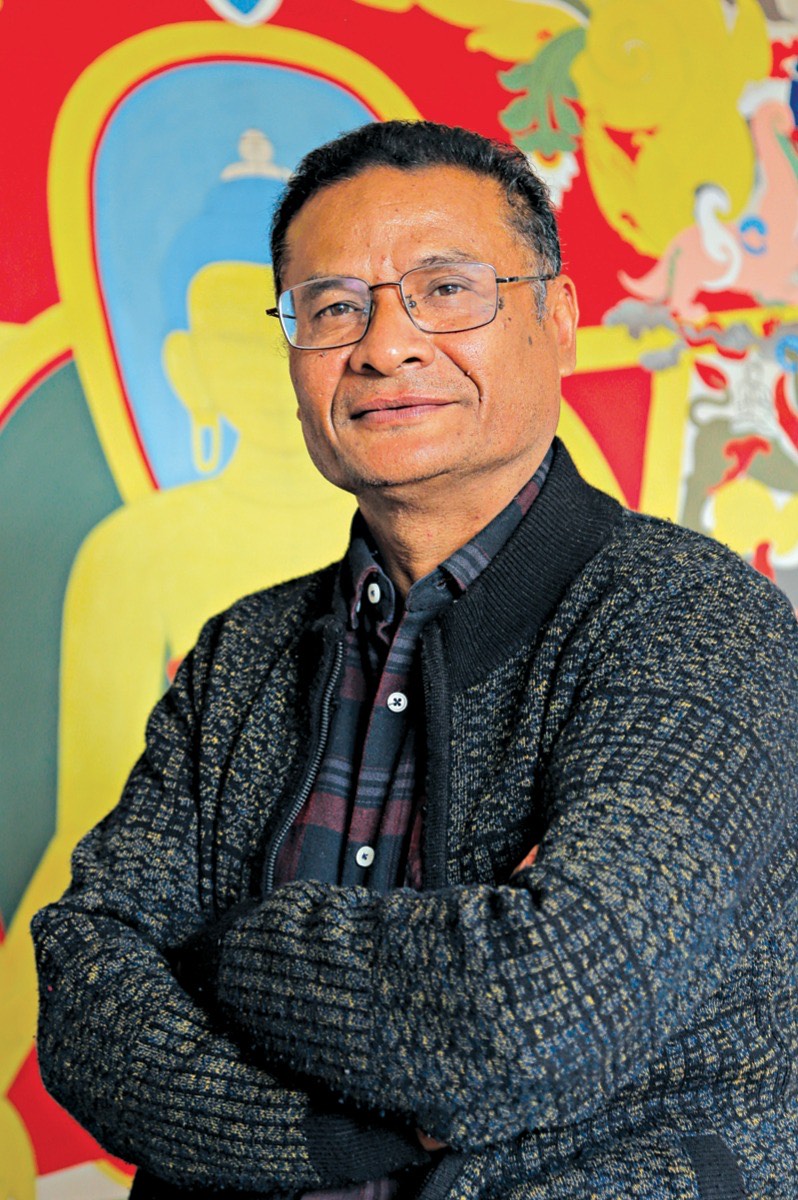 Photos: courtesy of Museum of Nepali Art
Chitrakar's dedication to comprehending the meaning behind his paintings has resulted in some of his works taking years to complete, including his fabled Maha Rakta Ganesh. Some of his other works are still in the works, like the intricate Hevajra Mandala. His approach to painting has developed over time, as he transitioned from a focus on finishing paintings in order to just earn a livelihood to a greater awareness of the meaning of his work and the significance it carries. Chitrakar's heart would not allow him to make art without diving into its underlying significance, the reason why many of his works have taken more than a decade to complete.
Chitrakar further emphasises the need to distinguish between Thangka and Paubha art. Both of these arts have their roots in the Himalayas. "Although the terms Thangka and Paubha are used interchangeably, they have distinct differences in terms of origin, style, content, and use," explains Chitrakar.
While Paubha art is associated with the Kathmandu Valley's Newa population, Thangka paintings are affiliated with Tibetan Buddhism. When comparing the styles of these two paintings, we can see that Thangka works are more inspired by the landscape of Tibet and have Chinese influences, while Paubha art utilises intricate patterns and depict Hindu deities and spiritual figures from the Newa tradition.
Through his solo exhibition at MoNA, Chitrakar showcases a variety of Paubha paintings in different styles and sizes. The museum has curated a bridge of 108 Avalokiteshvara forms, symbolising how Bodhisattvas act as a connection between mundane life with the enlightened higher self. Some paintings on display include Maharakta Ganesh, various forms of Manjushri, and Cakrasamvara, totalling over 200 artworks.
There is also a section dedicated to more contemporary styles of Chitrakar's paintings. Although he does not consider himself a contemporary artist, Chitrakar enjoys exploring different artistic options. It takes him significant time and dedication to create the Pauba paintings. On the other hand, Chitrakar blends the concepts he already knows with contemporary art to create unique and innovative works in a relatively shorter time.
Chitrakar believes there is a great need for revision in society's understanding of art. He notes that there is a common misconception that art is solely for ornamentation or for foreign art enthusiasts. He says, "Instead, it is essential for Nepalis to appreciate the unique art forms native to our country, which are based on Eastern or Buddhist philosophies and form an integral part of Nepal's cultural heritage."
According to Chitrakar, these artworks hold deep symbolism and are intended to assist the observer in realising and connecting with the divine. Paubha paintings offer a visual representation of the spiritual world and enable the observer to contemplate and connect with the art through colour, composition, and symbolism.
Despite devoting 50 years to Paubha art, Lok Chitrakar remains uncertain as to why he does it with such passion and reverence. He speculates that it may be because he simply doesn't know how to do anything else, laughing humbly. Chitrakar explains that art became his calling at a young age, and that is what has driven him so far. Additionally, the love and appreciation he has received from society have been a significant motivator.
Chitrakar considers Nepali paintings as living heritages that will be lost if the craft is not preserved. He has been carrying on this lifelong legacy of protecting Paubha art through his paintings, and he believes that the younger generation has a significant role to play in safeguarding and promoting the art form.
"I hope is that the next generation will carry on the traditions and preserve this ancient and invaluable cultural heritage for future generations," says Chitrakar.
Chitrakar's solo exhibition will continue at Museum of Nepali Art (MoNA), Thamel, throughout May.
---
---