Mithila tales from Janakpur
For these women artists from Tarai, Mithila art serves as their source of strength and happiness in an imperfect world.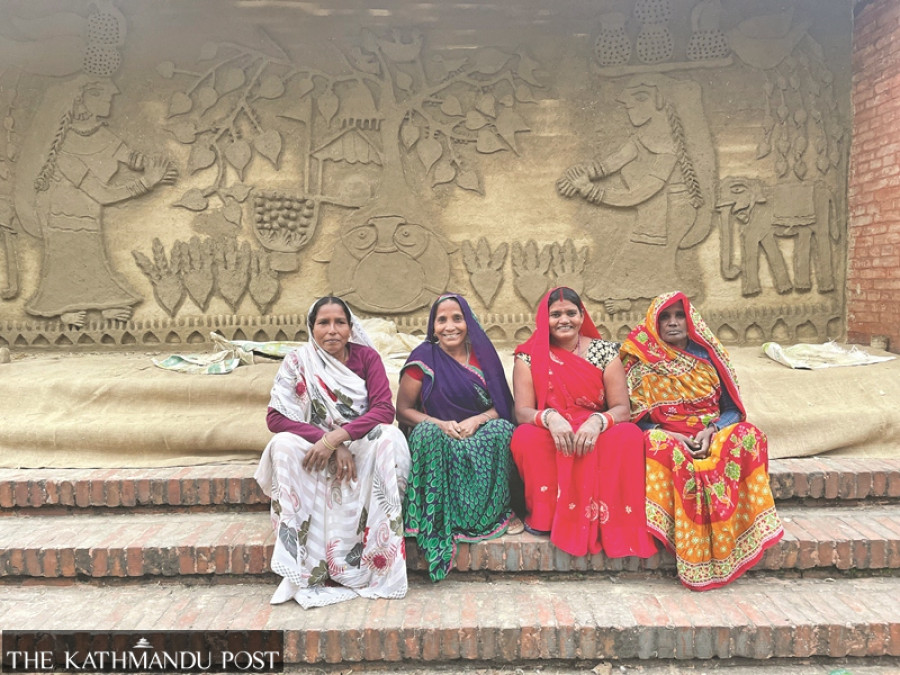 (From left) Sudhira Karna, Manjula Thakur, Madhumala Mandal, and Rebati Mandal at the Taragaon Museum in Bauddha. Srizu Bajracharya/TKP
bookmark
Published at : November 26, 2021
Updated at : November 26, 2021 20:32
Kathmandu
In 1988, Manjula Thakur had no idea how her life would change when she went around with Claire Burkert, an American visual artist and researcher, in strife-torn Janakpur to recruit women to make Mithila art.
Manjula, who found a mentor in Burkert, believed that the appreciation Burkert had for the traditional devotional art would encourage women in Janakpur to pursue the art form to make a living for themselves. For Manjula, her immediate aim at the time was to financially empower herself so she could help her husband provide for the family. At 26, Manjula helped Burkert set up Janakpur Women's Development Center (JWDC), which, at present, employs 40 women artists. The centre makes and sells textile, Mithila ceramics, artworks, and papier mâché crafts.
In the last three decades, JWDC has provided a platform for women artists like Manjula to pursue Mithila art and make a living out of it. In the process, the centre has become a must-visit destination in Janakpur and helped popularise Mithila art nationally and internationally and made Janakpur synonymous with Mithila art.
Now 61-years-old, Manjula looks back at her journey with pride for trusting herself to rely on art to rise above life's hardships.
"I wanted to take bold steps and be less scared of the society around me. I wanted to be able to navigate my life on my terms and ability," she says, beaming with a smile at the Taragaon Museum in Bauddha. "And that is what making Mithila art has given to me in all these years—strength and inspiration to make my world better. It has provided me with opportunities to support my family."
A few days ago, Manjula and three other artists (Sudhira Karna, Madhumala Mandal, and Rebati Mandala) from JWDC travelled from Janakpur to Kathmandu to make a mural relief for the second edition of the Kathmandu Triennale, a large-scale art exhibition and event programme that will take place from February 11 to March 11, next year. The four artists are currently making artwork at Bauddha's Taragaon Museum.
"Who does not know Mithila art today. I think we have come a long way," says Sudhira, an artist from Nagarain Municipality in Janakpur. "Traditionally, women made Mithila art for religious and cultural purposes. People made the artwork during various rituals and festivals. But in the last few decades, the art form has become commercially valuable, and that has given women artists like us the agency to continue making this art form to realise our aspirations in life," she says.
Sudhira is also one of the women Manjula recruited alongside Madhumala and Rebati in the late 80s to set up JWDC, an initiative that Burkert founded in 1989.
Back at Taragaon Museum, the four women shape a lump of clay on their hands to make peepal leaves for the mural relief. The four women observe the cast they have worked over for about a week now in the back wall of the museum's Contemporary Art Gallery.
The mural relief, which is made with mud and wheat hay dust, is based on Madhumala's artwork. It features women performing Jhijhiya (a Mithila folk dance from the Musahar community) around a peepal tree, which is considered sacred in the Mithila culture. The relief work shows women with stacks of pots on their heads dancing as two elephants and peacocks watch them from the four edges of the frame. The work also features cultural symbols and livelihoods significant to the Mithila culture.
Such mural relief was once common in Tarai's Maithili-speaking region, where women would decorate their houses' freshly plastered mud walls with devotional artwork during their major festivals and weddings.
"People still make engravings, but since concrete buildings have replaced traditional mud houses, there aren't many who continue making these artworks," says Sudhira.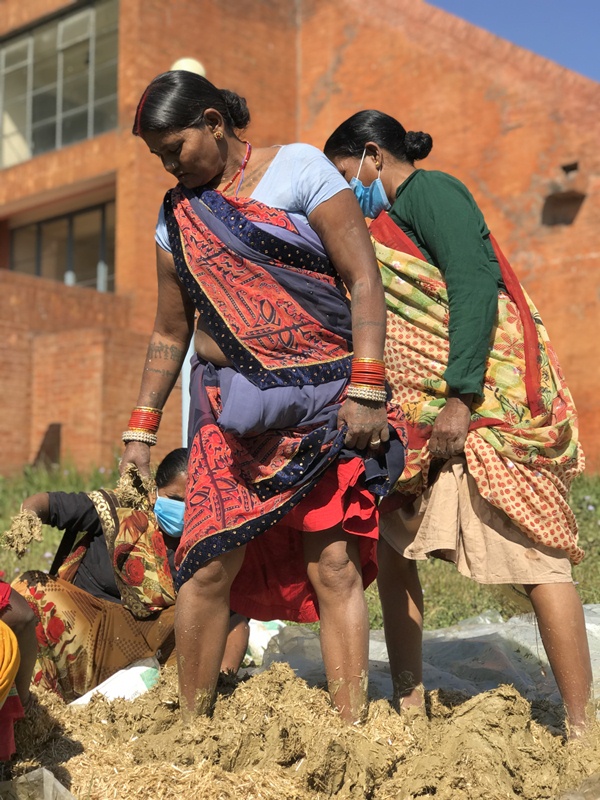 Madhumala Mandal, Rebati Mandal and Manjula Thakur knead the clay for their mural relief. Photo courtesy: Sujan Shrestha/ Kathmandu Triennale 2077
Until a few years ago, Jhijhiya, the subject of the four women's artwork, was a dance form that had become endangered. During the decade-long Maoist insurgency in the country, people stopped practising the dance form, says Madhumala.
"Like most parts of the country, Janakpur was not a safe place during the civil war. In those days, people didn't feel safe gathering together to dance and celebrate. Women didn't feel safe to venture out of their homes," says Madhumala, a Jhijhiya dancer. "As the insurgency protracted for years, the tradition of performing Jhijhiya all but disappeared from our community."
"But in recent years, Jhijhiya has seen a beautiful revival. It's one of the dances that people in Janakpur look forward to during festivals. And I love performing it for people. It's a lovely experience," says Madhumala.
The revival of Jhijhiya culture in the social fabric of the Musahar community is also the very reason the curators of the Triennale have focused on portraying it for the upcoming art event. Jhijhiya is a dance dedicated to Goddess Durga Bhairavi. And in many ways, it is similar to the deusi and bhailo tradition during Tihar. However, instead of children, women and men visit neighbourhood houses. There, the women carrying a stack of decorated pots on their heads sway their hips gently as the men play jhamar, dhol, and jhaeel, traditional musical instruments of the Maithili community.
Like other women in her community, Madhumala has also relied on Jhijhiya and Mithila art to take charge of her life. These cultural art forms have allowed her to break the glass ceiling. "In our community, women are expected to be shy, and married women are always expected to bow down their heads whenever people other than their husbands speak to them. Back in the day, our in-laws and other male relatives didn't even know how we looked because women had to cover themselves with their ghunghats" says Madhumala.
It's still the case in many places in Tarai, say the women.
Given this reality, the four women had to overcome many obstacles when they decided to work as artists and break the traditional conventions that limited them to only their households. In their early days as artists, they were often berated for moving around and making art outside the confines of their homes.
"I got an earful for walking around with a 'kuire' [Claire Burkert]. People would condescendingly ask me how much money I made or got for recruiting women to work at Janakpur Women's Development Center," shares Manjula.
Looking back, Manjula says she is glad that she didn't listen to any of the demeaning comments or negative criticisms.
"As we started working together, we, for the first time in our lives, became aware of the ways with which our society patronised and restricted women. And this realisation further emboldened us to do something on our own. At work, everyone helps everyone. Many of us were able to earn enough to send our children to school, look after our family and contribute to the household expenses," says Manjula.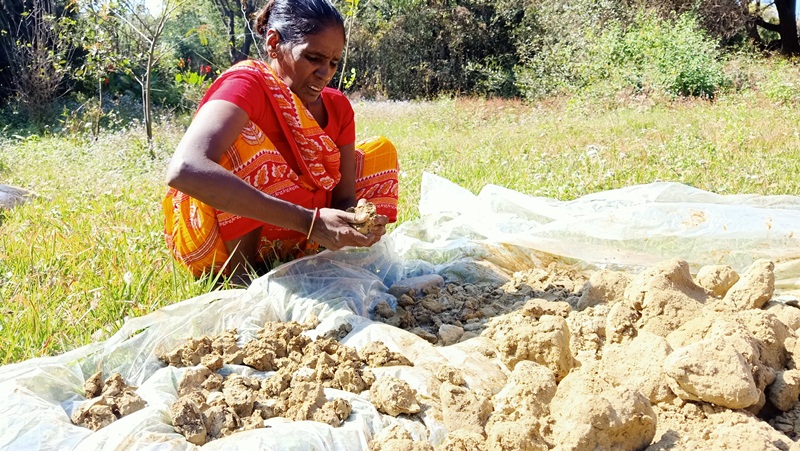 Photo courtesy: Urmila Chaudhary/ Kathmandu Triennale 2077
Rebati, a contemporary to Manjula, agrees that Mithila art has been a boon for many women of her community. "Had I not pursued this career as an artist, I would not have been able to support my family and lead a life of dignity," says Rebati.
However, all four women agree that the younger women in the community aren't keen on carrying the legacy of Mithila art forward. Part of the reason for this, they say, is the financial incentive.
"In this field, you don't get to make a lot of money, and my children are aware of that. They see that economically, it makes more sense to get a corporate job or get into business," says Madhumala.
And the pandemic has made things more difficult for the women artists, many of whom relied on tourists and art events to sell their artworks. Since 2020, Nepal's tourism arrivals have hit record lows and that has dealt a huge blow to their business.
"The number of orders at the centre have reduced drastically, and our revenues have dried up. Despite the economic challenges the centre has been facing, not a single employee has been let go. Asking employees to leave in the hardest times of their lives is just cruel. And that is not an option we want to take," says Manjula.
But here in Kathmandu, the four friends are taking a breather from the daily stressors of their lives for a little while.
"But be it in good or bad times, for women like us, Mithila art has been important to us just as our own lives. We make art, and we worry about its continuity in the future. And we console ourselves saying that together we will see through this tough phase," says Manjula. "For now, at least, we can still take comfort by being hopeful that things will come around."
---
---