In Janakpur, a traditional Mithila folk dance is helping shape women's identities
The folk dance, Jhijhiya, has been economically empowering women of the Musahar community.

Dancers encircle 'Niro Sada', one of the lead dancers of Jhijhiya, as she carries six jhijhiyas on her head which have incense sticks and butter wicks, which the dancers believe chase the evil spirits away. Photo courtesy: Sajana Shrestha
bookmark
Published at : December 10, 2019
Updated at : December 10, 2019 13:39
Janakpur
There's more than a hundred people cheering as women in bright, colourful saris make their way to the platform at Janaki Mandir to perform Jhijhiya, a cultural dance form in Mithila. The performance is part of the Women of the World festival, an annual event that celebrates the achievements of Nepali women.
The energy of the night has lit up Janakpur. People watch intently as a dozen women encircle Niro Sada, one of the lead dancers, upholding six earthen pots (called Jhijhiya) that are placed between a bamboo ladder-like structure called panchamukhi jhijhiya.
As the men play the jhamar, the dhol and the jhaeel, traditional musical instruments of the Maithili community, the women slowly move in circles, swaying their hips lightly to the beat. The song they sing is calming and has a catchy rhythm—one that has your head following the beat, which goes dhamak-dhamak. The bouts of applause from the crowd adds to the energy, making the night even more surreal.
Many in the audience are enthralled by the performance, impressed by the impeccable synchronisation of the dance group and their choreographed flair. "They synched so well with one another that I found myself hooked to their performance," said Shriju Pradhan, deputy director at the heritage and tourism department, Kathmandu Metropolitan City.
But Jhijhiya, about six years ago, was an almost dying tradition, says Dev Narayan Mandal, chairman of Mithila Wildlife Trust. Although the dance form's origin dates back to the time of King Janak in the 8th century, over the years, Jhijhiya started becoming associated as a dance belonging to the Musahar community, a Dalit group in the Tarai region.
It was only recently, as women empowerment programmes started reaching many of the most impoverished, remote areas, giving women opportunities to redefine and empower themselves, that traditions like Jhijhiya started making a powerful comeback. For the women of the Musahar community, Jhijhiya is more than a dance form, it is a form of expression, a means to join in social conversations with various other communities, and a tool of empowerment.
"Jhijhiya is a dance dedicated to Goddess Durga Bhairavi. And it is believed that when women perform this dance, negativity cannot touch them and their loved ones," says Razz Kumari Das, a dancer. The dance form used to be performed inside forests because of the community's belief that it rids the world of all evil.
Jhijhiya had become close to extinct, with only the Dalits performing the dance within their communities, because others simply didn't have the time to carry on the tradition, say locals. "But social conformities didn't allow the Musahars to pursue a better life, and thus the Jhijhiya dance continued in its own form here, as a dedication to Durga," says Mandal.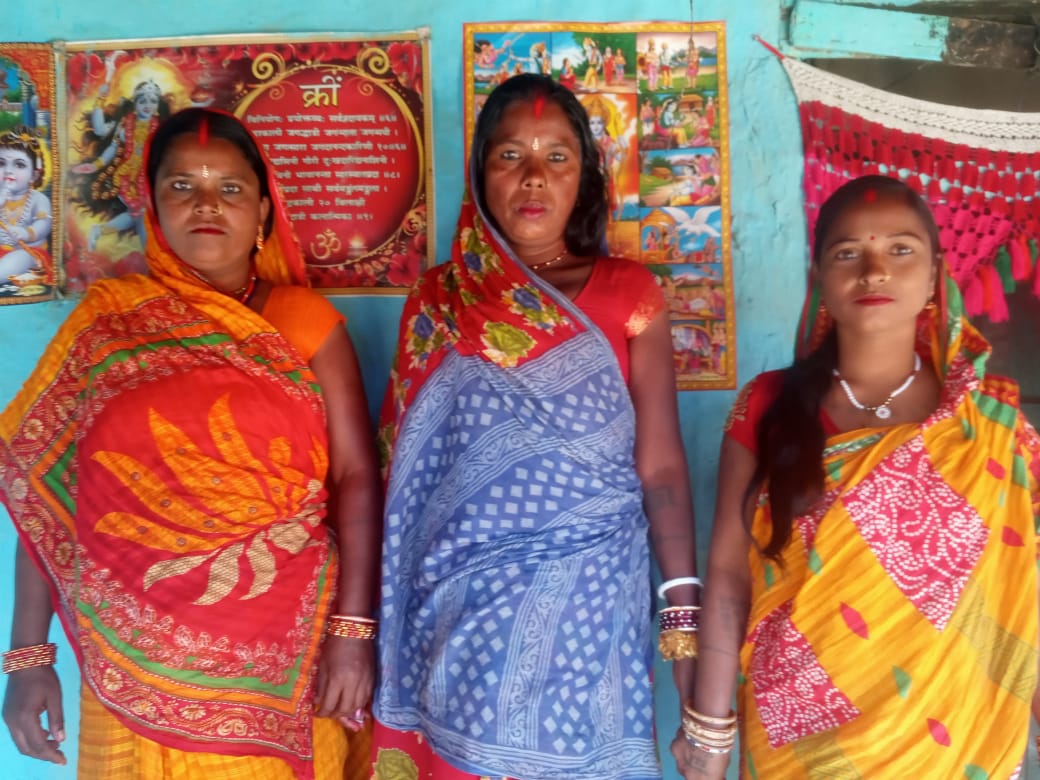 (From left) Jhijhiya dancers Razz Kumari Das, Kanti Devi and Chanda Kala Sada. Photo courtesy: Ganesh Sah
About six years ago, Mandal and his team, through their cultural conservation programme under the conservation of community forest, brought together a group of women and men from the Musahar community to train them in traditional Jhijhiya. The idea was to make the dance a viable source of income while also protecting the culture of the community forest, where the Musahar community lived, says Mandal.


And although the dance had been continuing in their community as a cultural invocation during Dussehra, their organisation formalised the dance form as a means of generating income. Since then, many Jhijhiya dancers from the Musahar community have been travelling to various towns in Dhanusha to perform Jhijhiya.

"Earlier, we were bound to being at home. I remember I used to be very shy and hesitant to even talk with anybody. But when we started performing the cultural dance in various platforms, I felt empowered to make my own decisions," says Kati Devi, a Jhijhiya performer, who was also one of the dancers who performed at the WOW festival.

For many women, like Devi, from the Musahar community, Jhijhiya has reinforced their self-esteem. The recognition they have received through the dance has empowered them to voice their opinions and also take part in social activities. "I used to be very afraid to put my thoughts across, even at home, but I think because of the rigorous practice and engagement with society while performing Jhijhiya, I have seen myself becoming more confident," says Devi.

Like Devi, another Jhijhiya dancer, Chanda Kala Sada, believes performing and practising Jhijhiya amongst her peers has made her braver. "In a way, you could say it has allowed us to embrace our identities as women and prosper forward with the culture we know," says Sada.

The Musahar community in Dhanusa has traditionally depended on forest resources to survive. But when the government started community forest protection laws, the Musahars were no longer allowed to cut wood from the forest without permission, consequently narrowing down their options to make ends meet.

But the recent commercial revival of Jhijhiya has allowed them to make a substantial step towards developing their community. Their engagement in the cultural revival of Jhijhiya has also garnered them humble recognition, which has opened other social opportunities. "They now get opportunities to show their culture in various platforms, which not only backs them economically but also helps them climb up the social class that our society is still very much immersed in," says Mandal.

"We were so happy to see the audience appreciate us for our performance. But we hope we can keep this spirit up in our next performances as well and make this dance form even more well-recognised," says Das.

"Bahot badhiya laga," added Das, in her local vernacular.
---
---