This art museum teleports people to different realms. And TikTokers are loving it
Art in Paradise', the new 3D picture museum in Kathmandu Mall, offers people an opportunity to express themselves in their digital spaces, and the people of Kathmandu can't get enough.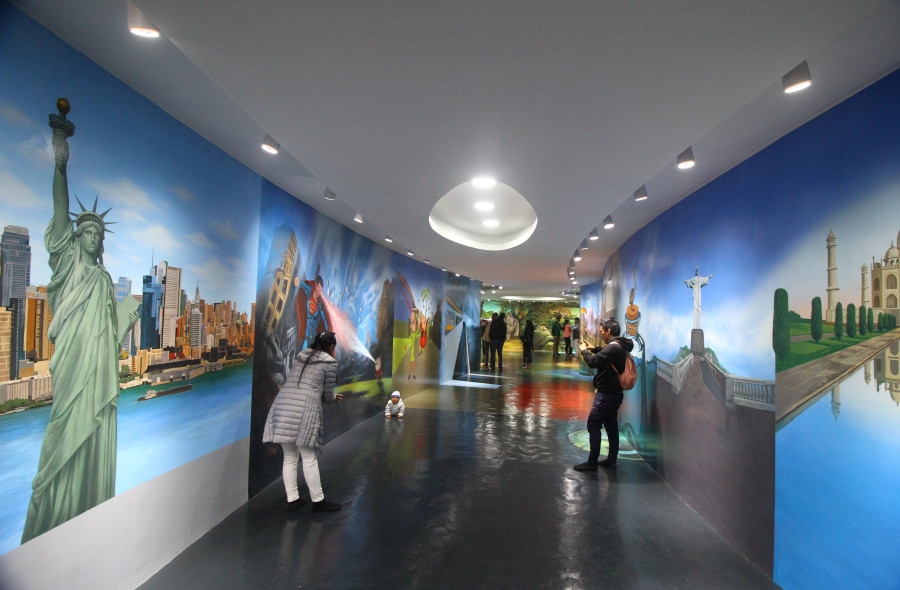 The 3D art museum's popularity is growing with each passing day, with as many as 300-400 Nepalis flocking to the place daily to create content for their social media feeds. Beeju Maharjan/TKP
bookmark
Published at : March 22, 2021
Updated at : March 22, 2021 21:45
Kathmandu
The digital revolution has dramatically transformed the way we entertain ourselves or experience our reality.
And over the past few weeks, there's one video that has set the trend on TikTok in Kathmandu, and the craze of the video is strong: more than hundreds have watched and recreated it. These videos have people crossing a bridge in what looks like a scene from the Jurassic world, and in the background plays the Nepali song 'Lade Lade Samau Malai'. And if you read the comment section of these videos, almost everyone is asking: Where is this place?
The place is the newly opened 3D picture museum at Kathmandu Mall called 'Art in Paradise'—where one can teleport to Shanghai, the Eiffel tower, the Seven Wonders, the Arctic region, the Amazon basin or even Everest Base Camp, and experience an illusioned world and find joy in creating digital memories.
To visitors, the museum could look like an ordinary place with extensive murals. But one view from the camera is enough to tell why this museum has piqued people's interest. The optical illusion the museum's artworks plays with is intriguing and compelling.
Twenty-year-old TikToker Samarika Dhakal has visited the museum twice already, in a matter of two weeks, after her video of walking carefully on a cliff's bridge with her sister got her 1.2 million views on TikTok. "I never thought that video would pick up so much interest. It was just something I did for fun," said Dhakal.
"What was interesting about the museum was that it allowed us to be as interactive and expressive as we could be and gave us an experience no museum in the country has," she said.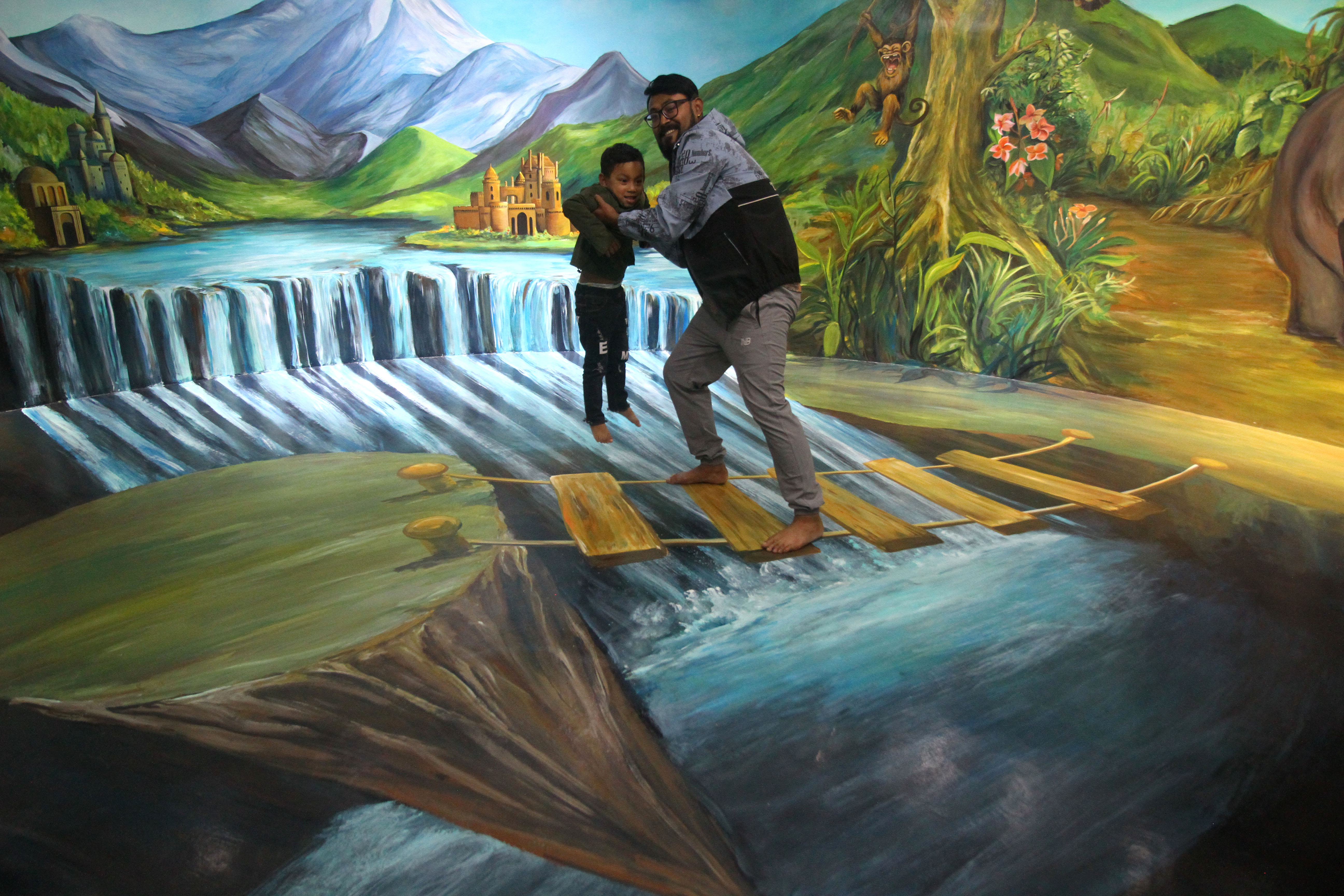 Beeju Maharjan/TKP
And Art in Paradise's popularity is growing with each passing day, with many Nepalis flocking to the place to create content for their TikToks and social media feeds. "We get about 300 to 400 people every day, and on the weekends, the crowd is even heavier," said Sonam Jangbu Sherpa, marketing and public relation manager of the 3D museum.
Anyone still wary about the virus hovering over the world has a shock to prepare for once they step inside. Everyone is busy with their phones as they take selfies and dynamic shots of their family and friends, and practice the right angle to create the multidimensional view at every end.
"It's been a crazy time; we are here sometimes from 10 am to 8 pm to guide visitors. It's tiring but it's worth the time. Watching them laugh and have a good time is quite uplifting," said Chewang Sherpa, a 21-year-old third-year Bachelor student of social work who is currently working at the museum as a tour guide. "I think the place has been giving people some really good memories," he said.
The 3D museum's idea too had evolved over having a good time, one where five friends found themselves enthralled in a multidimensional world created by artists in Thailand, Vietnam, Singapore and Myanmar.
In 2019, before the pandemic's gloom was yet to fall, Pradeep Sharma and his friends were on a South-East Asia vacation. "We visited big 3D museums in Thailand, Vietnam, Singapore and Myanmar where we were being transported to different worlds, and it felt real and surreal. And over our idle talks, we would discuss bringing a business that would give people a similar experience in Nepal," says Sharma, one of the founders.
"So, when we returned to Bangkok to head back home, we instinctively decided to stay back and really work on the idea—we decided to do it," he says.
Then, in their extended vacation, they met with the artists and founders behind the 3D art museum in Bangkok to understand the 3D museum's design and what it would take to manifest the idea here in Kathmandu. The five friends were determined and ambitious, and so they quickly had everything in place.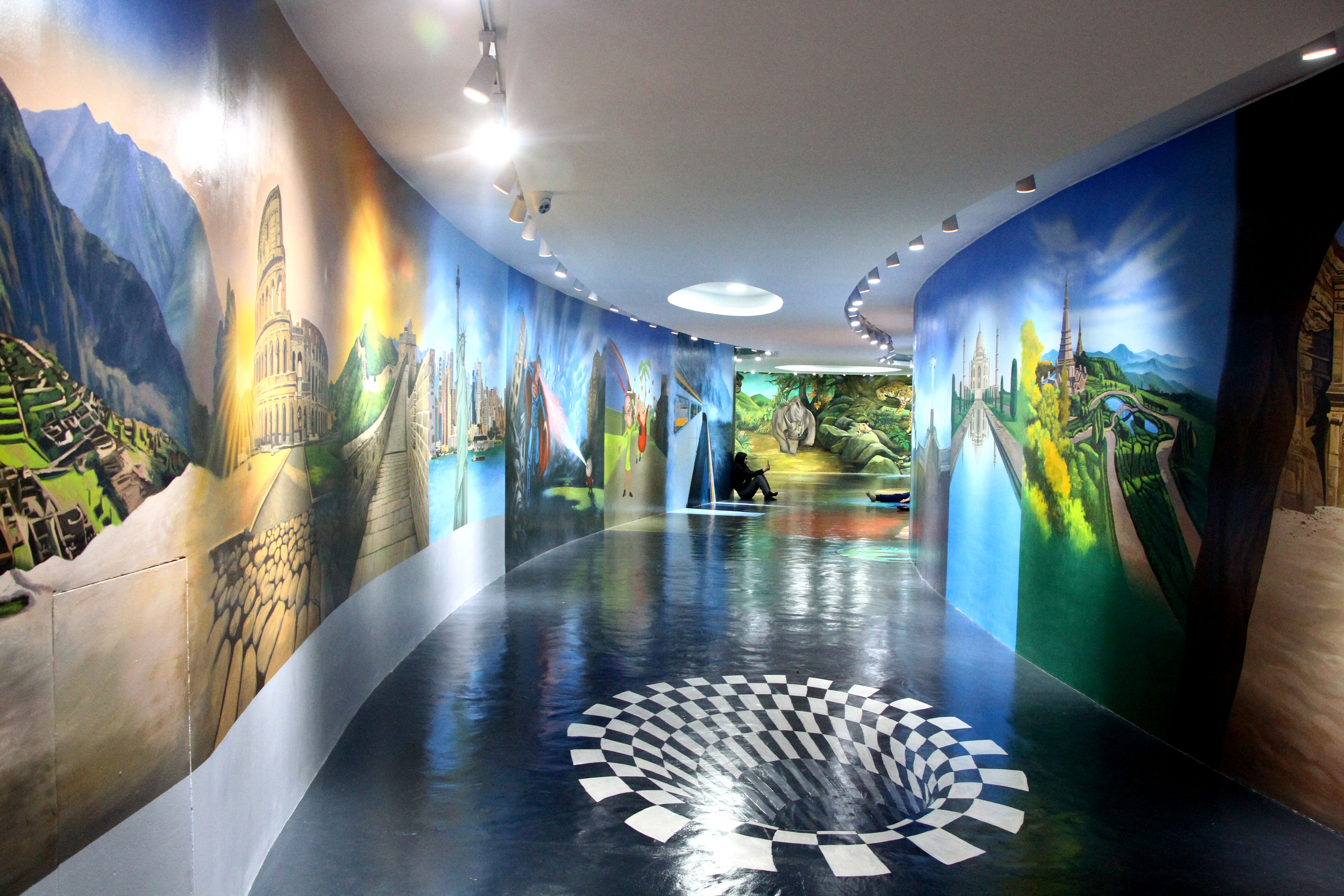 Beeju Maharjan/TKP
While the country was still under lockdown to curb the spread of Covid-19, artists from Thailand were busy designing and painting an area of 7,500 square feet on the fifth floor of the now scruffy-looking Kathmandu Mall.
The elaborate paintings on the museum walls are stunning, painted in layers to create multidimensional visuals. Pemapsorn Kritsadacharoenpong and her team from Thailand spent days planning, painting and practising viewpoints for visuals that people could experience and be influenced by.
"One of the key focuses of this type of artwork is considering the visitor's viewpoint and approach. So often, one stands back from the work, either physically or mentally, to consider how the viewer will interact with the piece or the entire room as an experience. An additional consideration is how the room lighting and the textures and reflectivity of the paintings will affect the experience," said Kritsadacharoenpong, the lead designer and artistic director of the site in an email interview with the Post.
That is also why the museum had focused on training its staff rigorously to guide the visitors in making moments that would create the best optical illusions. "When visitors get an understanding of the frame, they are happier and find themselves wonderstruck," said Chewang Sherpa.
In Thailand, the 'Art in Paradise' museum, which inspired the museum here, has been a popular place for recreation. It has provided people with a space for digital expression, and thus, the place has been attracting more visitors and tourists. "They are popular because the viewers can actually interact with the art rather than just look at the painting on the canvas," said Kritsadacharoenpong.
It was also this allure the founders wanted to capture with Art in Paradise in Nepal. "But it's not a branch or a franchise of the 3D museum in Bangkok or Vietnam. The idea inspired it, but the place is our own," said Sherpa.
Meanwhile, Kritsadacharoenpong and her team have been overjoyed by the Nepali people's response to their work, with videos and photos getting viral every week. For them, this has been a rewarding time for all their hard work. "I'm proud to say that the reaction from the people of Kathmandu during the first weeks of opening has been astonishing. Our art seems to be extremely popular. Dhanyavada Nepal!" she expressed happily to the Post.
Nagma Shrestha, an actor and TikToker, has created about 10 to 15 TikTok videos at the museum, all of which have been viewed repeatedly. Shrestha herself had found out about the museum through TikTok videos and had visited the place to take photographs and share them on her social media platforms.
"I think over the years of our engagement with technology our digital presence has become very significant; we enjoy telling people about ourselves and sharing our moments. In a way, this tendency itself has become a stimulating activity," she said. "Who doesn't like taking pictures and sharing them today? And the museum offered us just that space to do that by engaging with the works there and fascinated our imaginations even more," said Shrestha.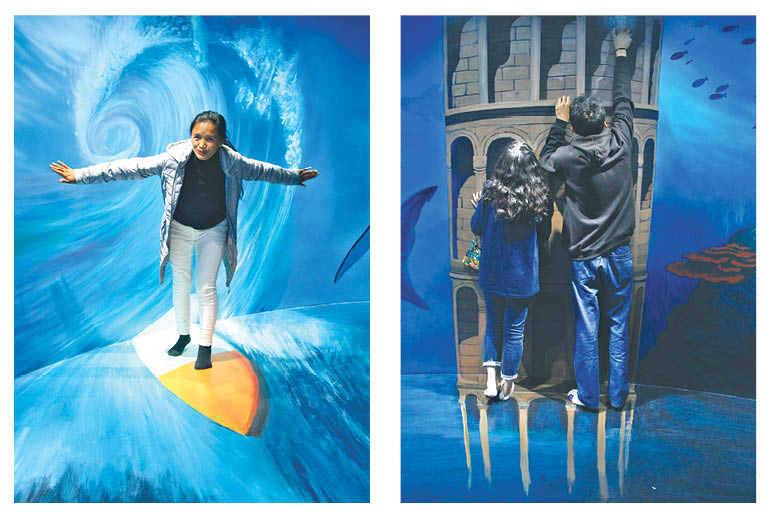 Beeju Maharjan/TKP
Today, the prospect of creating memories for social media platforms has become a business strategy for many up-and-coming businesses. Art in Paradise follows the same model of tapping into social media to promote their product and pull in visitors. "From the very beginning, we wanted to tap into TikTok to bring in customers, as we have seen this marketing strategy work for many businesses," said Sherpa.
And it seems the model has worked. "The model works because social media platforms, as personal social platforms, have an even wider audience, with one to too many opportunities of influencing people because of familiarity with the one who is sharing the idea," says Dr Sudhamshu Dahal, coordinator of media studies at Kathmandu University School of Arts.
"When a person you know shares something, it has higher chances of influencing you than a celebrity's post. The information feels more authentic and real, so establishing a customer base by positive-negative setting up a target in social media is always contributory," adds Dahal.
According to Dahal, however, the strategy could also backfire, as social platforms quickly ascend popularity but give less time for businesses to grasp the demand and traction.
"The reach of social platforms is compelling. And so for businesses that rely on new media, there is also the problem of them being overwhelmed, as we saw in the case of umbrella street in Sankata that had to be taken down because authorities could not manage the crowd and meet the demand it set up," he said.
There's certainly a sign that Art in Paradise has been facing the same challenges of having too many customers at the same time. Not wanting to disappoint the customers who have stopped at their doorstep, they have been hard on the duration a customer is allowed to be in the museum. "On weekends, it is tough to manage the crowd and therefore, our current marketing strategy has been to promote weekdays for visits," said Sherpa the manager.
In the most unassuming way, Art in Paradise, as a new museum in town, has attracted many people; even more, it has opened doors into a new arena and is a sign of a changing time, where being digital will matter, say the TikTokers.
"Years back, setting up a visual museum wouldn't have worked, but today the world is digital and so are the possibilities," said Sherpa at the museum.
It is evident, however, the ultimate challenge for the museum will be holding the excitement and interest of people. "Many businesses that rely on social media have not been sustainable, they have been fleeting in the sense that they sustain as long as the bubble effect works, when it blows up, it can bring a huge loss—we have seen that happen before," said Dahal.
But the Art in Paradise team is filled with optimism to cater something unusual to the Nepali people for recreation and some fun time. They are determined to take the idea of the 3D museum forward in Nepal and keep the interest of people thriving, they say.
"We will constantly be on the lookout to make this more interesting for people, and we plan to change the paintings every six months or a year as we understand that people will want to see new things. We also plan to open its franchise in Chitwan and Pokhara," said Sherpa.
---
---