For this artist, tree roots are his canvas
Bishwomvar Lamichhane, from Sindhuli, has been making unique artworks out of tree roots for the past 28 years—a passion he developed by chance.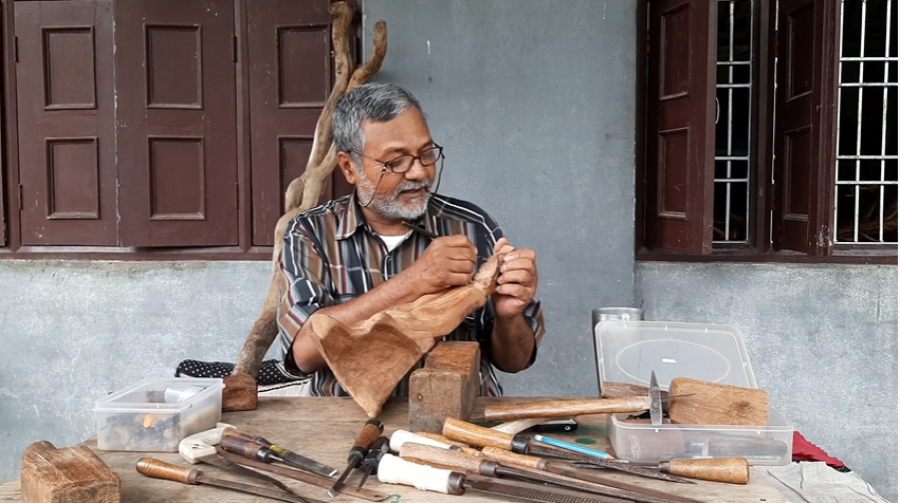 Root art is a form of art where artists use the roots of various trees to carve structures and symbols mostly maintaining the structure of the roots. Photos courtesy: Bishwomvar Lamichhane
bookmark
Published at : February 25, 2021
Updated at : February 25, 2021 10:42
Kathmandu
Whenever Bishwomvar Lamichhane speaks about his artworks, his face lights up. Even though he is talking virtually, via video chat, his eyes appear bright and one can feel his energy and the passion he has for his work.
"Each and every artwork is near and dear to me. I can never pick one and say that it's my best or favourite work," says Lamichhane, 59.
Born in Sindhuli, Lamichhane is an advocate by profession. His days are mostly spent in court. But in the mornings and evenings, he is a different person—he is an artist who makes art from the root of trees.
Most of the time, just after the sun rises, his day begins. He starts carving the root of the tree he has already collected or he starts walking around his village to find one. Similarly, whenever he returns home from his work, he spends his time receiving visitors who have come to see his work.
"I am mostly busy in the mornings and evenings, attending visitors who have come from different corners of the country—even the world—to see my work," says Lamichhane, who has also started a root arts museum to display his artworks in his house.
Root art, also known as root carving, is a form of art where artists use the roots of various trees to carve structures and symbols mostly maintaining the structure of the roots. While colours and artificial polishing can be added to the artworks for aesthetic purposes, most root artists refrain themselves from doing so, as their work is mostly guided by the quality of the root.
In Nepal, in comparison to other artforms, root art hasn't still developed institutionally. Despite this, for almost 29 years, Lamichhane has been persistent in his pursuit, creating more than 300 artworks of different shapes and structures.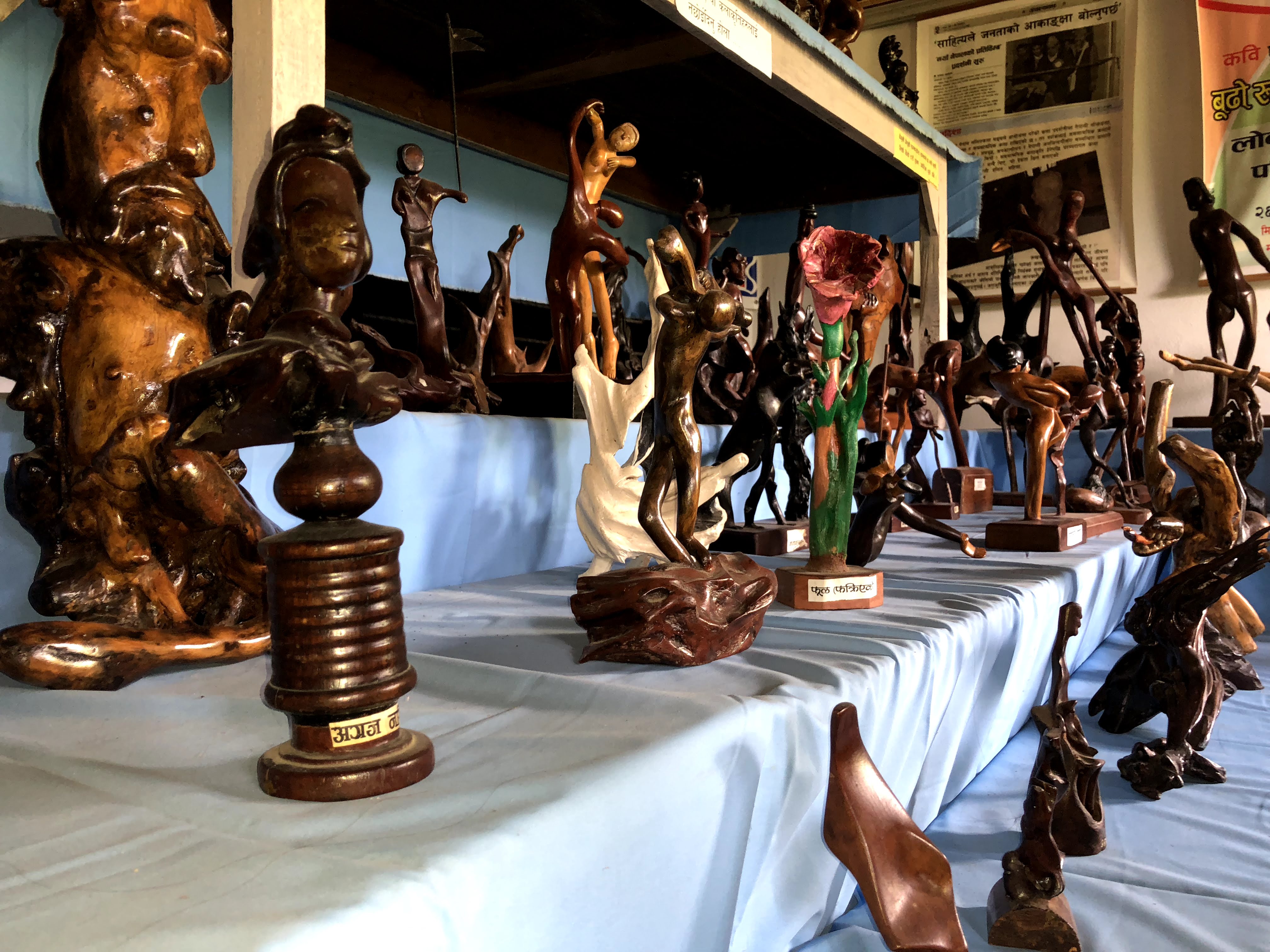 Photos courtesy: Bishwomvar Lamichhane
But according to Lamicchane, he never planned to be an artist. A younger Lamicchane had political aspirations; he was driven with a mindset that he should contribute to bringing change in society, and art was something he was never passionate about, he says.
"I always believed that people should do something remarkable, so others would know and remember their name, even after they pass away," says Lamichhane. "I used to think that politics was my future. But once I started making art, my interest and passion changed."
It was the year 1991 when he first made his artwork. How he came to make it is another story.
His mother was sick and had to be taken to hospital. But there was no road that could connect his house to the main road. "We decided to take matters into our own hands. Rather than wait for someone to build the road, I along with other villagers started making the road on our own," says Lamichhane.
Just at the final lap of the road construction, there was a large tree in between that had to be taken down as it came on the way. While, in the beginning, people were apprehensive, the tree was eventually cut for the road construction, says Lamichhane.
The tree was the beginning of Lamichhane's career in root art. When the tree was cut down, his eyes fell on the roots of the tree, and he felt a strong force of attraction to it. It seemed as though the root of the tree was calling for my attention, he says.
"Eventually I took the root home. Out of curiosity, I cleaned the root with water, and through whatever tools that were available, I started carving the root," says Lamichhane.
After hours of struggle, he could see that the root was taking the shape of a deer. There were antlers, the head and also the neck of the deer. Once the shape of the deer became clear, he polished it with chocolate brown colour enamel paint colour, says Lamichhane.
"It was a moment of self-discovery, a eureka moment for me. I had never thought that art would ever interest me. But here I was, finding that one could make art from the root of a tree as well," says Lamichhane.
From that moment onwards, Lamichhane kept making as many artworks as he could. Some would take only a few days but some would take months.
But not everything he imagines can be carved into reality. As his artwork mostly depends on the kind of roots he is able to collect, most of the time he can only make something after keenly observing it and finding something special about it, he says.

"Every root art is unique in its way. You can't recreate the same work from another root. Root artwork is more of an act of discovery, which requires keen aesthetic observational skills. Since I can't completely change the natural structure of the root, I decide what to make only after I can see some structure and shape in the roots," says Lamichhane.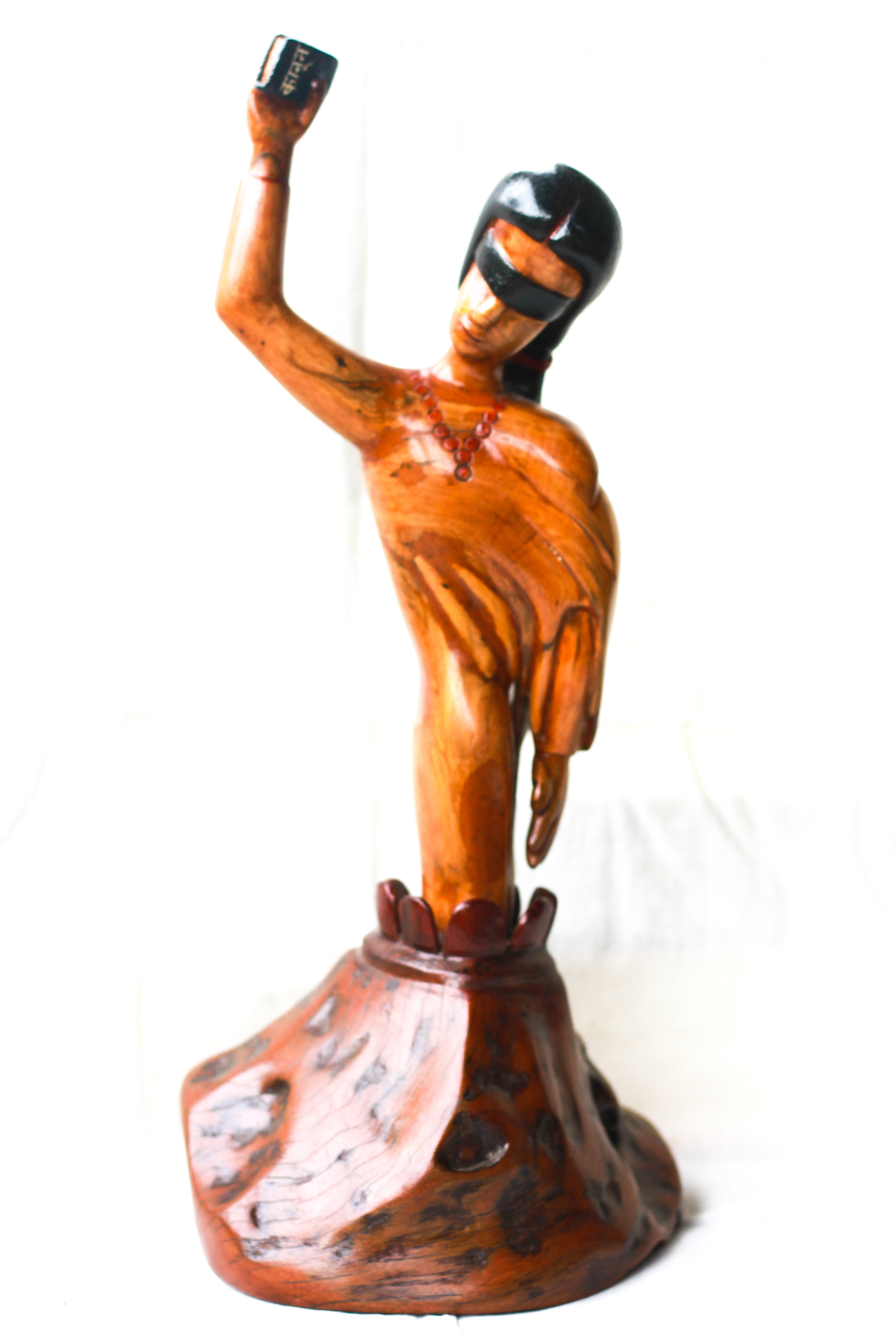 Photos courtesy: Bishwomvar Lamichhane
From human figurines that depict various human emotions to sculptures of renowned personalities like Bhanubhakta Acharya, Pasang Lhamu Sherpa, and several others, Lamichhane's artworks are currently exhibited in Jarbutta Art Museum.
While his artworks mostly depend on the condition of the roots, there are several particular themes which he likes to project on his artwork he says.
"As an artist, I am more inclined to show the things that touch me. I am more interested in showing human emotions of love, passion, sadness, grief and the things that affect each of us," says Lamichhane.
Lamichhane believes his art speaks for people as well. They are his way of depicting the truth of the society we live in, he says.
For instance, in one of his artworks, he has made a half mountain-like structure, where the peak is visible but the middle is missing. When one looks at the work, they get the illusion that the mountain is alight, which is exactly what Lamichhane wanted to show as, through the artwork, he wanted to depict the rise of violence in the land of the Himalayas, he says. Likewise, in another artwork, we see a figure of a woman, who is carrying her child in a doko (a bamboo basket), a common sight in rural Nepal.
And this is why he loves what he does, as, through the medium of his artwork, he is able to depict the stories of thousands of people, he says.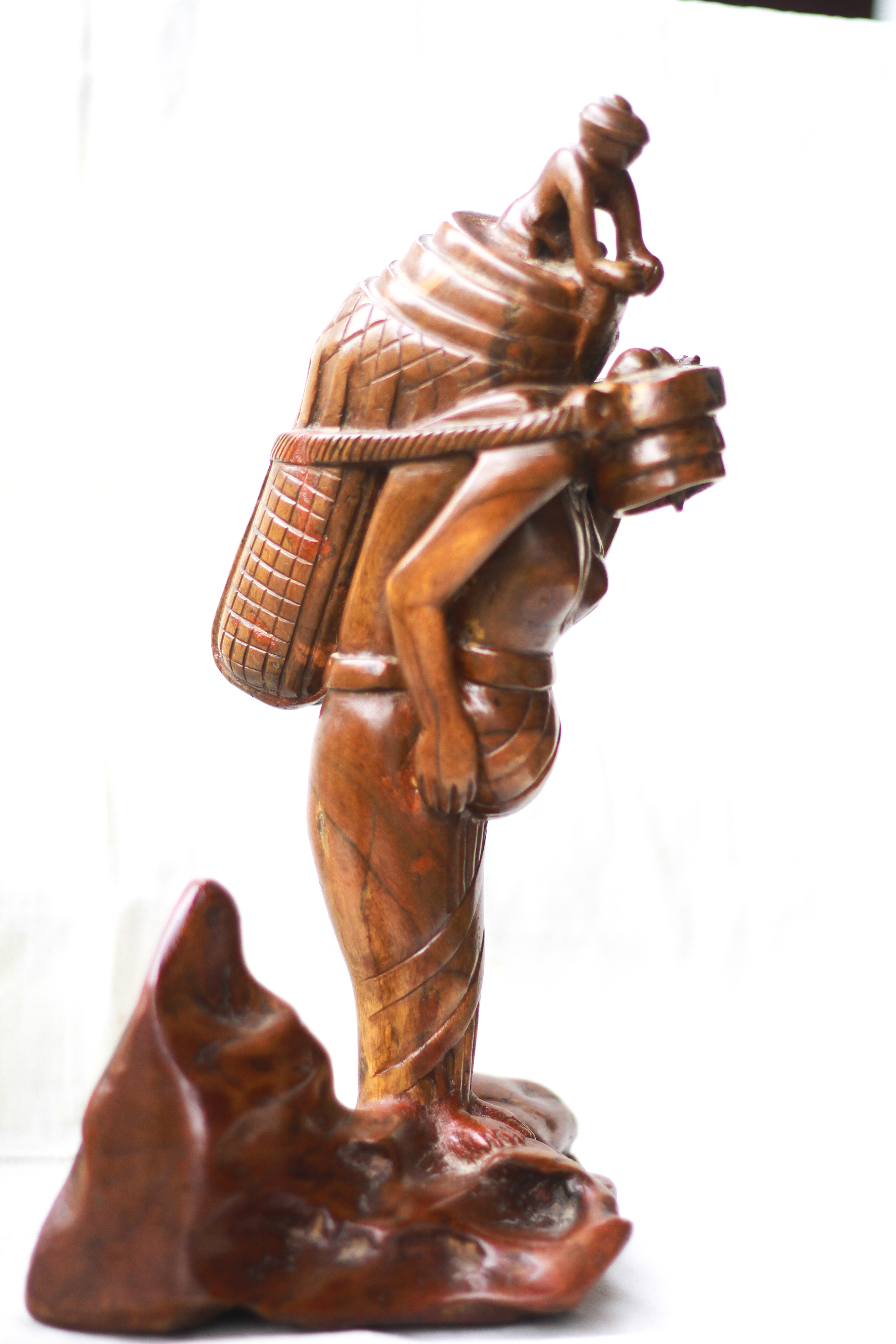 Photos courtesy: Bishwomvar Lamichhane
"I can't write poems, stories, and articles. But what I can do is depict the stories of people, their sufferings and emotions through my artwork," says Lamichhane. "That's why whatever I create is based on real human emotions. I believe that the goal of my art should always be to reflect the social situations."
From morning to evening, his museum is open for visitors. And according to Lamichhane, many local authorities have shown interest in expanding his museum and institutionalising it so more and more people can look at his works.
"Local authorities have said that they would love to contribute to institutionalising my museum and expanding the space into a small building as well," he says.
But for now, Lamichhane is content with his museum as well as his work, he says. Although he doesn't earn anything from his passion, as he dislikes the idea of selling and putting a monetary value on his work, he is mentally and emotionally satisfied with his artworks, which are his priceless possessions, he says.
"Whenever I return from work and I am alone, just seeing and touching artworks makes me happy. I forget everything. I am content," says Lamichhane.
---
---