A celebration of diversity
Although not perfect, the exhibition, Allegory, is filled with diverse artworks from artists from different cultural and social backgrounds, whose varied experiences and perspectives add new impact in the artworks.

The latest virtual exhibition Allegory, organised by Kalamantra, a digital art space, exhibits the artworks of 38 upcoming artists and art students of Lalikala Campus. Screengrab via kalamantranp.com
bookmark
Published at : October 30, 2020
Updated at : October 30, 2020 06:44
Kathmandu
What happens when you provide a space for artists of diverse culture and social backgrounds to express and present their perspectives, feelings and experiences through various forms of arts? You are likely to witness a wide range of unique ideas in various art forms that will help you as a viewer to expand your horizon and develop empathy for others.
And this celebration of diversity can be experienced in the latest virtual exhibition 'Allegory', organised by Kalamantra, a digital art space, which exhibits the artworks of 38 upcoming artists and art students of Lalikala Campus.
Divided into four segments, unlike many other Nepali virtual exhibitions that have so far been held in the pandemic world, this exhibition isn't arranged in a particular sequence. Rather, viewers can click over the name of the artists and view their respective artworks, giving the viewers their own right on selecting the interesting artworks and artists.
On top of the first segment, we have the artworks of Shreemila Shrestha. She has presented three artworks, among which, her painting Tranquil Wilderness which represents the modern-day woman stands out.
In the middle of the painting, there is an image of a woman. Above her head, a horn of a bull is juxtaposed along with pink flowers surrounding her body. Although her eyes are wide open, they are completely white, as if possessed.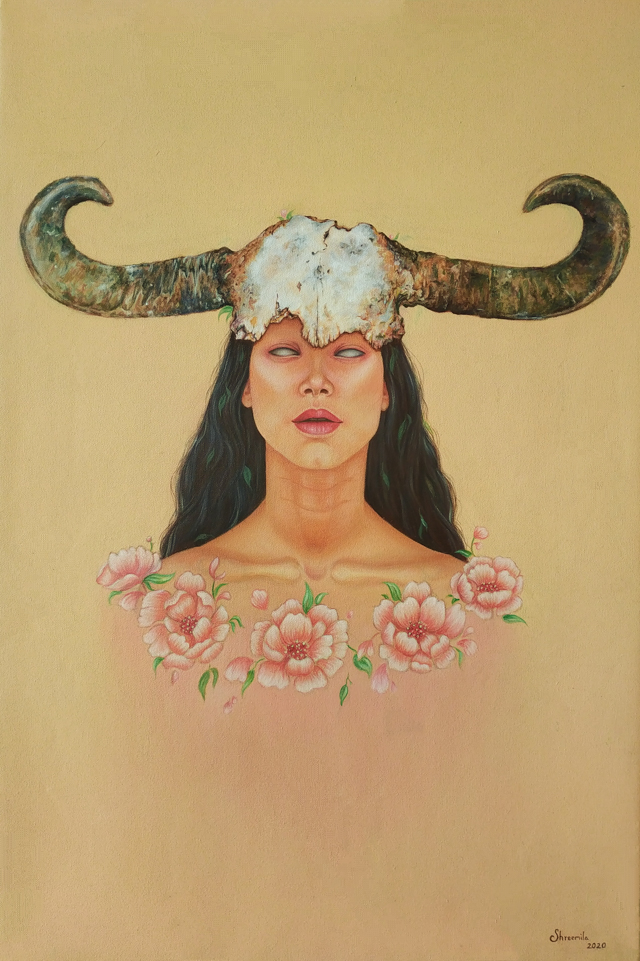 Screengrab via kalamantranp.com
Through these motifs, Shrestha is successful in representing the women of this age, who embrace both strength and kindness, and are driven by strong emotions and passion, making her artwork exemplary in defining and representing women of this generation, who are both ferocious and calm.
Another evocative artist whose work is not only beautiful but also clever is Puja Maharjan, who has two of her artworks exhibited in the exhibition.

Screengrab via kalamantranp.com
In her first artwork, there are four sketches of a girl, created from using charcoal on paper. Titled as 'Blue', in the four sketches, Maharjan has reflected the pain and the suffering the girl is facing. In one sketch we can see her screaming. In another sketch, we can see her in a state where she is about to cry. While the sketches themselves have no shades of blue, the title symbolises the mental state of the subject, as blue as a colour has been used to symbolise melancholy and sadness.
At the end of this work begins another, where we see a radiating woman, who's facing upwards, swimming in a blue sea, with a blue coloured moon in the backdrop. Titled 'Entangled with the Blue Moon', here the colour blue is visible and pops out brightly, emitting a sense of calmness.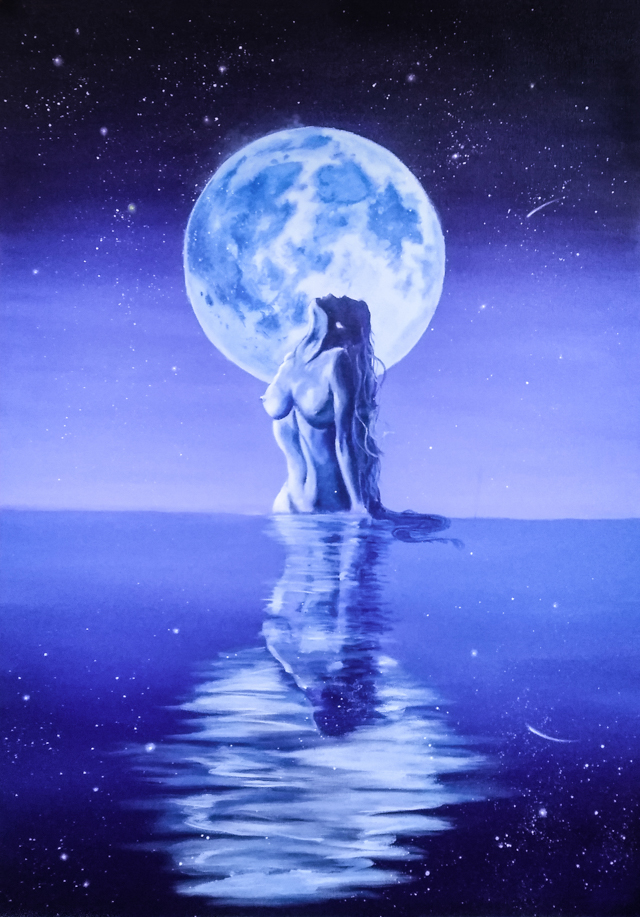 Screengrab via kalamantranp.com
Maharjan has painted the woman in such a way that it feels like the woman and the blue moon are to be united and will be one entity.
While both of her artworks aren't extraordinary, the placement of her works can be a perfect example of how good arrangement, placement and wordplay can be used as a tool to convey one's message, increasing its impact on the viewers.
Through her sketches, she portrays the everyday struggle of a woman, whose lives are filled with challenges, pain and struggles created by social fabric. Hence the title 'Blue' is kept, as through her artworks she depicts the everyday pain and the distraught lives of women who have to live a blue life.
But there are moments when women can experience liberation and can be their own. In such moments, the women embrace themselves beautifully and experience peace and tranquillity, which Maharjan depicts through her painting.
Since the exhibition includes diverse artists and artworks, the influence of artists' cultures on their works is visible, with many making cultural identities a subject of their artwork.
One such artist is Adesh Rai whose artworks reflect his Kirati roots. In his digital painting, titled 'Binayo', he depicts the traditional Kirati musical instrument binayo, which is made from bamboo. Likewise, in another digital painting, 'Wabuk', he depicts a traditional alcohol storage gourd bottle called Wabuk, also known as Chindo, used by Kirati people.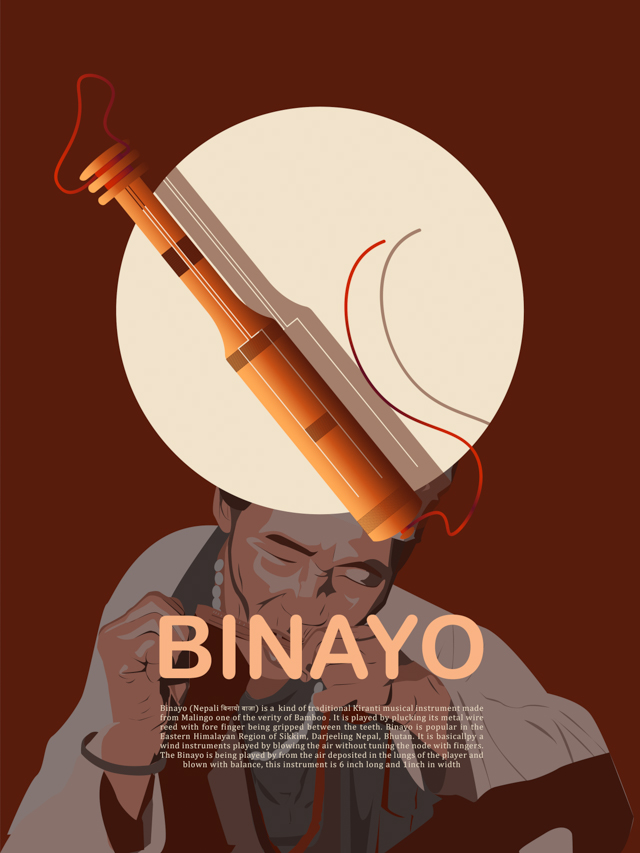 Screengrab via kalamantranp.com
While it's commendable for an artist to use their platform to preserve and promote one's culture, it would have been better if Rai had also paid attention to providing more detail of his artwork that would help viewers understand the complexities and richness of Kirati culture.
But there are other artists in the exhibition who have been successful in doing that. One such exemplary artwork is of a young artist Saurav Shrestha. His two artworks, which are both sculptures, lack polishing, however, it's the heartfelt emotions and the expression of realities depicted in his artwork that touches the viewers, increasing its overall impact.
In his sculpture 'Temple in Lockdown', by using popsicle sticks, he builds a temple surrounded by fences. The temple is tied to a lock-like structure, signifying the current confinement the world is grappling with due to the pandemic, resulting in people not being able to do even basic movements like visiting a temple.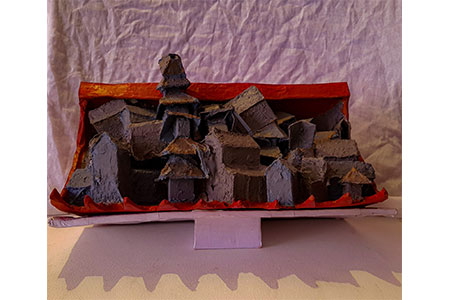 Screengrab via kalamantranp.com
For impact though, it's his other sculpture, Fast Track Construction, made from paper mache, that is more provoking. Though a simple sculpture, the work depicts the cultural calamity the fast track road project will bring, as it will displace many locals and their culture.
However, there are other artworks which can be difficult to interpret for the viewers since there is no information provided about the artworks, which is the biggest drawback of the exhibition, as viewers are many times unable to decipher the point the artist is trying to make.
For instance, Deepak Aaujee's painting, 'Self-Portrait I', gets lost in translation. In his painting, in a background of Kathmandu valley, in the middle is a scarecrow juxtaposed above an ATM. On the head of the scarecrow, there is a CCTV camera, and there is a dog sleeping on the right-hand side of the machine.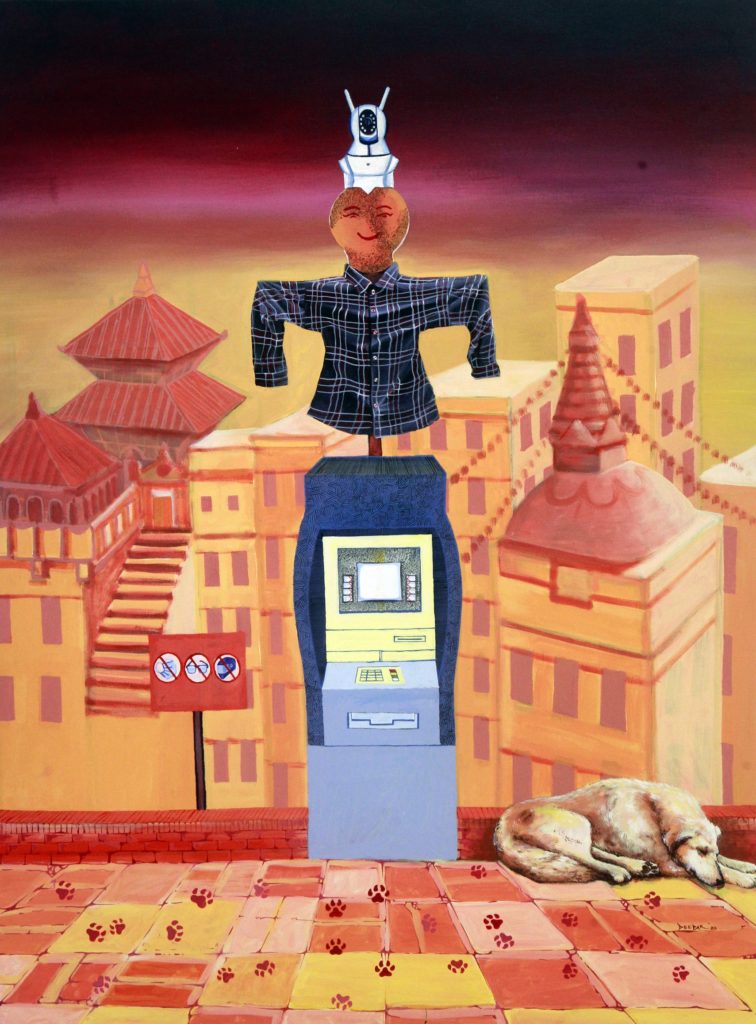 Screengrab via kalamantranp.com
Since the work features many motifs, it's unclear what the artist is exactly trying to depict. Is he comparing himself to a scarecrow that silently observes or is he comparing himself to the dog? Since the painting is titled as a 'self-portrait' it becomes difficult to interpret the motifs, as there is no information except the title, due to which the impact gets diminished even when the painting is aesthetically pleasing to look at.
Another element the art studio should have focused on was to make the exhibition interactive. The approach of the exhibition, to divide the artworks into four different segments and give the authority to viewers to click on whatever they want to look at, can have a negative effect as well because the chances of people watching many artworks is less.
Likewise, the exhibition could have also tried to play some music in the background or used different elements to give people the feel of watching a real-life art exhibition through their virtual screen rather than just clicking a profile of an artist or their works.
Nevertheless, even if there are many flaws, the exhibition shines, which primarily is because of the diversity of the artists, who in their brilliant artworks infuse their experiences, ideas and views and give viewers a peek into understanding the importance of diversity.
Another thing this exhibition does is reveal the possibilities and talents of the students of Lalikala Campus. Despite being the country's oldest fine arts college, the institution has been neglected by the government for the most part. Perhaps this exhibition will draw the government's, and people's, attention to artworks produced by the age-old institution—and to the talented artists it produced.
Here's the link to the exhibition:
---
---