The rhythm of life
Music has always been an escape and place of happiness for young tabla player Sudhir Acharya. He talks about his life path and how he ended up at a jazz conservatory.

Sudhir Acharya playing Nagara at an international youth music festival in Macau with his band, Night. Photo: Courtesy of Bishwo Harsha Bajracharya
bookmark
Published at : November 13, 2023
Updated at : November 16, 2023 09:39
Sudhir Acharya has just returned from a musical theory class. Seated in a café within the jazz conservatory building, where he commenced studies three months ago, the 25-year-old reflects on his musical journey. Despite his current academic pursuit, he confesses to not having a strong inclination towards jazz. Until recently, he was known as a proficient tabla player.

So, how did he transition to his current path? "That's a long story," says Acharya.
During his childhood, Acharya's father worked for a company in the music industry. He worked as a mechanic in the production of covers for music cassettes. One day, the company's owner received funding from a Norwegian organisation to establish a music school. "We lived in an area of Kathmandu where drug use was prevalent, and my father was concerned about me going down the wrong path," he says.
To prevent him from getting involved with the wrong people, Acharya's father approached his employer, requesting permission to enrol his eight-year-old son in the newly established school. The employer consented, and Acharya's father accompanied him to the school, where he gave him the freedom to choose any instrument he desired.
"I chose the tabla because I thought it might be easy to play," Acharya chuckles. "But I was mistaken; it's actually pretty difficult!" He began attending school and dedicating approximately 5 hours daily to tabla practice, admitting that it was sometimes a bit boring. "But once I got the hang of it, I started to really enjoy it," he says. When he discusses music—particularly when he talks about the tabla—his eyes light up with enthusiasm.
The tabla is a classical North Indian instrument with two small drums, one wooden and the other traditionally made of clay. Acharya shares one of the oldest tales about its origin, involving a man who played a double-headed cylindrical drum daily, much to his wife's annoyance. One day, unable to tolerate it any longer, she took an axe and split the drum in two. Yet, the man continued playing on the two halves. "I think that's a plausible story," he says.
Over the years, as Acharya got better at playing the tabla, he developed a growing interest in other percussive instruments, particularly those from Nepal. Consequently, he began learning the ones he could get his hands on. Currently, he can play all existing Newa percussive instruments and the madal, a cylindrical hand drum often used in Nepali folk music.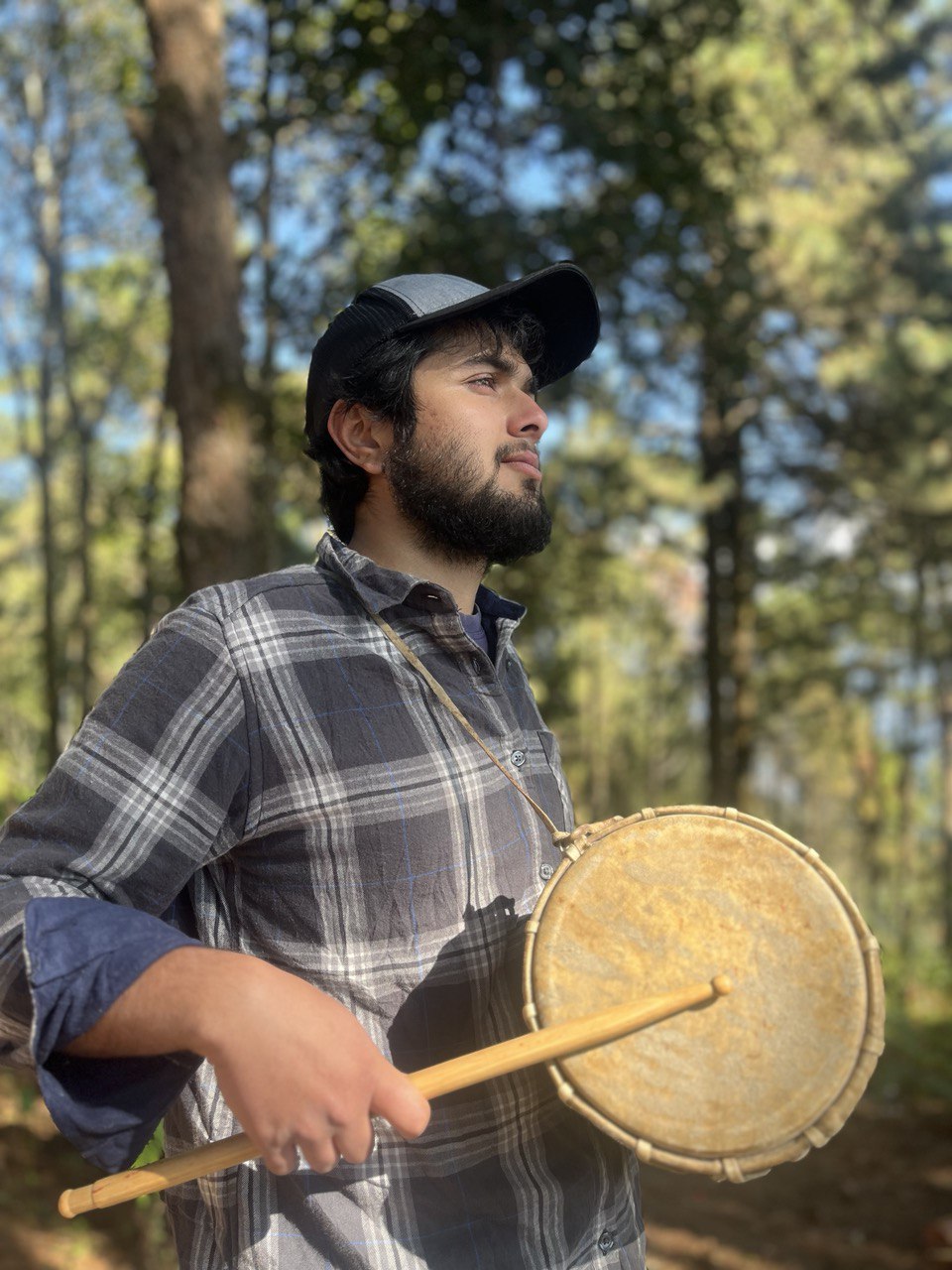 Acharya playing Newa drum Nyakhi. Photo: Courtesy of Jason Kunwar
Eventually, he wants to learn as many Nepali percussive instruments as possible—ideally, all of them, he mentions. However, that is quite a challenge due to the diverse musical cultures within Nepal, each with its own set of musical instruments. According to literature, there are over 250 original Nepali instruments, and a substantial number of others have been forgotten and lost over time. Presently, the Music Museum in Nepal has identified over 1350 sound objects.
Fittingly, Acharya joined a folk band, Night. The band has toured extensively throughout Europe, including countries like Germany, Poland and the UK, and recorded three albums. However, their music, rooted in research on diverse regional styles, became less accessible to the audience over time. "Our listener base shrunk with every album," remarks Acharya, but this doesn't bother him, as getting rich isn't his goal with the band. "I just want to do what I love," he says.
But where does his love for music come from, and why did he choose to be a musician, even though making a living can be challenging, especially in a somewhat niche 'new-school folk band'? "Music was my only escape," responds Acharya, acknowledging that he's not great at conversing with people and struggles with studying. Currently, he's gaining recognition, being booked to play everywhere, from yoga retreats to studio sessions with other professional musicians.
During a recording session with British electronic music producers a few months ago, the idea of studying jazz crossed Acharya's mind. The session involved improvisation, and afterwards, the percussionist felt he had untapped potential. It dawned on him that understanding the Western style of music was crucial to collaborating with international musicians in the future. "Until now, I couldn't read stave notation, which is a disadvantage as many musicians send you notes on stave papers."
Acharya decided he genuinely wanted to learn more, understand the Western 'tricks' of music, and apply some of them to the music he enjoyed playing. The logical choice for this musical education was the jazz conservatory. He discussed his interest with the school's director, who invited him to attend an audition.
As he wasn't familiar with jazz, Acharya delivered a unique performance. Being a fan of progressive metal music, he chose to play a cover of the metal band Animals as Leaders on his tabla. Surprisingly, he convinced the judges. Now, he is not only learning jazz drums but much more. His studies include music theory, rhythm and improvisation, among other subjects. On Thursdays, students and some teachers usually have jam sessions at Beers N' Cheers, just around the corner from the jazz school. "Here, you get the full package of what you will be doing the rest of your life," he says, smiling, seemingly content with all this.
But what's next after graduating from the jazz conservatory? He's unsure. "For now, I just want to study," he says. And in general? Acharya recalls the teachers asking him the same question during the audition. His response: "I just want to make music."
---
---