Youths' digital guide to Pashupatinath
'Save the Heritage' team's e-book offers a comprehensive detail of the cultural heritage—complete with maps and intriguing facts—to the overlooked monuments and temples in the sacred area.

Team members Ashok Kushwaha (left), Nisha Paudel, Swami Kedarman Bhandari, Kailash Pariyar, Prashant Panta and Suhani Luitel during a site visit to the Pashupatinath area. Photo: Courtesy of Laxman Bista
bookmark
Published at : September 24, 2023
Updated at : September 24, 2023 07:41
Kathmandu
The Pashupatinath area isn't just a place of worship; it is a historically important and culturally rich junction spread across a large expanse—housing many significant structures that often go unnoticed. Most of us tend to visit only the main temple or the peaceful Aarti ceremony by the Bagmati River, often unaware that we pass by equally important ancient monuments. One reason for this is that we're not as aware of the other surrounding components of the Pashupatinath area.
To address this, a team called 'Save the Heritage', consisting of twelve young members, collaborated to create an informative e-book about the expansive Pashupatinath area. This beautifully designed e-book is divided into nine sections and includes maps, details about temples, idols, ashrams, the library, old pictures of Pashupatinath, and interesting facts presented as 'Did you know?' snippets.
The inspiration for the e-book came from the project's mentor, Laxman Bista, who is a recent graduate in Neuroscience and Physics from Dartmouth University in the US. He led the team through various aspects of the project. This included managing finances, marketing, writing, editing, design, translation, and the publication of the e-book.
In addition to Laxman, Suhani Luitel played a crucial role in conducting research, writing, and editing. She is currently also involved in the project's marketing efforts. Pritesh Thakur's contributions ranged from research to writing, editing, photography, and incorporating maps to aid navigation. He was also part of the team responsible for translating the e-book into Nepali. Abhiyan Poudel served as the designer, responsible for creating the entire layout and design of the e-book. He also played a role in the Nepali translation team.
In a conversation with the Post, Bista discusses the team's vision, research process and more.
How did the project begin?
When we think of Pashupatinath, we often picture the grand main temple, a symbol of devotion and reverence. Yet, many other temples, each with its unique significance, remain in the shadows of this imposing structure. It's unfortunate that both pilgrims and tourists, including locals, are often unaware of these smaller yet equally important sites that contribute to the sacredness of this place.
Amidst social and political challenges and a lack of proper heritage education, it's crucial to pass on knowledge about these places to the younger generation. We anticipated finding abundant resources to explore the myths, legends, and historical importance of Pashupatinath. However, we were disappointed to discover a scarcity of accessible and relevant materials that could offer a comprehensive understanding of this remarkable location. Existing resources were either too dense and challenging to grasp or provided only superficial information. This realisation was the catalyst for the inception of our project.
How did the team come together?
The idea of this project came to me out of the blue after my meditation one morning. I then reached out to Astha Ghimire, one of the team members, and she loved my pitch. Next, I shared the concept with Kailash Pariyar, who also agreed to join the team. Shortly after, Suhani Luitel and Pritesh Thakur came on board.
Through word of mouth, we kept adding people who were genuinely interested in the work, and finally, we ended up with a team of 13 members. It took a couple of weeks to get everyone on the same page and assign different roles based on their experience and expertise.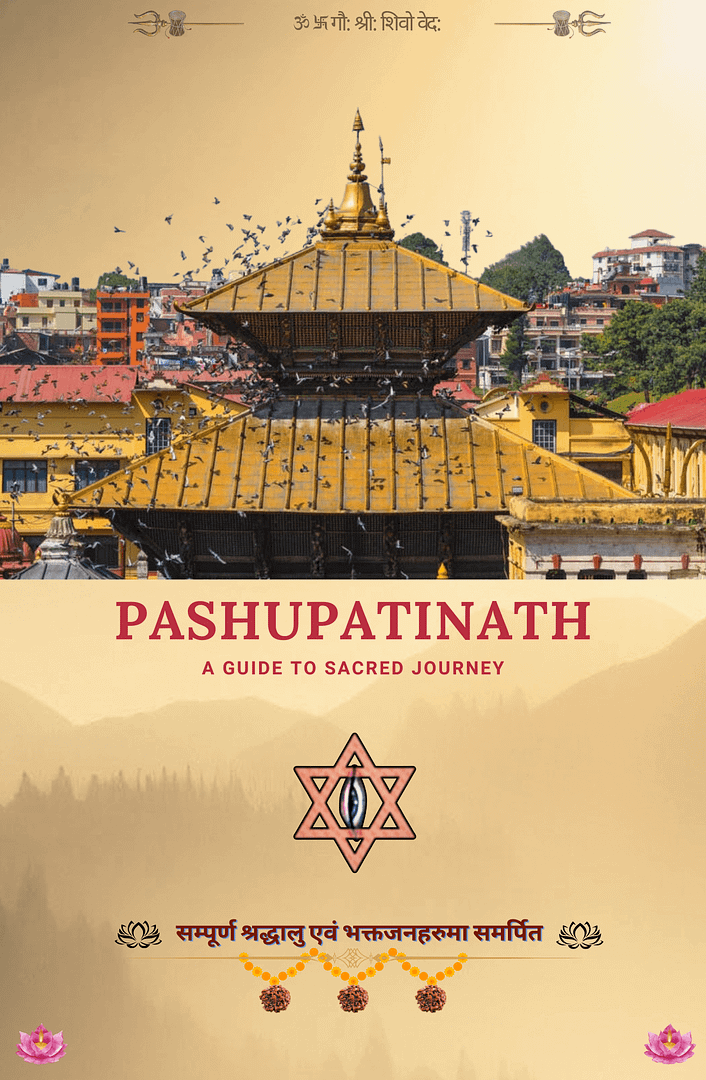 Cover of 'Pashupatinath—A guide to sacred journey'.
How did you carry out the research?
We wanted the book to contain accurate information about the Pashupatinath Area. To achieve this, we employed two approaches that complemented each other. First, we conducted a series of field visits to Pashupatinath. We obtained on-site information about Pashupatinath from Swami Kedarman Bhandari Ji, a renowned advocate of Pashupatinath Area conservation, who has directly served the administration and has been one of the Bhandaris of Pashupatinath for several years. We also conducted interviews with jogis to gather their insights.
Books served as our secondary sources, helping us augment the collected data and verify its accuracy.
Why did you choose to publish it as an ebook?
After completing our research, we transformed our gathered information into an engaging and interactive ebook format. Our aim was to create a comprehensive guide for anyone interested in the Pashupatinath Area, whether they were planning a visit or simply wanted to learn more about it. We opted for an ebook instead of a traditional hardcover book to ensure that the material would be accessible to a wide audience, free from physical or financial barriers. People could easily download it on their phone or computer, making information about Pashupatinath available worldwide.
A month after releasing the English version of the book, we also published a Nepali-translated version.
Tell us about the 'Save the Heritage' campaign.
Encouraged by the immense support we received from heritage conservation activists, we decided to expand our project by launching a youth campaign, also called 'Save the Heritage'. This initiative aims to preserve Nepal's heritage sites through exploration, documentation, and communication of their historical and cultural significance. This campaign represents our long-term vision. With the active involvement of young people, guided by expert mentorship, we aspire to create similar ebooks for many other heritage sites in Nepal. These resources will play a vital role in raising awareness and promoting cultural literacy among people in Nepal and the Nepali diaspora worldwide.
---
---