The ardent actor
'I don't regret my decision to shift from Hollywood to Nepal,' says Shilpa Maskey.

Photos: Courtesy of Shilpa Maskey
bookmark
Published at : May 15, 2023
Updated at : May 15, 2023 07:41
Kathmandu
Shilpa Maskey needs no introduction. Having made her big break in the movie industry with the 2016 Marvel blockbuster 'Doctor Strange', Maskey has gone on to act in numerous movies since, including 'Mission: Impossible—Fallout', 'The Break Up', 'Kagaz Patra', 'Gold' and 'Kathaputali'. While her fans know her as a versatile and adroit actor, she calls herself an avid overthinker who is good at following her intuition.
While she was initially more of a dancer, she transitioned into acting when she was offered a chance of a lifetime to appear in 'Doctor Strange'.
From her childhood, Maskey loved dancing. She calls it her favourite form of therapy and something she does every time she has a difficult time. Her journey in front of the camera started when she was asked to appear in a music video when she was 16. "I was at a beauty parlour when I got this offer. I wanted to explore things other than academics, so I said yes. I was excited about it then, but I'm embarrassed to think about it now," says the actor, who turned 31 last month.
After finishing high school, she went to the UK to study Business. While she wasn't sure what to pursue as her career, Maskey decided to major in commerce as she felt that was the safest choice for her. She took a year-long hiatus from her studies and came back to Nepal.
During this break, Maskey tried her hand at modelling. She was inspired to do this having watched her elder sister, the celebrated makeup artist Shradha Maskey, work in the fashion industry. Modelling proved to be a successful career choice for her as she got a ton of work opportunities pretty quickly after she started.
Maskey was also offered a role in the short film 'Shooting an Elephant' based on an essay of the same name by the British writer George Orwell. She starred alongside English actor Barry Sloane and theatre legend Anup Baral. The Academy Award-nominated American screenwriter Alec Sokolow worked on the script while Juan Pablo Rothie directed the thirteen-minute-long movie.
"What was cool about 'Shooting an Elephant' is that it didn't have any dialogues," says Maskey, adding that she was thankful about this. "I knew how to play around with my expressions but wasn't confident with the dialogue delivery."
Having returned from her trip to Nepal, the actor decided she wanted to train in dancing formally and joined a class with other Nepali and British students. She tried her best to sharpen her skills and even got selected for a team. However, within her team, Maskey ranked last in terms of dancing. This hit her hard. So, she decided to dedicate even more of her time to dancing—she left her job, decreased her study time and spent it all on practising dance instead. In a month, she rose up the ranks and ended up being the best dancer in the team.
Maskey then decided to try signing with an agency. While on the lookout for a company, she heard about the 'Doctor Strange' team looking for a Nepali actress for a role. "They wanted a girl with a martial arts background. As a dancer, I was comfortable performing difficult and intricate movements. So, they thought I could pick the moves," she says.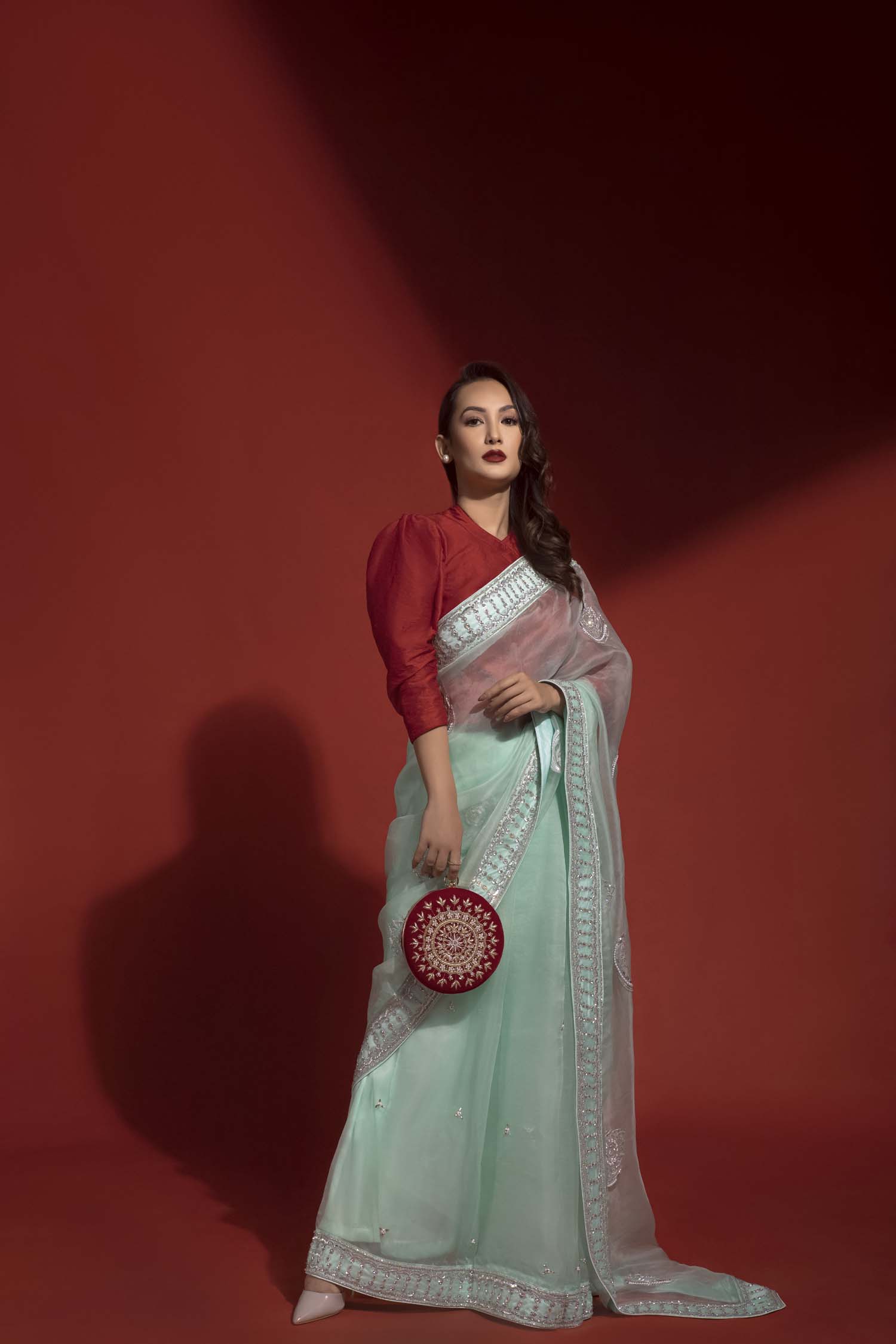 Photos: Courtesy of Shilpa Maskey
The actor states that she learned a lot during the filming of the Marvel movie. She visited the set around 40 days and believes this taught her everything she needed to know about what goes on in the filming set.
After that, Maskey got cast in another Hollywood smash hit 'Mission: Impossible—Fallout' and the Bollywood film 'Gold'. Although she was grateful for all these opportunities to star in international films, she desperately craved to play a leading role in a flick. "Every actor wants to play the main character. I was waiting for my chance to do that," she admits.
Finally, in 2019, 'The Break Up' the first film starring Maskey in a leading role, came out. Its release was followed closely by 'Kagaz Patra', another movie with Maskey playing the main role.
Among the cast for 'The Break Up', Maskey was the only newbie actor. Everyone else had either already shot a film or had a background in theatre. "The filming process was pretty intimidating. I wouldn't call my acting in the movie my best work, but I'm glad it was received well by the viewers."
What Maskey loves about acting is how she gets to live different people's lives through the characters she portrays. She reveals that while filming, she gets so into her characters that she forgets her regular self completely.
The year after the release of these two movies, Covid-19 took over the world. With nothing to do, Maskey decided to open a restaurant with a friend who is a certified chef from Korea. These days, when she isn't filming or attending business-launch events, the actor can be seen at her Korean eatery Dokdo Sarang, located in Kupondole Heights, Lalitpur.
'Kathaputali, which was released on December 31 2021, was an interesting experience for Maskey as it was the first time she acted in a horror movie. Her upcoming film 'Parastri' is highly anticipated by her fans.
With the handful of roles she has played, Maskey has already established herself as a prominent actor in the Nepali film industry. "I don't regret my decision to shift from Hollywood to Nepali cinemas," states the actor.
---
---