Masters of visual storytelling
Social media has romanticised photography and videography to an extent that today, almost everybody wants to be a photographer. What distinguishes Kathacharya is their love of storytelling.

Mimamsha Dhungel/TKP
bookmark
Published at : February 25, 2023
Updated at : February 25, 2023 18:29
In 2015, Sudin Bajracharya was completing his undergraduate studies in marketing and advertising at the University of West London. At that time, like many Nepali students studying abroad, he constantly wondered if this was really what he wanted to do in life. He was working part-time at restaurants to sustain himself financially. But he wasn't satisfied with it. He didn't enjoy himself within the four walls of the restaurant as his heart was always yearning for more adventure. He graduated in 2015, and despite the opportunity to remain in the country on a work visa, he chose to return home in search of his true passion.

Bajracharya joined the NGO Daayitwa after returning to Nepal and this is where he gained experience in filmmaking, videography, and editing. He was also taking up freelance projects at the time. It was in 2020 that he thought of starting his own business. He did not, however, register his company for nearly a year because he had not settled on a name. He came up with the name 'Kathacharya' on a whim one day and it is inspired by his family name. In the Newari community, Bajracharyas are people who are knowledgeable in Buddhist Vajrayana practices and rituals.
"The name 'Bajracharya' reflects the centuries-old practice of having your caste demonstrate your profession. The name of our company was chosen to reflect how we tell stories through our work. As a result, the company's identity is inextricably linked to the type of work we do. Through advertisements, music videos, photos, and documentaries, we keep the art of storytelling alive," says Bajracharya.
His dream of establishing a video production company became a reality when he met Gaurav Tamang and Sashank Thapa, who are as passionate about filmmaking as he is, during the lockdown. Kathacharya was founded on February 3, 2021 as a creative brand seeking to make an impact in visual storytelling.
The company has been producing documentaries for organizations including Environment and Public Health Organization (ENPHO) and Daayitwa among others since its launch. Bajracharya also wanted to work in advertising which is what he majored in abroad. As a result, Kathacharya has created advertisements for companies like Samsung, RealMe, and Old Monk. The team has also worked on creative music videos for artists like Yabesh Thapa.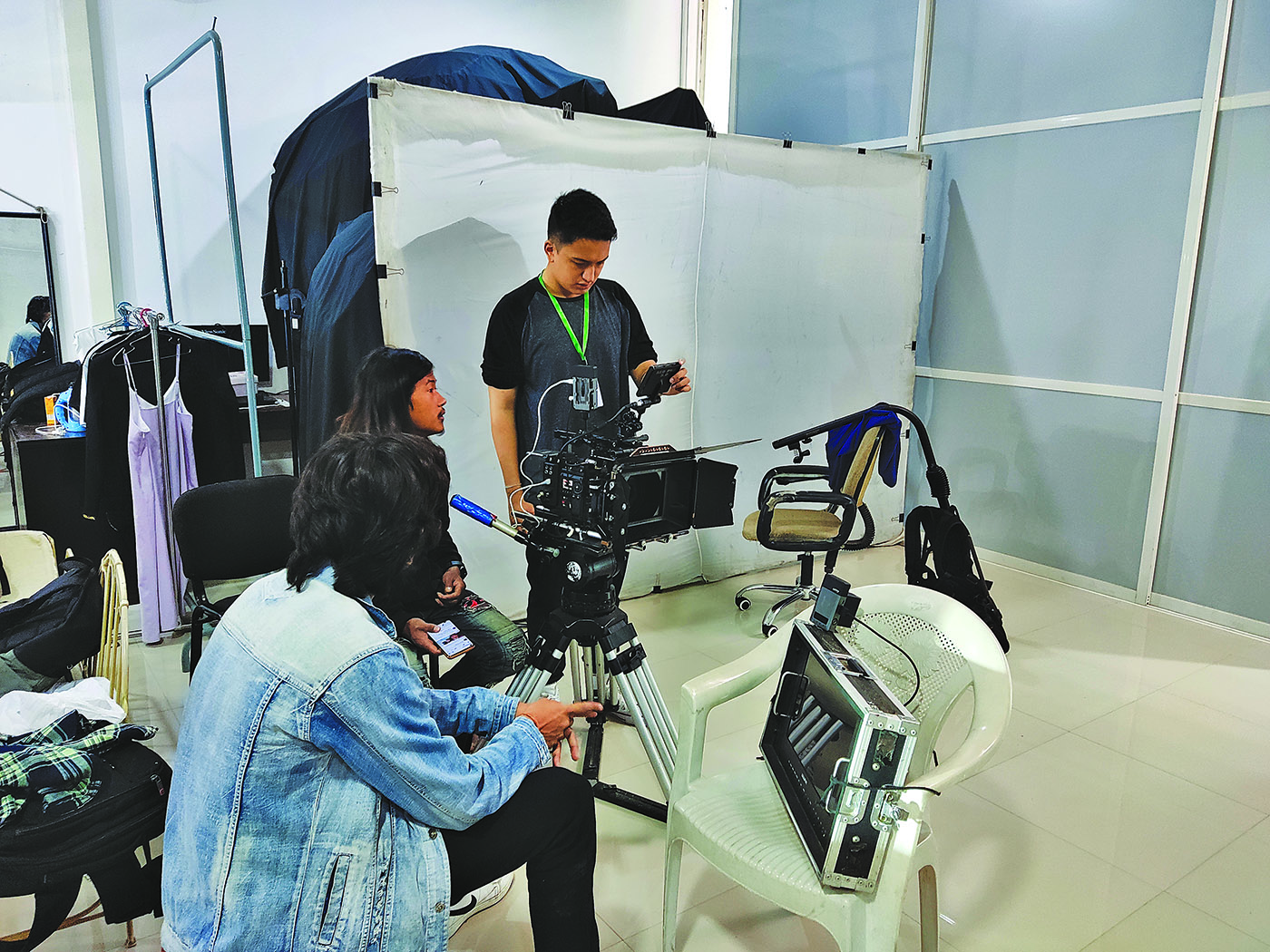 Photo Courtesy: Kathacharya
Ankur Singh Thapa discusses how storytelling brings the Kathacharya team together. He calls storytelling an ancient form of art that has existed since the dawn of time. According to him, the Kathacharya team is working to preserve this form of art through video. He further explains how storytelling is vital for digital marketing or brand strategy as this is what most watchers connect with. "'Katha' is what keeps us all going. As a result, Kathacharya continues to explore stories from Nepal's nooks and crannies," reveals Thapa.
Co-founder Tamang is especially passionate about filmmaking. He states that he likes creating new things—especially art, in any form, be it photography, videography, or ceramics. He enjoys working on Kathacharya's projects as it allows him to do this very thing.
The Kathacharya team is young and dynamic with members from diverse backgrounds. "The young energy and flat hierarchy we have here characterises Kathacharya," says Nischal Khadka, one of the youngest team members.
Another team member, Prashant Thapa feels at ease working at the company as it does not have workplace toxicity because no one feels coerced to do anything. Everyone there, he says, is willing to compromise and reach a middle ground.
Sudarshan Thapa is a newcomer to the world of filmmaking. He started out as a novice eager to learn. But, with his curiosity-fueling his passion, he is now doing 3D modelling at Kathacharya. "Seeing Sudarshan and many young people identify their passion at such a young age is very inspiring to me. Choosing what you want to do with passion and chivalry for the rest of your life is a feat few can achieve," says Bajracharya commending Thapa's efforts and life choices.
The team of Kathacharya reveals that their work might look very fun to other people because of how social media has romaticised photography and videography today. And while it is a good thing that more and more individuals are interested in taking up videography and photography as their career, the industry is slowly becoming a little overcrowded with individuals who are there just to make money instead of enjoying it as a form of art.
"Of course, our work is more enjoyable than a regular 9-5 job. However, in order to master the art of true visual storytelling, the content must come from the heart. Kathacharya is driven by this motto. If you have a passion for storytelling, you are all Kathacharyas," concludes Sashank.
---
---