Healthy skin made easy
Model Aakriti Budhathoki shows us how to create a practical skin care routine

Photo Courtesy: Aakriti Budhathoki
bookmark
Published at : January 30, 2023
Updated at : January 30, 2023 08:03
Kathmandu
For someone who is already creating a name for herself in the fashion world, Aakriti Budhathoki has remainded very grounded and modest. And this is reflected in the way she presents herself. Her job as an up-and-coming model requires her to constantly glam herself up and don the most fabulous clothes, hairstyle and makeup. But when she is not in front of the camera, the model, who has rocked the runway for some of the biggest fashion events including the TGIF Nepal Fashion Show 2022 and IEC Designer's Runway 11, is not as flashy. Instead, she maintains a sleek and clean appearance.

So it is not a surprise to find out that her skin care routine is also pretty simple but highly effective—if her smooth and glowy skin is anything to go by. Here, Budhathoki guides us on how to create and maintain a minimal yet functional skin care routine.
The basic steps
Budhathoki has specific morning and night skin care routines. In the morning, she uses just cold water to clean her face as it does not wash away the useful oils produced by the skin during night time. She then moisturizes her skin, applies a serum and finishes everything off with a generous dab of sunscreen. "I used to apply vitamin C on my skin before but now I've moved to Vitamin E which has suited my skin perfectly," she states adding that Vitamin E has been maintaining the moisture of her dry skin.
If Budhathoki is wearing makeup—which she does very occasionally (other than when she has shoots or shows)—she applies foundation on top of her sunscreen.
As for her night time skin care routine, the model starts it by cleansing her face. She removes her makeup first with micellar water and then washes her skin with a cleanser. Budhathoki uses Bioderma's micellar water and teh Cetaphil Gentle Cleanser. She then applies Ralycos Vitamin E serum and then seals everything with her moisturizer.
Dealing with acne and dryness
While breakouts are a rarity for Budhathoki, she admits that every now and then, she does get a pimple or two. She explains that her skin is on the drier side which might be why she does not get acne often and even when she does, it goes away pretty quickly.
Budhathoki also has an unconventional approach to treating acne—she lathers her skin with moisturizer. For most of us, excessive oil production is one of the major reasons why we get pimples. However for someone with dry skin like Budhathoki, the opposite of this could also be true. Because her skin is dry, it produces cysts to try and repair it. This is why she applies a lot of moisturizer on the specific part of her skin that gets a pimple.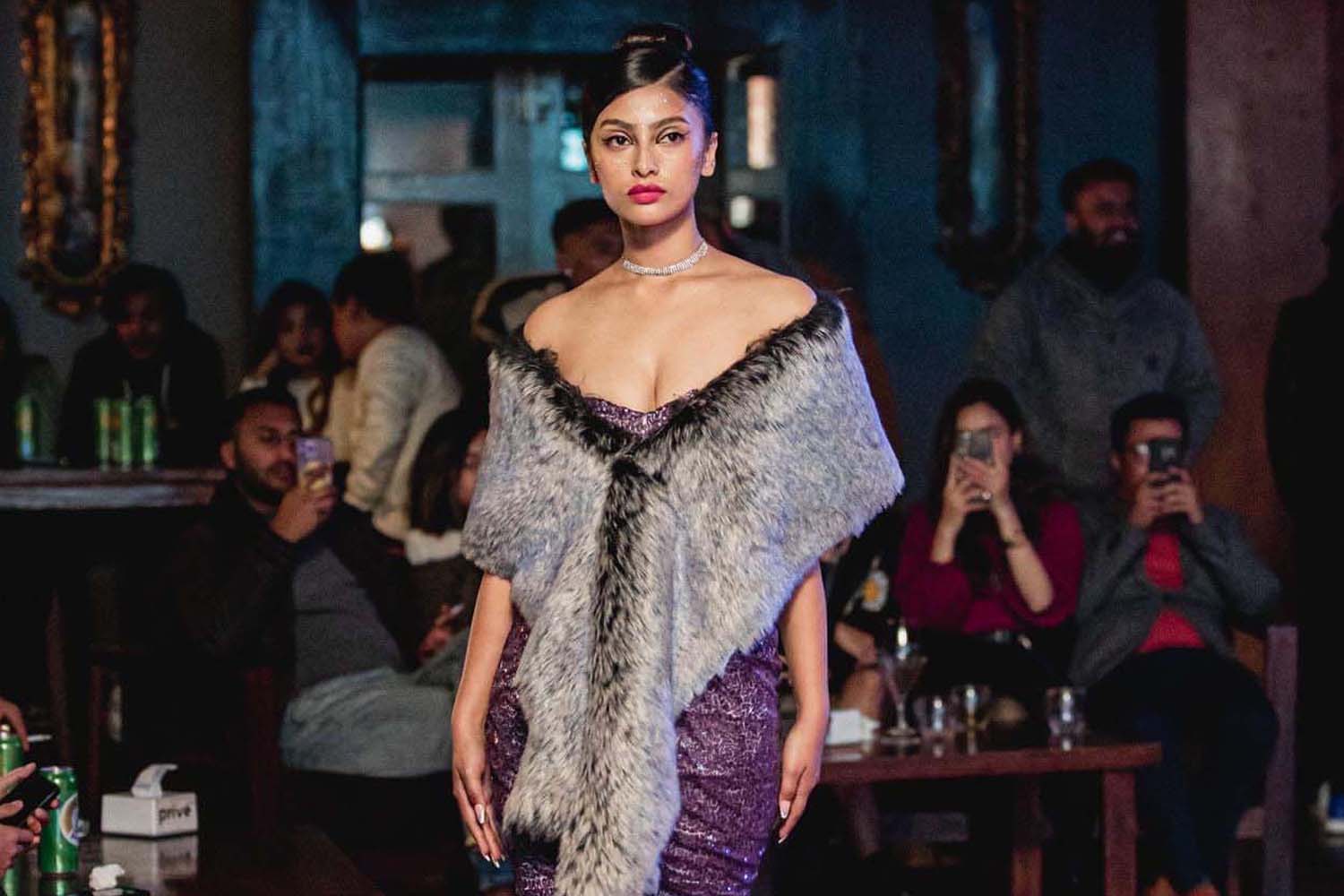 Photo Courtesy: Aakriti Budhathoki
The importance of drinking enough water and getting good sleep
We have all heard that drinking water is good for the skin and while this might be a cliché advice, it is truly efficient to keep the skin healthy and glowing. Bushathoki claims she carries her water-bottle with her everywhere she goes.
"I actually try to drink five liters of water everyday and get a good eight hours long sleep every night," states the model adding that she believes these two habits are very important to keep not just your skin but the whole body healthy.
More tips from the model
Budhathoki recommends everyone to change their bed sheets and pillow covers at least twice a week. This, she claims is because your bed sheets and pillow covers collect a lot of dust, sweat and germs, and if they are not switched regularly then, this might cause breakouts and other infections on your skin.
She also requests we only use dermatologist recommended and approved products on our skin—especially skin care, explaining that these are experts who spent years studying the skin. So, they know what products would be good for your skin.
---