Maghi the Tharu way
While most Tharus celebrate nowadays by rallying in cultural costumes, it is different from the traditional celebration of the festival.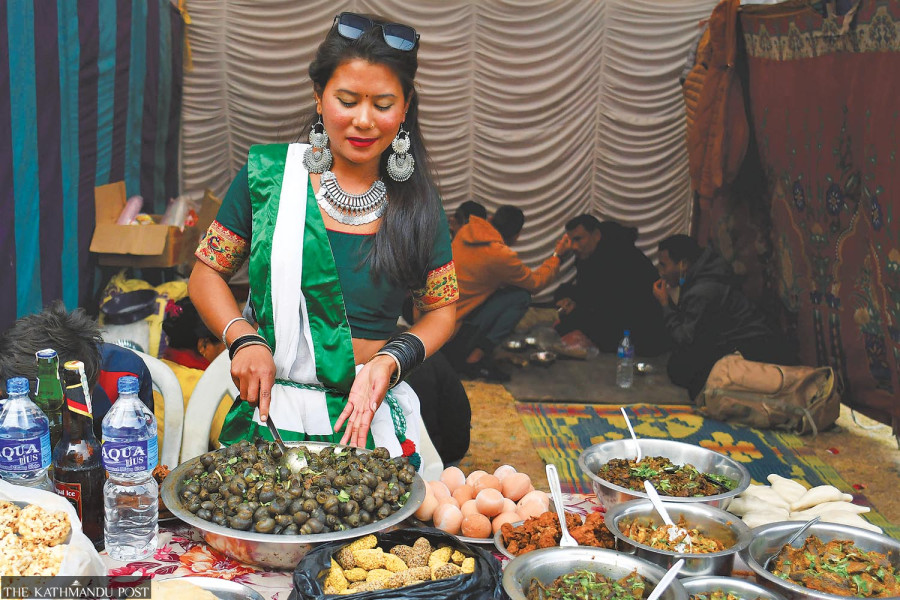 A Tharu woman serving Maghi special food in their traditional green and white clothing. Anish Regmi/TKP
bookmark
Published at : January 15, 2023
Updated at : January 15, 2023 08:38
Kathmandu
The preparation for Maghi festival in Tharu communities begins a day before the 1st of Magh when communities or families perform a ritual called 'Chita marne', which involves animal sacrifice. The festive spirit can be felt the following morning when families go for a holy bath in the river. The cold winter morning of Maghi is often filled with the warmth of festivities, worship, blessings, food, and dance.

While Maghi is celebrated in several communities with different names—like Gheu Chaku Sallhu in the Newari community and Makar Sakranti in the Brahmin and Chhetri communities—and rituals, the way Tharu communities across Nepal celebrate it is particularly fascinating.
Over 50 subcastes of Tharus live in Nepal, and each geography has a different name for the festival. In the central region, it is called Tila Sakranti, Maghi, or Khichara; in the east, it is called Khichadi; and in the Far West, it is called Magh or Maghi. "The names are different, but the theme and importance remain the same," claims Krishna Raj Sarbahari, a researcher and expert on Tharu culture who has written numerous books (on the culture) including 'Khuttrukya' and 'Bhukhali'.
Tharus can be seen rallying the streets, flaunting their traditional white and green dresses on Maghi. "The colour of our costumes have their own significance," says 61-year-old Sumala Mahato from Magani village in Chitwan. He explains that Tharus are known to be nature lovers and worship it as a deity of its own. So, green in their costume represents nature, while white represents the peaceful nature of Tharus.
"The ornaments we wear on Maghi are made from silver which represents the moon in our," says 61-year-old Sumala Mahato from Magani village in Chitwan.
While rallying in traditional costumes is how most Tharus celebrate Maghi nowadays, it is different from the traditional Tharu celebration of the festival, according to the cultural experts and social scientists, The Post spoke to.
"In the past, we Tharus celebrated this day as our new year," says Sarbahari.
Anchala Chaudhary, professor at the Department of Sociology, Prithvi Narayan Campus, explains the traditional Tharu way of celebrating Maghi, stating, "In the past, younger family members touched the feet of their elders to start the year with blessings. Everyone would go home for the celebration and spend the whole day with their loved ones discussing their plans for the new year."
Bala Ram Acharya, who holds a Master's degree in sociology and has researched the Tharu community, mentions Tharus go to their nearest rivers for a bath the first thing in the morning on Maghi and worship unmarried girls and their parents in his book 'Introduction to Sociology and Anthropology in Nepal'.
According to Chaudhary, different Tharu communities across Nepal have their own kinds of food they make for Maghi—Bageya is made in the central region and Dhikri in the Far West. Other popular food items include Til ko Laddu (sesame balls), Bhuja ko Laddu (Puffed Rice) and Ghonghi (a snail dish). "Some Tharu families also offer sacrifice animals—of pigs, boars, pigeons, ducks or goats—to their Ista Devata (preferred god) on the day of Maghi," says Chaudhary adding that families make food the night before Maghi and eat it the next day. This is how the Tharu saying 'Poush ma pakya, Magh ma khyaka' (cooked in Poush, eaten in Magh) came about.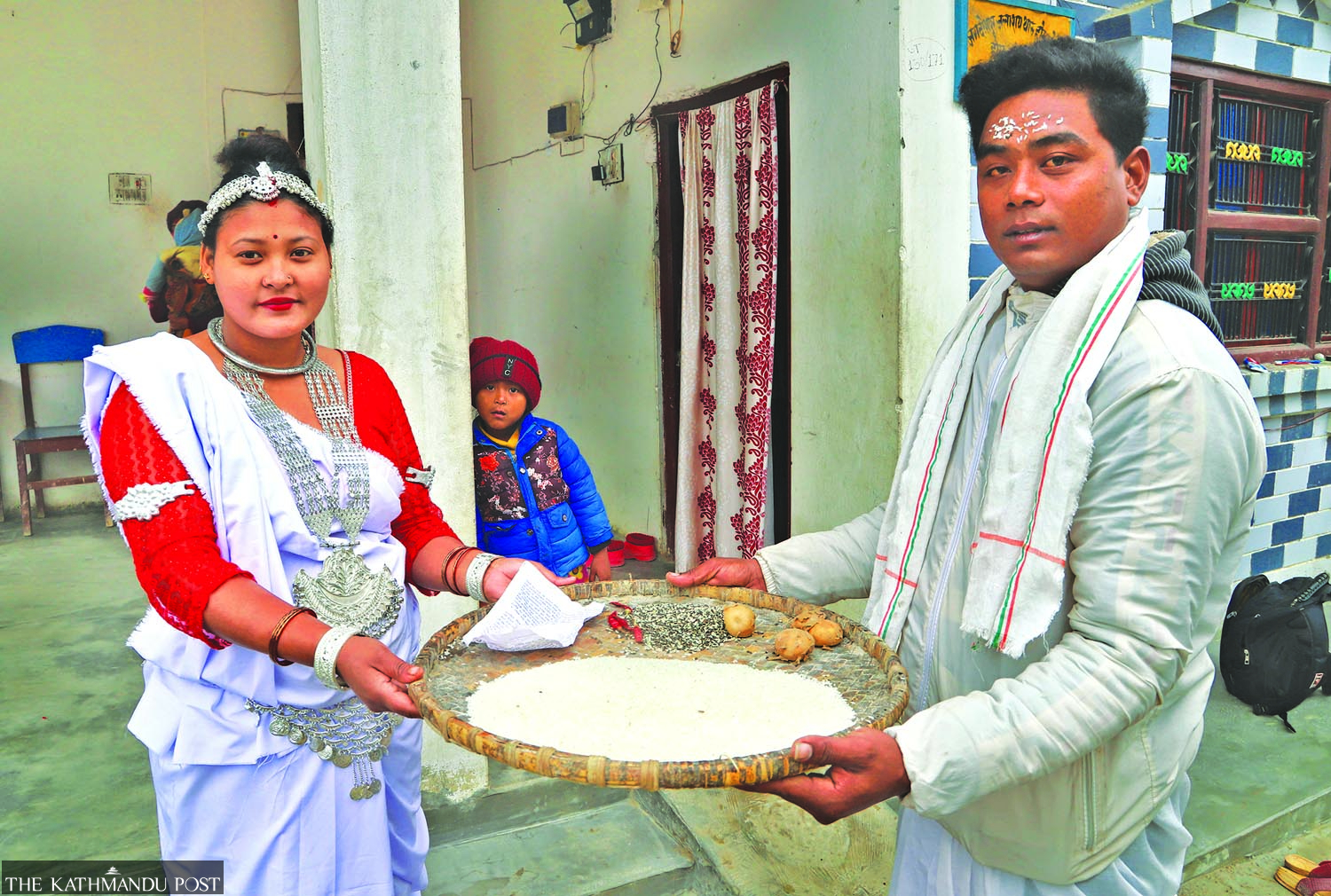 A brother-sister duo performing a Maghi ritual. Manoj Paudel/TKP
Rajmati Devi Shah, a 49-year-old resident of Madhuban village, Karaiyamai Rural Municipality-1, considers Kichadi the most important Maghi dish. "We prepare it using twelve ingredients—different types of lentils, ghee, cinnamon, turmeric, salt, black pepper, red chilly, garlic and asafoetida," she explains, adding that all spices used to make Kichadi have medicinal properties. So, the dish is beneficial for boosting the body's immunity too.
"In Chitwan, our foods are a little different, but the customs and practices are the same," says Mahato adding that his community also worships unmarried girls and children of the family's daughters.
While some individuals from the Tharu community feel that they portray their culture, identity and a strong social statement by wearing their cultural attire and making special food for the festival, some think that Maghi has become limited to clothes and food. Others also feel that a large number of young Tharus have no idea of the reason behind its celebration.
When asked why he celebrates Maghi, 25-year-old Sudhesh Chaudhary from Baluwa, Kolhabi Municipality-5, who is currently living in the US, says that it is to have fun. His idea of Maghi celebration includes having delicious food, dancing around, roaming the town with his friends and ending the day drinking alcohol.
Similarly, Anju Chaudhary 25-year-old from Madhuban village, Karaiyamai Rural Municipality-1, admits that she does not know much about the reason behind Maghi celebration, and it is just another day for her. "Maghi just means making delicious food for me. While I do enjoy the food, it just adds to the many household chores I do. So, it isn't a celebratory event for me," she states.
Professor Chaudhary blames the youth's lack of knowledge of festivals like Maghi on modernisation adding that it is slowly erasing ancient practices of the Tharu community. She says, "I want people to realise that if we don't continue these customs, the younger generation will not know about it, and one day, it will vanish."
---
---