Pride Month: What does it mean to be an ally?
While queer supporters are on the rise, there are still things they need to consider and learn to be a better ally.

Across the world, pride parades are held to promote diversity and advocate equal rights for diverse gender and sex. Post file photo: Sanjog Manandhar
bookmark
Published at : June 11, 2022
Updated at : June 11, 2022 06:55
Kathmandu
Twenty-year-old Deepali Shrestha has been looking forward to June's Pride Day for weeks. It will be the first time she can attend the Nepal Pride Parade, an event that celebrates the gender and sexual diversity and highlights the struggles for queer rights.
"I am just a person who fully supports the queer community. Since I came to Kathmandu a year ago for studies, I am finally able to join my first pride parade," said Shrestha, who identifies as a cisgender and a heterosexual (also known as cishet).
Nepal Pride Parade was first started on June 29, 2019, by Queer Youth Group and Queer Rights Collective. Since 2020, every second Saturday of June (considered the Pride Month in many cities in remembrance of the Stonewall riots, which started an international gay rights movement) is regarded as the Pride Day in Nepal, and a pride parade is organised.
Many parades and events, such as Queer Womxn Pride, Queer Indigenous Pride, Trans Pride Parade, and LGBTIQA+ Pride and Gaijatra celebration, are organised in Nepal to promote diversity and advocate equal rights for diverse gender and sex.
People from various gender identities, sexual orientations, and sex characteristics attend such events. Cishet people also participate in these events. Often, cishet people who support queer communities and queer rights are also called 'straight allies' or simply 'allies'.
While the participation of allies and queer supporters in the pride parades and other queer events offline and online has been on the rise in recent years, there are concerns regarding allies who tend to take the spotlight rather than the cause.
Being an ally is not about being a 'saviour', but it's about providing a space for queer people to express their concerns, empathising with the community, advocating with them for their rights, and listening to them, said the queer rights activists the Post spoke to.
Eshan Regmi, an intersex rights activist who has been advocating their rights for a decade, shared that even people who come to the pride parades as an ally often do not know about the diversity that exists within the LGBTIQ+ community.
"First and foremost, people need to understand us as fellow human beings. They should be aware of the terms we use, empathise with our experiences, and be educated about the diversity that exists in our community," said Regmi. "As an ally, you don't need to assert your assumptions, but just try to understand."
It's the role of allies to amplify the voices of queer individuals and queer communities without outshining their narratives because, at the end of the day, it is the queer individuals who have lived those experiences, added Regmi.
A module prepared by Amnesty International describes an ally as "someone who takes action to support a group they are not part of. They develop strong ties to that group, while remembering they are there in a supportive role… Allies are not saviours, they know the people they are supporting can raise themselves up."
While allies can play a crucial role in amplifying the voices of the marginalised communities, allies also need to be mindful of the spaces they occupy and the resources they are utilising.
"The predominant mentality here among most of the allies is that people think they need to speak up for our community and us, making themselves a protagonist," said Shailee Chaudhary, a queer activist from the Madhesi community. "But the thing is, an ally just has to be there listening patiently with an open mind and retrospect."
During the Pride Month, every person, organisation, and business entity seems to be supporting the LGBTIQ+ community by upholding and flashing the rainbow flag online but this gesture of allyship is not enough, according to activists.
"The support we want from our allies should be consistent. They should be standing in solidarity with us throughout the year, but especially when our rights are being jeopardised. Allyship is not only about showing support when it is convenient," said Regmi.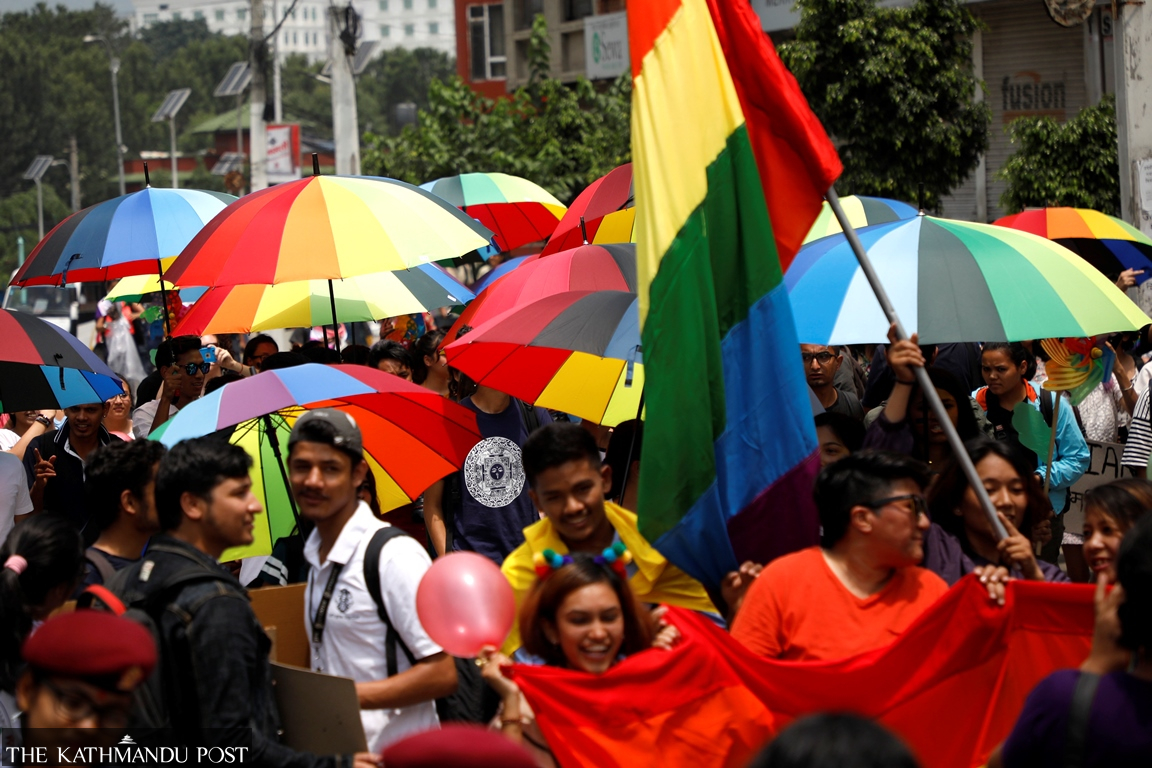 Cishet people who support queer communities and queer rights are also called 'straight allies' or simply 'allies'. Post file photo: Sanjog Manandhar
In recent years, support and allyship for queer community and queer rights have also been championed by various local, national, and international organisations as well as government agencies. Activists say that the participation and support of organisations in recent years have been increasing which is a positive sign, but there are some shortcomings as well.
"There is a good involvement of organisations in recent years and many of our works and programmes are only possible because we do them in cohesion with national and international organisations," said Preti Petter, programme coordinator at Blue Diamond Society(BDS), an organisation working for the LGBTIQ+ community in Nepal.
"I have been invited to many events as guest speaker from many organisations for the pride month of June but I feel that many organisations support us just for the sake of it. I believe that internalising their support first will be better."
BDS frequently interacts with government agencies and provides suggestions and feedback regarding government policies and laws. But government officials and agencies have done little to facilitate their cause.
"Every agenda that government agencies have is politically driven and LGBTIQ+ issues rarely get priority. The government now seems to be positive about our issues but they are still not progressive enough," added Petter.
But it is only organisations like BDS, which have been successful in establishing themselves, that are often preferred by other policy-level organisations to work in collaboration with, according to Regmi.
Allyship can also extend into different movements and be intersectional, connecting gender and caste, sex and gender, sex and caste, and so on. Allyship should not be limited to specific groups as it enhances its power when it extends its presence among various movements, say activists.
"When we study the movements that have occurred here in Nepal, many times these movements have had to fight for their rights in seclusion such as transgender rights, Madhesi rights, Dalit rights, etc," said Chaudhary. "But when allyship interconnects and people support intersectional movements such as a Dalit trans women movement, then that support can become even more empowering."
The support for queer communities can also exist in different forms. Just like how gender identity exists in a spectrum, people can also show their support in a spectrum. Allies can just be listeners, or amplifiers of queer voices, or advocates who work hand-in-hand with queer individuals.
Straight for Equality, a programme of PFLAG National, an US organisation dedicated to supporting, educating, and advocating LGBTIQ+ people, expands upon the 'ally spectrum' as three different types of ally. The 'new ally' is someone who wants to support LGBTIQ+ issues but isn't sure how; the 'everyday ally' is someone who supports LGBTIQ+ issues but still wants to learn more; and finally 'super ally' is someone who advocates hand-in-hand with LGBTIQ+ individuals for their issues personally, socially, and politically.
"The number of allies supporting the LGBTIQ+ community as a whole has definitely increased over the years, but the support declines when there is a separate movement for the intersex people. This clearly states that as an ally, they have yet to understand our diversity," says Regmi.
But for many supporters and allies like Shrestha, their solidarity comes naturally to them. They might not label themselves as allies but they are doing what they can to support the queer communities.
"After researching allies, I think that being an ally is not just about being on the forefront. One needs to first gain knowledge and know the nuances and context," said Shrestha. "I am a supporter of the queer community because excluding people from being their true selves doesn't make sense to me. If I can live and express myself freely, why can't others?"
---
---