Refusal to learn from past mistakes
The biggest and the most unforgivable sin of the 'A Mero Hajur 4' team is how they handle representation.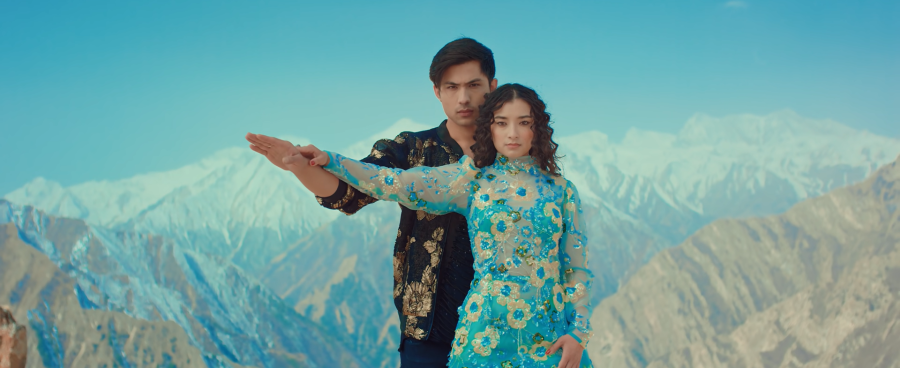 Screengrab via YouTube
bookmark
Published at : April 23, 2022
Updated at : April 23, 2022 08:09
Kathmandu
Imagine this: You have an assignment due tomorrow, but you haven't typed a single word, but you will fail if you miss the deadline. So, you borrow from someone else's assignment, make a few tweaks, and present their ideas as yours.
'A Mero Hajur 4', the latest film by director Jharana Thapa, and actor-producer Suhana Thapa, is that hastily submitted homework assignment. This film isn't shy about borrowing heavily from Bollywood and Nepali cinema of the 90s, and sometimes from their own earlier films. It's a glossy yet hollow romantic drama full of cringe moments, cliched instances, and problematic representations. However, the makers' biggest sin is their refusal to learn from their past mistakes.
Like any typical Bollywood romance film, this film has an attractive hero and heroine who meet through coincidences and cringe-filled humour. They fall in love for no apparent reason other than them being the lead actors. After some singing and dancing, things turn ugly when their parents get involved. Lovers are forced to part, and the separation is tragic. There's sacrifice or a grand romantic gesture, but eventually, the leads find themselves separated by an unforeseen death. This has been the structure of almost all digital films of the 'A Mero Hajur' franchise. The newest film is no different.
Arya Maharjan (Suhana Thapa) is a young Newar girl. Stereotypically, she is depicted as a loud alcoholic who gets into bar fights and gets arrested. While in police custody, Arya meets a group of sex workers with whom she randomly recounts memories of her lost dog-Tony. Unsurprisingly, this scene is full of sexual innuendos and double entendres. Why? Because what else can a scene with sex workers be about?
The male lead, Prem (Anmol KC), is a rich man's son who works as a barista. But do not expect any commentary on capitalism to factor into the story. Prem's choice of profession is used as an insult: a one-off gag. Prem lives with his friend Hari Prasad (Salon Basnet), who is the comic relief and nothing more. Like earlier iterations of Salon Basnet's characters in the 'A Mero Hajur' franchise, his comical scenes depict either vomiting, diarrhoea, or double entendres.
Prem and Arya meet because of the latter's lost dog. When Prem finds the dog and refuses to return him, Arya takes the case to court. The judge rules to give them joint custody of the dog, and they predictably fall in love. Two back-to-back romantic songs later, Prem takes his father (Saroj Khanal) to meet Arya's father (Rabi Giri), and out of nowhere, the two parents are revealed to be former arch-rivals. And since the dispute involves a Newa family, the fight is about guthi land, which like all other plot points in the film is never explored beyond that mention. Then, Arya and Prem break up, and get back together but are separated again.
The film's story is credited to the late Chhetan Gurung and Jharana Thapa, while the screenplay and dialogue are helmed by seven people, including the previously mentioned two. Jharana has been involved in all of 'A Mero Hajur' films as a writer and director, but unfortunately, four films later, there is little growth.
In a 2019 interview, Jharana asked Nepali film critics to mention good aspects of her film. Adhering to her request, here are the only two things that I found interesting in her latest venture. First is Arya's introduction scene, which is edited like a fast-paced South Indian film. The makers manage to mesh Arya beating her ex with G Bob's song playing in the background and Prem's reaction to this. This style of presentation by editor Mitra D Gurung is unique but, unfortunately, used only once.
The second is a scene where Prem imagines Arya and chases after her, only to come dangerously close to his death. The scene works for the acting style of the two leads—Anmol and Suhana—and is written as a callback to a shared romantic moment. But the scene feels redundant because, before this scene, the information 'Prem is losing his mind' had already been conveyed through a song, then through a long-overstretched-cringe-inducing scene depicting a mata (Lunibha Tuladhar).
In the same 2019 interview, Jharana said she is proud of how hard the team worked shooting their songs in exotic Himalayan locations. The team proudly boasts of their achievements by making behind-the-scene videos. They also claim that their songs have helped foster the domestic tourism industry, which might be true. However, the visuals, choreography, and cinematography look and feel the same. Through the course of the series' three films, they've been to Tilicho Lake, Ice Lake, and Shey Phoksundo Lake, and cinematographer Sanjay Lama seems to have a no-budge, strict formula. He sticks with similar angles and shot selections, making it extremely hard to tell the songs apart. The team's choice to reuse their older shortlist after going through so much effort is baffling.
But the biggest and the most unforgivable sin of the 'A Mero Hajur 4' team is how they handle representation. One of Arya's neighbours is a transwoman, and she is there only to be ridiculed. This is also not the first time the film's team have lacked sensitivity; this team is notorious for bullying. 'A Mero Hajur 2' featuring a gay character who is designed to be laughed at is a memorable past instance.
Trans people don't have it easy in Nepal. They are stigmatised, brutalised, and treated as sub-humans. They are constantly harassed and abused by police and society at large. Members of the trans community are being murdered in Nepal just for being part of the community. Cases of the killing of trans individuals have been registered in major Nepali cities like Kathmandu, Hetauda (Makwanpur), and Chitwan, and these are the cities where films from the 'A Mero Hajur' series enjoy the most popularity. The accused murderers of transwoman Anita Bhujel were young Nepali people aged 18 to 25, the exact target demographic of the 'A Mero Hajur' series. Filmmakers have to bear a part of the responsibility if they want to continue depicting LGBTIQ people as sub-humans.
The 'A Mero Hajur' series has a formula, and they stick by it because it has proven successful in the past. And thanks to their fandom, this film is sure to be a hit, watched by millions of Nepalis worldwide. And for that reason alone, the makers need to let go of their refusal to learn while enjoying the complacency of creating easy market cash grabs. This team is not composed of just entertainers; they are also opinion leaders and opinion shapers.
Habitually copying homework and being callous with your project might get you the pass marks, but at the end of the ordeal, you were immoral and, worse, you learned nothing.
---
---