Lachchhas making a comeback
Once worn only by married women, lachchhas have recently become a popular hair accessory among young unmarried women.

Shristi Buda Magar (left) and Suruchi Buda Magar incorporate lachchhas with their modern attire. Photo courtesy: Cristi Mgr
bookmark
Published at : November 1, 2021
Updated at : November 2, 2021 03:06
Kathmandu
Of all the aesthetically pleasing pictures that twenty-five-year-old Shristi Buda Magar (Cristi Mgr) has uploaded on her Instagram account, one photo that draws immediate attention is the one where she is wearing a lachchha, a hair accessory typically worn with traditional attire. But in Magar's photo, she is seen wearing a lachchha with an oversized black t-shirt.
Magar, who is a professional stylist and photographer, says that using lachchha as a hair accessory is her way of expressing nostalgia for the past.
Until a few decades ago, lachchhas were worn exclusively by married women in their day-to-day life. But over the years, women started to wear the accessory only during special occasions, and many simply stopped wearing it altogether. But in the last few years, lachchha has seen a resurgence, and this time around, the accessory is popular among young women like Magar who are breaking away from the traditional norm by incorporating lachchha with modern attire.
"Throughout history, humans have taken beauty and comfort hand in hand," says Nirmala Pokharel, a culture expert. "We have adapted cosmetics as per their uses, lachchha being one of them. Initially, lachchhas came with only one braid, but these days you get them with multiple braids and design elements."
"Red lachchha was primarily worn as a symbolic representation of saubhagya (sign of a woman whose husband is alive) by married women and also to enhance their beauty," adds Pokharel.
When Chunda Bajracharya, a culture expert and retired Nepal Bhasa professor at Tribhuvan University, was younger, she used to wear lachchha every day.
"When I was a school-going girl, I wore a black lachchha everyday to make my hair look long and thick," says Bajracharya. "Back then, women with long hair were considered attractive. The tassels at the end of lachchha made the hair look longer. Many also wore lachchha for practical purposes. The hair accessory came in handy to tie one's hair while working. When braided with lachchha, one's hair would rarely hassle them during work."
By the time Bajracharya started going to college, she had stopped wearing them. The hair accessory, she says, had gone out of fashion already.
It is quite challenging to pinpoint the exact date Nepali women started wearing lachchha. "When I was growing up, older women in the community were already wearing the hair accessory," says Bajracharya. "Films like 'Rajamati' and 'Prem Pinda', both released in 1995 and were period movies set in Nepal's Rana regime, show women wearing lachchhas. This clearly shows that the tradition of wearing lachchha dates back decades."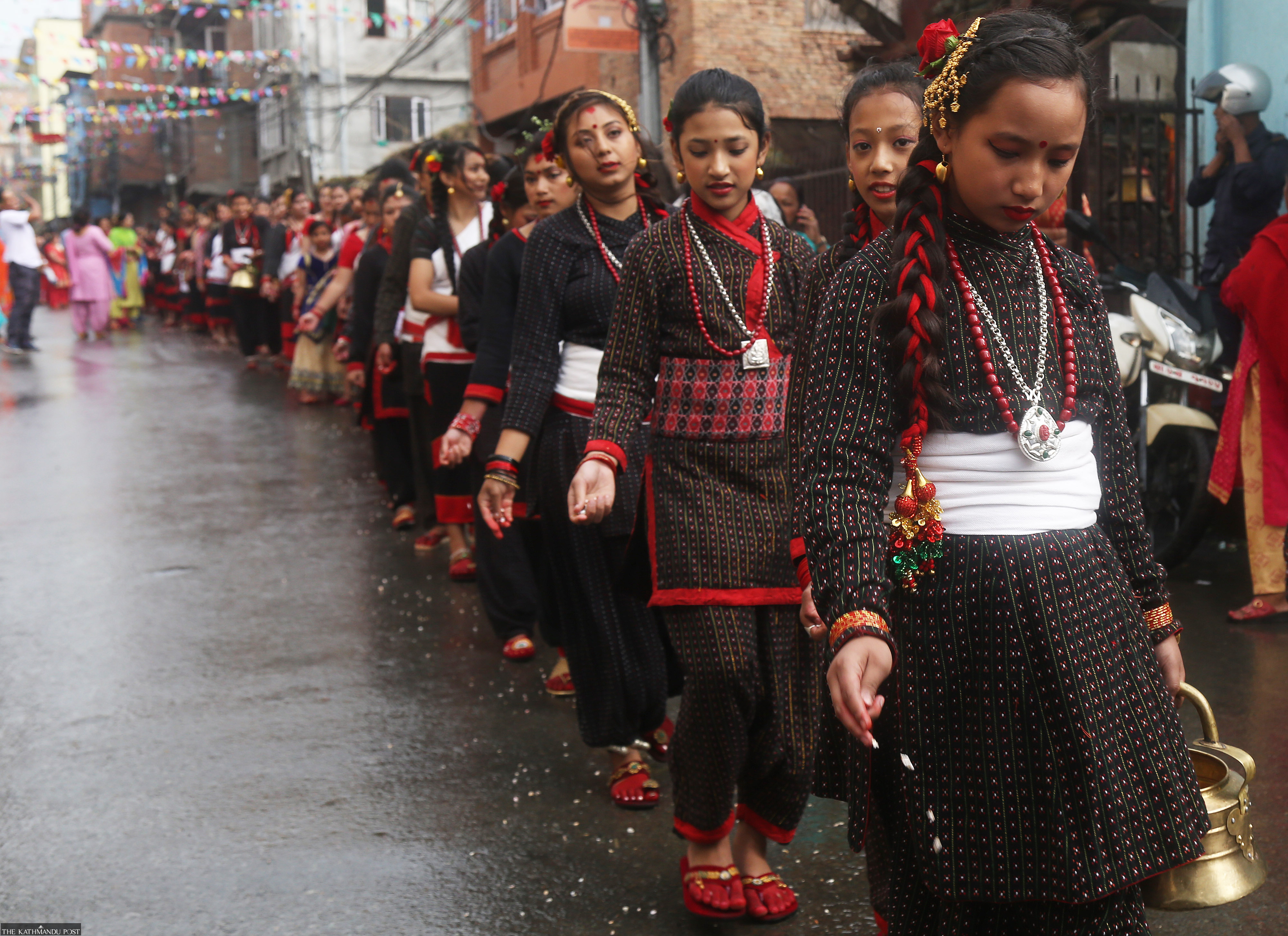 Newa girls wear lachchhas with their traditional attire during Labha jatra. Post file photo
After years of falling out of fashion, lachchha's recent resurgence started in 2017. That year, Varsha Thapa, a model turned musician, started posting photos of her wearing the hair accessory with modern attires on her Instagram account, which has more than 29,000 followers. She thus initiated a trend of wearing lachchhas with western attires. In 2018, Vogue also featured her with lachchha for her peculiar street style fashion.
How popular lachchha has now become among young unmarried women became most evident last month.
During Dashain, social media platforms like TikTok and Instagram were flooded with posts of girls wearing lachchhas and dancing to the song 'Kalo Keshma Relimai badheko ribbon'.
Another factor that seems to have helped lachchhas become popular is the accessory's affordability and accessibility. "Not only is the accessory trending, but it is also affordable. In most families, there are at least a lachchha or two lying around in the house. Even if you don't have one, you can buy one for a little over Rs 100," says Magar.
The comeback of lachchhas has become a boon for traders as well.
For the past 25 years, Raju Darshan has been running his cosmetic shop in Indrachowk. On display at his shop are lachchhas of different colours.
"In the past, it was usually married women who used to buy lachchhas from me. But of late, I have started seeing young unmarried women coming to buy the hair accessory. I have seen a lot of dance videos of young girls wearing lachchhas, and perhaps that trend is what is causing the increased demand for lachchhas among young girls," he speculates.
Traders are also quick to point that the demand for lachchhas with beads and different design elements are higher than the traditional simple ones.
As for stylist/photographer Magar, wearing a lachchha is her way of owning a cultural tradition and preserving what is left of it.
"I feel very proud that our generation is behind the resurgence of a traditional hair accessory and is doing their part in preserving what is ours," says Magar.
---
---