A voice from nowhere: Battling for rights away from Kathmandu
Manoj Ram, a Parsa-based Dalit rights activist, believes it's his moral duty to struggle against all odds for his community.

Manoj Ram (bottom fourth right) with members of Dalit Dabab Samuha during a Dalit empowerment programme organised by Peace4Dalits Foundation Nepal. Photo Courtesy: Manoj Ram
bookmark
Published at : August 12, 2021
Updated at : August 12, 2021 14:10
Kathmandu
On his crusade for justice, Manoj Ram is used to making people around him uncomfortable. He is also used to being in crowds where his voice is the only one asking people to speak up and defy discrimination.
In his village in Mahuwan Gau, Dalit Tole in Parsa, many families don't exactly approve of Ram's ways of doing things一which are radical at times. When he reminds his fellow villagers of the importance of fighting for equality and the need to send their children to schools, many of them try to ignore him and some even ask him to stop sharing his thoughts with them.
But Ram isn't someone who would let his villagers' reluctance stop him from doing his duty. Always clad in neatly tucked plain coloured shirts, an unfettered Ram walks around his village urging people to assert their rights.
"It's not easy to get people of my community to talk about the injustice they face. Years of systemic oppression and injustice has made many of our people believe that they are inferior and that they need the support of non-Dalits on everything from getting employment to just surviving on this earth. Caste discrimination is deeply entrenched and a complex subject. So, when I talk about change and try to encourage people to work on it, many think doing so would only invite problems," says Ram.
"But I take this as my moral duty. I know that many people aren't happy with the kind of things that I have been doing and some have even threatened to take my life. However, I need to continue doing what I do for my people who are still unaware of how the problems of caste discrimination will follow them through their lives and the lives of their children and beyond," he adds.
For the last fourteen years, Ram, a Madhesi Dalit and an active social campaigner, has been voicing issues of the Dalit community at the grassroots level. He founded Peace4Dalits Foundation Nepal, a not-for-profit organisation, about a year ago, of which he is the current chairperson. He is also a science teacher at Shree Ram Charitra Bhagat Madhyamik Vidyalaya, located 16 kilometres from his home.
Until last year, Ram's work in his community remained in the shadows. His work came into prominence last year as the Covid-19 pandemic ravaged his community, like many other small villages across the country. In those testing times, Ram arranged relief programmes through Peace4Dalits Foundation Nepal, hoping to lessen the suffering the pandemic caused in his community.
"Our team have been working to provide relief to Dalit communities in Parsa and across Province 2. So far, we have provided food relief to 21,000 families and financial support to 2,000 families with the help of different international non-governmental organisations," says Ram.
"People here didn't receive much aid from the government, and whatever little aid our organisation received, we made sure that it went to people who need it the most, and we are continuing to help those who need it. Many people have lost their lives not just because of Covid-19 but also because of hunger. The pandemic has only made our community's challenges more acute than it already was," says Ram.
Besides food aid, Ram's organisation has also started Dalit Bachha Siksya ko Pahuch Tatha Vidyalaya Tikau Abhiyaan, as a call to action programme to advocate how education is one of the most important tools to fight structural caste-based discrimination. And as a response to the increasing violence against Dalits, including the series of Dalit killing incidences in the country last year, the organisation has brought together people from different Dalit communities and created Dalit Dabab Samuha to address cases of discrimination and violence against Dalits.
Ram has also been engaging Dalit women in Dalit empowerment discussions and in the process has been making them aware of the problems of casteism.
"Working like this is not easy at all. It's exhausting because sometimes your voice reaches nowhere. And it's not possible to leave everything and focus solely on this aspect of our work because we all have to make a living to fulfil our responsibilities at the end of the day. And it doesn't help when the state does not bother to think about the plights of Dalits. Instead of addressing our demands, the state is more eager to see our movement lose momentum by remaining indifferent and wearing out the people involved in the movement," says a frustrated Ram.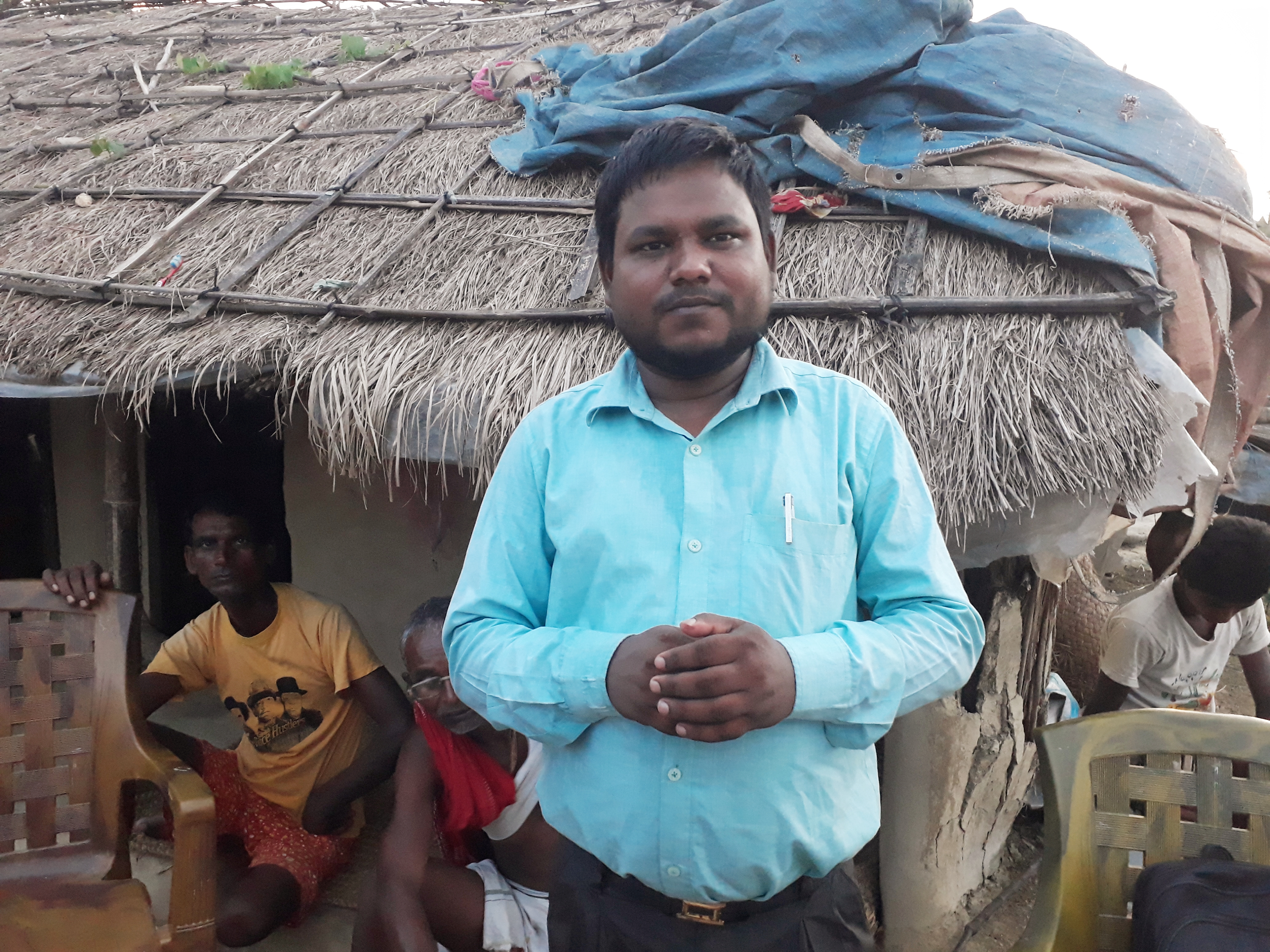 Manoj Ram at a Dalit empowerment and rights awareness programme in Bara district's Hengauliya village. Photo courtesy: Manoj Ram
One of the more pressing issues in his community, he says, is the lack of awareness of the importance of education.
"As soon as children turn teenagers, parents would rather have them work and earn a living than go to schools," he says. "Another issue is our people's reluctance to speak about the injustice they face."
The larger understanding has always been to keep quiet no matter the injustice they have to deal with daily, says Ram, because that way, the Dalits can still work and pay their bills.
"Making people angry would mean your loss. And the ones who do speak out are made to pay the price. That has been our reality for a long time. That is why people here are reluctant to do anything about the reality," he says. "Even on occasions when the community did finally raise their voice against the systemic oppression, it didn't take long for the momentum to fizzle out."
One of the more recent examples of it is the uproar in the wake of the death of Bijay Ram, who died last year after being brutally tortured in police custody in Rautahat. The brutality of the death caused the community to raise its voice against oppression, and one of the people leading the protest was Ram. Protests erupted not just in Rautahat but also in the neighbouring districts of Parsa and Bara.
"The days of protests put immense pressure on the government to investigate the case. But as days passed, the protests lost momentum, and now the case is in court. Justice has always been delayed in the case of Dalits," says Ram. "And this has happened many times with other Dalit discrimination and killing incidences. In many cases, matters are usually resolved internally with money. And it is not the people's fault because they live such a hard life. Families who protest and speak out are often ostracised and forced into situations where they have no choice but to give in. And many of us don't have the time to struggle through this hardship. And that is what the state people and governance take advantage of."
Eight years ago, in a village not far from Ram's, a man from Dom caste drank water from a tap in a temple in Parsa's Jagatpur Mananpur village. When the so-called upper caste villagers came to know of this, they dismantled the tap claiming it being impure as a Dalit had touched it. The villagers then physically abused the man. Ram, who was 21 at the time, was one of the youths who had urged the police to register a complaint.
"But when the case finally went to court, the victim was penalised. They overturned the case against the victim by saying he had washed fish at the temple's tap, which, we were told, is considered impure on religious grounds," recounts Ram. "It was ridiculous, but everyone went along with it. For us Dalits, justice is hard to come by."
However, Ram's first encounter with casteism happened when he was only 15. To prepare for his SLC, Ram had moved to Pokhariya Municipality. "While looking for a room to rent, a friend told me that to get a room, I should not reveal my caste to landlords," says Ram.
This was a rude awakening from the ideal life Ram had dreamed. "That episode made me realise that for us Dalits challenges are plenty and opportunities are rare," he says.
More than a decade after the incident, little has changed for Dalits who live in the remote parts of the country, says Ram.
"Voices of people like us who live in far-flung parts of the country and face casteism daily are missing in many of the leading Dalit movements. What happens in Kathmandu stays in Kathmandu. It's the Kathmandu-based organisations that get all the funds, and in communities like ours, we don't see the works of these organisations," says Ram.
From his makeshift office, which is more of a temporary shack, Ram says he has been doing his best to raise funds for his organisation so he can continue helping the community's people who need it the most. For furniture, the office has a table and chair. Outside the office is a worn-out banner bearing the name of the organisation' Peace4Dalits Foundation Nepal'.
Regardless of the dire state of his office, Ram's work over the years has helped him attain a sort of celebrity status. He has 5,000 friends and more than 1,800 followers on Facebook, which he uses to share news of injustices suffered by Dalits across the country, Dalit rights movements, and his views on various social issues.
"Sometimes it gets taxing when you have to keep telling people of the problems our community continues to face, and many are unwilling to accept it. But I tell myself that I have to keep working on this because the majority of our people are uneducated and are entangled in this vicious cycle of casteism without the tools needed to break the shackles that bind them," says Ram. "I know change has not come today, but I am hopeful that change will come, and we will all look back and say our hardships and struggles did not go to waste."
---
---