The joy of giving
In Boudha, Sonam Wangchen, a Buddhist monk, has been quietly helping thousands of people hit hard by the pandemic. This is his story.

Tsering Ngodup Lama/TKP
bookmark
Published at : June 16, 2021
Updated at : June 16, 2021 01:20
Kathmandu
At the peak of the second wave of the Covid-19 pandemic, when the country was reeling under acute shortage of oxygen and hospital beds, Sonam Wangchen's phone was ringing non-stop. The majority of the calls were distress calls from panic-stricken people urging Wangchen to arrange hospital beds, oxygen cylinders, ambulances, etc.
Between April and May, Wangchen—a Buddhist monk and the founder of Metta Hope and Challenge, a small not-for-profit organisation—helped arrange hospital beds for six Covid-19 positive patients, delivered oxygen cylinders and concentrators to more than 50 people isolating at home, covered PCR tests fees for 30 people and medical costs for more than 100 people, and arranged cremations for several families who lost their loved ones to the infection.
A few days after Kathmandu Valley went into a lockdown in April, Wangchen set up a 17-bed isolation centre, with standby oxygen and 24-hour in-house nurse support, and a kitchen with a team of cooks, near Sundarijal. Until last week, 20 Covid-19 positive patients had recovered and had been discharged from the free-of-charge isolation centre, which is still up and running.
"May was a very hectic month. I don't remember being so busy in my entire life," says Wangchen, sipping milk tea in a cafe. With a sharp decline in the daily Covid-19 cases in the country, the number of distress calls Wangchen gets has decreased, allowing him to take some time off for himself.
But not long after Wangchen arrives at the cafe, his phone rings. The caller, a native of Dolpo and currently residing in Boudha, asks Wangchen's help on behalf of a family that had fallen on hard times due to the lockdown. Wangchen listens intently and asks the man to send him the family's details and assures him that he will send food aid the next day.
Ever since the pandemic gripped the country last year and wreaked unimaginable economic challenges to the most vulnerable section of the society, Wangchen says he has distributed food aid to more than 10,000 families, paid cash aid ranging from Rs 3,000 to Rs 10,000 to more than 200 families.
On March 24 last year Nepal went into lockdown to curb the spread of Covid-19. The same evening, Wangchen went for a walk around Boudha carrying packets of biscuits and noodles to distribute to the area's homeless, street kids and beggars, all of whom rely on the generosity of passersby and business owners.
"But with businesses shut and people's movement restricted, I knew these people were going to be hit hard. And I was right. That evening I came across many who hadn't eaten the entire day," says Wangchen.
Back home, Wangchen got busy drawing up an ambitious plan—to feed hundreds of meals daily.
The next day, Metta Hope and Challenge began distributing free hot meals, which the organisation continues to this day.
"At the height of the lockdown, both in 2020 and this year, we were distributing 1,000 packets of hot meals a day. Our daily average now is around 400 meals daily," says Wangchen.
But 10 years ago, social work was an area of work something Wangchen never envisioned for himself.
Wangchen spent most of his formative years in a boarding school in northern India and during school holidays, he would come to Kathmandu to his uncle, who is married to Lisa Choegyal, who is a writer and New Zealand Honorary Consul to Nepal. Choegyal remembers Wangchen as someone who loved playing football and cricket.
"Wangchen has always had this very saintly quality about him," says Choegyal.
At school, Wangchen didn't enjoy studying, which is not surprising for his age. But what set him apart from the rest was that he wanted to become a Buddhist monk.
"Several Buddhist hermits lived in tiny shacks on the hills high above my school. I often visited them and helped them with their chores—from collecting water for them to cleaning their humble shacks. These hermits spent almost all of their waking hours meditating and on spiritual practise," says Wangchen. "In terms of material possessions, these hermits didn't have much, but they still appeared very happy and content with life. I wanted that kind of inner peace and contentment and that's why I wanted to become a monk."
Every time Wangchen visited Kathmandu during his school holidays, he would urge his family to send him to a Buddhist monastery.
"For years, Wangchen kept insisting that he wanted to become a monk, and for years, his family and my husband kept insisting that he attend school and get a formal education," says Choegyal.
Left with no choice, Wangchen continued his schooling.
Whenever he had time, he would go spend time with the Buddhist hermits.
When Wangchen was 18, determined to fulfil his long-held wish of becoming a monk, he ran from his school and travelled more than 2,500 kms to South India and got ordained as a monk at a Buddhist monastic university.
"The family didn't stop him this time," says Choegyal.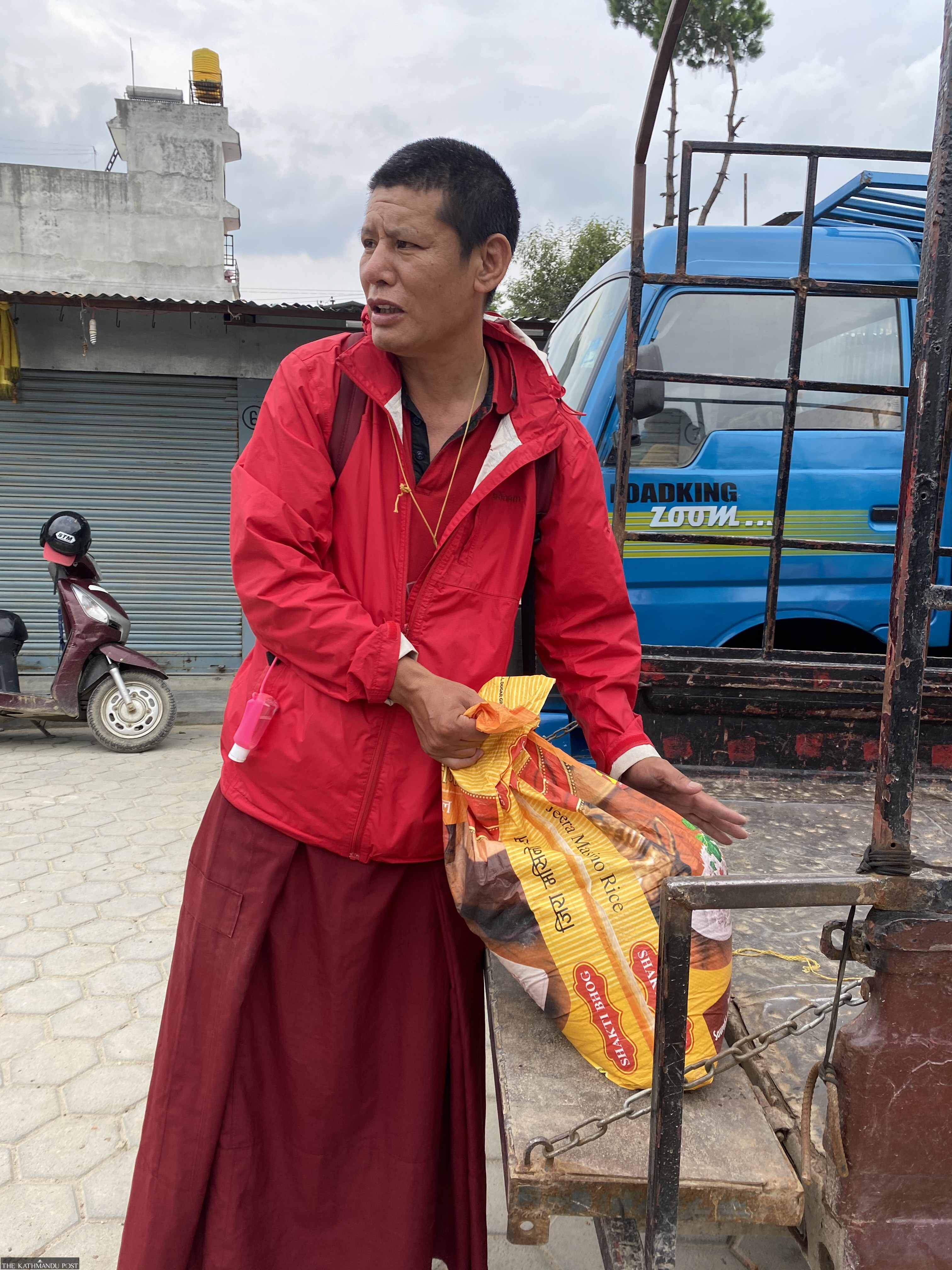 Tsering Ngodup Lama/TKP
In 2010, Wangchen earned his Geshe degree, the highest academic degree in the Gelugpa sect of Tibetan Buddhism. The following year Wangchen accepted an invitation from a senior monk to work as a teacher at a Kathmandu-based monastery. During his free time, Wangchen started teaching spirituality and meditation to residents of several drug rehabilitation centres in Kathmandu.
His work at drug rehabilitation centres, he says, revealed to him how challenging it is to recover from drug and alcohol addiction and that understanding brought a certain sense of urgency in him to work towards drug abuse prevention.
"I realised the best way to deal with the issue was to make children and young adults aware of the perils of drug and alcohol abuse," says Wangchen. "We visited a lot of schools to give talks and presentations on the subject. Eventually, in 2014, we established Metta Hope and Challenge with our main objective being drug abuse prevention."
A little less than a year after the organisation was set up, Nepal was hit by devastating earthquakes, which, says Wangchen, compelled the organisation to diversify its work.
"Everywhere you looked, there was suffering and grief. As an organisation, we knew we can't turn a blind eye to that reality and that we had to do something to help those in need," says Wangchen.
But there was a problem.
Metta Hope and Challenge, says Wangchen, had limited funds.
A day after the major earthquake, Wangchen and a group of over two dozen monks, all Wangchen's friends, headed to the TU Teaching Hospital in Maharajgunj, Kathmandu.
"The scene at the hospital was heartbreaking. Ambulance after ambulance were arriving at the hospital carrying people with grave injuries, and the hospital's staff were being overstretched," says Wangchen. "We helped transfer patients from ambulances. At first the hospital staff appeared a bit taken aback with the sight of dozens of monks in red robes filing in and out of the hospital but they quickly got used to us being there."
A few days after the earthquake, Wangchen was delivering food aid to villages hard hit by the earthquake.
"I dipped into my savings and sought financial help from people I know and we started delivering food aid," says Wangchen. "When people became aware of our work, many came forward with donations."
Today, the majority of donors to Wangchen's organisation are individuals.
Tenzin Choegyal (not related to Lisa Choegyal), a Boudha resident, first came to know about Wangchen's work in 2015.
"When the pandemic hit, I saw that Wangchen was once again helping people who were really going through a tough time due to the lockdown," says Tenzin, who is the marketing manager at Worldlink. " I spent a few days volunteering with Wangchen's team that prepares and distributes free hot meals daily and I was thoroughly impressed that with very limited funds they were able to help so many people. So on my wife's birthday, we donated Rs 10,000 to Metta Hope and Challenge. Knowing Wangchen, I know that the money went to those who need it the most. People like Wangchen are an inspiration for all of us to be better human beings."
When asked what he feels about his work, Wangchen's answer is simple—joy.
"Ever since I was a little kid, I have always enjoyed being of help to others. You have no idea the number of times I have been scolded at school for coming late to classes as I was busy nursing wounded animals," says Wangchen, with a wide grin on his face. "When you get close to other people's sufferings, you end up realising that many of your own problems are nothing. This realisation helps lighten your heart."
But there are days, Wangchen admits, when he questions his work.
"As a trained Buddhist, I am aware that no amount of material help can truly alleviate people's suffering. So there are days when I cannot help but wonder if I could have been better able to serve the people had I focused on practising the dharma and meditation so that I can teach people the same," says Wangchen. "Such thoughts make me realise the importance of finding able people to lead Metta Hope and Challenge so I can focus solely on the dharma, just like the Buddhist hermits who lived high up on the hills above my school."
---
---