Music legend Shambujeet Baskota picks his 12 memorable songs
The artist behind some of the most iconic Nepali songs shares his memorable creations and why they are dear to him.

Photo Courtesy: Raj Bhai Suwal
bookmark
Published at : June 5, 2021
Updated at : June 9, 2021 11:37
Kathmandu
When Shambhujeet Baskota broke out in the music scene in the '80s, he was in his mid-teens. The first song he wrote and composed, Timro Tyo Hasilo Muhar Ko, went on to become an instant hit. He has since then composed more than 2,000 songs and has lent his expertise to 368 movies.
In his illustrious career, Baskota has worked with the heavyweights of both Nepali and Indian music industry, from Mira Rana, Narayan Gopal, Devika Bandana, Dipesh Kishore Bhattarai, Deepak Kharel to Asha Bhonsle, Udit Narayan Jha, Sonu Nigam and Danny Denzongpa. Some of his major hits include Rato Tika Nidhar Ma, Samjhana Birsana, Nachideu Maichang, Man Paraune Hajar, Nidharai Ma Larkayera Saptarangi, Himal Ko Chaddke Tika, etc. His latest song Paryo Maya Jalai Ma has become a huge hit.

The legendary musician shared his most memorable songs with the Post. These songs, which are in no particular order, are completely based on how impactful they were to him instead of how popular they were, he says.
Timro Tyo Hasilo Muhar Ko
This is my first song. I was 16 or 17 when I wrote and composed this song, and it was sung by Deepak Kharel.
Legends like Nati Kaji and Gopal Yonzon ruled the music industry at the time. When I entered the industry, I was very young and had a very fresh approach to music and was able to give a new taste to Nepali songs.

The song became a massive hit and everyone, from journalists to people within the music industry, appreciated the song's lyrics, vocals and composition.
I think one of the reasons the song became so popular was because it was a sentimental love song and many people could relate to it.
This is another one of my favourite songs, and Deepak Kharel sang it. The backstory of the song is really interesting.

I had composed a song that had very powerful lyrics, but unfortunately, I later learned that another musician had already used that lyrics and composed and finalised a song. So, I had to drop the song.

Seeing me sad, my friend Nir Shah gave me the lyrics of Badal Banai Diyo. For me, this song is a timeless classic, a deeply philosophical piece of art that I will always cherish.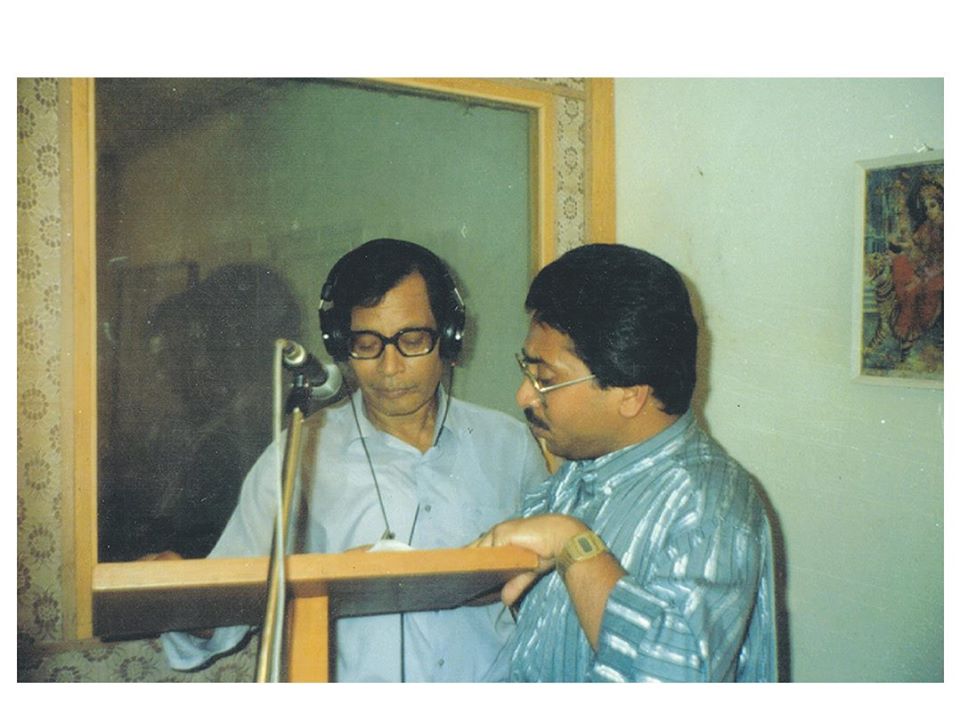 Photo Courtesy: Shambhujeet Baskota
Timile Bhaneka Sara Dev Choyera
The song was written by Dr Bishwambhar Pyakhurel and we had composed this song for another singer, who was supposed to sing it.

Back then I used to often meet Narayan Gopal and we shared a good bond. Both Pyarkhurel and I were very interested to work with a legend like him and we made him listen to the song.

He really liked it and told us that he would be interested in singing it. And that's how he came on board and we recorded the song.

During the recording, Narayan Gopal wanted to pronounce the word 'Maa' in a certain way, whereas I wanted him to pronounce it differently. Eventually, after my request, he agreed to pronounce the word the way I wanted him to.

He also performed this song at a stage and he shared that this was one of his favourite songs. Knowing that a song I composed was one of Narayan Gopal's favourite songs still makes me happy.

Raat Rani Phule Jhai Sajhama
What makes songs special are the memorable incidents attached to them. For me, this song is special because of all those beautiful memories I have of recording it.
Danny Denzongpa was here in Kathmandu for a shoot and he had reached out to me and said he was interested in singing a song before he left for Bombay.
However, he could only stay in Kathmandu for a day as he had to leave for Bombay the next day. I quickly wrote and composed two songs and made him listen. He liked both of them, among which one was Raatko Rani Phule Jhai Sajama.

The next day at 11 am, we started recording the song at Radio Nepal and people from Nepal Television also came and started recording everything on camera and that's how the music video of the song was created.

By 4 pm, we were done recording and Danny left Kathmandu that very night. I think the song is one of the most popular Nepali songs based on Kathmandu and it is an absolute favourite of mine as well.
I composed this song when our country was going through a political crisis. It's a patriotic song sung by Karna Das.

At the time, there were strikes, protests and bandhas happening across the country and common people were suffering. When Unnati Bohora, the song's lyricist, showed me the lyrics, I was deeply moved and I composed the song in an hour, the shortest time I have ever taken to compose a song.

I even directed the music video of the song. Whenever my heart feels heavy, I listen to the song and I feel peaceful.
Yestai Rahecha Yaha ko Chalan


The reason why I like this song especially is that I feel everything was perfect in it. From the lyrics by Yadav Kharel, Devika Banadana's voice to the composition, everything landed perfectly. However, the arrangement of this song was very different, initially. We actually re-recorded it and rearranged it.

This song also led me to receive a lot of praise and admiration for my talent, and wherever I get the chance to hear it, I feel very happy.
The song is from the film Prem Pinda. The story behind how I came to be the music director of the film is very interesting.
When the film was announced, three music directors including me were roped in to create the film's music. Each of us were working on different songs. But later, I was told to compose all the songs of the movie.

I composed the tune of this song on a plane to Bombay. After I reached there, we recorded the song in a famous studio. It was there that I met RD Burman, someone that I always looked up to.

Initially, we did have a few issues during recording as Asha Bhonsle had difficulty pronouncing a few words. But in the end, she sang it so beautifully.

I worked really hard for this song and all the hard work paid off. It is an evergreen song. Whenever I meet Asha Bhonsle, she still asks me about the song.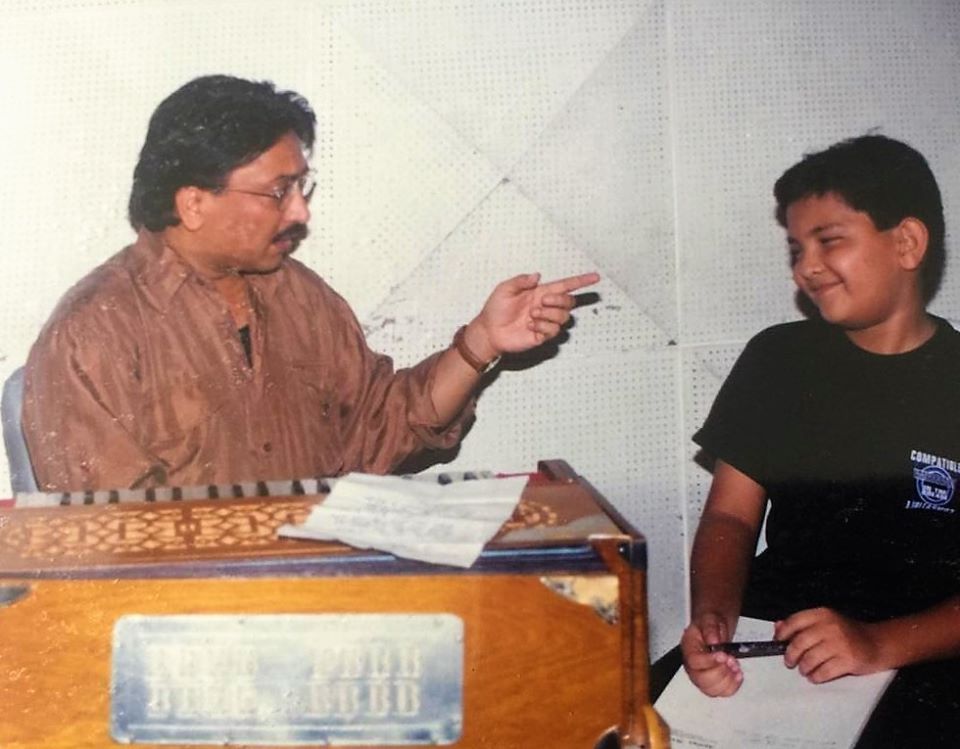 Photo Courtesy: Shambhujeet Baskota
Besides being great singers, both Udit Narayan Jha and his wife, Deepa Jha, were very good friends of mine. So I was obviously very excited to be working with them.
This song also gave a break to their son Aditya Narayan Jha. The fact that the entire Jha family was involved with the song is what makes the song memorable for me.
Timro Maya Le K Garyo K Garyo Garyo
This is another one of my favourite songs from my collaboration with the duo Udit Narayan Jha and Deepa Jha. They are both very melodious singers and I always feel great working with talents like them. This song was from a movie called Yo Maya ko Sagar.
Tala Tala Tala Tala Besi Ma Maichang
I have sung many songs with Devika Bandana but this song is my favourite. I loved the melodious tune of this song. We arranged the song's track in Bombay and we did the vocals in Kathmandu. I will cherish this song forever.
I have composed different genres of song—from folk, modern, patriotic to cultural. One song that stands out the most is Meri Basanti from the film Basanti. Nir Shah wrote the lyrics and it was sung by Sworoop Acharya. The song became historical just like the film. Similarly, the chord and the composition of the song was so perfect that I really admire the beauty we were able to create.

Yo Zindagi Le K Garyo K Garyo
Like Meri Basanti, the reason why I love this song is also primarily because of its chord and composition. However, we had to really work hard while recording it as Sonu Nigam, the singer, was having difficulty singing in Nepali.

In a recording studio in Bombay, Sonu Nigam and I sat together for four hours, and I helped him to sing it easily in Nepali. The song became a huge hit and our hard work paid off.
---
---