This artist wants to change the public perception of belly dancing in Nepal
One of the pioneers of belly dancing in Nepal, Pinky Sapokta talks about her art form, her new studio that is especially dedicated to belly dancing and how the dance form should be looked beyond the conventional patriarchal lens.

Photo Courtesy: Pinky Sapkota
bookmark
Published at : April 10, 2021
Updated at : April 10, 2021 06:49
Kathmandu
When Pinky Sapkota first saw Meher Malik, a popular belly dancer of South Asia, performing in 2012, she was enchanted. The grace with which Malik performed left such an impression on Sapkota that she felt an immediate connection with the dance, she says.
"It was like I was seeing a celebration of womanhood," says Sapkota.
Dancing wasn't something new to Sapkota. She had been dancing all her life; in fact, she was trained in salsa and bachata. Yet, when she saw Malik perform, it was as though she saw a dance for the first time. She felt happiness, passion, and intensity flowing inside her, and she immediately made up her mind that she would learn the art of belly dancing too—at any cost.
"All I could think about at the moment was that I have to do it," says Sapokta, a pioneer of belly dancing in Nepal.
One of the most ancient Arabian forms of expression, belly dancing is an art form that mainly involves the movement of the hips and the torso. Although the over-sexualisation and objectification of the dance form started only from the last century, because of mainstream Hollywood films, belly dance has existed as a significant classical dance form in Arabian countries for centuries. It is even believed that belly dances were performed by women in Arabian countries to celebrate their femininity and as a ritual to prepare their womb for birth.
"There's a common belief that belly dancing was a special ritual performed in the presence of mothers and daughters, where the mother would teach her daughter the dance form as a ritual to prepare them to transition to womanhood," says Sapkota.
But as the centuries passed, the dance form expanded to other countries, and it saw a change in how people perceived it. It slowly became seen more like a dance to entice and seduce men than a form of expression that celebrates femininity and women's bodies.
In recent years, however, efforts have been made by women to change this perception and reclaim its status of being an empowering art form. And in Nepal, it's Sapkota, 28, a trained belly dancer, who's making an effort to widen the dance form's exposure as well as teaching the dance form to all those dancing enthusiasts who want to learn.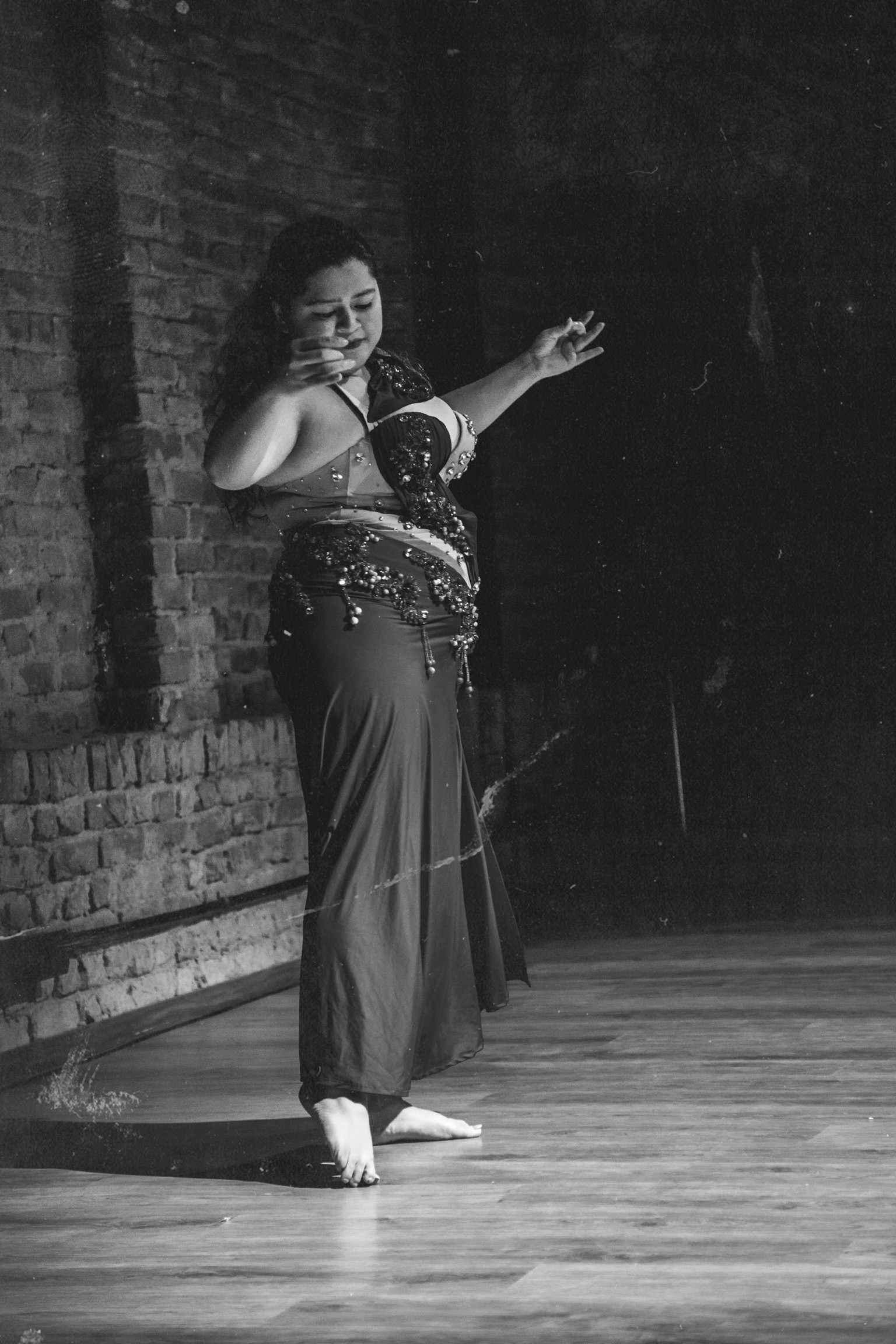 Photo Courtesy: Pinky Sapkota
But her journey hasn't been easy. She has had to encounter many challenges and problems. The first was that when she first started to learn belly dancing, there were no studios or even a trainer in Nepal that could teach her.
The only place where she could learn was India, and that came with the cost of living separately in a different country. Her parents too weren't keen on the idea of her pursuing a career in belly dancing, she says.
"I had also thought of lying to my parents, telling them that I am going to learn Zumba there," says Sapkota.
But since her parents were always honest and supportive of her decisions, the idea of deceiving them was something she didn't want to do. And hence, with the help of her brother-in-law, she made a plan to study communication and entrepreneurship courses and pursue belly dancing as well.
"Like some project, in a chart paper, I made everything—from plans to even schedules—to show it to my parents," she says.
Seeing how passionate Sapkota was about her dreams, her parents decided to send her, and she took a flight to Delhi and enrolled herself into the Banjara School of Dance, which was established by Malik, one of the sources of inspiration for her to learn the dance form.
However, moving to a completely new city alone was not easy. And Sapkota had to deal with many challenges. Similarly, since many talented belly dancers already existed in India, she knew she would have a tough time developing a niche for herself.
But once she reached the dance school, her talent was instantly seen by Malik, who wanted her to fully dedicate herself to learning the art form, she says.
"In Banjara, there's an annual function where students from different batches perform. I had also applied to perform. Meher saw me practicing for it and she told me to meet after the classes," says Sapkota.
According to Sapkota, when she met Malik, she appreciated her dancing and asked about her future plans.
"I told her that my plan was to bring the dance form to Nepal," says Sapkota.
The dream she had envisioned was big, and that's why it required a lot of hard work and dedication. And Malik suggested she put all her focus and dedication on learning the dance form.
"I was allowed to take all the classes from then onwards and I started observing everyone who danced there, even when I wasn't dancing, just to learn from them," says Sapkota.
As dancing was her innate ability and the fact that she was passionate to learn belly dancing, Sapkota quickly made her presence felt in the school. While she was learning, she also received a job as a manager in the school itself. Similarly, along with other dancers, she represented Banjara School of Dance in various programmes and reality shows, like the popular Indian TV show Naach Baliye as well.
From then onwards, her career took off. Back in Nepal in 2017, she organised Bellymandu, an event which saw the participation of more than 80 people, from all age groups and gender who came to learn the dance form.
Likewise, in the same year, she started teaching belly dancing at Salsa Dance Academy, and also in other studios and fitness centres like Core Fitness.
"When I came back, I had decided to focus on my energy in making people aware about the dance form as they need to know what belly dancing is all about. That's why at first, I started taking classes and teaching people in different dance studios, as I wanted to educate people about the art form," says Sapkota.
But unlike India, where she would teach a huge number of girls at once, here in Nepal, the scenario was different."I was taking only two to three students when I started," says Sapkota. She was also getting three times less than what she was receiving in India, she says.
But for Sapkota, money was never a factor that could stop her. To sustain herself, she started choreographing wedding performances.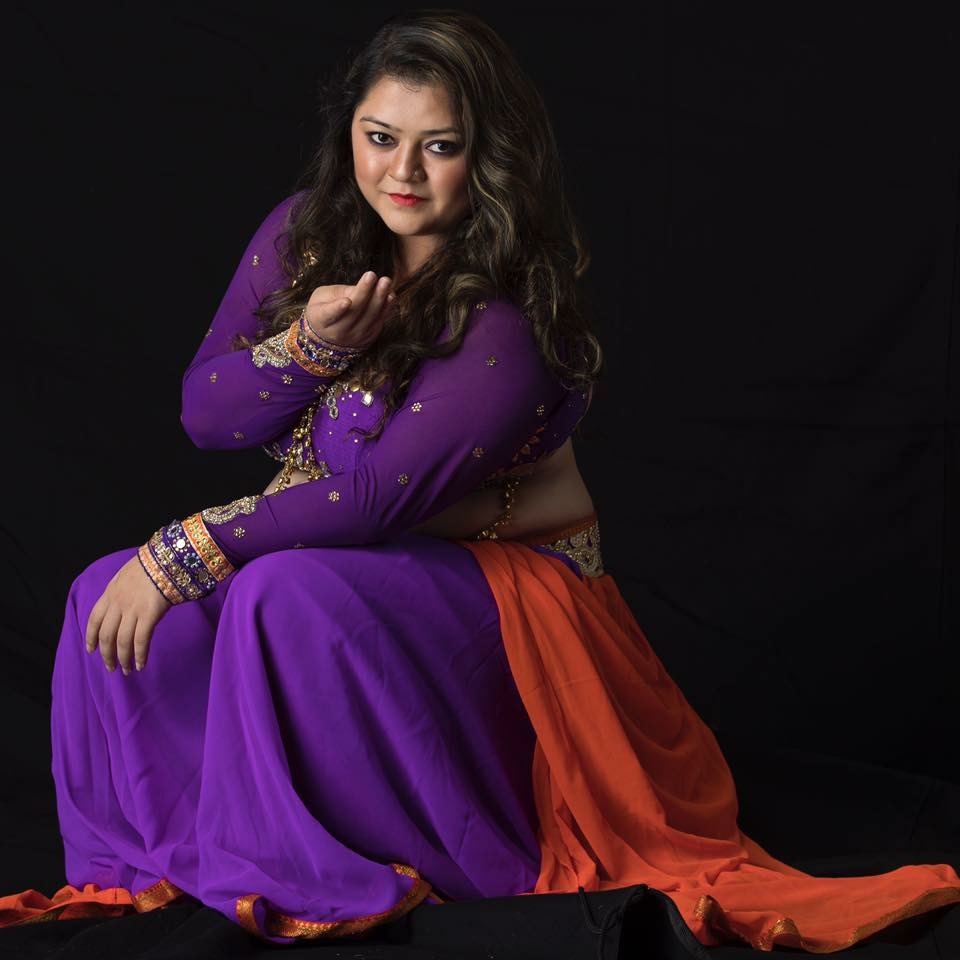 Photo Courtesy: Pinky Sapkota
Likewise, she was so determined to change the conventional perception towards belly dancing that she even rejected many events and the opportunities to be part of Nepali shows as she didn't want to solidify the common understanding of her art, as most people see it only as a sensual dance form.
However, slowly, once she started teaching and imparting information about the dance form, she found her pace, and her number of students started to increase. Till now, Sapkota has taught belly dancing to almost 200 to 300 students. And the best thing, she says, is her students aren't limited to young girls and women. Men and older women, who are in their sixties, have also taken classes from her, she says.
On average, a class can last for an hour and a half. From the theory to musicality, to techniques and dance moves, everything is taught to the students so the students can understand the rhythm of belly dancing, she says.
Sapkota today has reached closer to her dream of teaching more and more people about belly dancing: She recently opened her own studio, Bellydance Nepal, a sister company of Banjara School of Dance, in Thapagaun, where dance enthusiasts can learn belly dancing as well as other forms of dance like salsa and hip hop.
And personally, for Sapkota, her years of learning and teaching belly dancing has made the dance form more than an integral part of her life; it has become a form of expression that empowers her, she says. "I put it all out there—all my emotions—into my dance," she says. "Belly dancing is a celebration of the body," she says.
---
---