In Nepal's growing queer movement, here's how asexuals are trying to amplify their voice
Formed in August, a group of Nepali asexuals has started using various platforms with the motive of increasing their visibility in Nepal and the rising queer movement.

On the occasion of International Asexuality Day, on April 6, the group organised a meet up to celebrate the day. Photo Courtesy: Shahin Sunwar Rasaili (An ace ally)
bookmark
Published at : April 7, 2021
Updated at : April 7, 2021 20:19
Kathmandu
It was January 24, 2020.
Manita Newa Khadgi, 29, clearly remembers this day, because it was on this day she found two words—panromantic and asexuality—that could describe her feelings and emotions.
"I knew about asexuality during my medical school days. However I didn't have any clue that it was a legit sexual orientation," says Khadgi.
After coming across the term 'asexuality' on a video on YouTube, it was as though all her life's pieces came together and the jigsaw puzzle finally made sense, she says.
"That day I realised who I am and what my orientation is. It wasn't a 'eureka!' moment; it was quiet as everything made sense and fit into these two words," says Khadgi, an asexual individual, who's working as a medical officer.
Also known as aces, according to the Asexual Visibility and Education Network, which is the largest platform for asexual people, an asexual person is someone who does not experience sexual attraction meaning they are not drawn towards people sexually.
"Asexuality as an umbrella term is the lack of sexual attraction towards any person. It doesn't mean action, preference, choice, medical condition or gender identity," says Khadgi.
Although asexuality also falls under the queer spectrum, their voices at large have always been invisible in Nepal as well as the world. According to an article published by the Guardian, it can be estimated that almost one percent of the global population identifies as asexual. But the number can be more, as there's a wide gap of information and knowledge regarding sexual orientation, say asexual people.
"Lack of awareness and education discourages many people to acknowledge that they are asexual. Some people live in denial and some fear not being accepted by their loved ones or the society," says Prichha Giri, a 22-year old asexual student. "Our society's definition of normal is too narrow, too exclusionary. So many aces may not even recognise and fail to acknowledge a part of themselves because of lack of information in our society".
But things are slowly changing for asexual people. As the internet's access to a larger group of the population has vastly improved, many asexual people are finding more space, where they can connect and bond with each other as well as share one's feelings and emotions, without any fear.
But in Nepal, since a safe and secure space for the whole queer community itself is lacking, as our society still is highly driven by amatonormative cisgender heterosexual norms and values, there's a wide gap especially for the asexual people to connect and find a space where they can raise their voices.
"After I came to discover my orientation, I started looking for virtual space through which I could also connect to other Nepali peers. While I was sure that there would be some platform for aces like me, it broke my heart when I found none," says Khadgi.
She then started joining other groups of aces that belonged to different parts of other countries, but at the back of her head, Khadgi always wanted to connect and talk to other aces, who belonged to the same cultural background. And that's why last year to fill the gap of a space specifically for asexual people, in August, Khadgi started a virtual platform on Instagram called Nepali Asexuals, making it one of the first spaces dedicated for Nepali aces.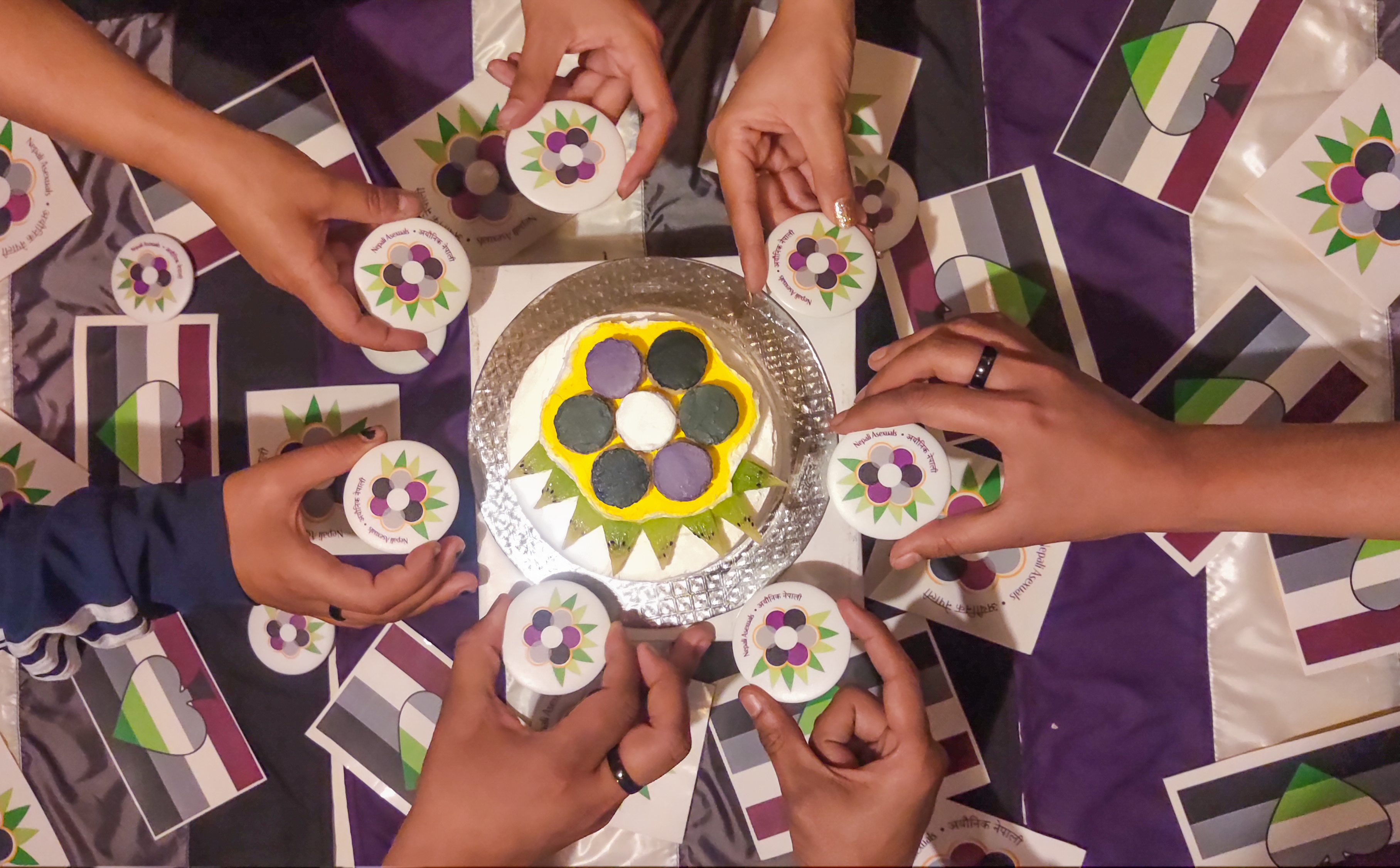 Photo Courtesy: Nepali Asexuals
"I created the space with a motive of sharing correct information about asexuality in the Nepali internet sphere as well as to create a platform for a possible community bonding," she says.
In the beginning, she started disseminating information about asexuality anonymously, debunking many myths attached to sexual orientation. However, even after a month of posting, she didn't receive any response. This demotivated her, she says.
"It was very scary at the beginning, as it was something that I started without knowing how it would pan out and if it would make any difference to anyone at all. After a month of posting there without much to show I sometimes would feel hopeless that I would ever even meet another asexual," says Khadgi.
But once she uploaded a video revealing her real identity, where she also talked about her platform briefly, aces started reaching out, giving a boost to the platform as well as helping it to achieve its mission of connecting Nepali aces.
"I was so happy when I found out that such a platform existed for people like me. Finding another Nepali asexual was one of the greatest joys, as I could talk to someone with whom I could relate to in so many ways," says Giri, who became one of the first members, of the group.
After Giri joined the group, according to Khadgi, almost a dozen Nepali aces living in different corners of the country and the world have joined in, helping the space grow further. While there are many aces in the group who knew about their sexual orientation, for many members, the platform has been a medium through which they have discovered their identity, they say.
"It was through the platform of Nepali Asexuals that I came to know that I was asexual. Although I was in the phase of exploring, questioning my sexuality, it was through the page that I discovered that the term asexual existed and since it perfectly encapsulated my feelings and emotions, I came to know that I was asexual," says Brainey, an asexual student.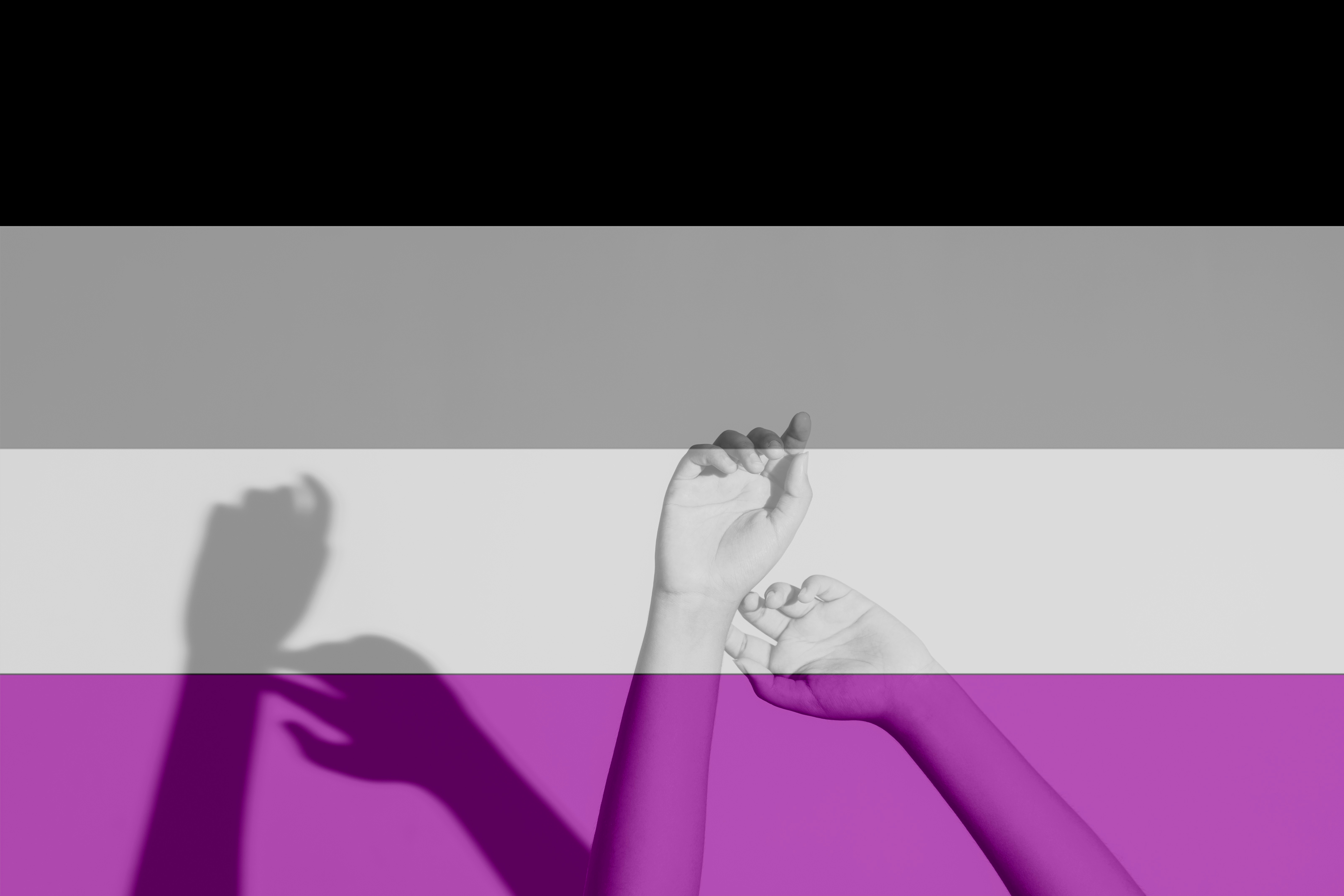 Shutterstock
But living in a society where sex has paramount value, it can be daunting for aces, especially when they are in their growing years, where every conversation turns sexual.

"I was always forced into conversations or into talking to people who I was not attracted to or to participate in games where we had these conversations because I was so different from my peers," says Nirdishtha Raj Sapkota, 24, a member of the group, who's currently in the United States.
"All the girls in my batch were getting into relationships and talking about how they felt but I wasn't even attracted to anyone, even platonically, for a very very long time. It took me a really long time to even start getting genuinely attracted to people but having my peers tell me I had to feel or act a certain way or dress a certain way was difficult," says Sapkota, a queer asexual individual.
Likewise, since the visibility of asexual people is low in comparison to other queer people, as they don't find any space in media or any other platform, many asexual people are often subjected to a variety of misconceptions and myths regarding their sexual orientation, they say.
"Since there is little to no representation and discourse about us, there are many misconceptions among general people like being asexual is abnormal, asexuals need to get fixed, aces haven't met the right one yet or they have a hormonal problem or psychological issues," says Khadgi.
But according to members of the group, the major misconception most people have towards asexuality is that it is often viewed with the same lens of perceiving celibacy, as society completely disregards the fact that not all people are sexually attracted to each other, they say.
"Often asexuality is linked with celibacy, which is wrong. Celibate people can feel sexual attraction. It's just they are refraining from sexual relations. Likewise, it's not necessary that all asexual people dislike sexual intimacy. That's why they are two different things. However the society always ignores the perspectives of the aces and tries to enforce their understanding by comparing these two as the same," says Giri.
Generally, in common understanding, asexual people are considered sex-negative. But not all asexual people stop engaging in sexual intimacy. As asexuality itself is a spectrum rather than an orientation that can be boxed, the meaning of asexuality can differ from person to person, ranging from sex-repulsed to sex favourable.
"I feel like a lot of people act like asexual people can't still be sexual beings, which I feel is incorrect. Not all aces are sex-repulsed and asexuality in itself is a spectrum so everyone has a different way of defining what they're okay with and what they're not," says Sapkota.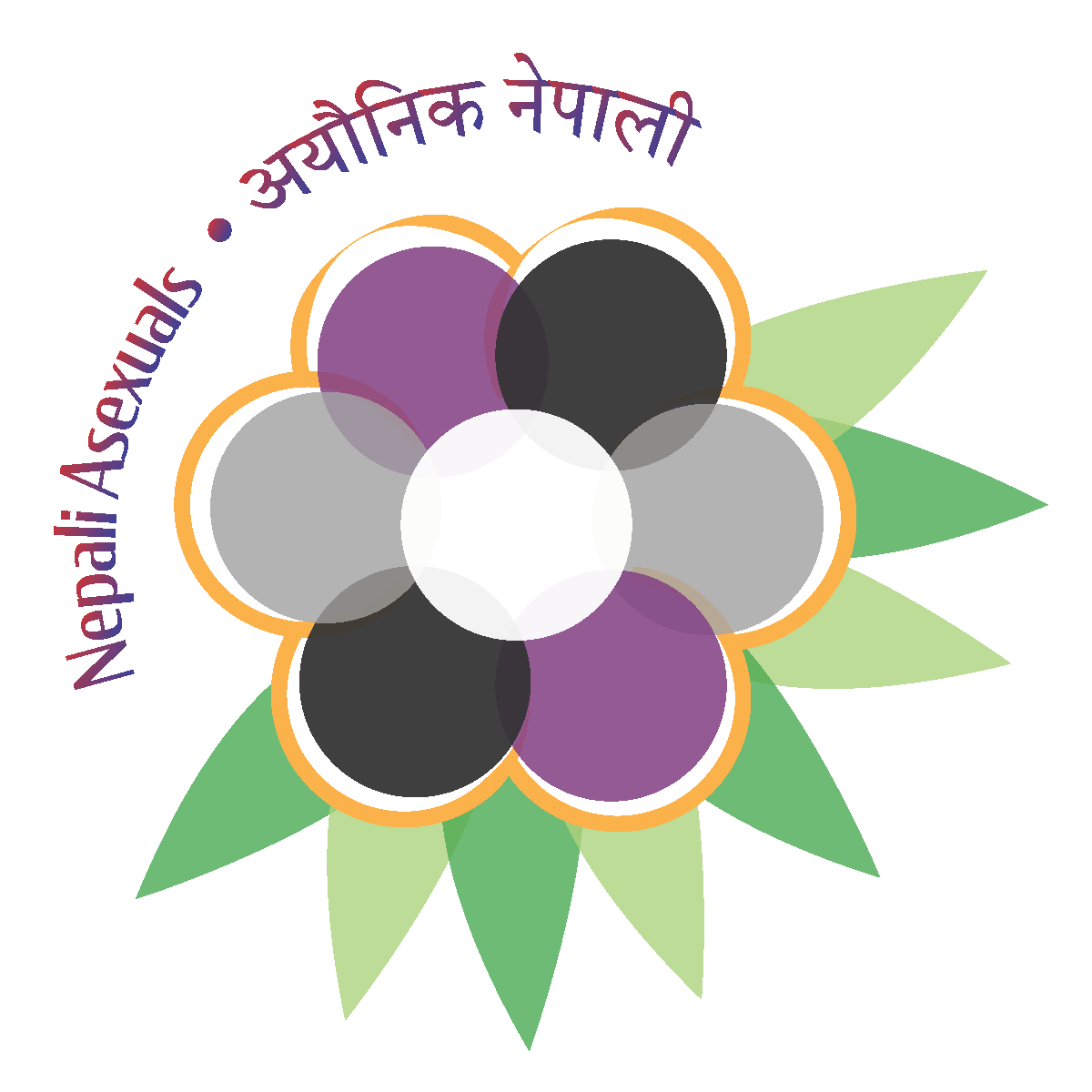 Photo Courtesy: Nepali Asexuals
Currently, the group consists of only eleven members, but all of them belong to diverse orientations and identities. While Khadgi herself is panromantic (meaning romantically attracted to people regardless of gender) and asexual, Sapkota likes to call herself a queer asexual. Meanwhile, both Brainey and Giri are asexual, discovering their romantic interests. Similarly, the group also includes non-binary individuals, aromantic individuals, and cisgender men, making it inclusive to people of different orientations and gender identities.
However since many people are completely unaware of asexuality in regards to other queer communities in Nepal, for the members of the group, to make their voices heard, is a big challenge, they believe.
"It has been more than seventeen years of queer activism in Nepal. But the proper way of addressing asexuality was lacking in the queer movement and also within the queer community most activists didn't understand asexuality. And due to this, there was the dissemination of the wrong message which directly or indirectly impacted a lot of asexuals," says Safal Lama, a non-binary queer rights activist, who's also a member of the group.
And that's why the group of Nepali Asexuals is aiming to redefine the asexual movement in Nepal through their platform, by giving priority to the visibility to voices of aces like them which are largely missing in the queer movement in Nepal, they say.
"Nepali society lacks the basic awareness about asexuality and that is the reason visibility is of utmost importance. Aces are invisible because they don't even know it themselves that it's okay to be who they are and that it's valid to feel the way that they do," says Khadgi. "Awareness is the first step. Acceptance and equality should follow through."
On the occasion of International Asexuality Day, on April 6, the group along with many international countries also organised many activities from virtual meetups to advocacy programs both online and offline.
Likewise, through their Instagram page, the group also spread awareness about asexuality by sharing stories of different aces in various forms of art and even participated in international programs organised by groups of aces in many countries including Germany, France, the UK, and Italy.
While the efforts shown by the group are laying the foundation for the inclusion of voices of asexuals within the queer movement in Nepal, for many aces, the existence of the group itself has been instrumental in helping them feel validated about their orientation and identities, they say.
"To be honest, I have always felt kind of like a black sheep in each and every one friend circles of mine to date. Now to be a part of the Nepali Asexual group it feels like I am genuinely a part of something where I am accepted for who and what I am, rather than being the odd one out," says an 18-year-old asexual and aromantic cis man who wants to remain anonymous.
---
---