'I want to inspire people to go out there and achieve their goals'
Sheikha Asma Al Thani is set to be the first woman from Qatar to climb Mount Everest. And for her, this journey is all about challenging her limits and inspiring other women to follow their path.

Anish Regmi/TKP
bookmark
Published at : April 2, 2021
Updated at : April 3, 2021 10:51
Kathmandu
Life is about making time for things you love to do, and Sheikha Asma Al Thani has been doing just that by climbing one mountain after another. And right now she is unstoppable.
Mountaineering was a goal and a dream Asma saw for herself when she was a 14-year-old and soon she will be setting her path towards Everest and is excited to be an example for people to go out there and embrace their dreams.
Already in Nepal for her Everest expedition, Asma is the director of marketing communications for the Qatar Olympic Committee. She believes she is an athlete at heart who values discipline. Asma has reached the North Pole, and already climbed Mount Aconcagua in South America and Mount Kilimanjaro in Africa. And to people around her, these feats are not surprising as they know, she is a woman of her word—Asma has always achieved what she has set out to do.
In this interview with the Post's Srizu Bajracharya, Sheikha Asma Al Thani gets candid about mountaineering, her passion to tell her story to make a difference in the world and what it takes to achieve one's goals. Excerpts:
How did this journey start and how has the journey been so far?
I have always loved mountaineering from a young age. And I have always loved the idea of adventure in the outdoors. I have three brothers who are quite adventurous and with them, I have been part of many adventures.
But to pinpoint, I think this journey started when at the age of 14, I wrote a bucket list of the things I wanted to achieve in life. It had hopes and dreams of things I wanted to do. I came back to that piece of paper in early 2014 and saw I wanted to see the north pole, to see the night sky and to also climb mountains. Then and there, I decided I wanted to do it all.
After that, I joined a group to climb Mt Kilimanjaro in 2014 and I became amongst the first Qatari females to do so.
And so far it's been an amazing experience even humbling and challenging. I have learnt a lot in the mountains. And I hope to keep continuing this journey forward.
What was your motivation behind climbing one mountain after another?
For me, the motivation has been the journey itself. In every mountain, in every expedition, I meet new people and challenges and I fight through challenges that are considered impossible. And that encourages my goals even more.
Just being out in nature and enjoying what's around me gives me a lot of inspiration.
I also keep trying to remind myself what a person once told me in the mountains: to 'have fun and try to enjoy every aspect of it but also be present.' I remember in Everest Base Camp, I was mesmerised by the beauty and every once in a while, I had to stop to enjoy the beauty of nature, I was grateful to the experience and the people I met on the journey. And that motivated me to come back and experience it again.
What have been the learnings so far from your journey?
With mountaineering, for me one is determination. I think it's always within your mind what you can do and cannot. It depends on how strong your mind is. Another lesson was humbleness: when I saw the mountains so close, I often realised how small we are but at the same time the huge impact we have on the world and so we always need to be humble.
I think the mountains also teach you gratitude. We take for granted the comforts we have in life, the pillow on our bed, the roof we have. When in the mountains, when you encounter uncomfortable situations, you realise that you have to be grateful for every moment you have and everything you have.
Besides these important learnings, I think the mountains personally remind me that if I set my mind to something, I can do it.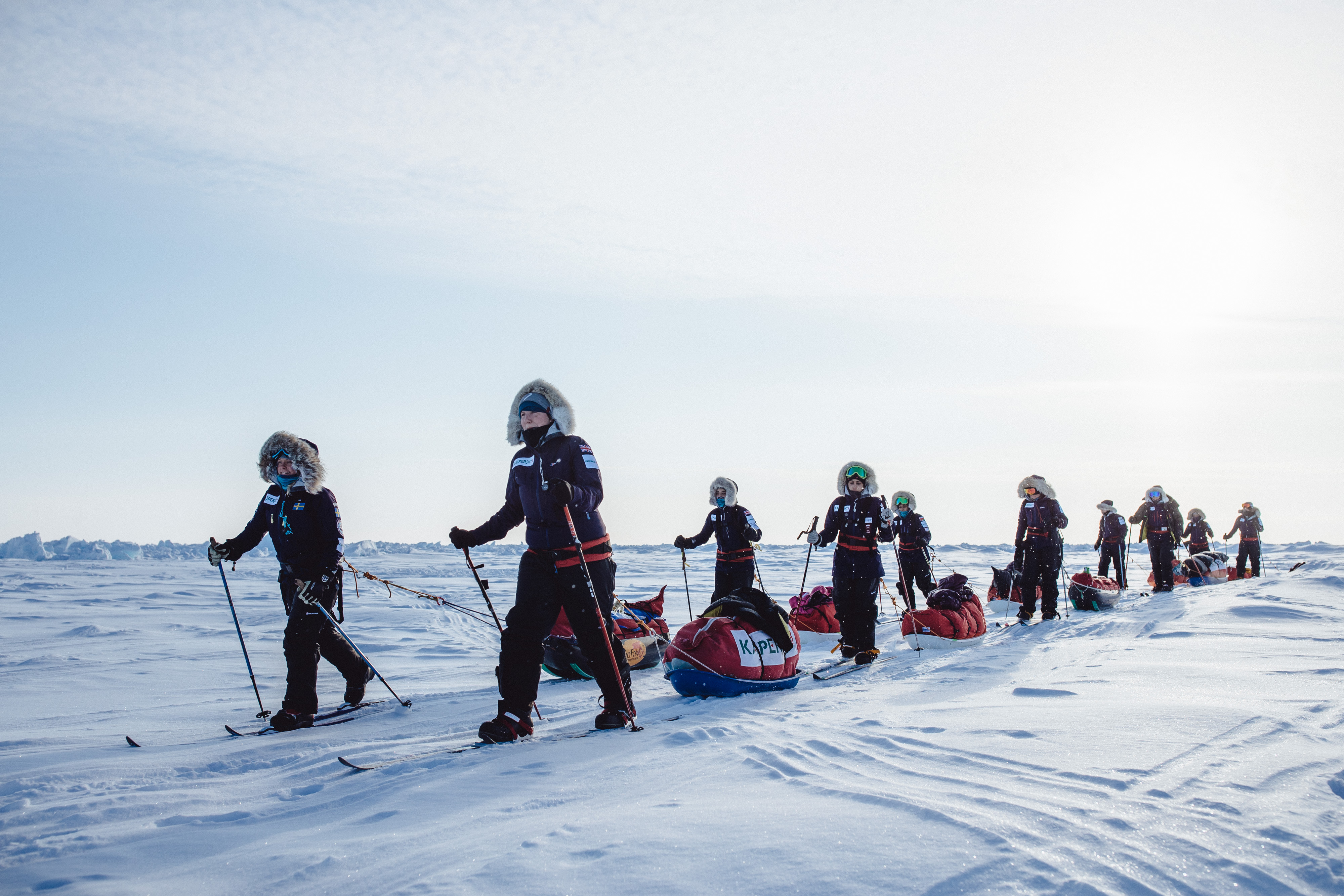 Sheikha Asma Al Thani became the first Qatari woman to ski across the North Pole in 2018 with an international team of women from Europe and the Middle East. Photo courtesy: Sheikha Asma Al Thani
Climbing mountains requires a lot of training. What does your preparation look like?
For me, the training has been about the idea of balancing life—making sure I am able to achieve my professional goals, give time to my family, rest, eat right and train enough to build my strength.
There is a lot of time that I need to set. And life is always a matter of time, right? And I also think if we keep saying we don't have time to do something, we will never be able to do it. So, I always make a schedule that I try to stick to. But I also try to be lenient when things change, because in the mountains, sometimes things don't go our way. Life is the same; we need to find our way around things.
I have also come to understand that training is just about endurance and building strength. I usually train three hours a day, six times a week. But I make sure to listen to my body and give my body the rest it needs. But my training has also been about making sure that I can carry a heavy backpack and replicating things I will do in the mountains.
Why is achieving this feat of conquering Mount Everest important to you?
To me this path is about challenging my limits, breaking barriers within me. But at the same time, this journey is as much about inspiring people to go out and achieve their goals.
When I share my experiences of being in the mountains through my social media, a lot of people get back to me and say 'you know we never thought this was possible; how can I do it? how do you train?'. The world has so many different possibilities, and just being able to share that idea has been important to me.
When in the mountains what usually goes through your mind?
In the mountains, I am constantly having a discussion with myself. It's always about 'Can I do this? Am I strong enough, will I be able to reach there?' But I also think about my family and my home sometimes. One tends to get homesick up there sometimes. But it's always a conversation about why I am here, where I try to remind myself about my inspiration of being in the mountains.
You said in an interview you want to demonstrate women's empowerment in Qatar and inspire a new generation of women across the region to dream bigger. How do you see your endeavour tied to women empowerment?
There's always this misperception about women that climbing mountains or doing things that are challenging are something we cannot do. But for me as a Qatari woman, as an Arab woman, by climbing Mt Everest what I hope to do is to inspire not just women but youth to go after their dreams and to achieve what they set their minds to. I want to share my story; I want to share my ups and downs and what I have been through. Hopefully, by doing so, I will be able to inspire not just women to climb mountains but inspire them to do what they have set their minds to.
How did you convince your family to take this journey?
I have always been an independent woman and have always been able to achieve the goals I have set for myself. And my parents have always been supportive of my dreams. But of course like any parents they were not sure about my goal to climb mountains—and it wasn't because I am a daughter; as a parent, they will be scared for their children. They did have their concerns. Plus climbing mountains and doing adventures is not something to think of lightly. You challenge yourself and you put yourself in dangerous situations.
I remember when I first told my father I am going to go climb Mount Kilimanjaro in the next couple of months, he had questioned why I wanted to do so. Isn't it dangerous? He had asked. And at that time, in 2014, the concept of climbing mountains, whether it is safe or not, how to scale one, was something that was not much known in Doha and for me having these conversations, what it takes to climb these mountains, was not an easy conversation. But my parents have been very supportive and it has been an inspiring journey.
Nelson Mandela once said, 'Sports has the power to transform lives.' You had also expressed this in your speech in 2018. But in countries like ours, sports are not given enough importance. But why do you think it is important to encourage and engage more women in sports?
Sport is a powerful tool and it does transform lives. And when women participate in sports, they get to show the world that 'you know we can do this'. There is a way to achieve our dreams and the more people we have doing things, the more people will see it is a doable thing. Not just in sports but in every field, you will always need stories that inspire others.
Also, sports is a very big industry, and many people can participate in it in different ways and in different capacities. But the opportunities that sports give can also depend on the government's strategy. In Qatar, sports play a very important role in the country. It has shaped the country. And for me being in sports, being a mountaineer and doing an expedition, I also want to be able to shed light on the significance of sports and give people that opportunity to see possibilities in sports.
---
---