Breathing life into movies
In a landscape where the significance of sound in movies is neglected, Uttam Neupane, an award-winning sound mixer and designer, is creating sounds for Nepali movies that drive the story forward.

Anish Regmi/TKP
bookmark
Published at : February 27, 2021
Updated at : February 27, 2021 11:57
Kathmandu
When Uttam Neupane talks about sound design, he speaks with ease. "In simple words, the role of a sound designer is to enhance the scene as well as the narrative of the film through sound," he says.
But it's not as easy as it sounds. There have been times when the National Award-winning sound mixer and designer has had to work day and night to elevate the quality of sound for the many projects that he has been a part of. He has also had to battle the lackadaisical attitude many have towards the art of sound mixing, as very few people, including filmmakers, actually understand the importance of sound in a film, he says.
However, while pursuing his passion continuously for the past decade, Neupane has been successful in making a name for himself in the field of sound designing and mixing. And with critically acclaimed films like Bulbul (2019), Loot (2012), Talakjung vs Tulke (2014), Dadyaa (2017) to his name, and having worked with Oscar-nominated director, Eric Vaili, in Beyond the Clouds (2018), it wouldn't be wrong to say that Neupane is one sought-after sound mixer and designer in our film industry.
In an interview with Post's Ankit Khadgi, Neupane talks about his experience working as a sound designer/mixer in the Nepali film industry, his collaboration with Oscar and Emmy winning filmmakers, and the significance of sound in a film. Excerpts.
What inspired you to start your career in sound designing and mixing? What were your earlier days of work like?
Since my growing years, I have been interested in music and movies. I moved from Rautahat to Kathmandu with the motive of working in the movie industry. While I was unclear about which department I could work in, as I had an inclination towards music, I eventually started studying sound designing and ended up working as a sound designer.
The first project where I worked as a sound designer and as a re-recording mixer was in 2008. I had worked for a short film Awaken Eyes in 2008, which was directed by Binod Paudel. Then a year later, I received the opportunity to work in a mainstream movie called Mero Euta Sathi Cha for which I was also felicitated with the National Award.
However, the more I started working, the more I realised how little I knew about sound mixing and designing. That's why I decided to pursue and study more about sound designing and enrolled myself in an audio institute in Chennai.
The exposure and the knowledge that I gained changed my perspective regarding sound, and as I realised the impact it can have I started doing things differently.
For someone who has no clue about what you do, could you explain the role of a sound designer and a mixer in a film?
So, usually, sound designers are the ones who are hired to look after the sonic elements of the film. After the movie has been shot, we receive a blank picture, and by using various techniques, we try to make people (the audience) believe that a certain scene or an event is happening for real by adding the required sounds.
In short, it can be said that sound designers style the film and incorporate and assemble the diegetic and non-diegetic sounds that can enhance the narrative as well as the director's vision.
In regards to other countries, the Nepali film industry doesn't necessarily have classifications in the sound department. It's mostly a one-person job. However, in other film industries, there are usually many people who are working under the supervision of sound designers, like foley artists, who reproduce various kinds of sounds for the film. Likewise, dialogue editors, whose job is to assemble the dialogues delivered by the actors, also work under close supervision of the sound editor.
After the sound designer finishes their work, re-recording mixers come onboard and make the final decisions regarding the sound of the film. They perform the final mixing and blends of the sound of the film, maintaining its technical and artistic composition before the film is released.
From what stage of the project are you generally involved?
For any sound designer and sound mixer, it's best to get involved in the film before the shooting. However, in Nepal, that is not the case. Filmmakers only come to approach us once they have shot their projects.
But I usually prefer to get involved in projects before it gets shot, as this way as an artist I can also contribute to the film. And there have been films, where I was involved from the pre-production stage, and because of such an opportunity, I along with the director of the film could actually use the sound of the film to take the film's narrative forward and leave an impact.
For instance, in Bulbul, directed by Binod Paudel, there was a particular scene where the lead character's phone would ring, and through the ringtone, the director wanted to depict the conflict that is happening inside her mind. As there was an opportunity for me to discuss with the director beforehand, we could actually use sound for the ringtone that was successful in depicting what the director had envisioned and increase the impact of the scene.
Every artist has their own unique approach. What's your creative approach like?
From whatever I have learnt through my experiences and learning is that you can't put just any sound in a film because you like it. There should be a reason and logic behind it and every sound of the film should support its narrative.
My approach is mostly to seamlessly embed the sound in the film so much so that the audience gets lost in it and they don't even realise it. As ironic as it may sound, I usually prefer making the sound of the film subtle. It's the job of every sound designer to create sounds that can engage the people with the narrative of the film not with the sound of the film.
I also pay a lot of attention to the details while designing sounds and try to focus on the creative aspects as well.
In your opinion where do the Nepali films stand in terms of sound design and mixing?
I think in terms of sound design and mixing we are evolving. However, I believe over the years we have neglected the importance of sound.
Most of us grew up hearing radio plays that were broadcast by Radio Nepal. We had the practice of enjoying art without visuals. But from the time people started watching movies, visuals started getting more priority than sound.
And this lack of concern and seriousness is also reflected in the behaviour of filmmakers, as usually the sound designers and mixers do not get enough time to work for films.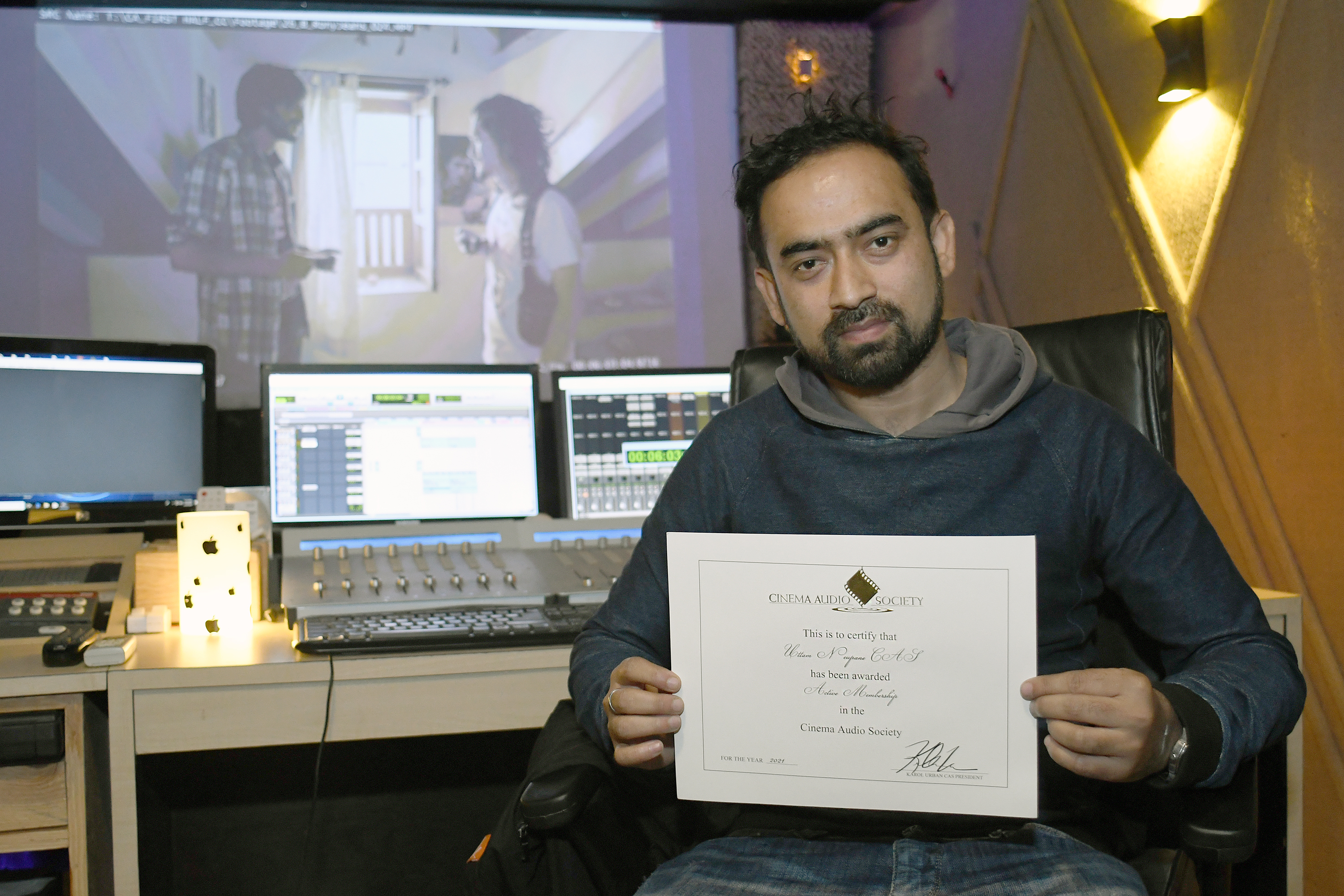 Anish Regmi/TKP
You also became a member of the prestigious Cinema Audio Society, and your film 'Selfie King' was selected in the competition for Outstanding Achievement in Sound Mixing in Cinema Audio Society Awards. How do you feel about it?
I felt incredibly happy when I was selected as a member of the Cinema Audio Society. For any sound designer and mixer, being a part of such a prestigious institution is one of the biggest achievements, as the institution has hosted sound designers and mixers who have been awarded the Oscars.
So, naturally, I also wanted to be a part of it and had been trying to be a member of the Cinema Audio Society (CAS) since 2015. But the qualifications required to be a member were really high. While I was rejected in the previous years, this year I was selected after the institution analysed my works and two members of the institution, Emmy award-winning sound engineer Marti D Humphrey and Academy award-winning sound engineer Gregory H Watkins, decided to sponsor me.
To be able to write CAS behind my name was always a dream and after my dream came true, I was extremely happy.
Likewise, my film Selfie King (2019) was also selected in the competition for Outstanding Achievement in Sound Mixing in Cinema Audio Society Awards, an annual award ceremony that is organised by Cinema Audio Society and to see that it was competing with films like Tenet, Mulan, No Man's Land, Wonder Woman, made me happier.
As someone who has worked for decades in award-winning films, in your opinion how important is sound for a film?
The power of sound is such that you can actually make the audience believe that something is happening without showing them. It's so powerful that you can do anything with it. I think the audience won't be surprised or taken aback if there are no visuals for a brief moment in the film. But if there is no sound, or even if it is high or low, the whole impact of the scene gets affected. Sound is that powerful.
Any film suggestions you would like to give to our readers?
There are plenty of movies that have great sound design. I really like the sound design of La La Land (2016). Through the Olive Trees (1994), 1917 (2019), Darkest Hour (2017), and Dunkirk (2017) also have great sound designs.
I am also fond of the sound works of A Rainy Day (2014), Liar's Dice (2013), Is love enough, Sir? (2018) and Photograph (2019). Likewise, I also liked the sound design of the recent Nepali short film, Song of Cloud.
Any exciting projects lined up that you are involved in currently?
I am working on a feature film called Chiso Ashtray. Likewise, I am working in Veemsen Lama's new horror movie Kathaputali and Dinesh Raut's Prakash. There's also an international docu-drama about the aftermath of a pandemic in Nepal, which BBC is producing. I am also a part of it.
---
---