How athletes are making parkour cool, even though they are struggling
Nepal has many talented, even Guinness World Record-holding, parkour athletes. But their skills still haven't received due credit, which is making the future of the sports form uncertain.

Over the years, the number of people practicing parkouring has increased, not just in Kathmandu but in other cities like Nepalgunj, Birgunj, Butwal and Chitwan, according to Parkour and Freerunning Association of Nepal. Photo Courtesy: Dinesh Sunar
bookmark
Published at : September 29, 2020
Updated at : September 29, 2020 08:35
Kathmandu
Running, jumping, climbing, swinging, and somersaulting his body—that's what Dinesh Sunar remembers himself doing for as long as he can remember.
While his friends walked, he ran and jumped across fields and from the roofs in his hometown Khotang, he says. Back then, he says he had no clue what his skills were called or that it would continue to become a life-long passion.
"I had fun doing it and showing off to my friends and other villagers," says Sunar, 29.
Then in 2012, when internet access had started becoming easily available, Sunar was exposed to hundreds of videos of other people who were doing the same things he was and he finally found a term that described his skills: parkour.
And that's how Sunar's, Nepal's one and only certified parkour trainer and four-time Guinness World Record holder, journey in the parkour arena began formally.
But despite having athletes like Sunar, parkour, as a sport, is still in a nascent stage in Nepal, and according to athletes, the sports form doesn't provide enough social and economical recognition to its practitioners.
Parkour, as a form of sports, is a physically-demanding activity, where the practitioners or performers (tracers) move rapidly in any given area by running, jumping, climbing, rolling, and vaulting. And the activity is derived from Parcours du combattant, which were a set of military training drills developed during the First World War. But it was only after the efforts of David Belle, who's often considered as the father of parkour, and his group Yamakasi in the '90s, that the popularity of parkour surged all over the world.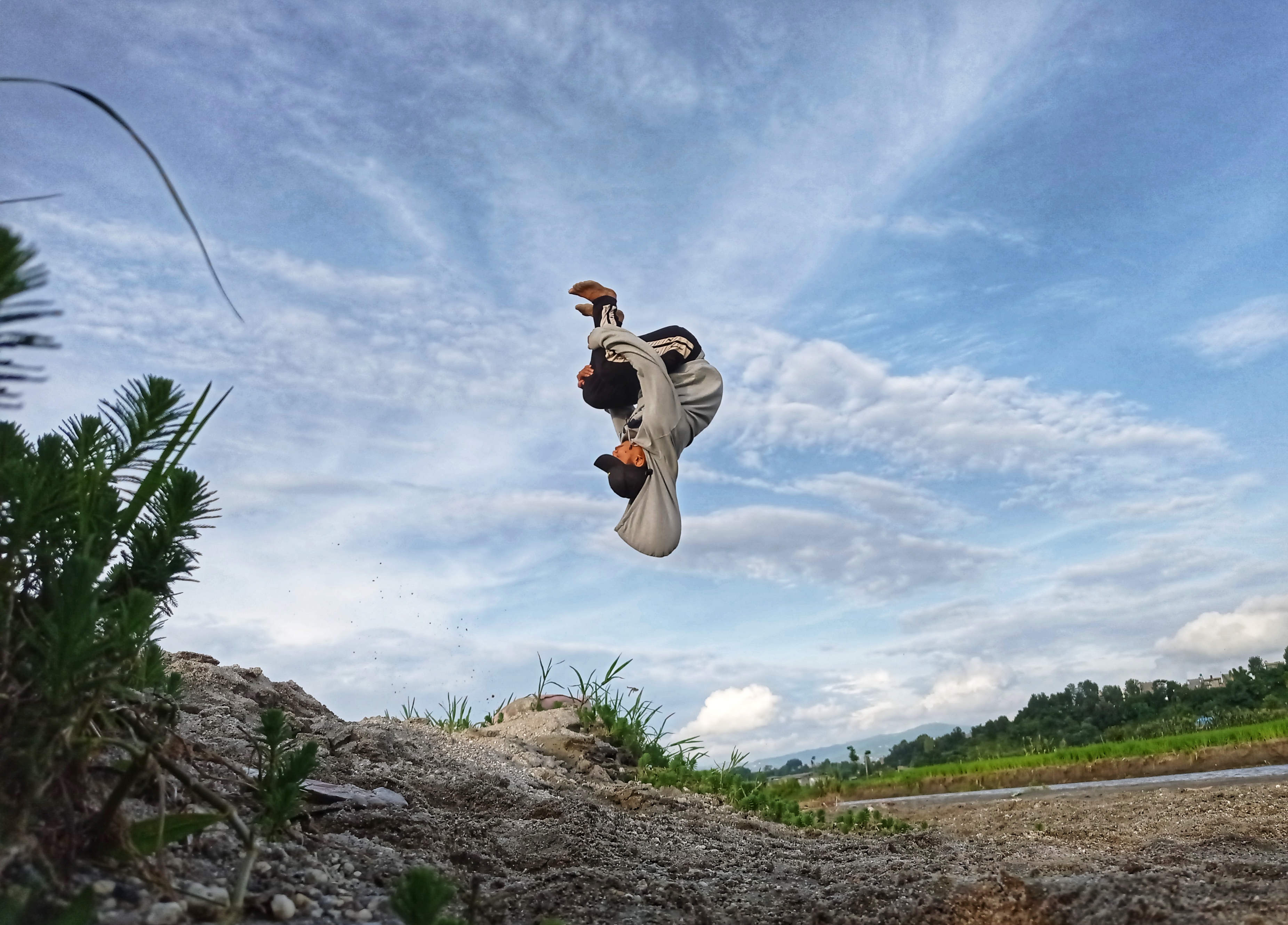 Photo Courtesy: Dinesh Sunar
Many international movies like District-B-13, Casino Royale, and Yamakasi also were catalysts in fueling interest among parkour practitioners like Sunar, who were mesmerised to see the action on the screen.
"I remember watching Ong-Bak, a Thai-action movie when I was small. I used the fast-forward and rewind buttons all the time just to observe the techniques," says Sunar, who credits the movie for encouraging him to learn the moves.
As a child, near the cemented-banks of the river near his home, Sunar used to spend entire days practicing the moves that he had seen in the movies. "In our village, when I used to say that I could perform stunts like Nikhil Upreti (a well-known action actor), at first, they didn't trust my words. But when I started showing my skills safely jumping over the terrace, and climbing over the walls, they were shocked to see my capabilities," says Sunar.
Slowly, he started performing his stunts in various cultural programmes, and it was among one of his performances in a school that was four hours far away from his village, where his talent was seen by an ex-army officer, who encouraged him to move to the Capital. After moving to Kathmandu, in 2012, Sunar joined the gymnastic team of Armed Police Nepal, winning gold medals in the national games as well.
But it was only in 2017 when the world came to know about his capabilities and talent, as he set a Guinness record for doing the most twisting backflips off a wall in one minute (parkour).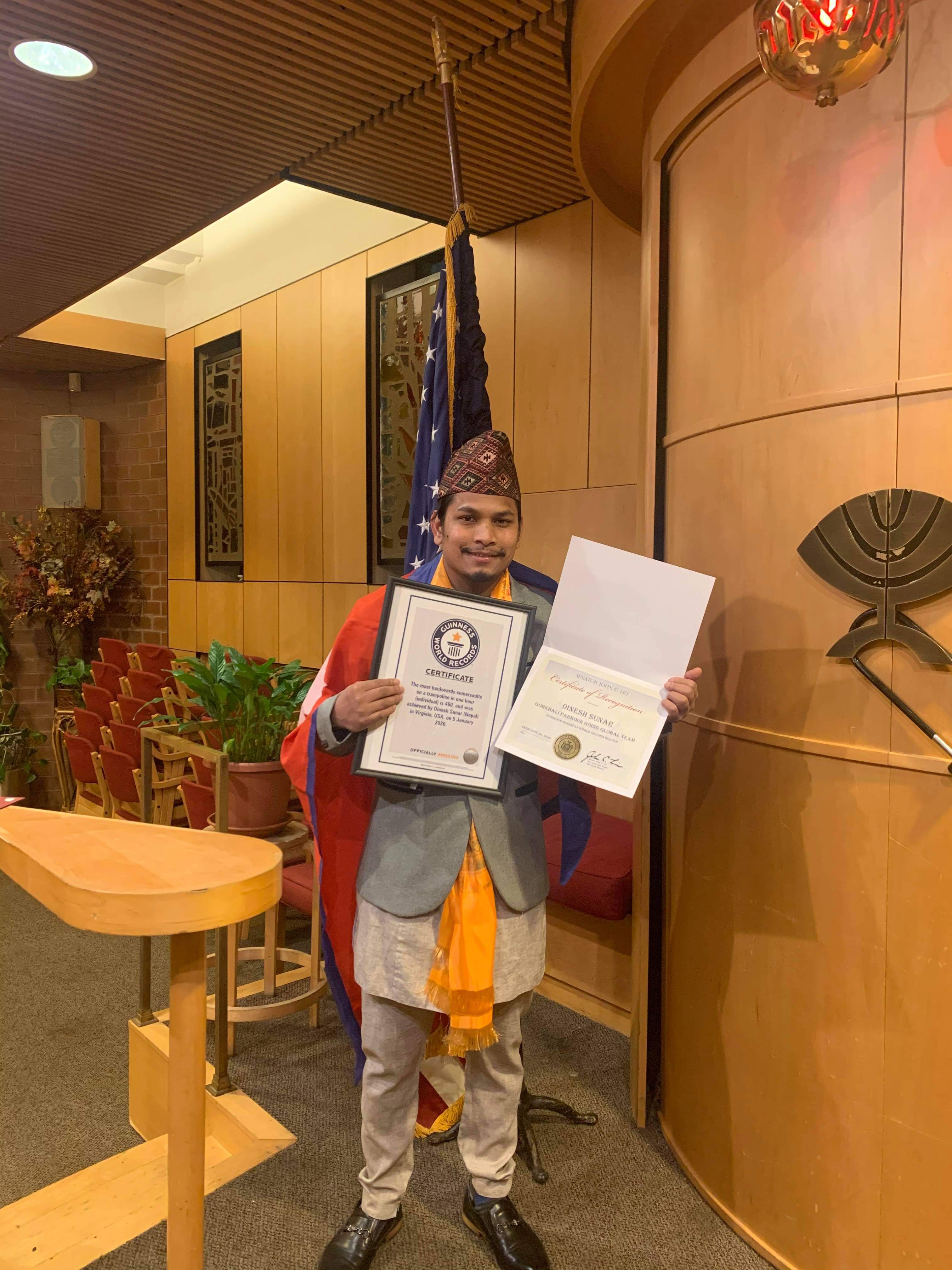 Photo Courtesy: Dinesh Sunar
Then in 2018, he represented the nation in the USA Parkour Cup, organised by World Freerunning Parkour Federation, and managed to secure the 10th position. Likewise, after setting his first record, he successfully made three other Guinness world records in three consecutive years from 2018-20.
Following Sunar's lead, many young aspirants have started doing parkour and are investing their time in perfecting their skills.
According to Asim Shrestha, from Parkour and Freerunning Association of Nepal, although there isn't exact data that can provide information about how many athletes are involved in parkour, he says that over the years the numbers have significantly increased.
"The practise of parkour isn't limited to Kathmandu only. We have an equal number of aspiring athletes forming groups and learning from each other in various places like Nepalgunj, Butwal, Chitwan, and Jhapa," says Shrestha.
Among other emerging talents, Boby Kumal from Kathmandu is also creating his own path in the parkour world.
Like Sunar, movies were also a major factor that fueled the interest in Kumal to learn parkour. "I remember seeing Brick Mansions in 2014. The stunts and the parkour scenes in the movies mesmerised me," says Kumal.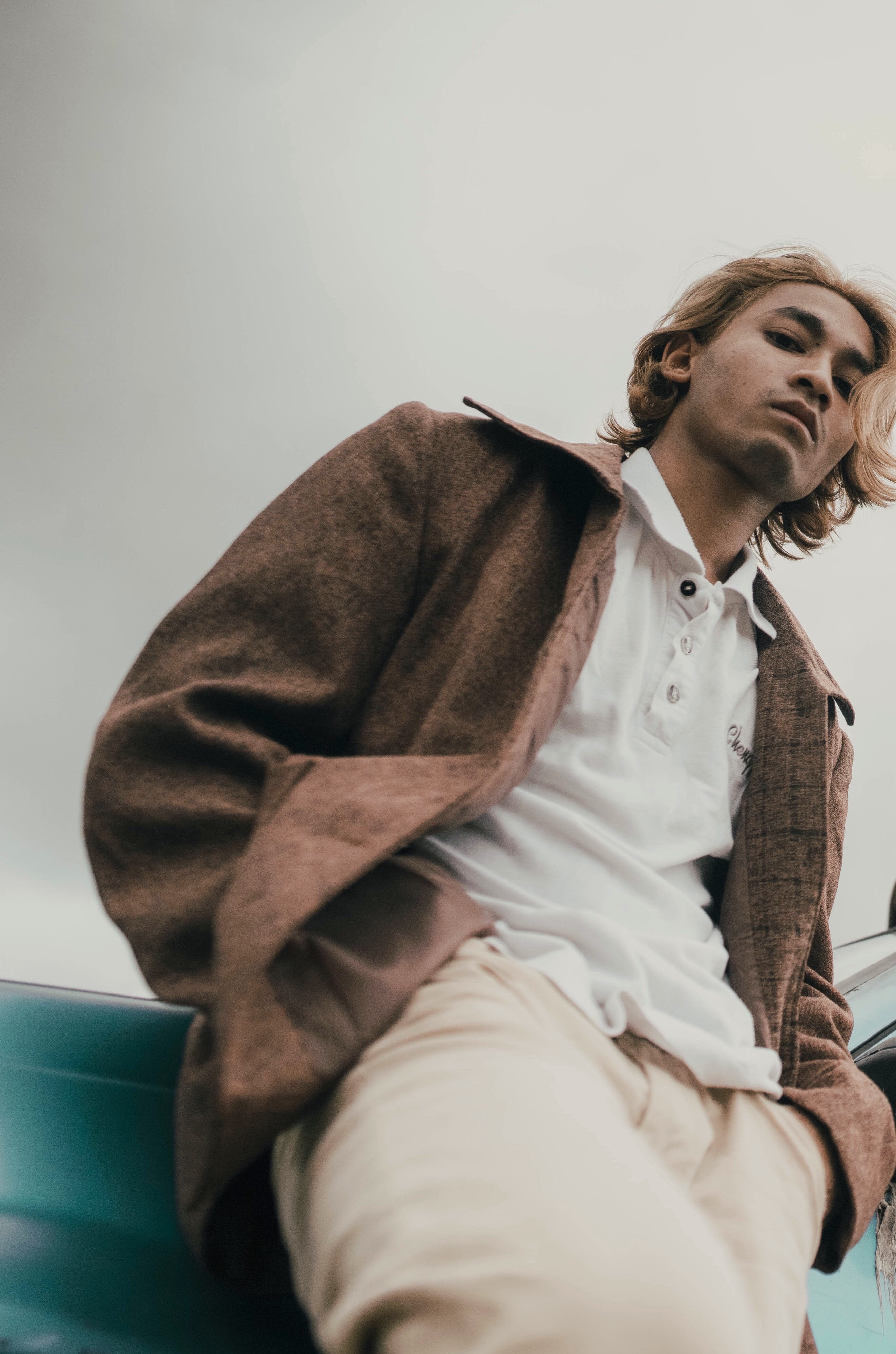 Photo Courtesy: Abhushan Chitrakar
For five years, Kumal's daily routine has revolved around performing parkour, which he had learned from the internet and his friends. "Every day, I go to UN park along with a bunch of enthusiasts. We practice near the river-bank, showing new moves and helping each other," says 23-year-old Kumal, who records and uploads the videos on social media, with a hope that this talent will be seen and appreciated by the masses.
Despite the athletes' commitment to the sport, it doesn't help them earn much of a living. "We can't make our living just by doing parkour. There is a lack of opportunities and platforms, where we can show our talent and make money," says Sunar.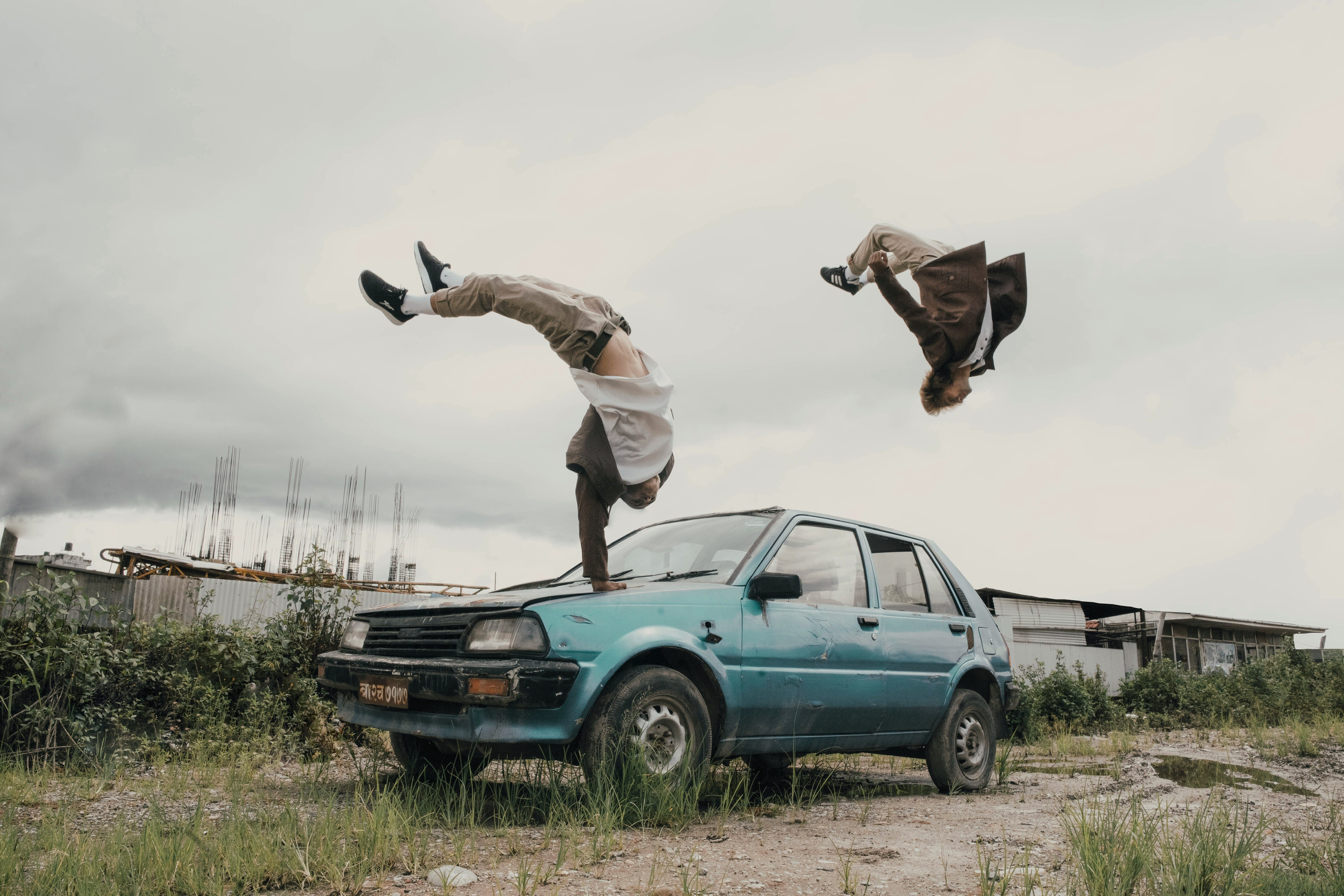 Photo Courtesy: Abhushan Chitrakar
Thus, for a living, both Sunar and Kumal work as stuntmen. But the payment doesn't justify the talent and risk they take. "We do not receive good money from doing stunts either. So making a living out of our talent is a big challenge," says Sunar, who has worked as a stunt person and a fight artist for almost five dozen Nepali movies.
In order to make parkour more systematic and ensure its growth and sustainability, the Parkour and Freerunning Association of Nepal is making efforts by providing training and employment opportunities to parkour practitioners. "Through our platform, we promote, train and even help the practitioners find jobs as a stunt person, so that it will help the athletes in any other way," says Shrestha.
But for athletes who hardly make any money by doing parkour, even if they enjoy the sport, the decision to continue doing what they love is both challenging and risky.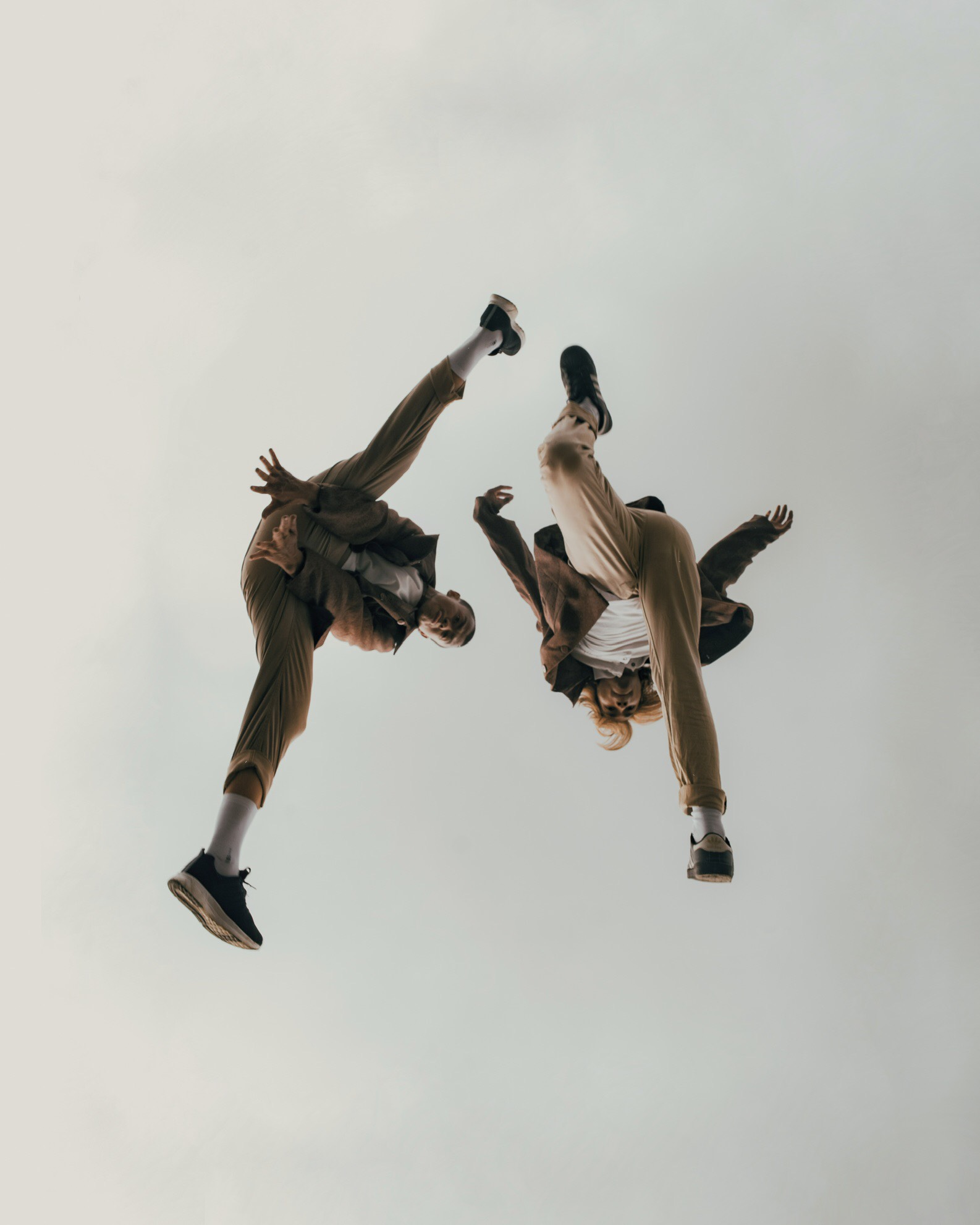 Photo Courtesy: Abhushan Chitrakar
"The biggest challenge is to resist family pressure. Since parkour isn't yielding any monetary benefits to me, and I am not involved in any formal profession, sometimes it's difficult and even disheartening that even after having talent, my work isn't acknowledged by the people," says Kumal.
While many countries are slowly opening up to the idea of parkour as a separate form of sports, in Nepal, even with many talented parkour athletes, its exposure is limited which is affecting the opportunities for talented athletes to get due for their credit, says Shrestha.
"There are many talented parkour aspirants, who come every day from their work in the evening and train themselves. Even when they are talented, they can't continue doing it as doing parkour only isn't sustainable in Nepal," he says.
And to make the best use of the talents we have and create Nepal as a parkour hub and promote the sports form, Shrestha believes "entertainment value" should be attached to parkour, like with every other sport. "No one watches sports if it doesn't entertain them. There is a possibility of making parkour a mainstream sport if we can frequently organise contests that can attract people's attention to the sports," says Shrestha.
Athletes too agree that by frequently organising contests and competitions, the platform can boost the spirit of parkour athletes. "We need more investment and sponsorship in parkour. Contests should be organised that provide enough cash prizes that can help the athletes to sustain," says Sunar, who also trains few aspiring parkour athletes.
Photo Courtesy: Dinesh Sunar
Regardless of the struggles and the risks they take and the uncertain future, for the athletes, their passion for the sport acts as a light of hope, pushing them to keep pursuing the sport.
"Parkour as sports itself is all about beating the obstacles that come in the way and facing one's fears. After years of this sport, it has become a part of my identity. And I believe that like a dark horse, slowly but steadily, parkour athletes like me will get opportunities and due credit in the future for our talent," says Sunar, who's currently planning for his fifth Guinness world record as well as auditioning for America's Got Talent, a US-based talent show.
---
---