In an age of exciting musical visuals, 17-year-old Nishan Bhujel is doing all the right things
Bhujel is a self-taught, independent videographer, who is changing the game of traditional video making.

Bhujel had just completed his SEE before he got his hands on his first camera. Photo Courtesy: Nishan Bhujel
bookmark
Published at : July 15, 2020
Updated at : July 15, 2020 08:53
Kathmandu
The past year has been quite surreal for Nishan Bhujel. Only 17, Bhujel, who picked up a camera only two years ago, has shot music videos for popular Nepali artists like Manas Ghaley and 5:55. He has also worked with popular Indian rapper Emiway Bantai, making seven videos for the artist in just one year. One such video, for the song Firse Machayenge, released in February, has amassed over 200 million views.

"The video got 100 million views in 50 days. When I saw that, I couldn't process it for a while. I started to get a lot of messages from people here and in India congratulating me for my work," says Bhujel. "Sometimes I still can't believe it. But I've always believed in my ability and I still have a long way to go," says Bhujel, who is still in highschool.





Bhujel's love for shooting and filmmaking started from a young age, he says. By the time he turned 14, he had spent much of his free time watching a lot of movies, especially works of Bong Joon-ho, who he says is his inspiration.

"His work is perfect. Everything that is on the frame is there for a reason. His use of visual metaphors and symbolism is something I like the most about him. He's a true genius," says Bhujel.

He'd also spend hours on YouTube watching travel videos created by Sam Kolder and music videos shot by Cole Benett learning how to visualise and write scripts. Through YouTube, he also learnt how to edit. "The internet has been my teacher. I had a general idea of a lot of things before I got my first camera," he says.

Soon after Bhujel completed his SEE, his father bought him his first camera, a Canon 80D. With the things he had learned on the internet, which he calls his "film school", Bhujel started to explore and create. He started to make more travel videos, this time with the camera travelling whenever he got the chance. But in his heart, he always wanted to make films like his idol Bong Joon-ho.

"That is still what I want to do. Make features and short films in the long run. But I realised that I still had to learn a lot which is why I worked on a few projects alongside Jholey (Prajwal Thapa Magar)," he says.

That opened up new avenues for Bhujel. First he got a chance to assist James Lama for Manas Ghale's song Keraisiti. After doing well there, he got a chance to shoot and edit another Ghale song called Drop That Verse.

"After doing a few projects, I started to approach other Nepali artists asking them if they'd give me a chance to shoot their videos," he says. "Luckily, I got good responses."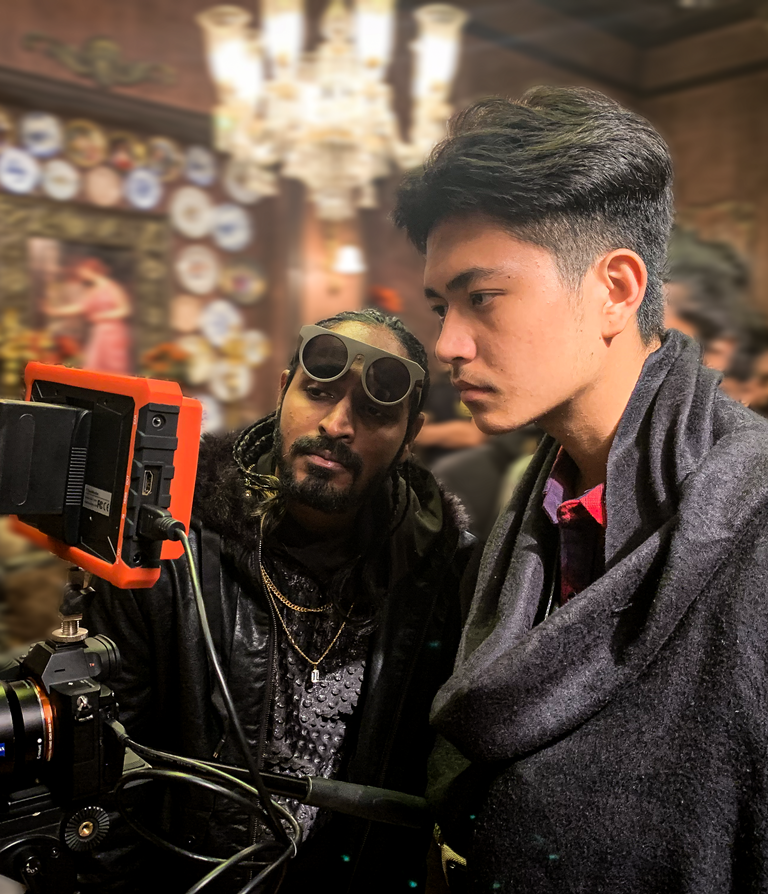 Bhujel (right) with Indian rapper Emiway Bantai during the shooting of the song Firse Machayenge. The song has amassed over 200 million views. Photo Courtesy: Nishan Bhujel
One guy who was highly impressed with Bhujel's work was Chirag Singh Khadka, better known by his rapper alias 5:55. He approached Bhujel and asked him to shoot a video for his single Life Jacket.
Working with Nepali artists like 5:55 paved the way for the teenager for greater things. Always proactive, Bhujel, when he heard that Indian rapper Emiway Bantai was coming to Nepal, sent an email to Bantai's team sending them his work and seeking permission to shoot a behind the scene video of his show. But Bantai had different plans.
"Emiway replied himself asking if I would be interested in making a music video for him in Nepal. That was quite unreal," he says. "I just wanted to do a behind the scene video of a gig, and he was a famous rapper asking me if I'd be interested to make a video. That is still a special moment."
A great music video isn't just a collection of great visuals—it gives life to a song. And Bhujel knows that too well. Bhujel wrote a script and shot Bantai's Checkmate in a day. After a few days, he sent the final edit to Bantai. Impressed by the teenager, Bantai sent him a plane ticket asking him to come to Mumbai to work on other projects.
With Bantai, Bhujel travelled across India. He went to Mumbai initially then to Kerala, Nagpur, Ahmedabad, Bangalore, Lakshadeep and Mumbai for nearly two months. "It was quite an experience for a young boy like me to travel with a superstar like him. It was overwhelming in the beginning, but it was a lot of fun. It didn't even feel like work," he says.
But Bhujel wants to do more than shoot music videos. He wants to make both feature and short films and says he's currently learning how to write better scripts. "I've been writing scripts since I was in hostel. And currently I'm taking this lockdown to explore my writing."
He says he's been watching a lot of movies and reading scripts of those movies and analysing them. He's also been taking classes through the internet trying to learn something new every day.
Using the things he learnt, he's recently released a short film called Starving. In the short film, he has made the use of evocative visuals, aided with sound that makes the narrative immersive. His experiment with transitions is something that stands out. That is something that is also evident in the other videos available on his YouTube channel.
"It was a fun project me and my friends made in just three days. I feel it's my best work so far. One that I'm very proud of. I'm glad that it's been getting some decent responses so far," he says.
Even though he wants to keep doing what he is doing in the future, he says he still isn't sure if he does want to get into film school. "I think I still want to work a bit more. Learn a bit more before I decide if I want to get into film school. That way I'll not be wasting time there, and I'll keep learning."
---
---