Sing a song today to keep Covid-19 at bay
In times of crisis, public health practitioners believe that songs are a great medium to keep the masses informed—and safe.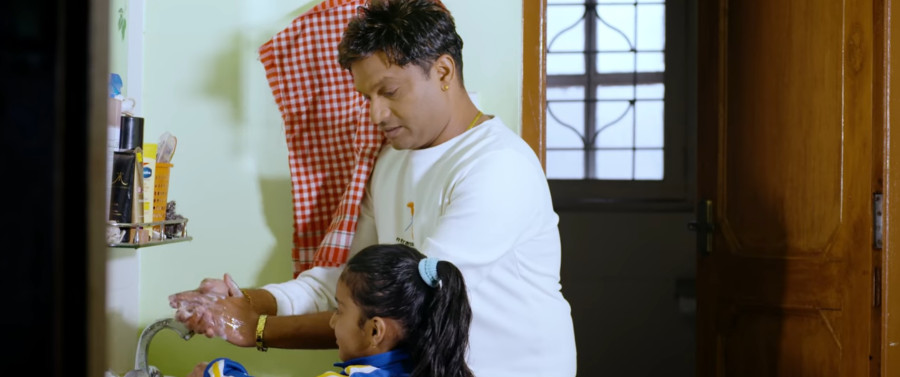 Screengrab via YouTube
bookmark
Published at : March 21, 2020
Updated at : March 21, 2020 08:48
Kathmandu
When Pashupati Sharma saw fear rising among Nepali people as coronavirus spread across the world, he felt the need to inform the masses about the preventive measures one can undertake to protect themselves from being infected.
That is why, two weeks ago, he released 'Corona Virus', a lok dohori song on YouTube, which has been viewed over 600,000 times.
"Since I am an artist, it's my responsibility to make people aware during times of crisis. My intention of creating the song was to make people aware in such a way that they can understand the message without difficulty," says Sharma, a well-known lok dohori artist. The song talks about how we can combat coronavirus by washing our hands, staying away from the crowd and using masks—all important preventive measures to keep the virus at bay.
This is not the first time songs have been used as a medium to spread awareness among people about health and sanitation. According to public health practitioners, such catchy, informative songs are effective tools for spreading awareness and can be instrumental in influencing people's habits.
"Songs can be a great motivation for people. They can affect people psychologically, and make them change their ways," says Sandhya Chaulagain, hygiene officer at WaterAid Nepal. According to Chaulagain, since songs appeal to the larger mass, irrespective of whether they are literate or not, they are more effective than brochures or posters. "Since songs allow people to listen, even watch videos in some cases, it makes the process interactive and often the message stays on the mind of the viewer. It is more effective than skim reading a brochure or a public service announcement in a newspaper," says Chaulagain.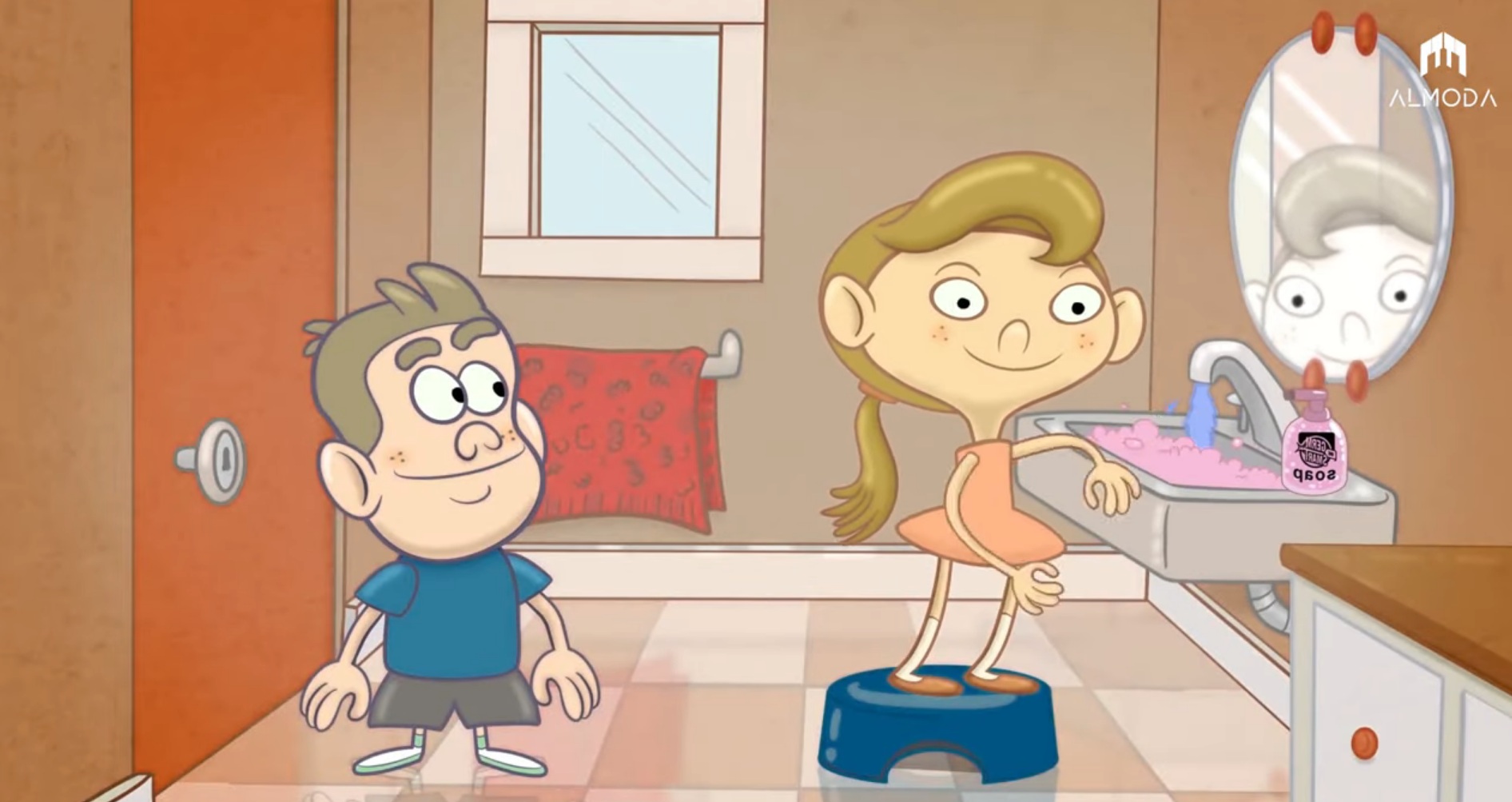 Screengrab via YouTube
Similarly, following Sharma's lead, another singer Almoda Rana Upreti released an upbeat song, titled 'Corona Virus Prevention,' with an animated video last week. The video demonstrates the correct method of washing one's hands.
Chaulagain says that during a time of crisis, songs make for effective tools for disseminating messages. "Even if they read the information about preventive measures in a paper, they won't be able to share it instantly. But songs have the ability to reach more houses and people can easily refer it to their friends and family, who can later tune into or even watch the video of the song on various platforms," says Chaulagain.
The fusion of information with entertainment has been used as a tool to spread awareness about health and sanitation in many development projects all over the world. There have been research works that claimed that Meena, the famous cartoon character, was an important tool in teaching people handwashing and sanitation in many Asian communities. A week or so ago, Vietnam's health ministry released a song as a creative approach to notify its citizens about the importance of handwashing. The video earned millions of views and world-wide appreciation on social media.
Along with being an engaging medium for educating people, the music can also provide mental relief to those trying to process important information, says Bina Shrestha, senior psychosocial counsellor at TPO Nepal. "During a time of crisis, people cannot comprehend the news well nor can they read the paper in ease, as they are stressed. If the message can come across through songs it won't only act as a catalyst to deliver important information to them, but will also act as a stress reliever," says Shrestha. And this is exactly the reason why Shrestha says songs are instrumental in teaching people to adopt a healthy lifestyle. "When songs are related to the daily part of people's lives, they can easily relate. So, they are more receptive to the message psychologically," says Shrestha.
Both Shrestha and Chaulagain believe authorities should use such a medium to inform people about how one can prevent coronavirus. "Since most Nepalis are on high alert, authorities should use songs as a medium to spread the message," says Chaulagain. "Not only will it inform, but it will provide relief."
Frequently asked questions about the coronavirus outbreak
UPDATED as of April 8, 2020
What is Covid-19?
Covid-19, short for coronavirus disease, is an illness caused by the coronavirus SARS-CoV-2, short for severe acute respiratory syndrome coronavirus 2. Common symptoms of the disease include fever, dry cough, fatigue, shortness of breath and breathing difficulties. In severe cases, the infection can cause pneumonia, severe acute respiratory syndrome, kidney failure and even death.
How contagious is Covid-19?
Covid-19 can spread easily from person to person, especially in enclosed spaces. The virus can travel through the air in respiratory droplets produced when a sick person breathes, talks, coughs or sneezes. As the virus can also survive on plastic and steel surfaces for up to 72 hours and on cardboard for up to 24 hours, any contact with such surfaces can also spread the virus. Symptoms take between two to 14 days to appear, during which time the carrier is believed to be contagious.
Where did the virus come from?
The virus was first identified in Wuhan, China in late December. The coronavirus is a large family of viruses that is responsible for everything from the common cold to Middle East Respiratory Syndrome (MERS) and Severe Acute Respiratory Syndrome (SARS). After an initial outbreak in Wuhan that spread across Hubei province, eventually infecting over 80,000 and killing more than 3,000, new infection rates in mainland China have dropped. However, the disease has since spread across the world at an alarming rate.
What is the current status of Covid-19?
The World Health Organisation has called the ongoing outbreak a "pandemic" and urged countries across the world to take precautionary measures. As of Wednesday, Covid-19 had spread to 209 countries and infected more than 1,431,706 people with 82,080 deaths. In South Asia, India has reported the highest number of infections at 5,351 with 160 deaths. While Pakistan has reported 4,035 confirmed cases with 57 deaths. Nepal has so far reported nine cases, in which one patient recovered.
How dangerous is the disease?
The mortality rate for Covid-19 is estimated to be 3.6 percent, but new studies have put the rate slightly higher at 5.7 percent. Although Covid-19 is not too dangerous to young healthy people, older individuals and those with immune-compromised systems are at greater risk of death. People with chronic medical conditions like heart disease, diabetes and lung disease, or those who've recently undergone serious medical procedures, are also at risk.
How do I keep myself safe?
The WHO advises that the most important thing you can do is wash your hands frequently with soap and water for at least 20 seconds or use hand sanitizers with at least 60 percent alcohol content. Avoid touching your eyes, nose and mouth with unclean hands. Clean and disinfect frequently used surfaces like your computers and phones. Avoid large crowds of people. Seek medical attention if symptoms persist for longer than a few days.
Is it time to panic?
No. The government has imposed a lockdown to limit the spread of the virus. There is no need to begin stockpiling food, cooking gas or hand sanitizers. However, it is always prudent to take sensible precautions like the ones identified above.
---
---