Holi is prime time for the consent conversation
The festival of colours has become a day of dread for women—and they want the bad behaviour to stop.

Post File Photo
bookmark
Published at : March 9, 2020
Updated at : March 9, 2020 07:07
Kathmandu
Six years ago Swarna Shrestha was walking with her sister. It was just a few days before Holi, and she knew she faced the herculean task of dodging pleasure-seeking boys and men armed with water balloons. What she did not expect was that someone would toss a bucket full of ice-cold murky green water at her and mock her.
Such incidents have started becoming regular for Shrestha, so Holi has become a festival of fear and hostility. "Even weeks before the festival started, I was constantly chased by guys who would fling water balloons at me. The experiences traumatised me so much that I would prefer not to leave my house before Holi ends," says the 21-year-old.
Read: Once upon a time in Holi
Like Shrestha, Drishti Dahal, 26, also suffered unpleasant experiences during Holi. From getting attacked with lolas, even while driving a bike, to drunk men forcefully applying colours to her face, her consent was never asked, Dahal says.
Though the religious significance of Holi celebrates the victory of good over evil, the irony is many women are harassed in the name of celebrations, with men dousing them with water balloons, lolas and some even forcefully rubbing colours on their faces. Even if women show resistance, they are declared as 'party-poopers' or 'mood-spoilers' which leads men to continue.
While such instances seem to have decreased, with some men coming to understand it's inappropriate behaviour, young boys preferring to stay at home and play games on their phones and police constantly patrolling and restricting the harassment of pedestrians, consent and personal space remains an issue—especially during Holi.
So, according to sociologist Lalita Bashyal, the festival of colour is an important time to teach males about respecting women's consent and personal space. According to Bashyal the culture of men hitting women with lolas and balloons is a reflection of society's power dynamics.
"Women are considered submissive. This ideology entitles men to hit women with balloons without their consent," says Bashyal. "They think that it's okay to do such behaviour because women are weak and won't react to it."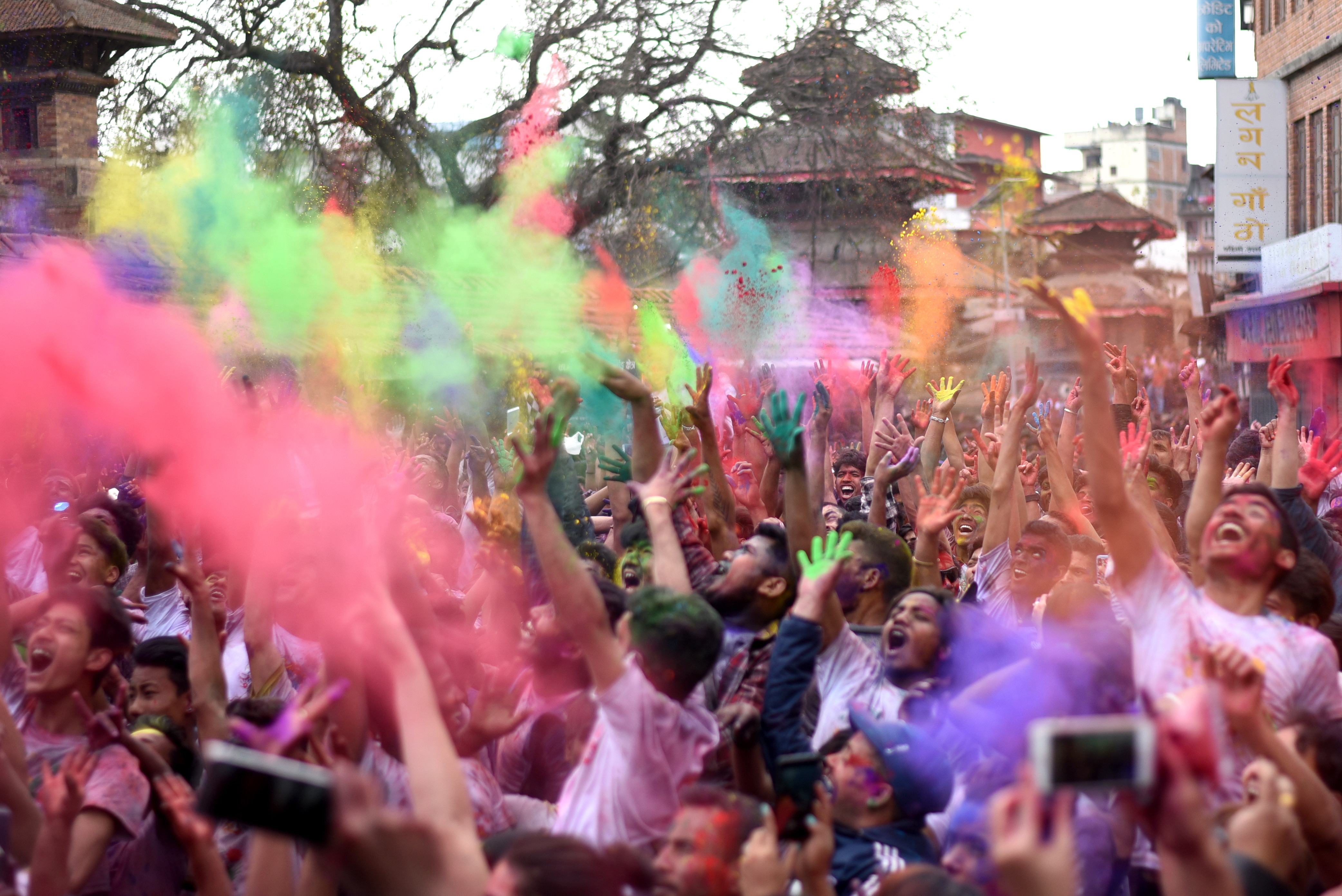 Post File Photo
Though years of rowdy behaviour normalised harassment of women and was considered a petty issue, Bashyal says the festival plays an important role in shaping the general mindset towards the value of consent. "When you are allowing men and even boys to hit balloons to whoever they want to, apply colours without asking for consent, even if they are not part of the celebration, it reinforces a value system which doesn't treat women equally and disregards their consent," says Bashyal, a teaching faculty member at Madan Bhandari Memorial College.
Similarly, such behaviour largely paints how society treats women's personal space. While instances of women hitting men with balloons are rarer, it's always the female who has to suffer from unwanted situations and has to compromise on her mobility during Holi.
"Even if the situation has changed, still many women cannot move freely during Holi due to fear of getting harassed by the men," says Sunita Basnet, a women's issues researcher.
According to Basnet even if women show resistance against such behaviour, regarding such issues it largely goes unnoticed, forcing a culture of tolerance among women. "Even if women try to confront those who have hit them with balloons, they are told not to make an issue out of it, rather society blames them by questioning why they were traveling out knowing that they might be attacked with balloons," she says.
But for Basnet, the largely accepted mindset seems to be that it's women's responsibility to be extra careful, continuing to entitle men to override women's personal space. "When you start questioning the women who have been victims of such unpleasant attacks during Holi, it helps in building a culture where women's personal space isn't given the same respect and value as their counterparts," says Basnet.
But the situation is changing, as women can now freely travel around more than before without fear of harassment. Ravi Kharel, a 22-year-old student, used to take part in the revelry as a child, throwing balloons at girls without their consent.
"All of my friends and neighbours used to do the same," says Kharel. "But now I have realised it's wrong to hit someone with lolas and throw water because it is literally a form of harassment which has been normalised by our society."
This is why both Bashyal and Basnet believe society should take the issue seriously. "Holi can be a great time for not only men, but for the whole of society to understand it's not okay to invade a woman's personal space and disregard consent. If they are interested in playing, they will play with whoever they like," says Bashyal.
---
---