They speak Nepal Bhasa and celebrate Ya:Mari Punhi. But they're not Newar
Maithil Brahmins came to Kathmandu from Tirhut region 600 years ago, and have created their own unique cultural identity.

Mishra family who are Maithil Brahmins have been living in core area of Patan along with the local Newars. Ankit Khadgi/TKP
bookmark
Published at : January 21, 2020
Lalitpur
With heavy Nepal Bhasa accent in their speech, anyone would confuse 59-year-old Nirmal Kumar Mishra (Jha) and his son Aashish Mishra for Newars. From observing jatras and nakhas to even living in the core Newar settlement of Patan, the Mishra family has been living alongside the Newar community for generations. However, even though they are assumed to be Newars, they hold the unique identity of Maithil Brahmins .
Nepal Mandala, the current Kathmandu Valley, has long been a melting pot of diverse groups of people since time immemorial. Muslims, Tibetan merchants, and priests from Brahmin communities have peacefully lived alongside local Newars.
"We celebrate major Newar festivals like Ya:Mari Punhi, Sa Paru [Gai Jatra], Siti Nakha, and so on. However, we don't eat buffalo meat nor do we consume alcohol, which Newars do," says Aashish Mishra.
Once migrants from Tirhut—the current Mithila region that is spread from the Indian state of Bihar to eastern Tarai of Nepal—Maithil Brahmins or Tirhut Brahmins are a close-knit community who have assimilated with locals, influencing and being influenced by the Newar culture. Mostly having Jha and Mishra as their surname and having settled in the core areas of the Capital, they come with their own historical accounts of how they settled in the valley.
"The current generations of Maithil Brahmins are descendants of King Harisingh Deva of Simraongarh, who sought asylum in Bhaktapur during the 14th century, after Ghiyath-ud-din Tughlaq invaded the Delhi Sultanate," says Dr Dinesh Raj Pant, senior historian and academician at Nepal Academy.
According to Pant, King Harisingh Deva fled to Bhaktapur with his family, where the King's wife was from. Whether Harisingh Deva died on the way, or lived in Bhaktapur for a while is unclear, but the influence of Maithil Brahmins in Nepal started after the arrival of Deva's family, says Pant.
It is also believed a princess of Bhaktapur married someone from Deva's lineage, which further strengthened relations.
Being well-versed in Vedic knowledge added value for them, and Maithil Brahmins slowly started gaining importance in the Malla courts. "They had huge influence and power during the Malla period and were given the title of Juju Baje, which means king of the priest, in Nepal Bhasa," says Pant.
Until now, some temples, such as Mahalaxmi Temple, Char Narayan Temple, Jaisidega Temple and Batuk Bhairav, have Maithil Brahmins as their priests.
There is also another popular origin story within the Maithil Brahmin community. The tale goes like this: Back then, there was a drought in Kathmandu. In order to solve this problem, the tantriks suggested the king bring a Maithil Brahmin from Tirhut region to perform a yagya, a special ritual. After the yagya, rain started pouring and realising the power of Maithil Brahmin, the king requested they settle here.
"We were told that our ancestors agreed to settle only if they were provided with a place with fished-filled ponds and mango-covered trees" says Nirmal Kumar, Aashish Mishra's father. "The nearest place from the palace that could fulfill the conditions was Maithaltar of Nuwakot and then they were resettled there. Later with time they migrated to the Capital," he says.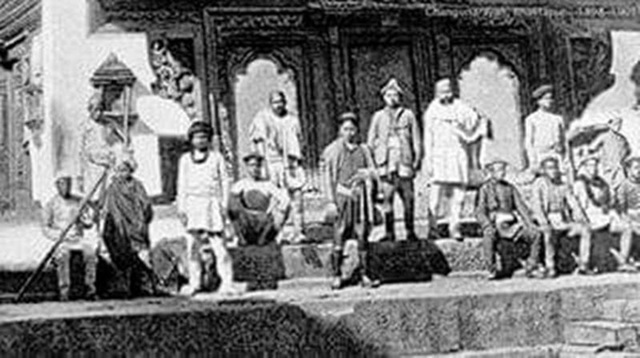 Nirmal Kumar Mishra (Jha)'s father Manik Lal Mishra in the left side of the photo can be seen carrying a stick. He was a police officer during the Rana period. Photo Courtesy: Aashish Mishra
The Newar community, by virtue of their proximity to Maithil Brahmins, had a large impact on their identity. However, the Brahmins made an effort to preserve their identity by practising their own traditions and culture, alongside their newfound ways.
Important ceremonies like bratabandha, weddings and other rituals are followed as per Brahmin traditions, which reflects the amalgamation of both Newar and Brahmin culture in the community.
There is also a practice in the group where the marriage of men are fixed with women of the Tarai region. According to Gauridutt Mishra, chairperson of Nepal Maithil Brahmin Samaj, the practice has been followed by the community members for ages with the intention of preserving both Newar and Maithili culture.
"By maintaining marital relations with people from the Tarai, we are trying to preserve our Maithili heritage,' says Gauridutt Mishra.
It is assumed that this practise will help future generations learn about both Newar and Maithili culture from their parents. Because of this, many Maithil Brahmins, like that of Aashish Mishra and his family, can speak both Nepal Bhasa and Maithili fluently.
But it's not only Maithil Brahmins who have been influenced by Newar culture. They have also contributed in the evolution of Newar culture and its language, art and music. During the Malla period, Maithili was the official language of the court. King Bhupatindra Malla of Bhaktapur also wrote and commissioned numerous plays in Maithili, which reflects the significance it used to hold in Newar art and culture.
Historians also believe it was King Harsingh Deva who had brought the idol of goddess Tuleja —which later became Taleju in Nepal—to the Valley. It is said that the idol of goddess Taleju was later established here in Kathmandu Valley, which was originally kul devta (ancestral god) of Deva's dynasty.
However, now Maithil Brahmins have lost much of the influence they once had.
Currently, Gauridutta Mishra says that there are only 60 households of Maithil Brahmins and most of them suffer an identity crisis, as they don't feel a sense of belonging to any particular
group. Newars don't count them as part of their community, and so these Brahmins question their legacy.
"When I was young, I was confused by my cultural identity. I didn't know whether I could identify as Newar or Brahmin, because in my home we didn't practise a particular culture," says Mishra.
He says though there were no discriminatory attitude shown towards him, many people used to question his cultural identity. "Since I speak Nepal Bhasa in my home, I have a distinct accent like that of Newars. Whenever I used to speak Nepali, people would ask if I was Newar because of my accent, but when I would describe my identity, they would give me a puzzled look, which would sometimes made me question my own identity" says Aashish Mishra.
Father Kumar also faced similar difficulties. "How can someone identify as Brahmin if they can speak Nepal Bhasa? Such comments directed towards me made me question me uncomfortable, as I had very little to show for my Maithil Brahmin heritage," says Nirmal Kumar.
Kalpana Tamrakar, 48, a Maithil Brahmin says that she also faced challenges when she moved in with in-her laws after marrying a Newar. "I was sometimes treated like an outsider because even though I knew the language and celebrated the same festivals in my home, the customs and traditions were different in my husband's home," says Tamrakar. "When I was not able to do the Newar rites and rituals, some of my in-law members, used to pass comments at me for not knowing basic Newar traditions."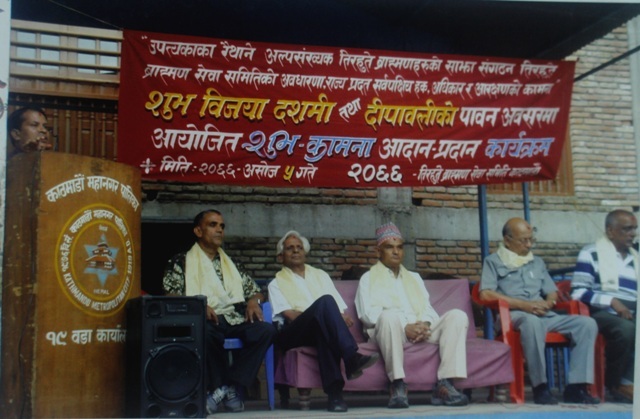 One of the earliest programs organised by Nepal Maithil Brahmin Samaj in 2010. Photo Courtesy: Shreejan Jha
But others have taken this challenge in stride. For Aashish Mishra, his cultural identity crisis forced him to learn more about himself, and his cultures.
"I am thankful for having such a unique heritage. I know so much about both Newar and Maithili culture, which has helped me expand my horizons. I will continue learning from both, which my cultural identity allows" says Aashish Mishra.
Shreejan Jha, a Maithil Brahmin journalist involved with the Maithili Brahmin Samaj, stresses the significance of preserving the unique heritage and cultural identity of his ancestors.
"Our ancestors were brought here by royal dignitaries and had a huge influence in shaping the Newar culture. We need to honour their contribution" says Jha.
---
---