Lok's lok: Exploring an artist's universe
This acclaimed Paubha artist believes there's much more to learn, even after 40 years of painting.

Artist Lok Chitrakar wants people to look beyond the beautiful colours and shapes of Paubha art, to understand it. Beeju Maharjan/TKP
bookmark
Published at : January 20, 2020
Updated at : January 20, 2020 16:23
Patan
It's a warm morning at Simrik Atelier, famed and acclaimed artist Lok Chitrakar's school. His three disciples sit in the front room, working on their paintings, adding colourful hues to their pieces. Their hands move slowly and lightly, but not in languor—this is the very skill that makes their labour-intensive work fine and intricate. It takes months.
Even Chitrakar is occupied this morning, as a customer arrives at his Patan studio to learn about the Paubha artform. It is evident that Lok Chitrakar is immersed in art.
"If you are buying an artwork, you need to be curious about it," says Chitrakar, ushering the customer through his studio. "Don't just look at it as a product, try to understand the value and depths of the artwork."
His studio-cum-school is a world unto itself—it's akin to entering a stark realm, animated by shapes and colour. On one wall, there are big Paubha paintings of Ganesh, Buddha, and many of Chitrakar's unfinished works. The white backdrop makes the colours pop and gives the space vibrancy. At first glance, the untrained eye might confuse the pieces for Thangkas. But these are specific Newar form of spiritual art, originally to create discussion about the stories of Buddhist and Hindu deities. Paubhas usually feature a central deity to tell accounts of morality that tie in with spiritual significance.
When Chitrakar settles down to talk about his journey as an artist, he apologises for being so busy. Speaking to the Post is not an unfamiliar task for him, rather it's yet another instance where a reporter has shown interest and is vying for his time. Many already know silent and peaceful Chitrakar is one of Nepal's finest Paubha artists. His paintings have been displayed in several countries, one being Kanzouin museum in Japan, which houses 125 of paubha paintings to show the journey of various Buddhist deities, and he has won various accolades for his work, such as the Nepal Lalitkala Purashkar and Nepal Rastriya Purashkar.
Even as an artist of his calibre, Chitrakar remains humble. "I'm a self-taught artist, and I had no idea what I was getting into when I started. I was just using the skills I knew to earn money. There was nothing else I was trying to achieve," he says. "I didn't even know that this work was valuable, but there's just so much more that I still need to learn."
His current exhibition, 'Lok', curated by Ujen Norbu Gurung showcases one of his early paintings, of Ganesh, which he did as a 12-year-old. The art is masterful—perfectly capturing the iconography of Ganesh's posture—and does not look like a piece done by a hobbyist—a testament to Chitrakar's early proficiency.
For Chitrakar, his journey as an artist unravelled, rather than coming as a result of an ambitious master plan; one decision led to another and, from there, another.
"When my father passed away, my cousin took me to work at a place in Patan to make paintings," says Chitrakar, recalling his old days with a nostalgic smile. Chitrakar spent hours in the studio with other senior artists making copies of images the employer used to assign them to sell to tourists. Later, he kept doing the same kind of work, but for a former co-worker.
"There was no value in art or creativity, what I did initially was mass-produced artworks for commercial value," says Chitrakar.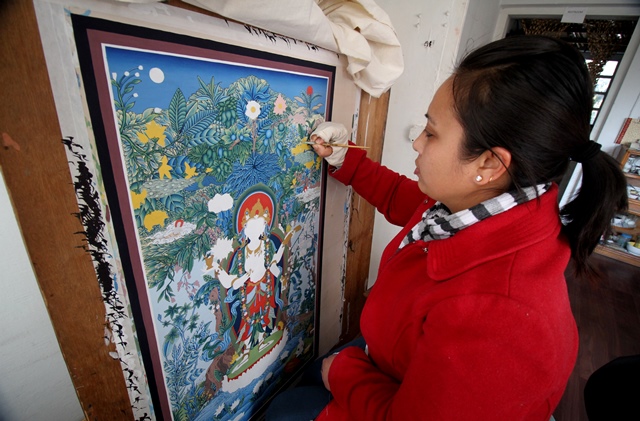 Beeju Maharjan/TKP
As years passed and as people started appreciating his work, Chitrakar found himself growing attached to the meaning behind his creations—he felt he had to understand the philosophy behind what he was depicting. As a result, he found himself reading and discussing spiritual anthropology with researchers and cultural experts.
"After learning the philosophy of deities I had painted in the past, I have also gone back to those works to make corrections," says Chitrakar. "That is why our research and creativity matters."
To portray the gods' tales, artists give detail to stories and characters through various metaphorical elements, which can represent diverse emotions. It's a very different process to the style that he started off doing.
For instance, in his painting of Cintamani Lokesvara, which has a Rs10 million price tag in his current exhibition, the bodhisattva in the artwork is seen handing over a flower from a Kalpavriksha tree (a wish-fulfilling divine tree) to a commoner. Next to him, Tara, the female consort of the bodhisattva, is seen doing the same "Along with other characters, I have also painted a Tara with the bodhisattva to show love and compassion. There are layers of information and metaphors representing various traits of the Lokeshvara's story," he says.
And that is possibly reason Chitrakar hopes customers understand the work on more than just face value. "You can purchase prints of Paubha anywhere today, but if you are to value the artwork, both the artist and the viewer need to study and understand the stories of the deities in the paintings," says Chitrakar.
The 59-year-old has gone through a lot to understand the significance of his work, but when he saw his own work accredited to someone else, about 20 years ago, he learned a hard lesson.
"I felt betrayed; it was a lesson for me from life. A person to whom I had been selling my work had been claiming my work as his. I haven't seen him since, but such experiences have thickened my skin," he says, reflectively.
These days, Paubha and Thangka shops in Thamel sell various mandala and Lokeshvara paintings as souvenirs to tourists, luring them with the declaration, "This is Lok Chitrakar's brilliant work."
"One time when I accompanied a friend to a Paubha shop in Thamel, the shopkeeper kept trying to persuade us to buy a painting saying it was my work," says Chitrakar, laughing about it. "Of course it was not my painting, but he had no clue that it was me who was standing in front of him."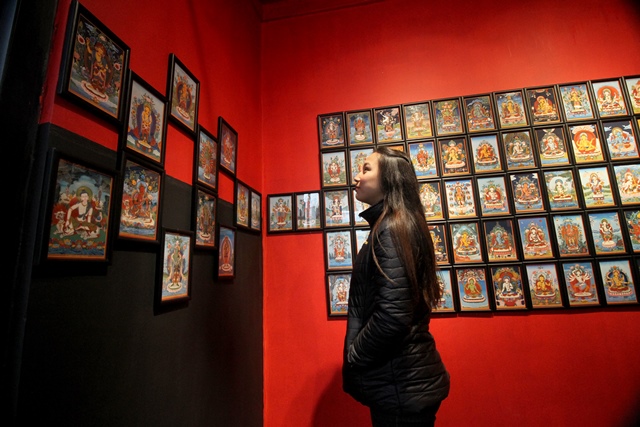 Beeju Maharjan/TKP
While Chitrakar is acclaimed for his works, and has done more than a dozen exhibitions, he now understands why an artist needs exposure. Equal to that is the necessity to continue working on one's skills—even today he hesitates and questions himself before putting up works for the public to see.
"Exhibitions are quite important for artists, and that is why we must offer something different to the audience to enjoy," says Chitrakar. "Ujen had been talking about doing an exhibition with me for many years. However, I felt like I didn't have much to say. But because now feels the right time, I agreed to showcase 108 Lokeshvara prints."
The exhibition 'Lok', which means universe in Nepali, doesn't just illustrate the journey of the Lokeshworas (lords of realms) but also celebrates Chitrakar's dexterity and dedication through the years. Despite his humility, his work emits a feeling of satisfaction and gives a glimpse of the artist's soul—one who wants nothing to do with the public's perceived notions of achievement, and only wants to continue learning.
His continued and steadfast undertaking has made him one of the most sought after Paubha artists. Now many contemporary young artists are fusing new ideas to the traditional artform, which Chitrakar believes is logical for the artform's progression. "There's room for novelty, so long as you are following the ground rules," he says.
Since he was as young as his students, Chitrakar has had to jump many hurdles. He didn't receive formal training, he had to make ends meet, and never really had finite plans as an artist. But he no longer needs to bear financial pressures he once shouldered, he is now focused on teaching the next generation. All he asks of his students is dedication, as he paints and continues to teach them for the love of the artform.
"In the early days, my artworks were a means to earn a living, but today devoting my time in Paubha painting makes me happy and content," he says. "And I hope people to experience the same when they see my work."
'Lok' will be displayed until February 9, in Kathmandu Art Gallery, Le Sherpa.
---
---