The lieutenant's restaurant
The story behind how one retired army man built a political and literary hub during the Rana and Panchayat regimes.

The street of Dillibazar in 1966 where Laptan ko hotel was located. Photo courtesy: Dr Wolf Donner/nepal-dia.de
bookmark
Published at : January 9, 2020
Kathmandu
Every day, Krishna Bahadur Khatri Chhetri would reach his eatery by five in the morning, and at seven, after making all the preparations for the day, he would fling open the doors, welcoming all customers.
Chhetri was set on making a profit and could not afford to miss out on any customers, who came to his eatery in large numbers. Even as he began taking the first orders, conversations would slowly rise among his customers.
Customers at Chhetri's eatery, known colloquially as 'Laptan ko hotel' and located in Dillibazar, discussed political events and literature, and planned courses of action. This being the Rana years, there was little freedom to openly discuss politics, but Laptan ko hotel provided one such avenue.
Among the hundreds that patronised this little eatery in its two-decade of existence were writers like Laxmi Prasad Devkota and Bhupi Serchan, and political leaders like Tanka Prasad Acharya and Pushpalal Shrestha, and many others who would go on to leave a mark on the political and literary history of Nepal. Indeed, starting in the 40s, this eatery gained fame as a hub for politically conscious young people and literary personalities during the Rana and Panchayat regimes.
Given the kind of people who patronised this eatery, its story remains well-documented in Nepal's political and literary history. Chhetri too is well remembered by the hotel's patrons as an enterprising man with business acumen who took courage in running such space during repressive regimes.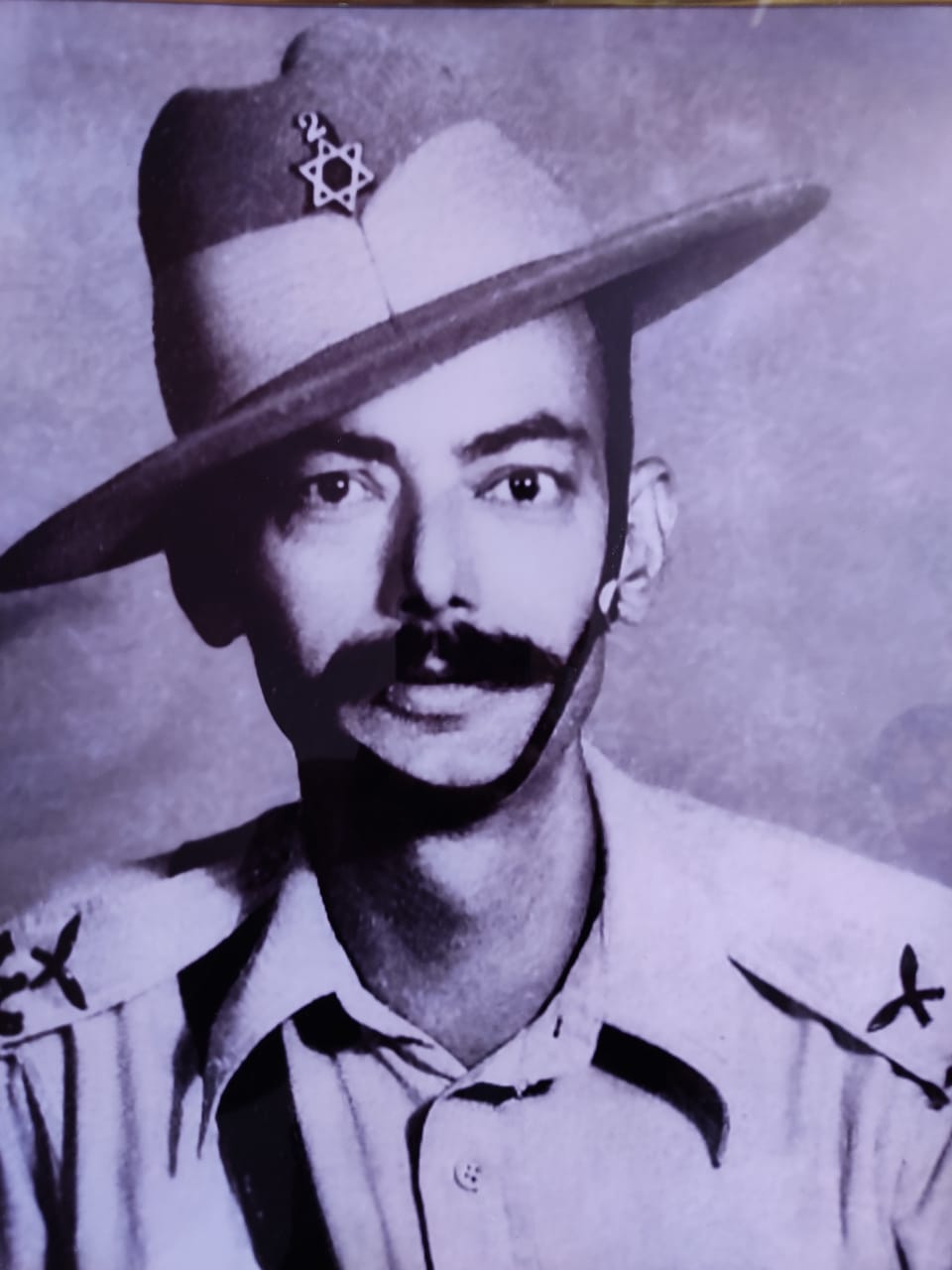 Krishna Bahadur Khatri Chhetri, also known as Laptan sa'ab, in military uniform. He retired as second lieutenant of Nepal Army. Photo courtesy: Bipin Paudel KC
Laptan's origins
Chhetri was a 48-year-old retired second lieutenant from the Nepal Army when he decided to open up a restaurant of his own. As a man of entrepreneurial spirit, he had no plans of operating a clandestine restaurant for political and literary figures—he just wanted to make a profit, according to Bipin Paudel KC, Chhetri's grandson.
According to KC, his grandfather wanted to increase the prospects for profit by offering something unique. Chhetri, who was referred to as Laptan sa'ab after his military rank, had long been among a group of soldiers who stopped for tea at Tilauri Maila and Kancha dai's tea stall in Dharahara after parades at Tundikhel. At this stall, which was then among the most popular places selling tea in Kathmandu, Chhetri saw how the proprietors were profiting from Kathmandu's growing love affair with tea. He also saw, said KC, how this drink, which was then fairly new in the city, drew together politically conscious individuals to gather and engage in conversation. Chhetri decided that he too would sell tea in Dillibazar.
"Dillibazar was the centre of Kathmandu, where the politically conscious, educated class lived," said 86-year-old writer and historian Arbind Rimal. "It was one of the most populous localities in Kathmandu, home to middle and upper-middle classes and most vibrant in terms of politics, literature, sports and cultural activities. Laptan must've calculated that in Dillibazar he'd have access to people who would not only be attracted to the idea of drinking tea, but also be able to pay for it."
Chhetri was right, the residents of Dillibazar were looking for just that kind of place. Poet Pushkar Prasad Lohani, who is now 81, grew up in Dillibazar and frequented the eatery as a teenager. Just around where Laptan ko hotel first came up, there was a small shop that sold chatamari and another that sold halwai sweets. But there was no place that sold tea, he said.
"Every morning, locals gathered in that chatamari shop to discuss politics," said Lohani. "But there was no place that offered tea, so Laptan grabbed this business opportunity."
Rimal describes the restaurant in his essay 'Dillibazar ko Laptan ko hotel' as being on "the ground floor of a simple-looking house with a tiled roof, along the main road on the way to Putalisadak from Dillibazar". Chhetri had stuffed a few tables and chairs in the small room. In one corner, he placed a stove where he prepared a small menu of aloo tarkari, chana, chiura, biscuits and tea.
Chhetri had registered the eatery as Amrit Bhojan Griha and even put up a signboard with that name, according to documents that his grandson has preserved, but so imposing was his identity as an army man that it became known as Laptan ko hotel.
The 40s were a politically charged time in Nepal, with burgeoning anti-Rana movements led by clandestine political parties like the Praja Parishad, Communist Party of Nepal and the Nepali Rastriya Congress. Against this backdrop, just like Chhetri had anticipated, customers started flowing in, with most of them asking for tea that he offered at five paisa per glass.
"Before long, Laptan ko hotel became a popular meeting hub for the conscious youths of Dillibazar," writes Rimal in his essay. "In fact, there were uninterrupted gatherings happening from seven in the morning to seven in the evening. […] Here, politically conscious local youths […] engaged in political discussions in symbolic language."
As a meeting place for the politically conscious, the eatery naturally became a space for discussions centred around ways of directly and indirectly mobilising the youths for political change. Here, youths formed the Nepal Cultural Association which, according to Rimal, played an important role in political awareness through cultural and sports activities, and the Pragatisheel Adhyayan Mandal, an organisation that motivated youths to read and discuss 'progressive books' to draw them towards the nascent communist movement.
These youths also planned more direct action. One of these, Rimal writes, was an "influential strike" led by students from Tri Chandra Campus during the reign of Padma Shumsher in 1947.
"Almost all students who had become regular customers at the hotel participated in the movement," he writes. "When the student protest rally that began with placards from Tri Chandra Campus reached Padma Sumsher's palace, he […] ordered his subordinates to release non-violent protesters and soon introduce reforms."
Despite these political happenings, Chhetri focused on his business. For him, compared to the numbers in his account book, all political and literary activities seemed mundane, and so, seated on a wooden chair behind the counter, he was mostly engrossed in his finances.
"Tall and well-built, large eyes and a thick moustache that curled upwards, and always donning his green overcoat, Laptan sa'ab sold tea in full military-style," said Rimal. "In that simple hotel, his appearance naturally stood out as striking for the customers, and it was made somewhat mysterious by the fact that he spoke very little and always dealt with customers with a friendly face. This worked to his business advantage."
In time, with his hard work and business acumen, Chhetri succeeded in not only expanding his business, but also increasing its fame as a space for political and literary meetings.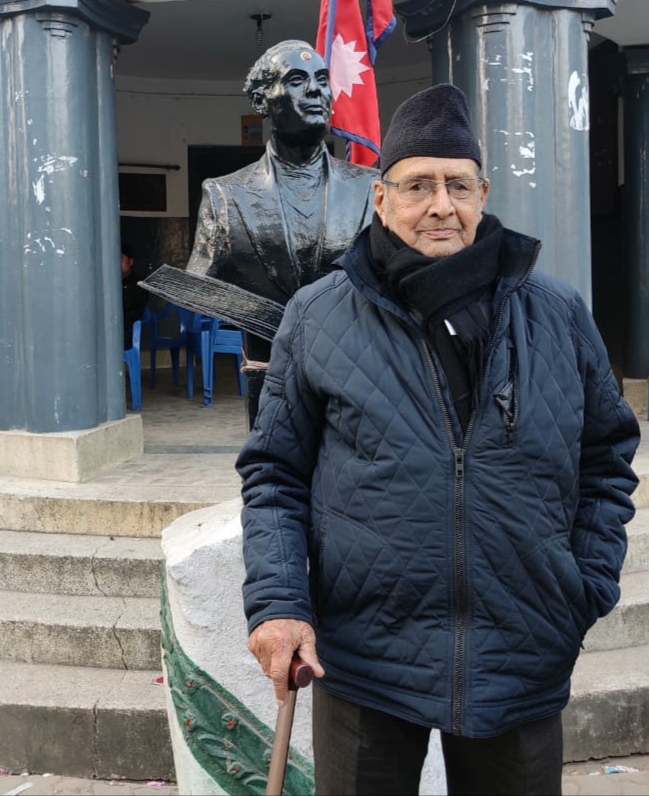 Historian and writer Arbind Rimal was a regular at Laptan sa'ab's eatery. He authored the collection of essays 'Dillibazaar ko Laptan ko hotel.' Photo courtesy: Surendra Bajagain
New locations, new politics
Laptan's hotel showed visible signs of progress when he shifted his shop to more spacious spaces in the same locality—first near the Padma Kanya School sometime after democracy in 1951, and then a few years later, to two floors in 'Labajung ko taharo', the home of Labajung Thapa located at Dillibazar chowk, where the road turns towards Kalikasthan.
Chhetri would employ his business acumen to introduce several measures to attract more customers to these new spaces. Rimal writes that more items appeared on the menu, including kebabs. And while the price of tea went up to 10 paisa per glass, the businessman made sure to keep his customers happy by paying heed to their requests to offer half a glass at 5 paisa.
According to Lohani, Chhetri cashed in on his customers by offering separate menus, focusing on tea, bread and biscuits in the mornings and vegetable curry, meat and snacks in the afternoon. But Chhetri was also generous in allowing credit, as he considered it an essential part of the business and vital to ensuring a regular flow of customers, Rimal said.
With these expanded spaces, Laptan ko hotel assumed a character more akin to "a local tea shop in Calcutta whose main function was to serve as a venue for political and social subjects," writes Rimal.
Political and literary gatherings only increased in size and frequency.
"The ground floor had a counter and kitchen and a few benches for customers. The stairs led you to the first floor, which was very large and spacious. There, you always saw groups of politicians, literary personalities and youths, seated on stools, drinking tea and engaged in heated discussions on politics and policies, society and literature," said Lohani, recalling the heyday of the restaurant.
From these new locations, youths associated with the Nepal Communist Party planned and executed protests by showing black flags against Indian Prime Minister Jawaharlal Nehru in 1951 and the Indian parliamentary delegation in 1954 during their visit to Nepal, for what they saw as India's undue influence on Nepal's internal affairs.
And, after King Mahendra introduced Panchayat in 1960, "albeit in small sounds, discussions of this political accident continued happening at this hotel".
"It is from Laptan ko hotel that youths left for Singha Durbar when Dr KI Singh led a coup in 1952 that lasted for two days," Rimal said. "When the revolutionary peasant leader from the Far West, Bhim Dutta Panta, was killed in 1953, it was as if the gatherings at this hotel felt his blood right here and engaged in heated discussions for days. And when Tenzing Norgay scaled Mount Everest the same year, we celebrated the historic moment. No topic of national importance was spared from discussions at Laptan ko hotel."
Tanka Prasad Acharya, Kirtinidhi Bista and Manmohan Adhikary, all of whom later became Nepal's prime ministers, and other notable politicians including Surendra Singh KC, Yadav Prasad Pant, Singha Pratap Shah, Top Bahadur Basnet, Ramhari Sharma, Chuda Prasad Sharma, Pushpalal Shrestha, Tulsilal Amatya, Shailendra Kumar Sharma, and Shambhuram Shrestha all came to Laptan ko hotel to discuss and share their ideas.
Alongside these political personalities, writers and poets like Shankar Lamichhane, Bijaya Malla, Shyam Prasad Baisnav, Mohan Koirala, Nagendra Raj Sharma, novelist Daulat Bikram Bista, Bhawani Ghimire, Liladhawj Thapa, and Madan Mani Dixit all came to drink tea.
"Seated at this hotel, Janakavi Keshari Dharmaraj Thapa would sing his patriotic folk songs to his well-wishers" writes Rimal, while Bhupi Sherchan practised reciting poetry "in his soft, poetic voice, the ambience and tea at this place."
But the giant among all customers, according to Rimal, was Laxmi Prasad Devkota, who came for the chiura and goat meat, one of his favourite delicacies, and of course, the tea.
Despite his focus on his business, it was not possible for Chhetri to remain unaffected by the political and literary happenings taking place at his eatery. Recalling what he had heard from his father, KC said that catering to Nepal's political and literary scene certainly added more prestige to his grandfather's already vaunted social status as a retired military man. His grandfather felt particular pride in being close to so many changemakers. And often, after returning home, he would recount to his family the events of the day, any notable people who had come, or anything interesting that had happened.
Most notably, Chhetri prided himself in his bond with Devkota.
"For Devkota, the eatery became something like a second home, where he stopped by every day to and from the office," KC said. "He'd take off his overcoat, hang it beside the counter and order his favourite goat meat and chiura, and tea. Other times, he'd simply chat with grandfather. He was so regular that sometimes, his tuition students came looking for him there, and Devkota would start giving them lessons right there on the table."
In the Laptan, Devkota found a kind ear to his small complaints and daily woes, according to KC.
"These complaints were mainly about his wife, who he called bajai," said KC. "'Bajai did this, she does that,' Devkota would tell my grandfather."
But being a popular space for political and literary figures, the eatery also invited attention of a different light, which worried Chhetri.
According to Rimal, Laptan ko hotel garnered a reputation similar to that of Lucknow Coffee House or Delhi Coffee House, which were meeting points for democratic freedom fighters during the British rule in India. At a time when even the mere gathering of people in one place aroused suspicion, the regular meeting of political figures and writers was clearly illegal and, in Rimal's words, "These "illegal activities" came under the purview of the Rana regime's intelligence department."
In fact, it was because of the Rana regime's intense surveillance that BP Koirala did not visit Laptan ko hotel, said Rimal. Rather, he disguised himself as a pundit and went to Tilauri Maila's shop, which was lesser known for political discussions.
Indeed, it gained so much notoriety in the eyes of the rulers that during his direct rule in 1956, King Mahendra issued a decree to high-level government officials to not visit Laptan ko hotel, writes Rimal in the essay, quoting Lohani.
Whenever agents or spies had queries for Chhetri, the quick-thinking businessman always had witty replies.
"'For me, they're all customers, I don't know what they talk about. What I'm concerned about is my business,'" Rimal quoted Chhetri as often saying. "Given the kind of man he was, that's what he would've replied to any spies or unusual persons that came to the place and they were aplenty."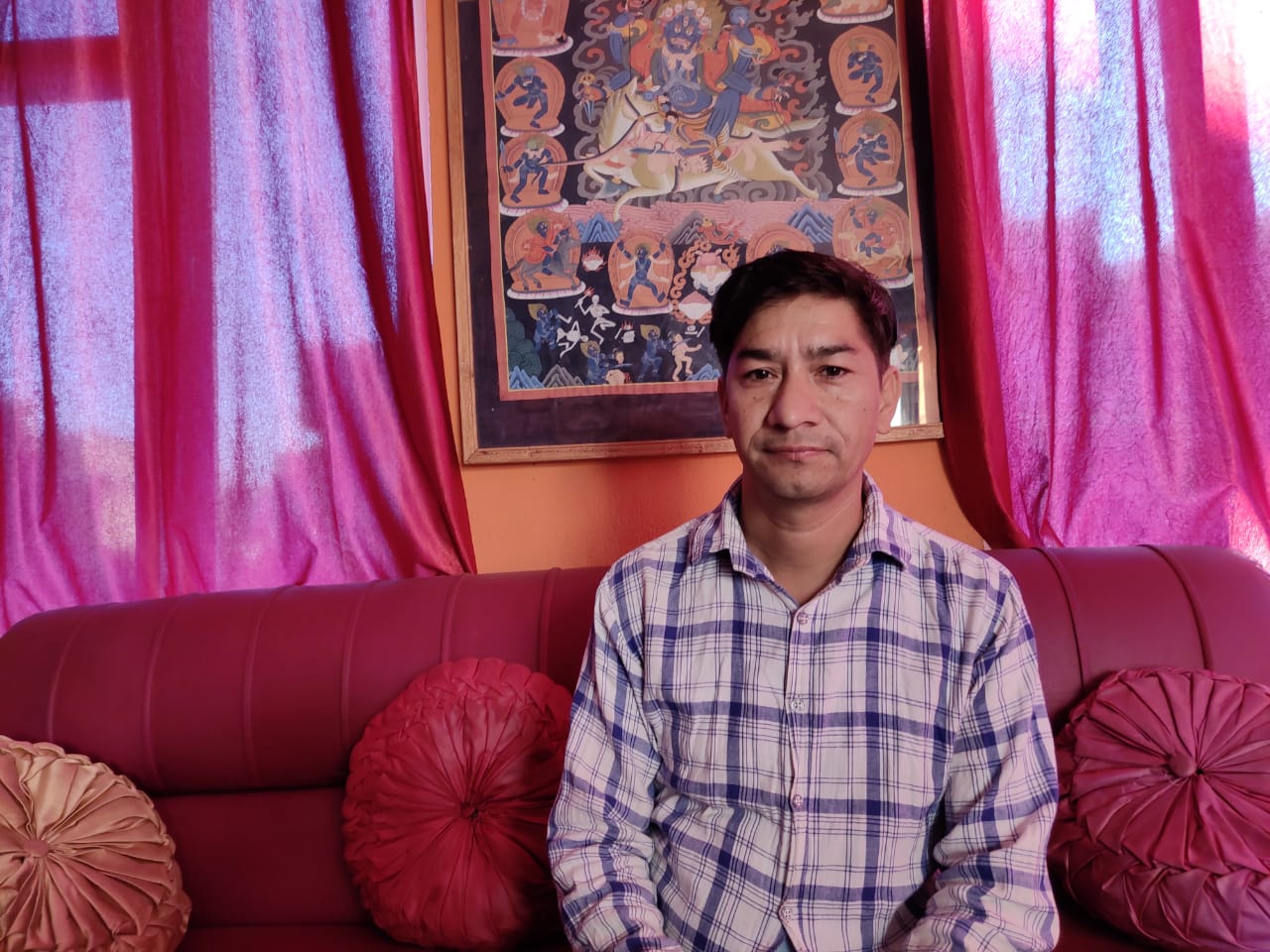 Krishna Bahadur Khatri Chhetri's grandson Bipin Paudel KC at his home in Mid-Baneshwor. Photo courtesy: Surendra Bajagain
Laptan's final days
But by the time the eatery relocated to Labajung ko taharo, something other than spies and surveillance began to worry the Laptan.
Chhetri, who had been generous with giving credit, now found himself drowning in unpaid dues. Ultimately, these dues led to financial problems that in turn led to his deteriorating health.
"Dillibazar locals mostly ate or hosted their guests on credit," Rimal writes. "Yes, credit is also a part of business. […] But conducting business requires money today. Laptan Kaji couldn't remain unhappy from this current circumstance. Perhaps that's why he'd be seen raising both his hands, palms turned, up to his waist, carrying a grim expression on his face."
Rimal later learnt from Chhetri's son that the "inability of those who ate on credit to pay took its toll on Laptan's financial and, due to this, his physical health."
Chhetri died in 1959 at the age of 58, effectively marking the end of Laptan ko hotel. His son, Dev Bahadur KC, attempted to run the eatery for five months but gave up and rented it out to Ram Sharan Shrestha, a local from Bahakha Bazaar in Thimi for Rs 50 a month, according to an agreement paper the two reached.
"This new man couldn't do very well," Lohani told me. "He dropped many items on the menu, and focused instead on jeri and tea. It might be coincidence, but fewer young people and intellectuals from political and literary scenes came to the eatery now."
As Rimal writes, "[in Laptan ko hotel] there was no longer the attraction to drink tea or eat delicious meat and chiura. The hotel itself was taking the last breaths of its existence."
Laptan ko hotel shuttered its doors in the late 1960s. The impact of this hotel and its owner would, however, endure, just as Rimal states in his tribute to Laptan and this place:
"When we read about other countries, we learn about how courageous works were done, and innovations were created in politics, literature, arts, science, sports by meetings in venues similar to Laptan ko hotel […] Nepalis can say without hesitation that this hotel too played a similar role."
---
---