A new moon in Patan invites awe—and allegations of plagiarism
Artist Milan Rai's giant inflatable moon at Patan Durbar Square has been plagiarised from UK artist Luke Jerram's work, artists say.

(Left) Luke Jerram's 'Museum of the Moon,' a touring art installation that started in 2016, and Milan Rai's 'Lunatic,' which was exhibited on Sunday in Patan Durbar Square. Remshuwntima/Creative Commons & Sanjog Manandhar/TKP
bookmark
Published at : December 23, 2019
Updated at : December 23, 2019 19:40
Lalitpur
The moon descended to Patan Durbar Square on Sunday. A massive inflated plastic moon was perched in between the monumental temples at the Kartik Dabali, drawing crowds of locals and curious onlookers.
Artist Milan Rai's conceptual artwork, titled 'Lunatic', invited people to touch the object and explore it.
For the local community, Rai's installation was certainly something new and astonishing. But Kathmandu's artist community quickly realised that Rai might not have come up with the idea all by himself. Numerous parallels were drawn to UK artist Luke Jerram's 'Museum of the Moon,' which is a touring art installation that places a similar moon in public spaces. Jerram's tour started in 2016 and features NASA imagery of the lunar surface.
By Monday morning, photographs from Jerram's installation alongside those of Rai's installation were already making the rounds on social media. Even those who had posted multiple selfies with the inflated moon on their social media accounts the night before expressed shock at Rai's alleged plagiarism.
"If you see the photos, it should be (like a friend stated)—art by Luke Jerram, installed by Milan Rai," wrote Alok Thapa, a filmmaker, and TV producer, on Facebook.
However, Rai, who is known primarily for his installation of butterfly cutouts on public spaces around the world, insists that his installation is different.
"I am familiar with Jerram but my work has a different context," said Rai. "The idea was to bring art to the people, make it accessible and create a public experience. Therefore, I chose an object that everyone could understand, something not abstract and easily recognisable."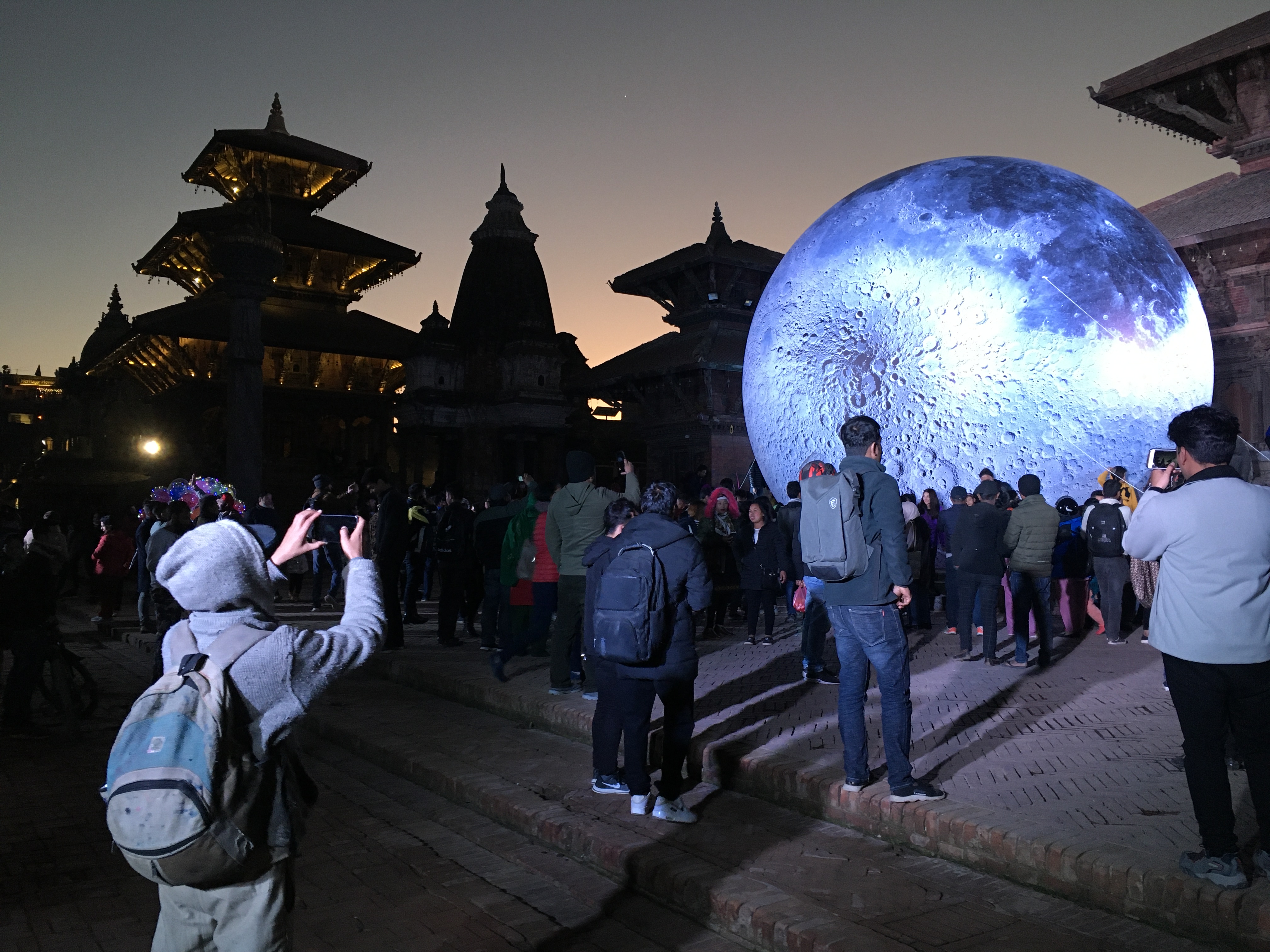 People taking photos of the moon-printed balloon at Patan Durbar Square. Srizu Bajracharya/TKP
The art community, however, is unconvinced.
"It is a plagiarised work," said Sujan Chitrakar, an artist and former head of the art department at Kathmandu University. "By putting it out there for people to see, he [Rai] was also undermining the knowledge of Nepali viewers."
As photos of Jerram's installation spread over social media, some people dug even deeper and found that similar inflatable rubber moons can be purchased on Alibaba, the e-commerce platform, for as little as $50.
Rai too obtained his inflatable moon from China, he said.
He had tested the 3D impression of the moon in a round plastic balloon in Guangzhou, China for its placement in Patan Durbar Square and although he didn't build the moon-shaped balloon, he conceptualised the installation, he said.
"Nobody owns the moon," said Rai in response to the social media uproar over his alleged plagiarism.
On the day of the installation, the plastic balloon took about two hours to be inflated, and when night fell, various spotlights were directed at the ball to make it glow. It definitely provided a different sight for visitors passing through Patan Durbar Square, but as art, it doesn't respect the value of intellectual property, says Chitrakar.
"If we don't call out malpractices," he said, "anyone can come and show someone else's work and call it their own."
---
---