Here's what you need to know about Charya dance
Once a sacred dance form, Charya has become more accessible, reaching more communities.

Charya dance is a meditational dance form that tells stories of the inner qualities and awakening of Buddhist deities. Photo courtesy: Charya Nritya Prashikshana Kendra Vajra Kala Kunja
bookmark
Published at : October 24, 2019
Updated at : October 24, 2019 11:06
Kathmandu
In one of the old vacant rooms of the Maitri Bodhisattva Mahavihar (Jamo Baha), Jamal, young Charya dance students rummage through their plastic bags to set up for their daily prayers. Each has a brass plate in which they carefully organise the ritualistic elements of their puja. The plates include incense sticks, rice, yellow and red vermillion powder, water in a conch shell and a butter lamp. The students then spread a red cloth the size of a big handkerchief over the floor and draw a mandala—nine circles inside a triangle. Peculiarly, this is not an invocation session, but just a 10-minute orison before they begin Charya dance lessons.
"They are making the dharma dhatu mandala, the philosophical representation of how the universe functions, as Charya dance is a spiritual dance form that conforms to a discipline; we cannot start dancing without worshipping the mandala," says Yagya Man Pati Bajracharya, the dance instructor. "And this is the foundation of the dance."
Charya dance is an ancient dance form that used to be exclusively performed by Bajracharyas within the Newar community. Once on the verge of extinction, the traditional dance seems to have attracted an upsurge of students lately. But it wasn't just a lack of interest from the young dancers that pushed this artform to the sidelines, its deep roots to religious and cultural values and unwillingness of the community to share it with wider society can be blamed too. In recent years, however, the dance form seems to have transcended its community and has become a relatively accessible artform.
"I got to learn this after a lot of convincing, and being in service to my teachers for years before they finally agreed to teach me the dance," says Chandraman Munikar, now a charya dance teacher himself.
Growing up in Kathmandu's core, Munikar was always passionate about dance and used to perform in cultural shows. When he came across Charya dance, he started looking for a guru to teach him. Little did he know it was strictly restricted to Bajracharyas. But when he refused to give up, Ratna Kaji Bajracharya finally agreed to take him in as a disciple in 1983. His guru happened to be his father's friend, which may have helped.
But Bajracharya says the origin of the dance may have made Bajracharyas protective of Charya. It dates back centuries, when Bodhisattvas, people on the path to Buddhahood, travelled to spread Buddha's teachings.
"It was impossible for people to read long scriptures of the Buddhist philosophies, so to impart their knowledge, they started singing the philosophies, and called it Charya geet," he says. "But they soon realised, that too was not able to attract people. So they started performing the song in mudras, and that became Charya dance."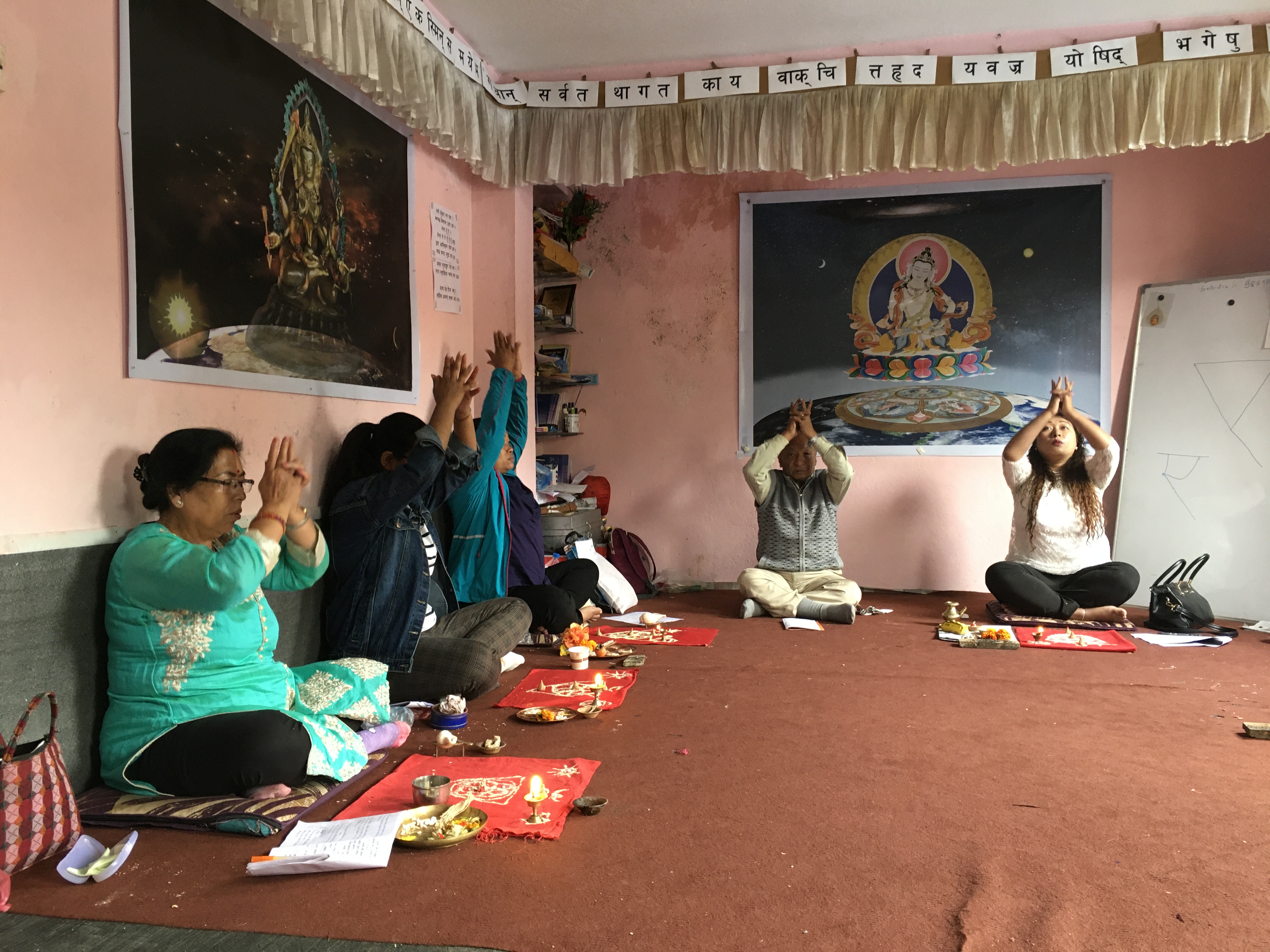 Srizu Bajracharya/TKP
In the beginning, the knowledge of Charya, however, was open to anyone who wanted to learn the dance. 'Bajracharya' was a title given to avid learners rather than the current form, which represents a caste within the Newar community. But when that shift became more pervasive, the accessibility of the dance became more confined.
This gradually led to the dance only being performed inside the esoteric chambers, as part of religious rituals in front of a sacred community.
"I think it became a secret because people made it so. The early teachers of the dance were worried that people would take the dance in a negative way," says Bajracharya. "There are dances where the performers show intimate mudras, but there is meaning to it. But if a layperson views the dance without understanding its intricacies, they may perceive it as vulgar."
In order to preserve the essence and sanctity of the artform, teachers decided to keep it within the confines of a particular group. This, in turn, became more of an idiosyncrasy in years to come, rather than just a disciplined pursuit. As much as religious and cultural values do not restrict it to certain community, learning Charya dance for many beyond the Newar community became even more challenging.
"There were no teachers at all and we didn't really know about it; but Charya dance was part of our dance course in college and that's how I started on this journey," says Manju Ale Magar, who was introduced to it during her time at Padma Kanya Multiple Campus in 1998. "However, it wasn't that detailed, we were just learning dance steps there," Magar says.
This limited exposure of Charya to the wider community restricted the growth of the tradition, according to Munikar. With not many aware of the dance, its religious and cultural significance, Charya was slowly withering. Many in the Bajracharya community, who were adamant about preserving the sacredness by not sharing it with others, weren't interested in this artform, which was costing the dance's very existence. During the 60s, this became more prominent as the younger generation were more drawn towards western influences and weren't keen on carrying the tradition forward.
It was then that the Bajracharya community realised the importance of teaching the spiritual dance to young people who were interested in learning the dance form. "Had we continued in the old ways, we probably wouldn't have been able to conserve this spiritual dance," says Bajracharya.
He has taught more than a hundred students, he says, who are not particularly from Bajracharya community. And not all of his students who come to learn the dance form aim to be performers either.
One of his students, Binita Magaiya, who is a member of the team working to reconstruct the historic Kasthamandap, says she joined Bajracharya's Charya lessons in order to learn about the spiritual significance of the historic architects. A conservation architect by profession, she wanted to understand the link between the tangible and intangible heritages.
"While designing monuments, I realised it is important to understand the culture's history and its usage in those monuments," says Magaiya.
But learning Charya dance requires a lot of commitment. According to Bajracharya, Charya dance itself is considered as meditation and hence, it's not just the steps that dancers are learning to perform, they are also practising to be the vessel of the divinity they represent in various dances.
Each Charya dance also tells the unique stories of different Buddhist deities. Charya dancers also reflect inner qualities and awakening of a Buddhist deity through their dance. For example, Manjushree dance tells the story of how Manjushree created Kathmandu Valley and is rather slow-moving than other Charya dances. And while Bhairav dance imbues the rage and is fast with its steps, the mudras used in Lokeshwor dance are gentle and steady and thus feels soothing for both dancer and the audience.
In order to find middle ground between conserving the artform and preserving its sacredness, the dancers and their teachers have come to a compromise. Charya dance continues in two parts today: one that are still performed sacredly inside esoteric chambers and the other that are open to the public.
But apart from its underlying philosophy, what had also equally obstructed the dance from reaching more communities was the fact that the dance cannot be taken professionally or as a means of survival.
"There is no gain from it except that experience of divinity when we are performing the dances. It is extremely important to continue on this road of conserving the art form, however, things haven't been favourable," says dance teacher Munikar.
But venerated teacher Bajracharya is adamant the dance can't be a means to making money. "Charya is different from other dance forms. It's not just a dance, it is a way of life and a personal fulfilment rather than a means to an end," says Bajracharya, who has been teaching Charya dance for twenty years at his home.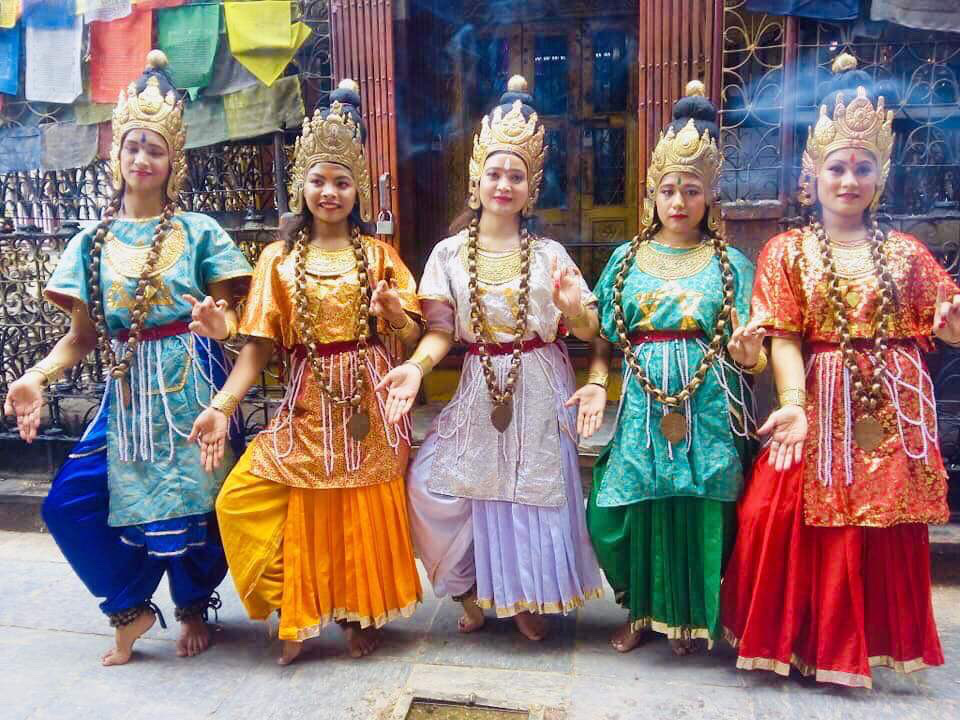 Photo courtesy: Charya Nritya Prashikshana Kendra Vajra Kala Kunja
But Prerana Bajracharya, another Charya dancer, believes not taking the dance forward professionally is obstructing the continuity of the tradition. "It's an old concept to think that the dance should only be practiced spiritually," she says. "For it to evolve, it needs professional exposure, only then the dance form will be sustainable. But I am sure the young will change their ways ahead."
While Charya dance has deep rooted connections in Buddhist philosophies, younger dancers seem to be keen on separating the philosophy from the artform. Even though the importance of its continuity may have taken precedence for now, the dancers still seem to sit at a crossroads when it comes to its sustainability versus nobility.
Tara Manandhar, a dance teacher at Padma Kanya Multiple Campus and Srijana College of Fine Art, takes Charya in the traditional sense, but understands things will always evolve and change.
"While I learn the dance and practice philosophy for myself, I understand that what I teach my students is just one of many dance forms," she says.
---
---