This monastery in Chobhar provides shelter and education to impoverished girls from Humla, but not everyone wants to be a nun
Girls as young as 10-years-old are dropped off at the Sulakshan Kirti Vihar for better education by their parents, but a monastic life is expected of them.

Morning hours are devoted to learning teachings of Buddha. In the afternoons, however, the children from Humla are homeschooled in various academic subjects at the Vihar. Beeju Maharjan/TKP
bookmark
Published at : October 5, 2019
Kathmandu
It's mid-afternoon, and eight little girls from Humla are busy learning to weave proper sentences from a grammar picture book at the Sulakshan Kirti Vihar, a Theravada Buddhist monastery in Chobhar.
In matching maroon robes, the girls sit together on a long bench, immersed in their writing tasks. Their notebooks are filled with Nepali and English translations of words for easy understanding, such as 'there' for 'tyaha' and 'good' for 'ramro'.
"They are fast learners and they are quite eager to learn. They can already recite half of the hymns for the monastery's morning prayers," said Sangeeta Shah, a volunteer teacher with the monastery.
There are numerous monasteries like these across Nepal, where children live as monks and nuns while getting a Buddhist education. The practice has become a refuge for many children from impoverished families from far-flung regions like Humla. The eight children from Humla, all of whose families struggle to earn enough money for the basics of life, are today getting better opportunities for education. While their parents hope to secure their future with monastic education, there is a cost—monastic vows that the children need to follow throughout their lives.
This is the second time that the Sulakhan Kirti Vihar is training children to be nuns. The first time was in 1998 when they had taken in nine children from underprivileged families under their monastery to train them as nuns.
"There were only three subjects in our school—Nepali, optional English and compulsory English. But we didn't get to learn much as the teachers sometimes wouldn't come to school," said 11-year-old Tara Devi Sunar from Pyusa in Humla, who previously studied at the Shree Kailash Aadharbhut School. "But here we get to learn grammar, maths, English and Nepali, and we also get to play."
Sunar and her two sisters arrived in Kathmandu in April with their grandfather and were immediately enrolled in the monastery. Today, she and her sisters follow a rigorous monastic schedule that includes long prayer and study hours.
"It feels pleasant to meditate. In the beginning, it was difficult for me to concentrate but now I can focus on my breathing," said 10-year-old Hiru Jaisi, another child from Humla. The eight nuns-in-training meditate and chant prayers for an hour, twice every day.
While the children seem to be enjoying their studies, they're not old enough to understand what being a nun entails, say the monastery staff.
"They probably don't understand what being a Buddhist nun means, but for their future, this was the best option. They get to study and eat healthily," said Gagan Prasad Jaisi, elder brother of Heramaya Jaisi, another child nun at the monastery. Jaisi previously worked as a cook at the monastery, where he realised that it could help improve the lives of many children from Humla. For families like his, monasteries like these are places of security as their siblings and children get free education, meals and a safe place to live.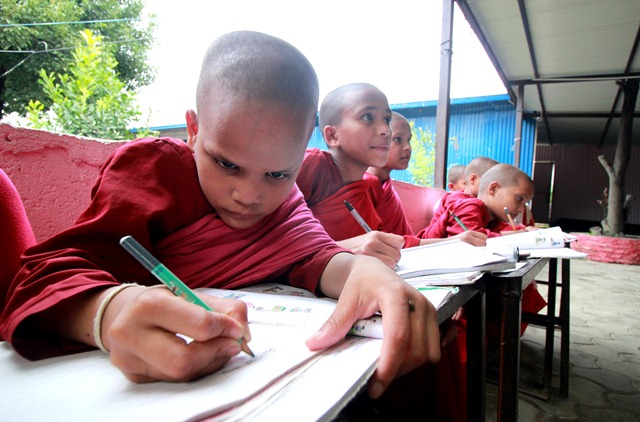 Beeju Maharjan/TKP
On Saturdays, when visitors arrive at the monastery for prayer and meditation, the dedication of the eight children is a highlight. For many guests, their sincerity in Buddhism is stimulating.
"It's inspiring to see the young girls from Humla reciting hymns and practising Buddhism because them practising shows how the teaching of the Buddha transcends to other communities as well," said Ashok Bajracharya, member secretary at the Lotus Research Center, a research organisation for Buddhism, who frequently visits the monastery.
However, a Buddhist nunnery requires more than just learning to chant the Pali canon, a standard collection of Theravada Buddhist scriptures. Nuns need to abstain from various life experiences, following a monastic way of life that requires abiding by numerous Buddhist precepts like panchasil, astasil (eight precepts) and dasasil (ten precepts).
"As nuns, we need to speak softly. We shouldn't shout or rush," said 10-year-old Heramaya Jaisi, who is also from Humla.
The five precepts that the children now know by heart include: being honest and abstaining from taking what is not offered, sensual pleasures, liquors and other intoxicants, and taking another's life. The eight and ten precepts are more meticulous on being a nun, including specifics on worldly desires and indulgences.
"Perhaps they don't understand what this means for them but right now they enjoy praying and learning," said Shah. "Many-a-time, the children are surprised when people bow to greet them. I have to tell them that their robes hold special significance, one that reminds people about kindness and spirituality."
Strict religious vows, however, can be difficult for any child to commit for their whole life. Followers need to believe strongly in their promises. But according to Anoja 'Guruma', the chief nun of the monastery, there is no compulsion for these children to ordain themselves as nuns for the rest of their lives.
"We raise them to be nuns, but they may choose to be otherwise. The idea is to provide these children with an education that can benefit society," said Anoja. "However, given the years of training, we believe they will understand the significance of such a life, and thus will follow their vows their whole life."
Anoja herself started out as a child nun 50 years ago. Although Buddhist nuns have the option of resigning from their vows, such a choice is usually vilified.
"People were really sad when I left being a monk," said 69-year-old Laxman Shakya, who was a Buddhist monk for 21 years of his life before leaving to pursue his studies and start a family. "I accepted that disappointment as it was natural, but looking back, I think I did the right thing, as I now know that if I had continued down that path I would have never been happy."
According to Shakya, many people choose monasticism because of deficient circumstances. In Thailand, there are more than 100,000 people studying to be monks but only a few continue their pursuit of monkhood, said Shakya.
"Despite what society says, I have realised that faith doesn't necessarily have to be wrapped in robes. I still engage in Buddhist discourse. It's just that my stance has changed," said Shakya. "Society will have something to say but it's not necessary for us to prove our choices."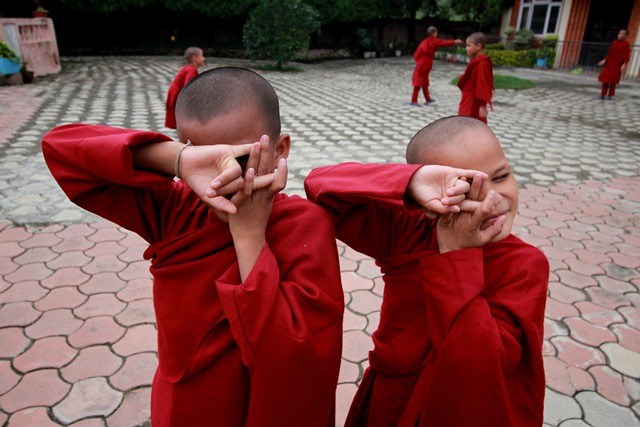 Beeju Maharjan/TKP
While Buddhist nuns and monks receive a broad and deep education—including the teachings of the Buddha, the Pali canon and various derivatives of Buddhism along with formal academic education—there are only certain occupations they can pursue.
"We can choose to teach and nurse but we cannot take jobs that are a means to an end. Our jobs have to help society, it can't be to earn money," says Anoja.
At present, there are 11 children at the monastery—eight from Humla and three from India—who are currently being homeschooled and haven't been enrolled in any schools.
"They come from different backgrounds. Some of them didn't even know how to use the toilet before. Some hadn't even seen rice," said Anoja. "So we have been teaching them various subjects, along with prayer hymns, before enrolling them in schools."
Earlier this year, two children from Humla, who had come through Sagarmatha Pratisthan Nepal, a social organisation, returned home after realising that the opportunities the monastery provides would also restrict their life experiences.
"Two children were there for some days but when they were introduced to the idea of monasticism, they didn't want to become nuns. So Guruma sent them back because they wanted to go home," said Nar Bahadur Limbu, who runs the organisation.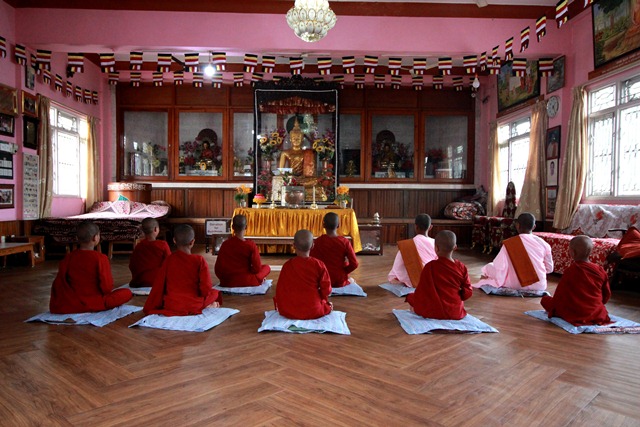 Beeju Maharjan/TKP
Nine children the monastery had taken in 1998, left the order after 20 years there, realising that they wanted to take a different path in life. Many of them are now married, said Anoja.
"Some of them completed their Bachelors and Masters degree but after that, they didn't want to continue being nuns, so they left," said Arati Ranjit, another teacher at the monastery.
However, the eight Humla kids say they are determined to live as Buddhist nuns for the rest of their lives.
"Often when I ask if they want to go back home, they immediately say no," said Ranjit.
These girls are just 10
years or even younger in age and as they grow up, their hopes and desires could change. But for now, they dream of becoming a Guruma like Anoja.
"I want to study and become a guruma when I grow up," said Hiru, echoing her friends. They all huddle together, repeating, "I want to be a guruma too."
---
---